Lessons Drawn from 15 South China Sea International Conferences
The 15th South China Sea International Conference was held in Ho Chi Minh City (October 25-26, 2023), attracting more than 50 speakers from 20 countries inside and outside the region. The conference is held with the theme "Luminate the grey, light up the green". "Luminate the grey" means constructing a more transparent and peaceful maritime space, while "light up the green" indicates identifying the potential of the sea through practical activities such as green transformation, wind power, and marine energy conversion.
Internationalized
The South China Sea issue has been internationalized. The world is changing with huge geo-political and geo-economic developments. Humanity is facing tremendous traditional and non-traditional security challenges. The boundary between traditional and non-traditional security becomes fragile because the explosion of mutual impact leads to unpredictable negative consequences for all nation-states. No nation-state, no matter how rich or strong, can alone solve these unprecented challenges. As a result, it is a natural requirement in the current global situation that countries choose to resolve traditional and non-traditional security challenges on a multilateral and collective basis.
The South China Sea issue and its related consequences are not an exception. They have become a widespread concern associated with peace, stability, and development of Southeast Asia and the Asia-Pacific region, which will continue to be handled on the basis of multilateral dialogue and negotiation, and also bilateral when the issue only concerns two parties.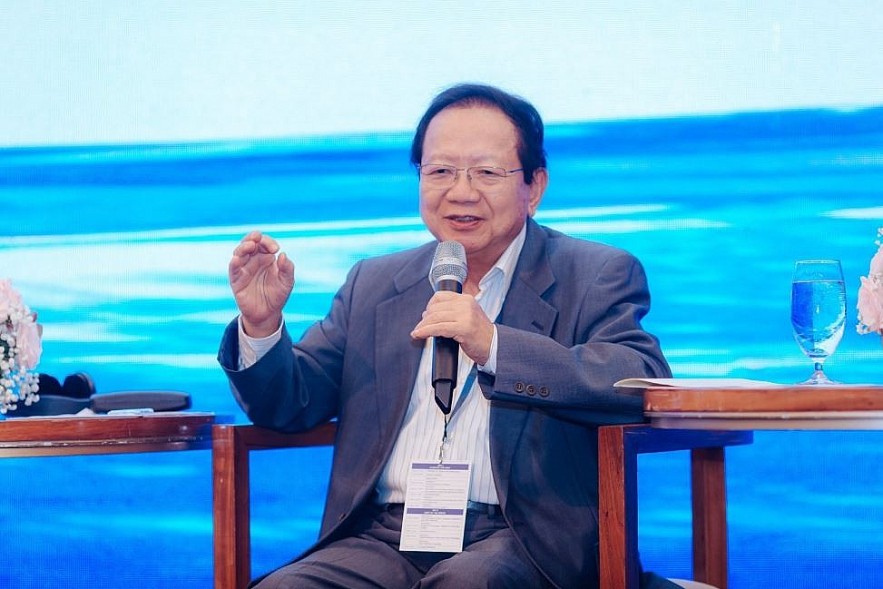 Ambassador Nguyen Duc Hung delivered a speech at the 15th South China Sea International Conference. (Photo courtesy of Nguyen Duc Hung)
The attention and involvement of the international community, including most countries in the region and major countries, in resolving disputes in the South China Sea creates multifaceted impacts. On the one hand, major countries' attention and involvement have contributed to enhancing the South China Sea's geo-strategic value in the long-term strategic calculations of powers. Countries in the region can utilize these opportunities to promote cooperation to serve their security and development goals. On the other hand, if the region lacks a soft, flexible, and creative approach, the South China Sea is likely to become an explosive hot spot amid fierce and intense strategic competition among powers. Therefore, to strengthen its central role in handling regional issues, including the South China Sea issue, ASEAN needs to:
Continue to leverage the international community's consensus and the involvement and cooperation of major countries in and outside the region in the direction suggested by Eva Pejsova, Ph.D. at the Centre for Security, Diplomacy and Strategy, University of Brussels (Belgium), that is strengthening diplomatic contacts, promoting cooperation in building national capacity and complying with the international legal system.
Build an ASEAN that is strong in internal strength, united in diversity, and flexible in multilateral approaches, including sub-multilateral forms to facilitate overcoming obstacles. Professor Kuik Cheng-Chwee, National University of Malaysia, emphasized three key principles to ensure Southeast Asia's security and ASEAN's central, which are active neutrality, comprehensive diversification of relationships, and possession of a wise backup plan.
A sophisticated and effective ASEAN
ASEAN's sophisticated and clever approach in the context of US-China strategic competition has so far been considered appropriate if not a model for small and developing countries. That approach is based on respecting each country's legitimate interests, focusing on the security and development concerns of the parties, and resolving differences through dialogue to find consensus on regional cooperation.
Cooperating for mutual development and ensuring sustainable security; Consolidating the strategic consensus on promoting regional cooperation to harmoniously resolve traditional security issues, including the South China Sea issue, while coordinating to handle non-security challenges such as cybercrime, water pollution, terrorism, and climate change.
Amid globalization and international integration, peace and security are indivisible. Countries coordinate to deal with challenges, share opportunities, and together create an environment of peace, stability, and prosperity, for the common benefit of the region and each nation-state.
Vietnam's important role
With the South China Sea International Conferences, we have been creating a forum for a large number of regional and international experts to meet and exchange frankly and openly to enhance mutual understanding and narrow differences. In this issue, Vietnam's role has become significant for the region.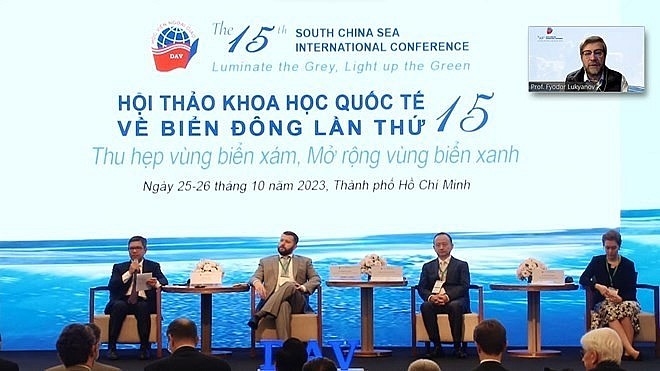 Scholars at the event.
The conferences' discussion content has become increasingly diverse and down-to-earth, from politics - diplomacy, interpretation of international law to field activities, especially "gray zone" activities conducted by several stakeholders involved in implementing their maritime claims, multilateral forums' role in dispute management, and new factors affecting disputes in the South China Sea. Particularly, it addresses the role of modern technology, essential infrastructure at sea, and as in his opening speech, Deputy Foreign Minister Do Hung Viet stated, "Given that conflicts are taking place in many areas worldwide, the risk of confrontation and conflict in Indo-Pacific's maritime space is certainly inevitable."
"Compared to the situation 15 years ago, the South China Sea issue today is more complicated with many new "gray zones" that need to be clarified, yet the area still offers potential cooperation opportunities. Only through cooperation can the South China Sea change from "gray" to "green", towards peace and sustainable development. To do so, it is important to respect and comply with international maritime law, as expressed in the 1982 United Nations Convention on the Law of the Sea (UNCLOS 1982)."
Promoting Vietnam's leading role, continuing to leverage the enthusiastic support and positive and widespread response of relevant parties, especially from major powers and ASEAN countries, there is a foundation to believe that Vietnam's "brand" of South China Sea International Conferences on track 1.5 will soon become a dynamic and creative maritime forum with prestige, practical significance that is indispensable at the regional level, a cherished address and a platform to harmonize the security and development interests of nation-states stretching from the Asia-Pacific to the Indian Ocean, and hopefully of a even wider region in the future.
The South China Sea International Conferences originated from the idea of Gia Khiem, former Politburo member, Deputy Prime Minister, and Minister of Foreign Affairs from 2009 - 2010. The Diplomatic Academy of Vietnam and its units such as Bien Dong Institute for Maritime Studies and Foundation for East Sea Studies are assigned to develop and implement the plan.
Since then, the South China Sea situation has been fluctuating between tense and calm on the surface, but underneath developments remain complicated, with both potential risks and opportunities. In that context, 15 international conferences on the South China Sea are held annually in many localities in Vietnam such as Hanoi, Quang Ninh, Ho Chi Minh City, Da Nang, Nha Trang, and virtual form during the Covid-19 pandemic. The conferences have attracted widespread attention and increasing participation from politicians, scholars, leading experts on islands and oceans, and marine research centers from prestigious universities in China, USA, UK, Japan, Australia, New Zealand, France, Russia, EU, India, and ASEAN countries.
Ambassador Nguyen Duc Hung, Senior Advisor to the Diplomatic Academy of Vietnam