Life after Tet in Vietnam
The air is warming up, banana shirts are selling well again and there's still some sand left on Cua Dai Beach.
The air is warming up, banana shirts are selling well again and there's still some sand left on Cua Dai Beach.
A festival after Tet in Hanoi. Photo: Tuoi Tre
Another day, another airplane emergency door opened.
Life in Vietnam must be getting back to normal. The traffic is getting deadlier, soon the loudspeakers will stop playing patriotic songs, local news will return to normal ('Mrs Vien had a baby boy and there'll be a power cut on Tuesday') and the price of banh mi for tourists will return to something less than Western prices. I can't wait.
The placidly quiet Hoi An sidewalks are filling up with motorbikes forcing unwitting international tourists into roadside mud puddles and experiencing unnecessary confrontations with stray dogs, unattended children and plastic chairs.
The air is warming up, banana shirts are selling well again and there's still some sand left on Cua Dai Beach. Yep, life is good.
By all accounts, we'll really be open again for business around March 2 as the holidaymakers jam every road into the northern and southern metropolises. Better watch out for those coconut seller trucks obstructing the right-hand lane and grandma crossing six lanes of opposing traffic while pushing an entire street restaurant on three wheels. Still, if you're a smart expat, you've stayed at home or better yet, gone shopping in Hong Kong or Kuala Lumpur, so mentally you're on top of your game.
Sometimes we don't know how good we've got it in Vietnam. As the American political IQ plunges faster than the world's stock markets, we can be thankful that we don't have any school-related gun crimes in Vietnam. Outside karaoke bars and nightclubs, sure, but not in the schools! Another bright spot is Vietnam has created an animal protection agency and introduced laws on dog leashes and handling – soon dog theft might be a thing of the past and we'll never have to complain about dog meat, ever.
The Year of the Dog is my year and has begun with a life change – I've moved house across Hoi An in retaliation for my former landlords' unwillingness to be cooperative. So the word of the year should be 'transformative' – a year when we all move on and start new things – or at least leave nightmares behind. Hot on my agenda for this year will be to be more assertive in my relationships with local shopkeepers and lazy taxi drivers who don't know the difference between a text message and a steering wheel.
Already Da Nang is facing an immigrant crisis as numerous English teachers are being stopped by the authorities demanding to know if they have Vietnamese motorbike licenses and work visa invitations. So I know normalcy has returned as the Westerners flood Facebook with demands for how to find an English school and where they can buy gluten free, mediation singing bowls and used yoga mats.
An additional sign that Tet is finished: the Vietnamese flags are being stored away. Weirdly, I've never seen a Vietnamese flag out on the clothes line, have you? Men have stopped wearing decent trousers and gone back to the usual scruffy jeans. Women are exchanging Tet finery for hoodies with Hello Kitty quotes or salacious expressions and pony-tail helmets. Kids, banned from wearing their best Tet clothes on bicycles, are now back to shorts, flip-flops and bare heads on electric bikes that can do forty kilometers an hour.
All joking aside, it looks being a huge year for the central coast's tourism industry as a large number of resorts open their doors and more events planned for Da Nang and Hue. Work wise, the prosperity generated by all this activity is getting more kids into private education in central Vietnam which is a good thing so more English teaching income is available. Of critical importance this year will be the continuation of the extended visa policy for tourism as well – here's hoping that goes smoothly!
So in this Year of the Dog, let's not bark too much, guard what we have and greet everyone with a friendly wag of the hand. It's all good here.
And considering how weird the outside world is getting… Vietnam is the best place to be! I hope you all start off this year in a fantastic way…and be careful which door you open…
VNF/TTO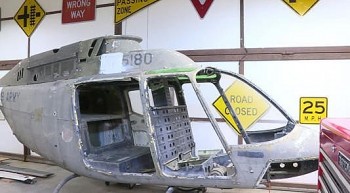 World
A piece of military history related to Vietnam is coming to life with a special project in a small Barton County townm in the US