Localitites Get Support in Covid Fight
As new Covid-19 cases continue to surge, supplies were sent to needy areas, to drive back the pandemic and stabilize local lives.
Medical supplies were handed over to needy localities as roughly 100,000 new Covid-19 cases are being reported nationwide every day.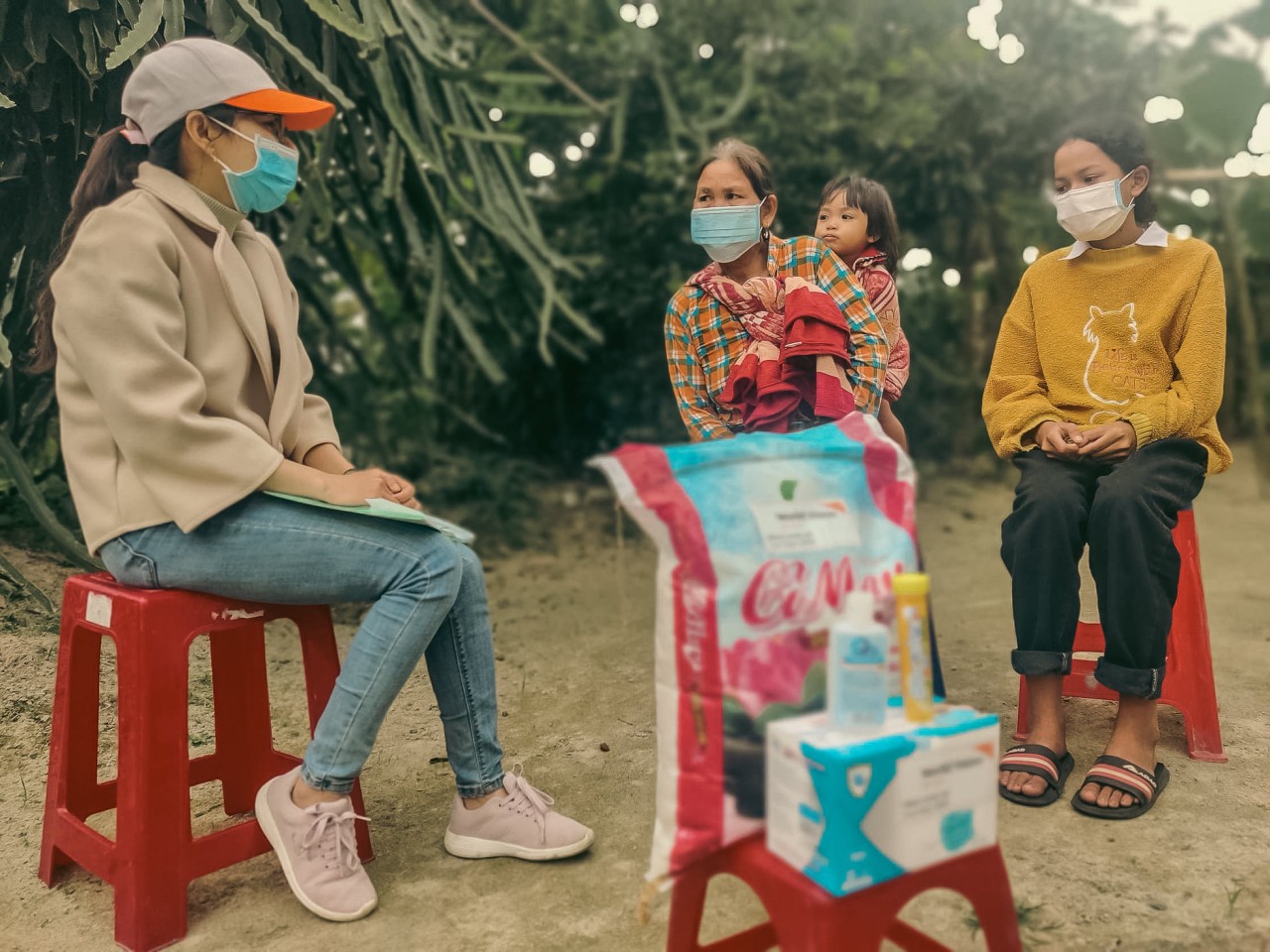 World Vision Vietnam supports Minh Long district's COVID-19 prevention and control.
Quang Ngai province's Minh Long district has revealed a sharp increase in the Covid-19 infection rate among teachers and students after the Lunar New Year holiday due to the reopening of schools.
According to data reported from the beginning of 2022, Minh Long district has had over 160 children with Covid-19 undergoing treatment and monitoring at home, including 76 registered children and six most vulnerable children.
The problematic living condition of households with children infected with Covid has slowed down the children's health recovery and their ability to return to school.
Faced with this situation, World Vision Vietnam has distributed 250 support packages to children infected with Covid in the project areas. Each support package includes 10kg of rice, antiseptic solution, Vitamin C supplements and face masks.
Previously, to ensure children's safety when returning to schools amid the complicated developments of the pandemic, World Vision Vietnam had held many communication and training sessions to improve the ability to cope with Covid-19 of partners and communities in Minh Long district.
In addition, World Vision Vietnam also supported essential medical equipment to reduce the risk of infection for children and the community. This is part of the organization's efforts over the past years to contribute to "safely adapting, flexibly, and effectively controlling the Covid-19" in the area, according to the policy of the Government of Vietnam.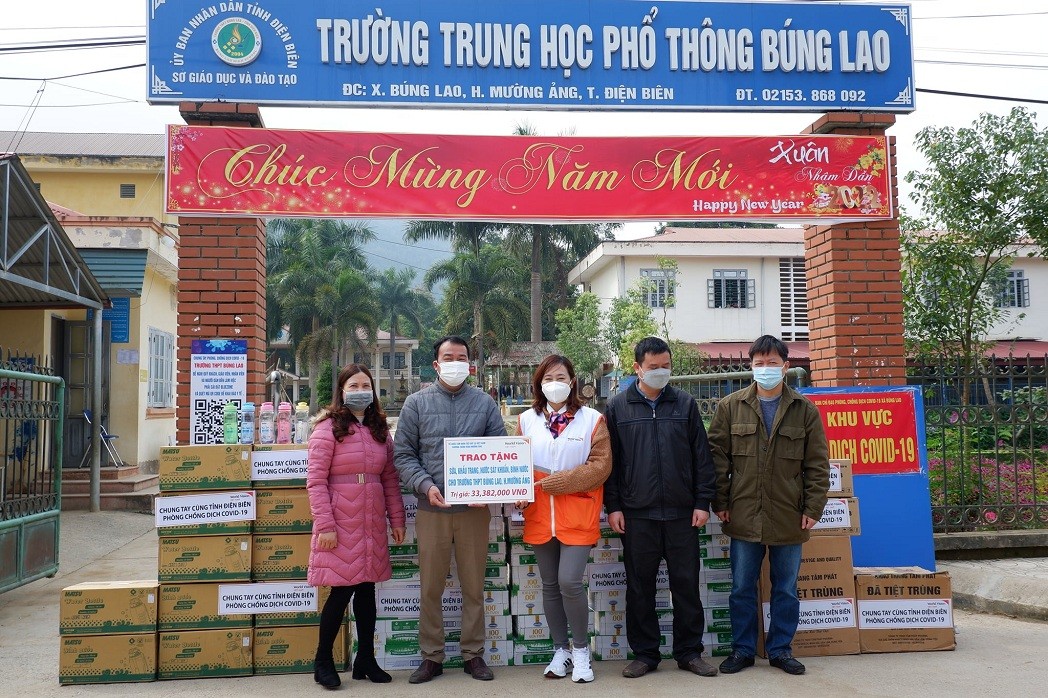 The number of Covid-19 cases among local children has been on the rise, especially when boarding schools have reopened.
In Muong Ang district of Dien Bien province, the number of infections continues to increase sharply in the community, seriously affecting the learning and life of children, especially those in boarding schools, including the most vulnerable children.
World Vision Vietnam is also supporting 640 children from two boarding schools for ethnic minorities: Muong Ang and Bung Lao High Schools. The support package includes 1,000kg of rice, 4,641 boxes of fresh pasteurized milk, 4,000 medical masks, 100 bottles of sanitizer, 100 bottles of cooking oil, and 293 personal drinking water bottles.
With a total budget of more than USD 3,115, the activity is World Vision Vietnam's effort to support children in preventing Covid-19 while ensuring food security, helping to meet their basic nutritional needs.
In addition to the above emergency support activities, World Vision Vietnam has also cooperated with the program management board of the six target communes to communicate to Covid-19 safety measures, including six steps of handwashing with soap, proper use of medical masks, and correct application of the 5K rules.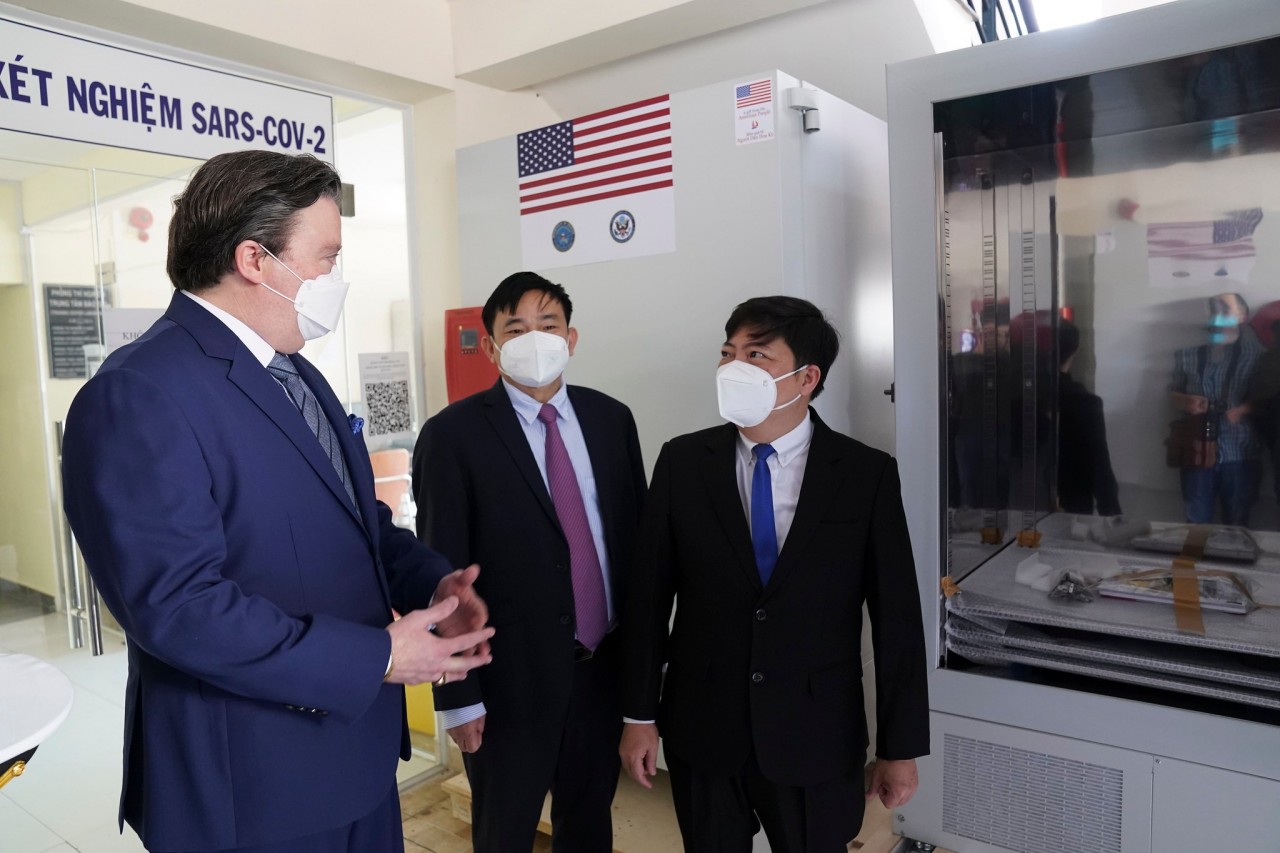 Pasteur Institute receives additional 34 ultra-low freezers from US to store Covid-19 vaccines. Source: US embassy
The U.S. Ambassador to Vietnam Marc Knapper on March 4 handed over 34 out of 111 ultra-low temperature freezers donated by the U.S. Department of Defense to Ho Chi Minh City-based Pasteur Institute.
Each freezer weighs 676 pounds and stores up to 175,500 doses of vaccine. Its storage temperature ranges from -80 to -20 degree Celsius.
Each unit is independently equipped with a wireless notification module. It will send out alert notifications if the freezer unit malfunctions or experiences power interruption.
"I was honored to hand over 34 ultra-low temperature freezers from the people of the U.S. to the people of Vietnam at Pasteur Institute in Ho Chi Minh City today. These freezers will strengthen Vietnam's capacity to manage Covid-19. The handover of these freezers reflects the spirit of support and cooperation that has animated the U.S.-Vietnam bilateral partnership over the last 26 years," said Knapper.
"It is my sincere belief that, working together, we can overcome the difficulties imposed by the pandemic and improve the lives and livelihoods of Vietnamese people across the country."
These freezers will be distributed to hospitals throughout HCM City, and neighboring provinces, and will allow more sites to store mRNA vaccines, like the Pfizer and Moderna Covid-19 vaccines.
Since last July, the U.S. has donated over 26 million doses of Covid-19 vaccine to Vietnam, making the U.S. the largest vaccine donor to Vietnam.