Locals and Expats Join Hands to Keep Hanoi Clean
On November 18, about 100 volunteers of "Love Hanoi Community" helped clean up garbage at the Ngoai Giao Doan Park (Xuan Tao, Bac Tu Liem, Ha Noi) and spread awareness about keeping public spaces clean.
The "Community Serve Day" clean-up event was coordinated by the Hanoi International Fellowship (HIF), and Keep Hanoi Clean. In the morning of November 18, clean-up activities were held at multiple different locations across the city such as Yen So Park, Ngoai Giao Doan Park, and Ho Dieu Hoa Park.
According to the Lead Pastor of Hanoi International Fellowship (HIF) Jacob Bloemberg, this is a regular activity that HIF coordinates with its partners to bring practical values to the local community. By picking up the litter found in public spaces, the volunteers help remove the trash that spoils the environment and creates an unpleasant image of the surrounding area. For the volunteers, this is a way to play a small part in tackling the common issue on a local level. The organizers emphasized the importance of taking action to make positive changes to keep the city clean and beautiful.
For many, it also helped them actively connect with people. This volunteer event welcomed people to participate regardless of nationalities, age, and occupation. At Ngoai Giao Doan Park, there were about 100 international volunteers. They are Hanoi residents from different parts of the world like South Korea, Australia, New Zealand, Holland, Nigeria,..
After three hours of litter picking, the total amount of garbage collected at the park was around 3 tons. The garbage mostly included single-used food wrappers, plastic bottles, plastic bottle caps, plastic grocery bags, and plastic straws.
Another goal of the clean-up event is to raise awareness among local residents around Ngoai Giao Doan Park. To encourage them to join hands in tackling littering, the volunteers talked to the parkgoers about the harm of throwing waste out in public places and using single-use plastics.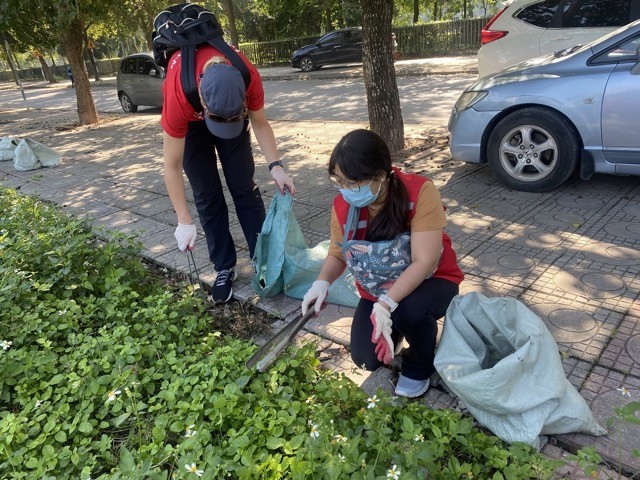 Vietnamese and foreign volunteers collected the waste in and around the park area (Photo: Nhung Nguyen).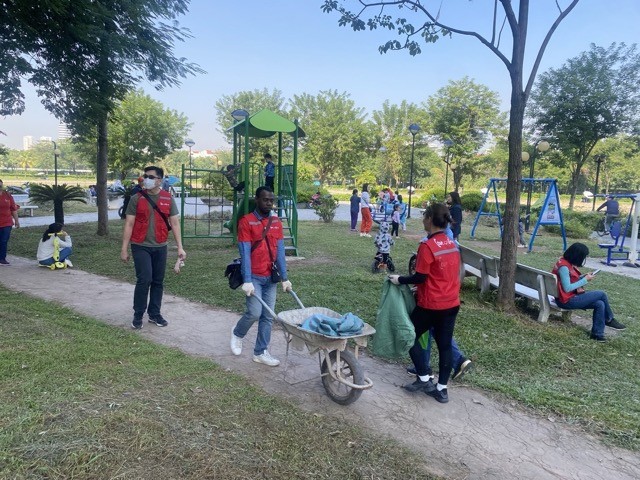 The volunteers worked for about 3 hours in the morning to pick up and collect the litter ( Photo: Nhung Nguyen).
Speaking about the important role of community activity, Lead Pastor of the Hanoi International Fellowship (HIF) Jacob Bloemberg shared that there are an increasing number of expats living in Hanoi who want to participate in the force that make this city a cleaner and better place.
"Love Hanoi Community Serve Day is a day to embrace the spirit of community and compassion. This Community Serve Day was a success! We gathered 98 volunteers from HIF & other local churches to clean up Ngoai Giao Doan park in an effort to care and protect the environment of Hanoi," said Jacob.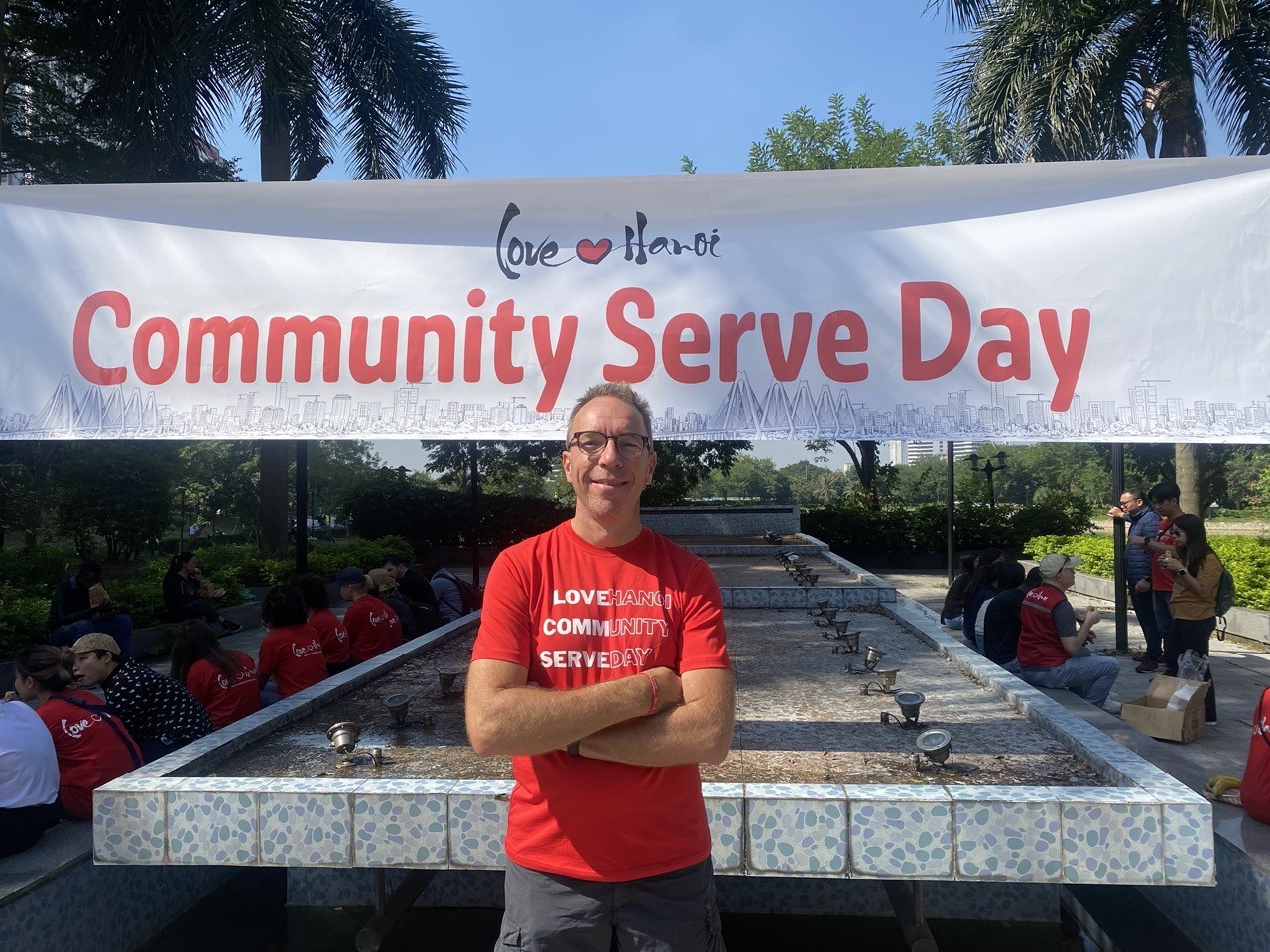 Jacob Bloemberg - Lead Pastor of the Hanoi International Fellowship (HIF) is the representative of Love Hanoi Community (Photo: Nhung Nguyen).
Volunteer Khosi Moriri (Eswatini) has only been living in Hanoi for less than 2 years but she felt it is important to give back to the community now that Hanoi is her new home.
"I joined the clean-up event in the morning and another volunteer event to bring Christmas performances to patients in Hanoi in the afternoon. I am a big believer and ever since joining the church here in Hanoi, this is the only chance that I get to serve because this is different from when I am working. People are going to benefit from it and they don't have to give anything back," said Khosi.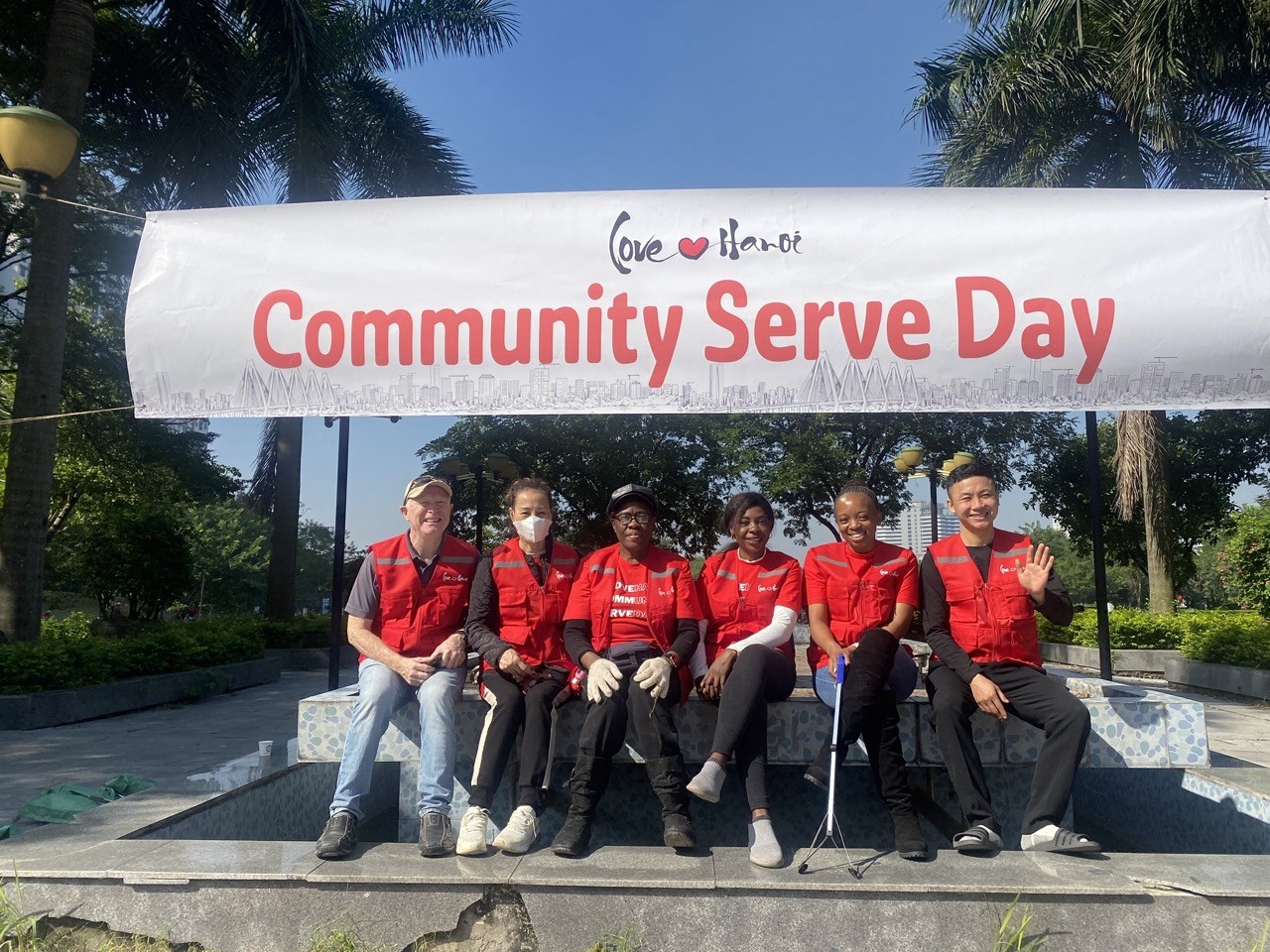 Volunteer Khosi (second from right) is an Eswatini expat living in Hanoi who joined the clean-up event for the first time (Photo: Nhung Nguyen).
International couple Kester Scandrett (New Zealand) and Que Anh (Vietnam) found the volunteer work to be a great family activity to help educate their three children about the environment.
"Volunteering brings a good feeling when we see people are happy. There was somebody who even said thank you to us when they saw we cleaned up the park. I hope this could be a model for other people to see and they will be conscious of the need to keep the environment clean," said Kester Scandrett.
Andrianus Spijkers (Holland) (third from right) has lived in Vietnam for more than 30 years (Photo: Nhung Nguyen).
Andrianus Spijkers (Holland) shared that his family participated in the clean-up event because more community environmental activities are needed amid the fast-paced urban development in Hanoi.
"It's all good signs that we want to play our role more in taking care of our community and show that we are also responsible for global issues," said the Holland volunteer.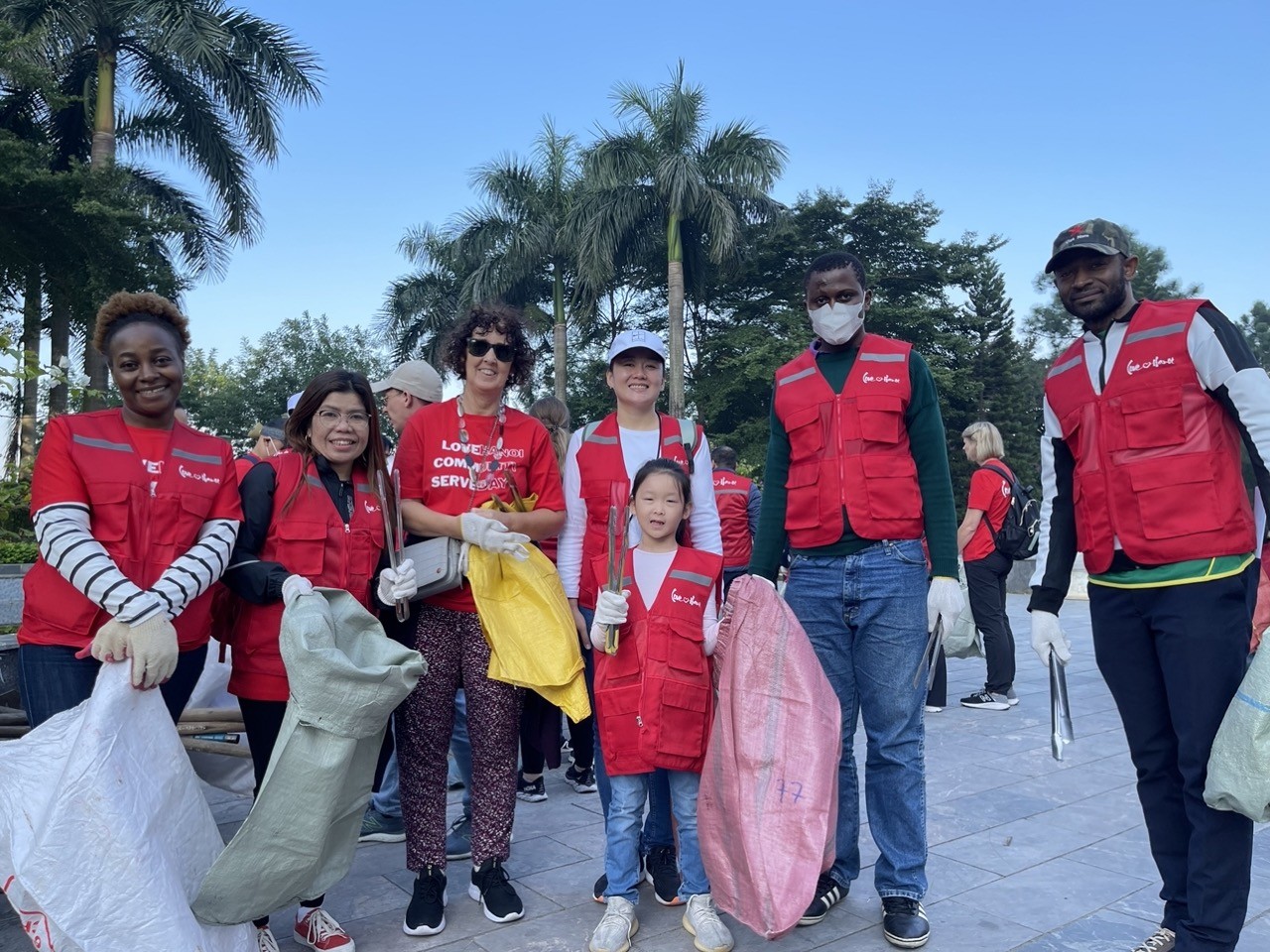 Volunteers at the Community Serve Day (Photo: Love Hanoi Community)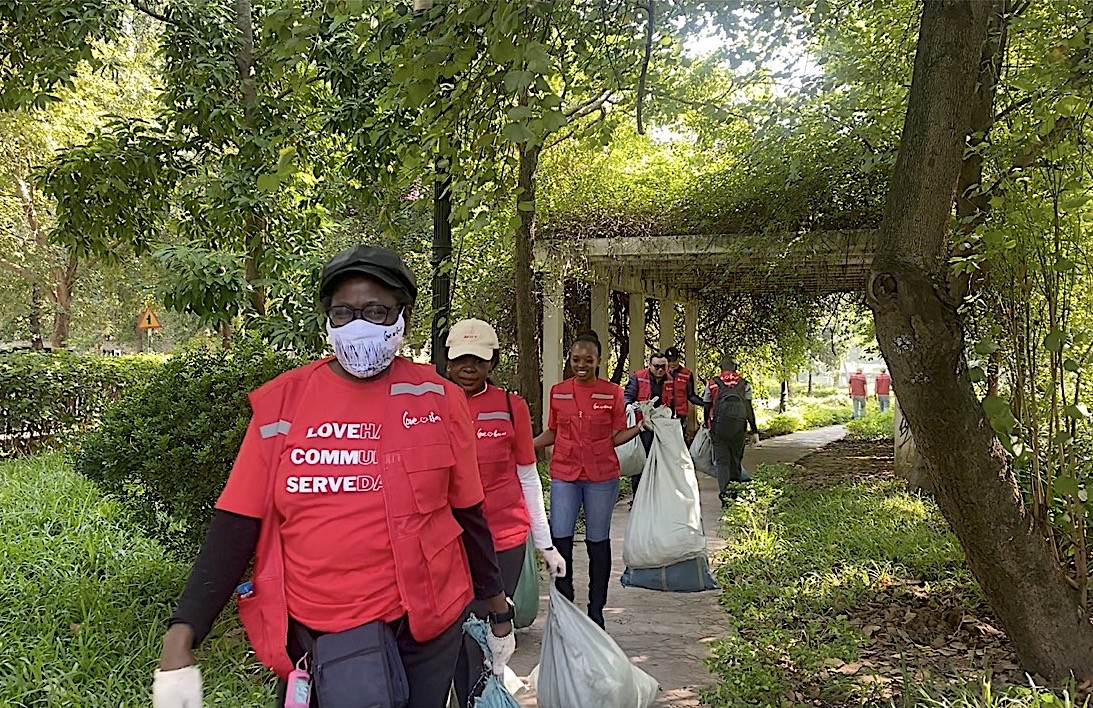 Collecting the garbage (Photo: Nhung Nguyen)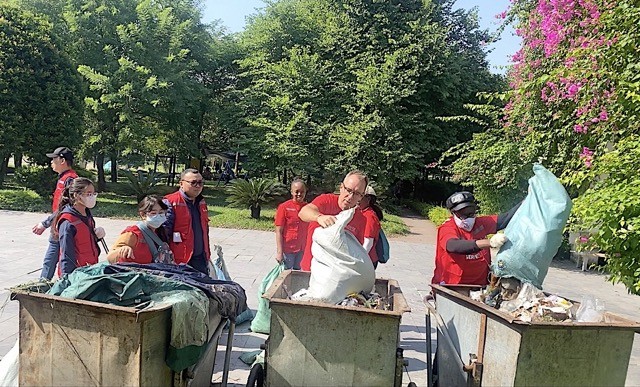 About 3 tons of waste were collected at the Ngoai Giao Doan Park (Photo: Nhung Nguyen).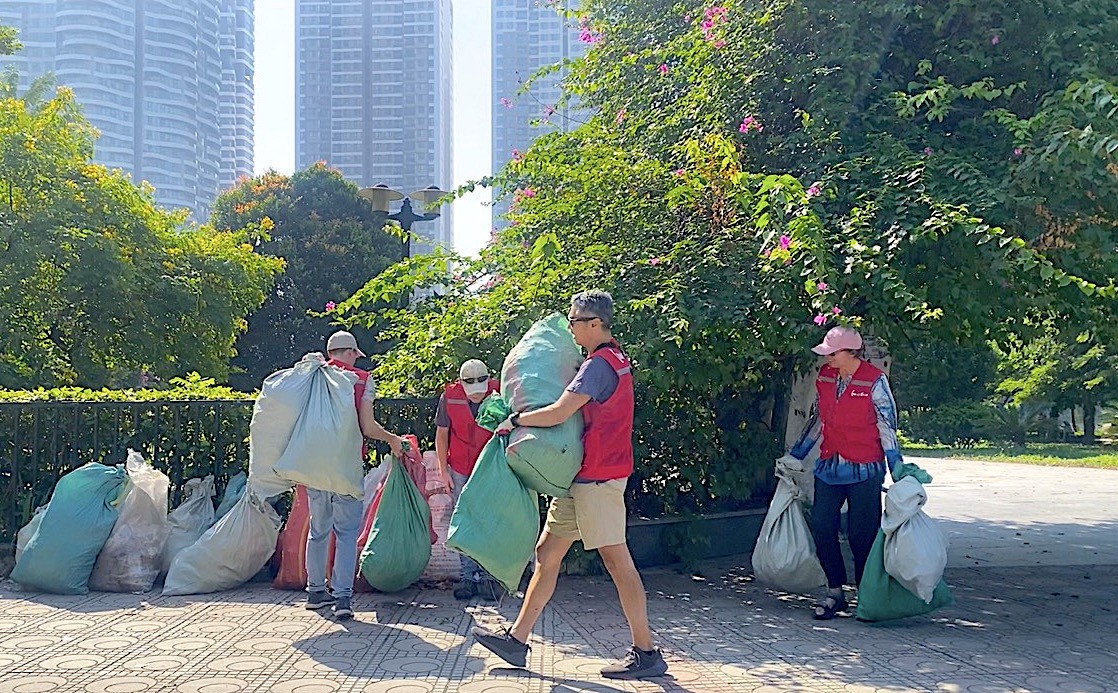 Volunteers finished up after collecting the litter in the park (Photo: Nhung Nguyen).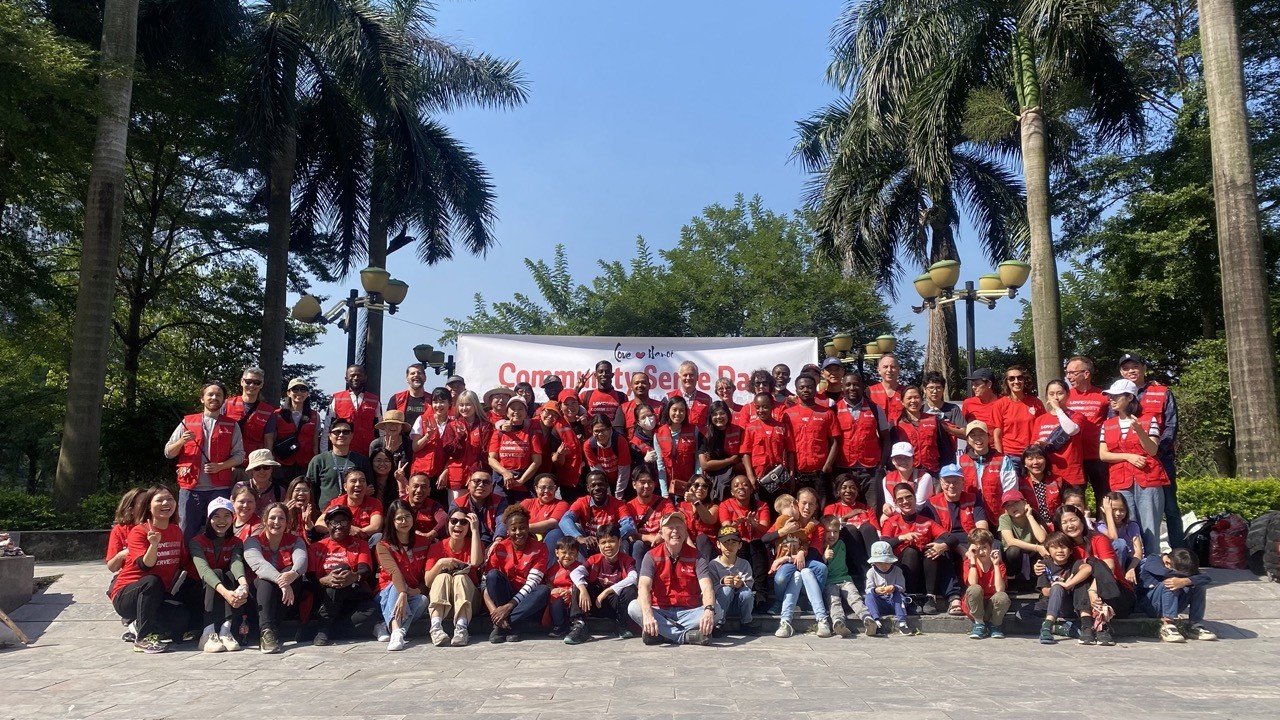 About 100 volunteers participated in the clean-up event at Ngoai Giao Doan Park on November 18 (Photo: Nhung Nguyen).