Lonely Planet: The Best and Delicious Street Food You Can Find In Vietnam
Street food is a cultural staple in Vietnam, with many varieties, dishes, and types made from the most simple, yet delicious ingredients. The list of the best street food below, according to the Lonely Planet site, will be your guide to finding the best street dishes in the country.
Vietnam is one of the best destinations for foodies in Asia, considering the country's various types of street food and traditional dishes that charm every tourist coming here. You can find them everywhere, in every corner of the streets, and street vendors, or small restaurants.
Lonely Planet's new book Eat Vietnam is a complete companion to Vietnamese vibrant food culture. From must-try specialties to etiquette and essential phrases, this extract from Eat Vietnam, by Barbara Adam and James Pham, equips you to explore the delicious diversions Vietnamese cuisine offers, helping visitors get the most out of their gastronomic experience.
The street food culture of Vietnam
Street food in Vietnam is not simply a list of Vietnamese traditional dishes sold on the streets, it also expresses a part of the beauty of Vietnamese people's culture, lifestyle, feelings, thought. Moreover, it is a combination of Vietnamese traditional culture and other nations' cultures which dominated Vietnam in history especially in China.
Throughout more than 4000-year history with many ups and downs, Vietnamese culture, in general, and cuisine, in particular, were affected so strongly by Chinese culture that people have no difficulty in finding some Vietnamese street food quite similar to Chinese food such as baozi, noodles, and so on. However, anyone who tried Vietnamese street foods will all realize the difference as the Vietnamese changed and created to make our own dishes with unique tastes, according to Vietnam Discovery.
Vietnamese cuisine focuses on the harmony of ingredients to bring refreshing flavors, keep natural tastes, and be good for our health. In each dish, tourists will find adequate taste including sour, spicy, salty, and sweet, which is very attractive. This is the reason that Vietnamese street food makes a great impression on many tourists.
In addition, there will not be any country that you can find that in any origin all have their own specialty like Vietnam. From the south to the north, each province all has specialties for tourists to enjoy as Banh Da Cua in Haiphong; Com, Cha Ca La Vong, Bun Thang, etc. in Hanoi; Beef noodles in Hue; Coconut candies (Keo Dua) in Soc Trang, and so on.
1. Vietnamese Steamed Pork Buns (Banh Bao)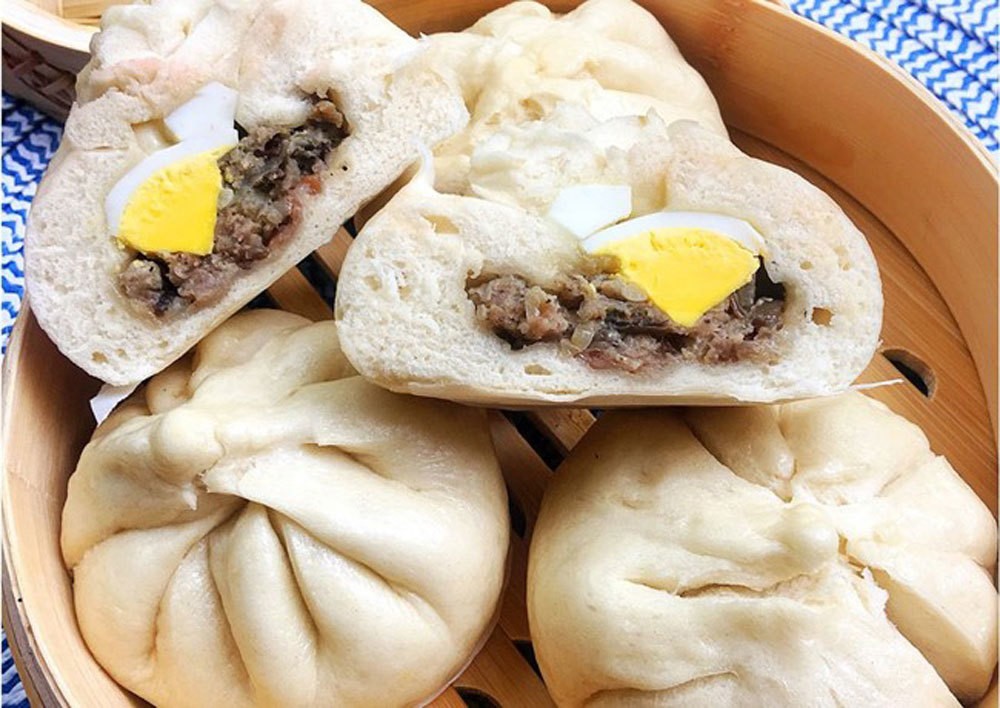 Photo: Gia Dinh Va Xa Hoi
Banh bao (literally "bun cake") is a Vietnamese bun based on the Cantonese da bao (大包, literally "big bun") brought to Vietnam by Cantonese immigrants. It is a ball-shaped bun containing pork or chicken meat, onions, eggs, mushrooms, and vegetables, in Vietnamese cuisine. It often has Chinese sausage and a portion of a hard-boiled egg inside. Banh bao is generally larger than baozi and is filled with savory fillings, the most common being seasoned ground pork and quail egg. A vegetarian version of bánh bao also exists.
2. Banh Can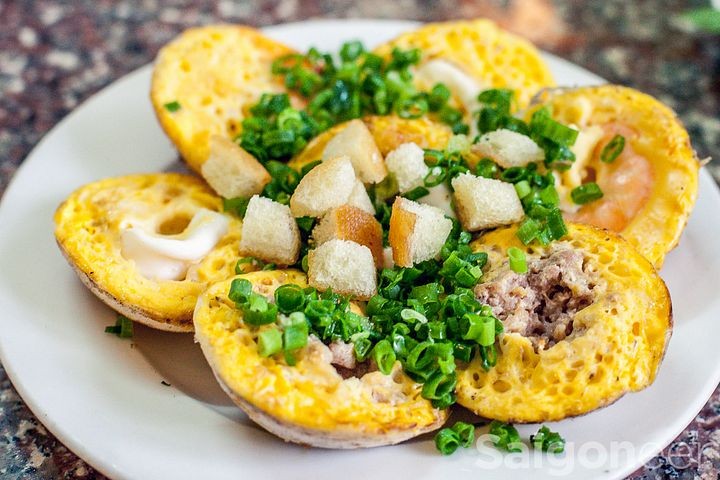 Photo: Saigoneer
Can is a popular dessert in Ninh Thuan that originated from the Cham community. It is made from rice powder and steamed on soil stoves. These stoves are produced in Bau Truc, with 10 -15 small holes to cook the cake in. To make this cake, the rice powder is first mixed with eggs and water, and then this mixture is poured into each hole on the soil stove.
When the cake has been cooked, it is taken off the stove and dabbed with onion oil, shrimps, fish, or meat. But the most unique factor of this cake is the sauce that is served with it. Each sauce gives the cake a different taste.
Normally, Can cake is used with fish sauce or peanut sauce, but in Ninh Thuan, people seem to prefer the sauce from brined fish. A large bowl of this sauce is brought in, and then the cake is dipped freely in this sauce. The flavor of rice, shrimp, oil, onion, and fish is combined harmonically to become a delicious and unforgettable taste. One piece of advice to those who want to taste this cake is that Can cake should be eaten right in the restaurant when they are still hot and crispy because this is when the cake is tastiest.
3. Steamed Rice Water Fern Cake (Banh Beo)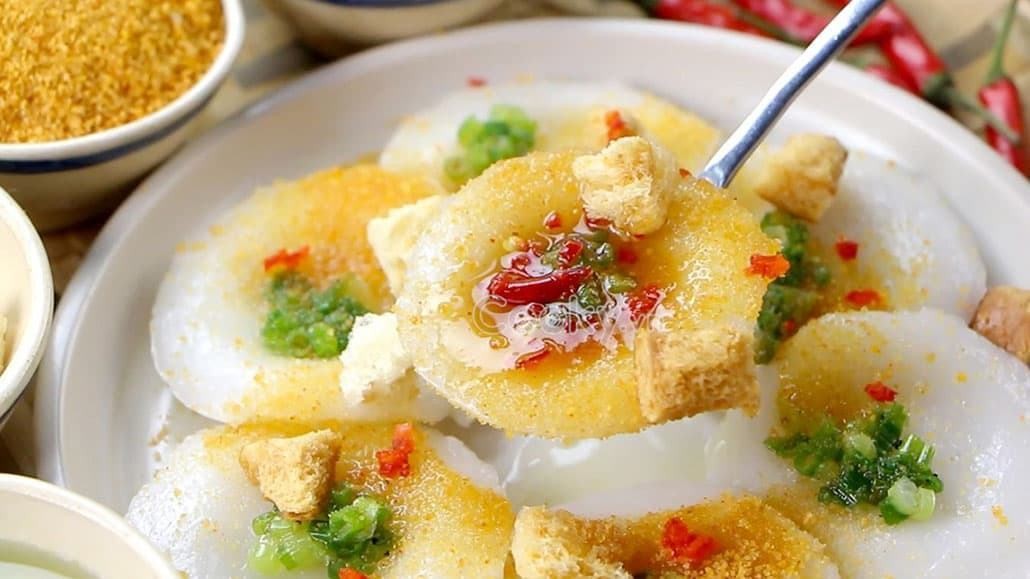 Photo: Hotelcareers
Banh Beo is a popular food which often used in breakfast or as a snack in Vietnam. This Vietnamese dumpling is originated from Hue, which is a romantic city in Central Vietnam, and also the origin of many tasty kinds of food as Bun Bo Hue (Beef vermicelli), Com Hen (Baby clam rice), etc.
The ingredients of Banh Beo are quite simple. The main components are rice flour, dried shrimps, scallion oil, crispy pork skin, and sweet fish sauce.
The first step in making Banh Beo is grinding the rice into flour. Then the cold water is poured into the flour slowly, stirring the mixture evenly. The mixture is poured into the small cups and steamed. Banh Beo is served with dried shrimps, scallion oil as the toppings, and special sweet fish sauce, according to iTour Vietnam.
Because of the differences in cuisine culture, Banh Beo has many versions among different places according to the locals' interest. Banh Beo in Hue, its birthplace, is traditionally served in small cups (called Banh Beo Chen) and the topping is dried shrimp.
Banh Beo Quang Nam (a province in Central Vietnam) is a bit different. The topping of this kind of water fern cake is a special sauce made from ground pork, shrimp, and wood ear mushroom.
4. Vietnamese Mixed Rice Paper (Banh Trang Tron)
Photo: VinID
Vietnamese Mixed Rice Paper is prepared with authentically local ingredients, including dried beef jerky strips, julienned green mango, peanuts, fresh mint and basil, rice paper strips as well as chili powder. Rice paper then was not the normal type we used to wrap spring rolls. The rice paper for Mixed Rice Paper should be sticky. The sauce is the soul of this food, each seller has her own recipes for the sauce. One of the most popular sauces is made from soy sauce, black bean sauce. After mixing, the sauce plays off the sticky rice paper strips. Some sellers use shrimp salt instead of the sauce, according to Scooter Saigon Tour.
The combines of the ingredients were mixed by the seller. Then the portion is served up in a plastic bag with two skewers used as makeshift chopsticks. Some people prefer mixing the ingredients themselves. The perfect mix of the sweet, sour, and spicy fish sauce makes an explosion of Vietnamese flavors!
In fact, Vietnam has a wide range of versions of Rice Paper Salad. The most important Rice Paper Salad consists of rice paper strips, kumquat juice, and shrimp salt. Peanuts, deep-fried shallots can be also added to the salad.
5. Wok-fried corn (Bap Xao)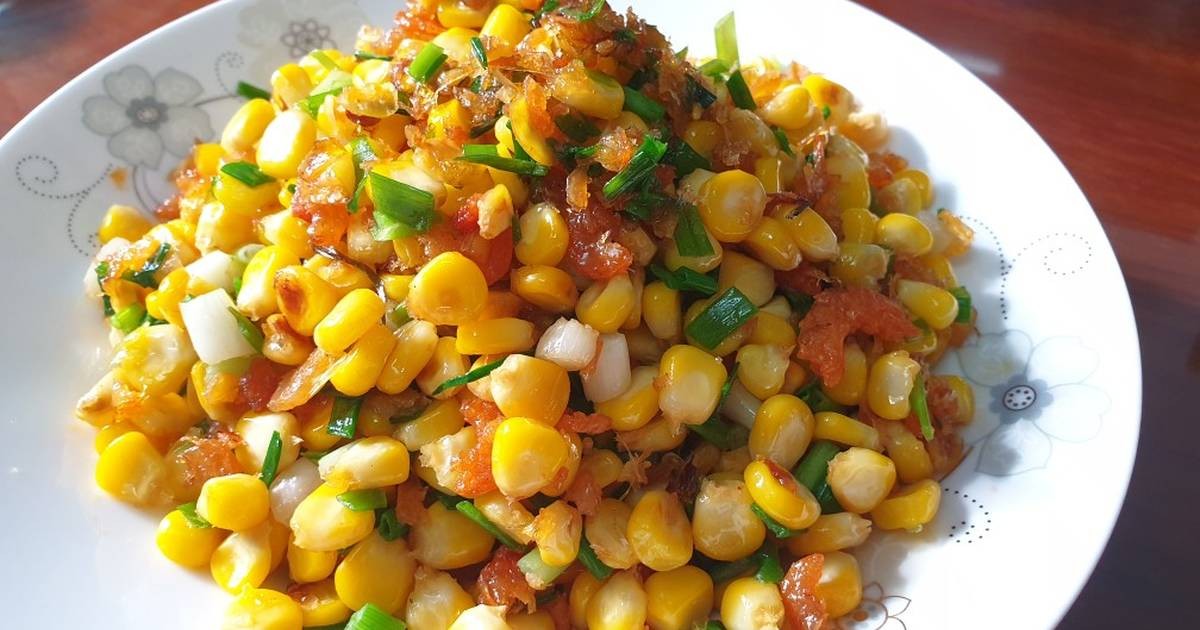 Photo: BepXua
Fried corn (Bap xao in Vietnamese) is one of the most popular street food in Saigon for low price, easy recipe, and great taste. This kind of food is sold popularly at rolling carts on Saigon streets or at corners near parks, at local markets, in front of schools, universities, etc.
The main ingredients for Bap xao are sweet corn, dried shrimp, green onion, and butter. In Vietnam, there are two popular types of corn: sweet corn and glutinous corn. The first is used to make Bap xao thanks to its sweet and crunchy tastes. Dried shrimp (Tep Kho) should be made from whole tiny shrimp which is caught in the wild (rice field, pond, swamp, etc.). Tep Kho is rich in calcium and vitamins. It is a favorite ingredient to cook a lot of Vietnamese dishes (soup, stir-fried dishes, etc.).
Fried corn is a very simple and easy-to-make recipe. Boil the sweet corn, remove corn from the cob. Put a flat pan onto the oven, add some butter. When the butter is hot enough for frying, add the corn, stir-fry for a few minutes. Then add the dried shrimp and continue stir-frying for 3 minutes. At last, chopped green onions are added. Street food vendors can prepare ingredients, boil the corn, remove the corn from the cob at home and cook the food when customers order. The food is ready in less than 10 minutes. The food is usually eaten with chili paste.
A portion of Fried corn looks attractive with shining yellow corn, green onion, red chili paste, brown-red dried shrimp paste. Bap xao is not only nice-looking but also sweet-smelling. The smell of this Saigon street food comes from butter, corn, and dried shrimp. Fried corn can make foodies eat more and more. It is one of the most favorite food of people of all ages, especially pupils, students, teenagers.
6. Rice Paper Rolls With Chinese Sausages And Eggs (Bo Bia)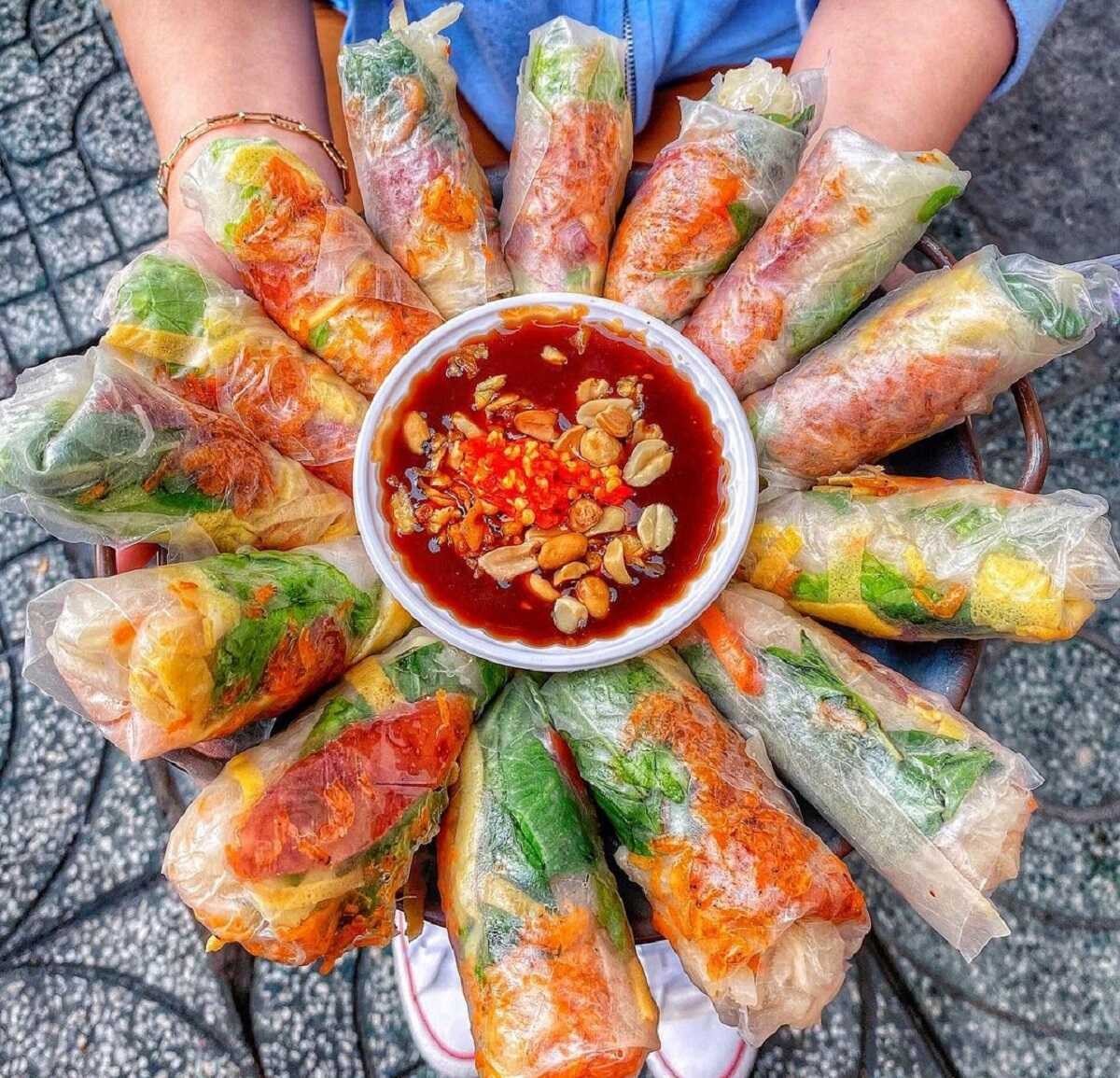 Photo: homnay_tuiangi/Instagram
Sweet or savory rolls wrapped in spring-roll skins. Sweet fillings include fresh shredded coconut, crispy sugar crackers, and sesame seeds, while the savory version has cooked jicama (a potato-like tuber) and Chinese sausage, all dipped in a hoisin sauce, according to Lonely Planet.
Bo Bia is a spring roll that is sold on the streets of Vietnam. It is made with Chinese sausage, jicama, dried shrimp, egg, and Thai basil all wrapped in rice paper. It is then eaten with a hoisin dipping sauce. There are many variations to this spring roll, and you can add or take out whatever you like. For example, sometimes people leave out the egg or the jicama is steamed instead of sautéed, according to Cooking Therapy.
7. Fried Rice Flour Cakes (Banh Bot Chien)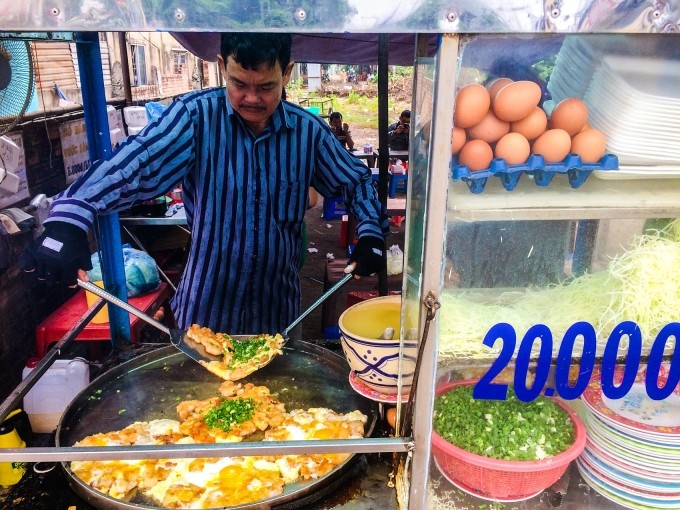 Photo: Lonely Planet
In Vietnamese cuisine, Banh bot Chien is fried rice flour cakes. It is a Chinese-influenced pastry, which exists in many versions all over Asia; the Vietnamese version features a special tangy soy sauce on the side, rice flour cubes with fried eggs (either duck or chicken), and some vegetables. This is a popular after-school snack for young students in the southern regions of Vietnam.
8. Shredded green papaya salad (Goi Du Du)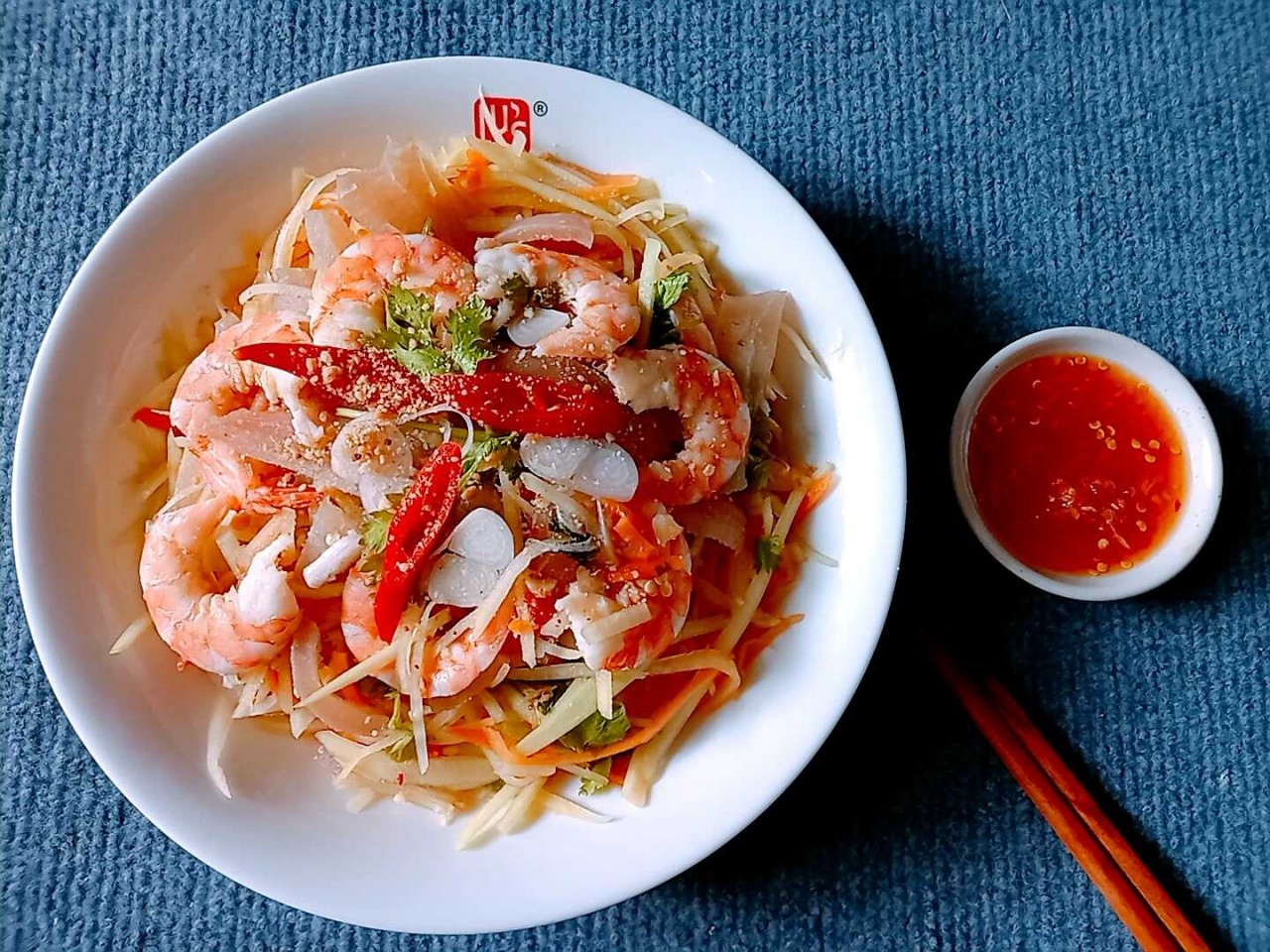 Photo: VnExpress
More delicate than the Thai version, this fresh, tangy salad is packed with herbs and is easy to make. It's crunchy with lots of texture and is great with grilled beef and barbecued chicken.
9. Steamed Glutinous Rice (Xoi)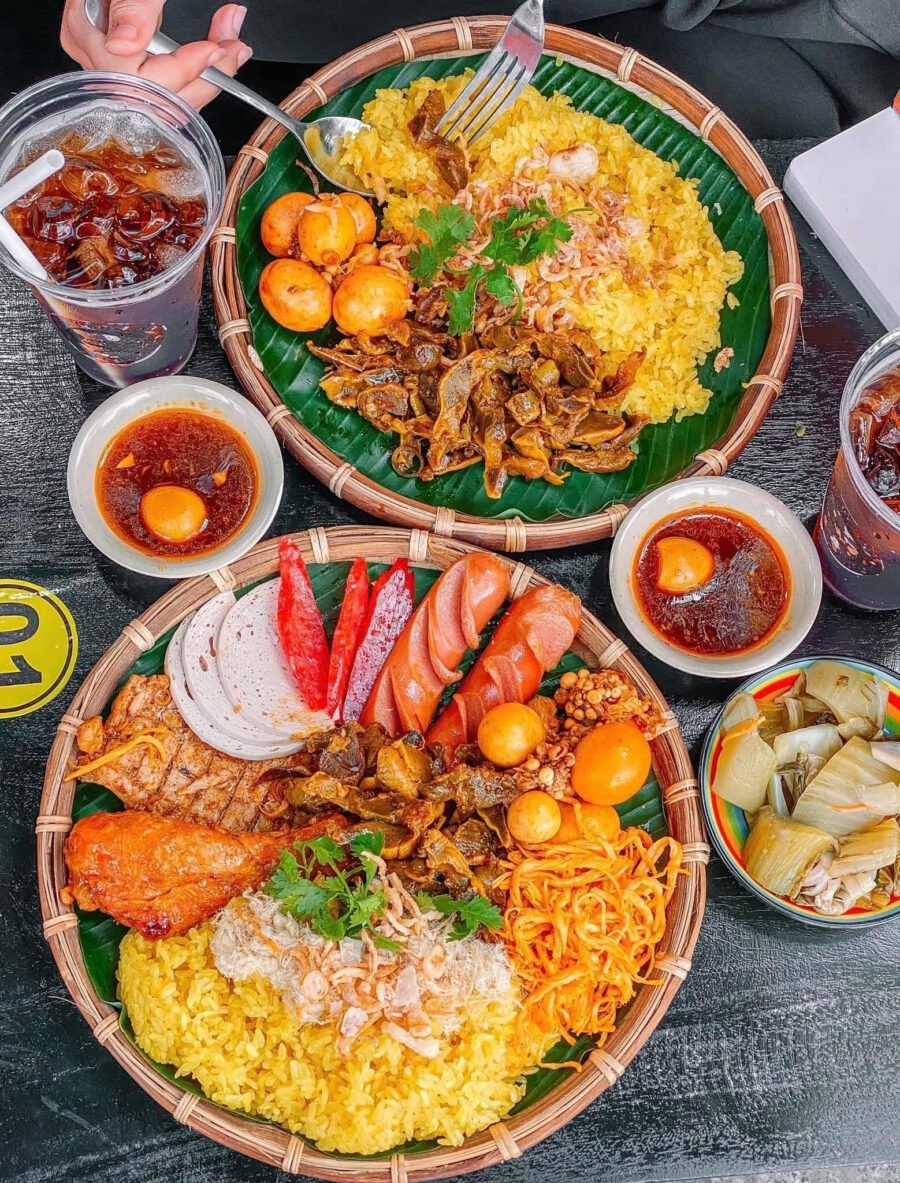 Photo: HiQuyNhon
"Xoi"; or "glutinous rice", "sweet rice", "sticky rice" in English; can be found in many Asian dishes, especially in the southeast Asia areas. To cook "xoi", Vietnamese often soak the glutinous rice for around four hours until the grains have absorbed enough water. Then, the rice will be drained and steamed dry so that the grains can remain as the whole, soft but not mushy, sticking together in a lump, according to VietnamOnline.
Sometimes people can also make "xoi" using an electric rice cooker, with the same method when cooking regular rice. However, the grain will break down under the direct heat, becoming glue-like and soggy.
"Xoi" can be eaten at any time of the day, but typically, Vietnamese often choose it as a cheap and scrumptious dish for their morning meal.
From one main white plain "xoi", there are nearly hundreds of variations that have been created. Normally, sticky rice can be steamed together with other seeds like mung bean (black and red mung bean are also included), corn, peanut, etc.
Like many other Vietnamese street foods, "xoi" is a "enjoy it in your own way" cuisine, because one is free to eat with whatever he wants according to his personal taste!
For breakfast, people usually eat "xoi" with "ruoc"- stringy, salty dried pork; "Muoi Vung- salty sesame and peanut; or even with only deep-fried shallots and a tablespoon of vegetable oil. Others may serve their "xoi" with braised egg, braised pork, '" lap xuong"- Chinese-like sausage, "gio cha"- Vietnamese pork pies, or chicken breast, chicken drumstick; but the price will be higher.
Different areas have various kinds of "xoi" with a distinct taste. In the mountainous area of Northern Vietnam, the ethnic minority are very proud of their "five-color xoi". "Xoi" is cooked with special local herbs which originate in the colors of red, black, purple, and yellow. No food coloring is used, all are natural and good for your health.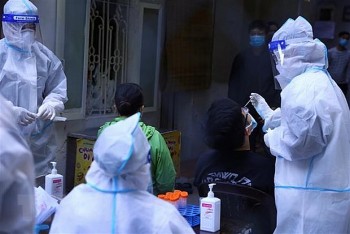 Focus
Vietnam's Covid-19 death toll is now 26,483, or 2 percent of total cases. More than 7,000 coronavirus patients nationwide are in serious condition, with 741 requiring invasive ventilation and 20 on life support.