Luck of the Irish Expat: How to Celebrate St. Patrick's Day in Hanoi
Although miles away from home, Irish expats can still expect a high-spirited holiday in Hanoi!
On March 17th, Irish lads and lasses across the world drink their Guinness, whiskey, and other alcoholic beverages in celebration of their homeland. St. Patrick's Day is when a majority of the world wears green and drinks in honor of Ireland's patron saint. Despite the cultural differences, the tradition is still kept alive in Hanoi by foreign expats and Vietnamese locals.
"Describing St Patrick's Day and its significance to a foreigner can often be difficult," said Kellie Higgins. "It's not an independence day but rather a day to celebrate Ireland's national saint. In recent years it has come to be a day that celebrates all things Irish, not just Saint Patrick."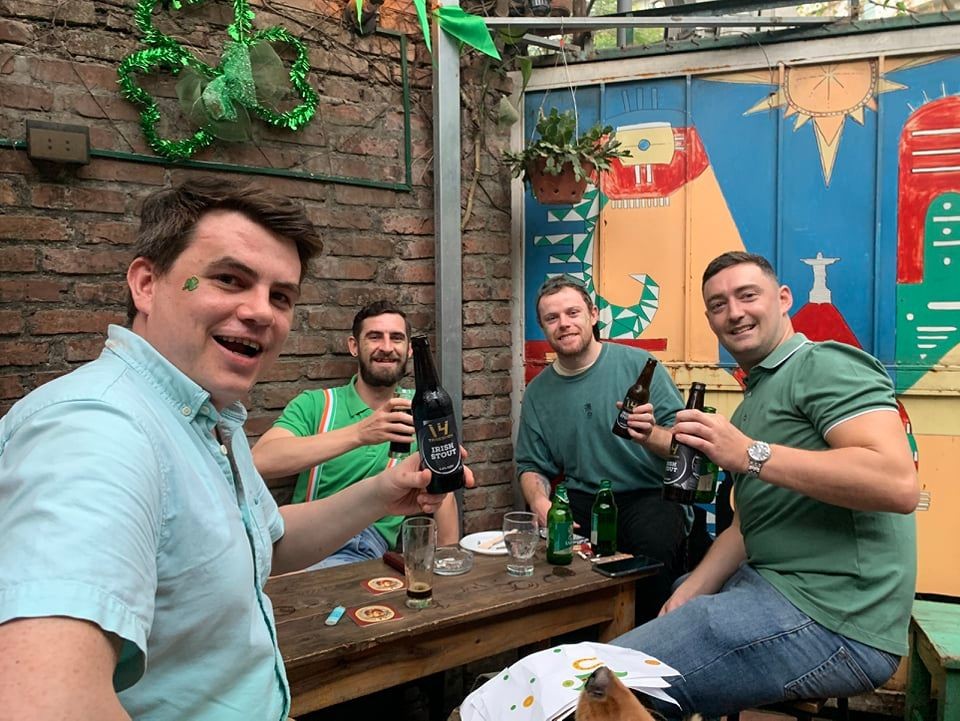 The lads drinking authentic Irish Stouts from St. Patrick's Day of yesteryear. Photo by Nhữ Trung Hiếu.
St. Patrick's Day has become more meaningful for Irish citizens abroad, as it is a friendly reminder of the charms of the Emerald Isle.
"When I'm back home, St. Paddy's Day doesn't mean a lot," said David Di Nógla, an Irish expat. "It is really just an excuse to drink, nothing special. When I celebrate it in Hanoi, the holiday becomes a celebration of my heritage and my culture that I don't normally celebrate throughout the year. There is a bit of homesickness at this time so it is nice to find those traditional, cultural things that make me think of home."
"While living in Vietnam, it is nice to have a day where you can celebrate being Irish, and feel like you're back home, even if just for a day," said Orla McAfree, an Irish expat. "Also binge drinking is a bonus!"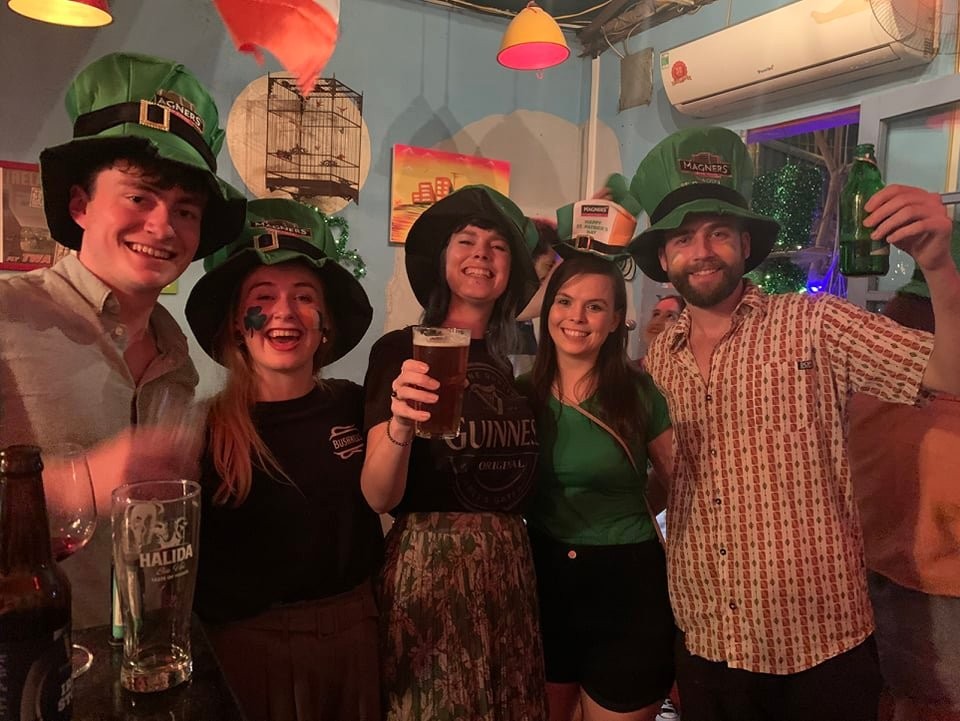 Dressed in green, covered in shamrocks, and full of Irish smiles. Photo by Nhữ Trung Hiếu.
In true Irish fashion, it is expected for celebrators to get royally drunk throughout the entire day. Therefore, many Western-friendly pubs and bars offer great "happy-hour" deals, encouraging everyone to get in on the Irish spirit. One pub in particular is a faithful servant to Hanoi's Irish community, offering plenty of atmosphere and Celtic brews.
"Usually we go to the Snug," said Emma Burke, an Irish expat. "It is one of the only Irish pubs in Hanoi. Every year, there is something going on there."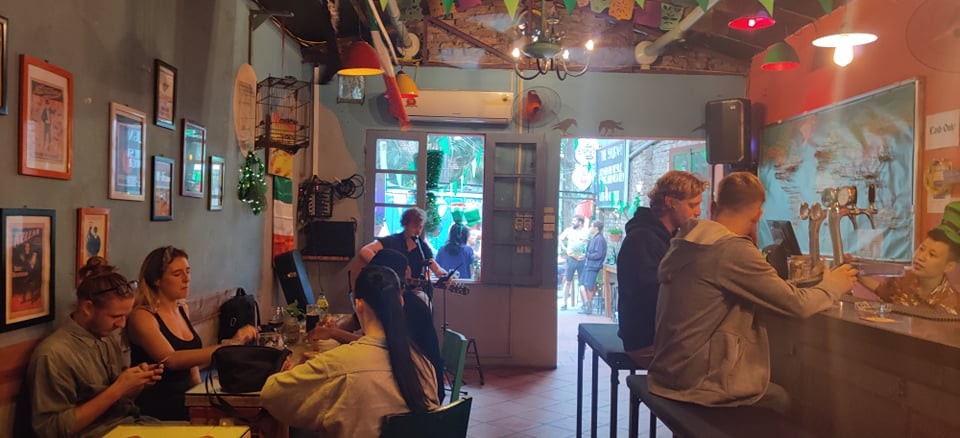 The Snug: one of Hanoi's few Irish bars. Photo by Nhữ Trung Hiếu.
Located in the heart of Dang Thai Mai, the Snug has all of the Irish staples; free-flowing pints, generously poured whiskey cocktails, hearty portions of Shepard's Pie and other selections of Irish cuisine. During the week of St. Patrick's Day, the small pub hosts several Irish-themed events, from a quiz on Irish culture to performances by Irish musicians. The Snug, while beloved by Irish expats, is actually run by a savvy Vietnamese man named Torpedo.
Born as Nhữ Trung Hiếu, Torpedo acquired the Snug two years ago from its former owner, an Irishmen who left because of the pandemic. Although he isn't Irish himself, Torpedo worked to maintain the pub's Irish spirit. Despite never promoting it as an Irish bar, the Snug continues to be Mecca for Irish expats in Hanoi.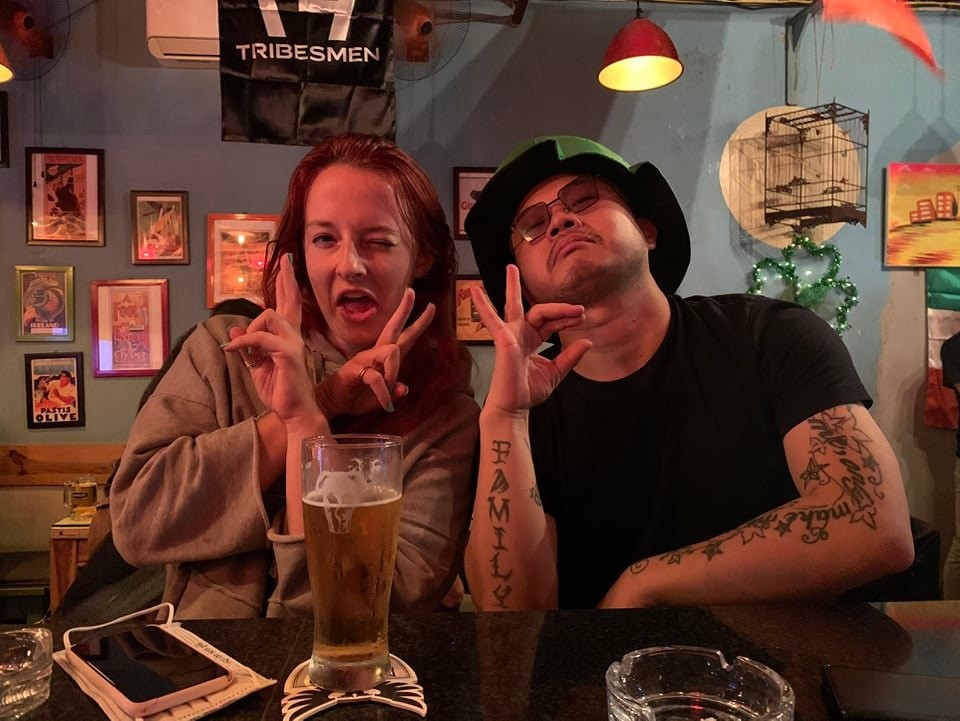 Torpedo enjoying a drink with one of his Irish customers. Photo by Nhữ Trung Hiếu.
Just like his Irish patrons, Torpedo is excited for St. Patrick's Day. "The Irish community has done a lot for Vietnam, so I see this as an opportunity to show my appreciation for them."
This year, Vietnam and Ireland celebrate 26 years of successful diplomatic relations. While a small European country, Ireland has assisted with demining operations, Covid-19 prevention, and contributed to helping Quang Tri province rebound from natural disasters. Thanks to the goodwill of Ireland, many in Vietnam share Torpedo's love of Ireland and its people. Despite being across the world from each other, the two nations share some cultural similarities.
"St. Patrick's Day is similar to Vietnam's Tet holiday," explained Torpedo. "In Vietnam, we drink and gamble. In Ireland, they drink and dance. Both holidays feature a week of people showing love for each other. I love the atmosphere, the vibes, everything."