Real Experiences Entering Vietnam Customs by Fellow Expats
With Vietnam's borders slowly reopening, expats share their experiences with how they entered the country. Hopefully within the coming weeks, the country will see more visitors with a tourist visa.
The visa and customs procedures have been quite an obstacle for anyone who's planning to travel to Vietnam. Unless you arrive with a work permit or marital visa, it seems to be quite impossible to apply for a visa to enter Vietnam. To further investigate the issue, we have reached out to our friends in the expats' community to discuss some unanswered aspects relating to the entering process to Vietnam.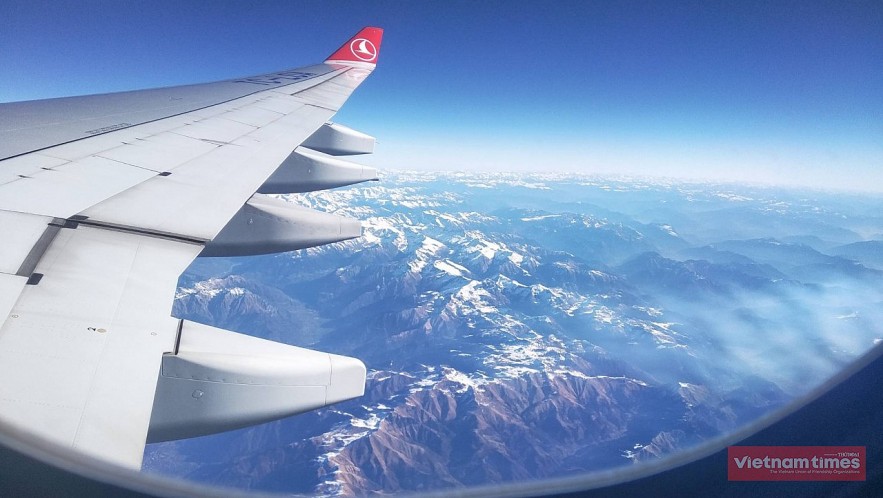 View from a Turkish Airlines flight. Photo: Ollie Le Nguyen
"I've had mixed experience..." - entering with a work permit
When being asked about the customs procedure, Augustine M. shared, "I've had mixed experience with customs when entering or leaving Vietnam."
"For the first time I came, it took quite a while. Because it was a long line in the customs since not many people had a visa on arrival. And the process at the counter took quite a lot of time," he added.
But overall, this entering is "Pretty straightforward, using a work permit to get past the customs so it was pretty quick."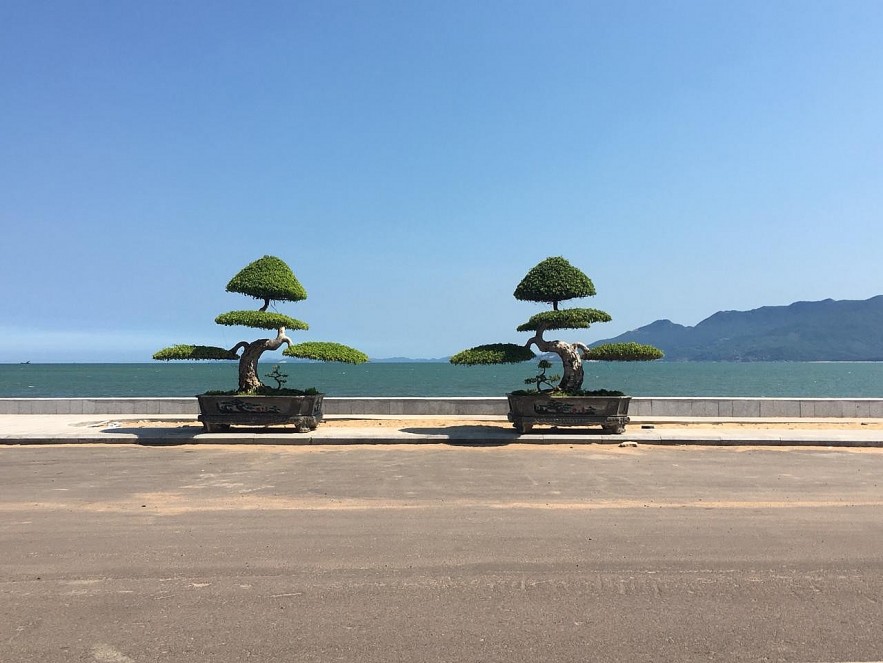 A point of view in Quy Nhon. Photo: Augustine M.
Augustine recalls his previous time of entering or leaving Vietnam, "I have to do a visa run once to go out to get a business visa and come back, and that was many years ago. Later on, I had a work visa so it's easier."
When being asked about the plane tickets and flight situation, he expressed some issues. "It is a bit difficult obviously because the current situation, there are not many international flights coming to Vietnam."
Before the flight, the health requirement is considered to be "pretty standard". Augustine added, "requirement included 72hr - PCR standard tests on entering Vietnam."
"Having left in November and coming back initially in March was with the paperwork. Since the law has changed a bit because of the pandemic, it takes a minute to get my work permit through the customs," shared Augustine.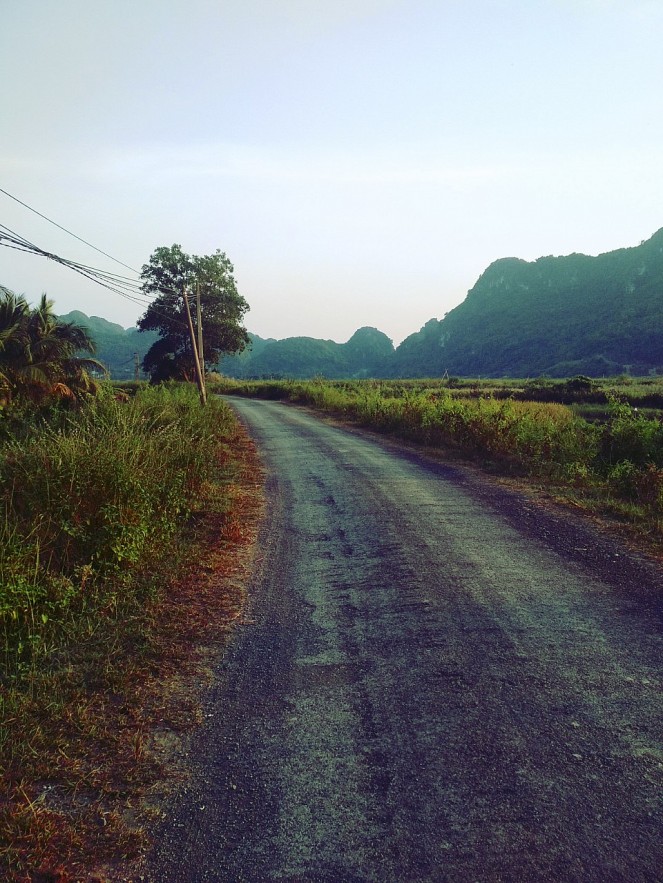 Natural site In Central Vietnam Photo: Augustine M.
On February 16, the Vietnamese government announced their goal to fully resume visa application and visa waiver programs by March 15. With the new tourism resumption plan, incoming tourists may only be required to have proof of vaccination or recovery from COVID-19 and a negative test result certificate issued within 24 hours (rapid test) or 72 hours (RT-PCR) of departure. Most travelers will only be required to take the COVID-19 test prior to boarding and pay an insurance fee of approximately 30 USD. Any further questions about these issues should be directed to the Vietnamese government. - According to US Embassy
"It's not an easy process" - entering with a spouse visa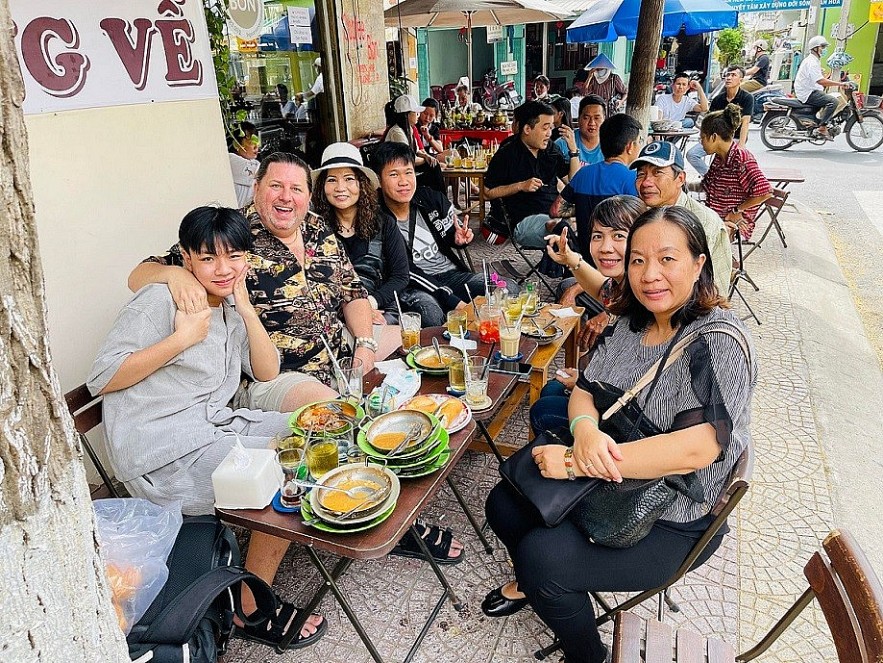 Visiting family in Mekong Delta, Vinh Long area. Photo: Kurt Bennett
Kurt Bennett talks about his entrance with careful thoughts and ínightful explanations. "It was not an easy process," since tourists are still not allowed to come into Vietnam until March 15th then.
He then added, 'The only reason I was able to come in is that I have a five-year spousal visa. The only other ways to come in right now are a spousal visa, business visa, or have a Vietnamese passport. Hope that helps anyone entering Vietnam."
Speaking on the tickets price, "Plane tickets are expensive, double the price we normally pay. And the flight times are much longer. Flight times are almost 2 days each way. You can find shorter, but then they're even more," said Bennett.
"You can find cheaper flights, but then they're even longer. We like to fly through Korea and stay in a hotel in the international terminal of the airport, no customs," according to his experience in the most recent entrance occurred 2 weeks ago.
These could be great travel tips for fellow travelers who are planning for accommodation or simply worry about transits stay.
Mentioning foreign currency, "Customs does not ask about what currency we might have. I always take it off with me when I go back stateside to get a taxi to a hotel in Vietnam. Then we just exchange money at the exchange market," Bennett described in detail.
"...lengthy but extremely smooth process." - a couple entering with work permits and TRC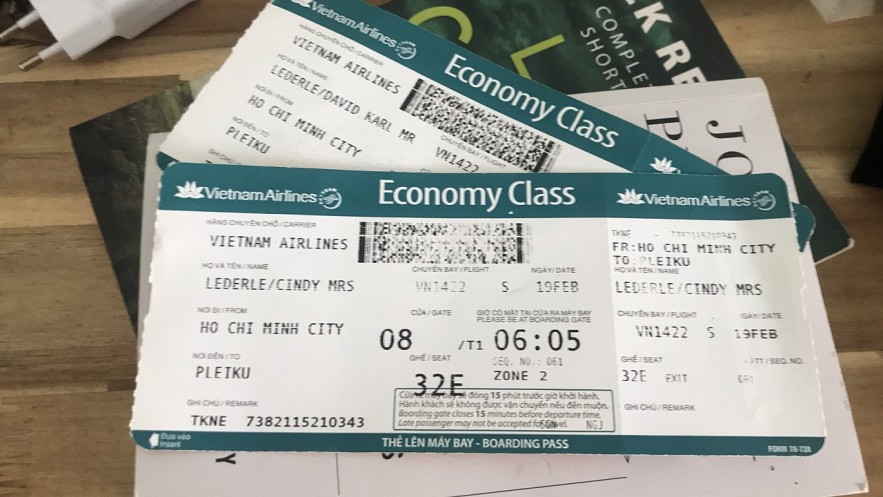 Cindy and David tickets from HCMC to Pleiku trip on 19th Feb. Photo: Cindy Loren
Cindy Loren and significant other, David, are foreigners who work as teachers in Pleiku. They left on 28th November 2021 to reunite with friends and family in South Africa. A year later, they managed to return on the 18th of February, 2022.
They did their prior flights checked with the airlines as well as the Vietnamese websites as to what was required to re-enter. Being teachers they both have work permits so they gained access using both work permits and TRC – Temporary Residency Permit.
Loren shared via phone call with Vietnam Times, "The flight was extremely crowded because so many people wanted to return to Vietnam. We arrived at about 7 pm. The airport in HCMC - Tan San Nhat was quiet but busy because of our arrival. We were in the queue for about 30 mins."
Discussing the process of what actually happened at the customs, Loren said, "Our first stop was to show our passports and the health declaration app. Although we did have all printed documentation should anyone of our phones have not been working,"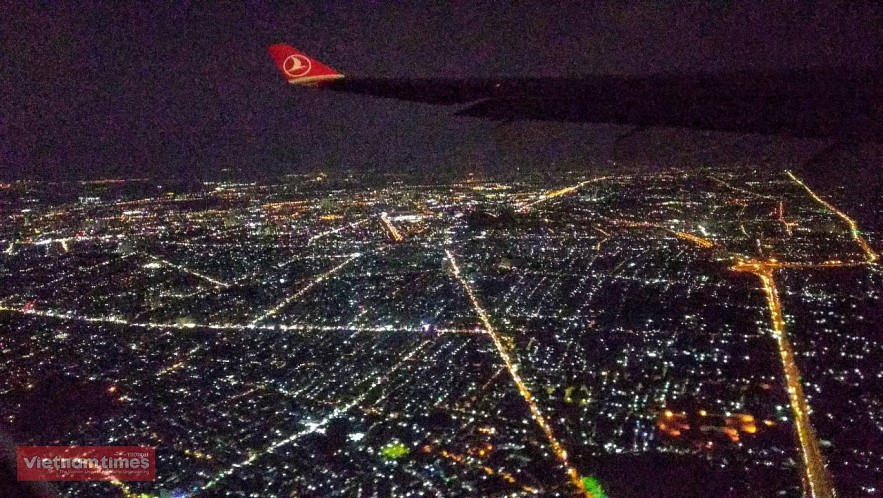 Turkish Airlines flight over HCMC. Photo: Ollie Le Nguyen
Explained in detail, Loren added, "The process of handing the passport and QR code printed out was literally 20 seconds per person if you have your app on your phone available to show them. We perceive direct to immigration, literally another 20 seconds and then we'd down to our carousel to collect our baggage."
Loren gave out her personal comment for the experience she had entering Vietnam with her partner, "We were so pleasantly surprised with how smooth things were going. The only hiccup was there wasn't enough people serving and supporting documentation, etc. it was a lengthy but extremely smooth process."
"David and I had both had the PCR test 72hr before we took our flight, and having had covid we uploaded the recovery certificated that was executed a week before we departed from South Africa," added in her health background of having had Covid and recovered .
"All in all, we are very happy to be back. Delighted that Vietnam is opening the border and making it very easy for people to get in," Loren wittily shares her point of view of what had happened the moment she arrived at the airport. Yes, there were a few people in the queue ahead of us and behind us that literally just didn't have their stuff together, they were handling bags and trying to fill out forms, etc."
She did want to share her travel advice with fellow expats who are planning to visit Vietnam, "My best advice: check with the airlines, check with the Vietnamese counsels, or on the website as to the updated requirements are. Make sure you have them on your phone, print out extra copies."
Despite the effort, Cindy is happy to be back in the S-shaped land.
"What a pleasure to return to Vietnam," said Loren.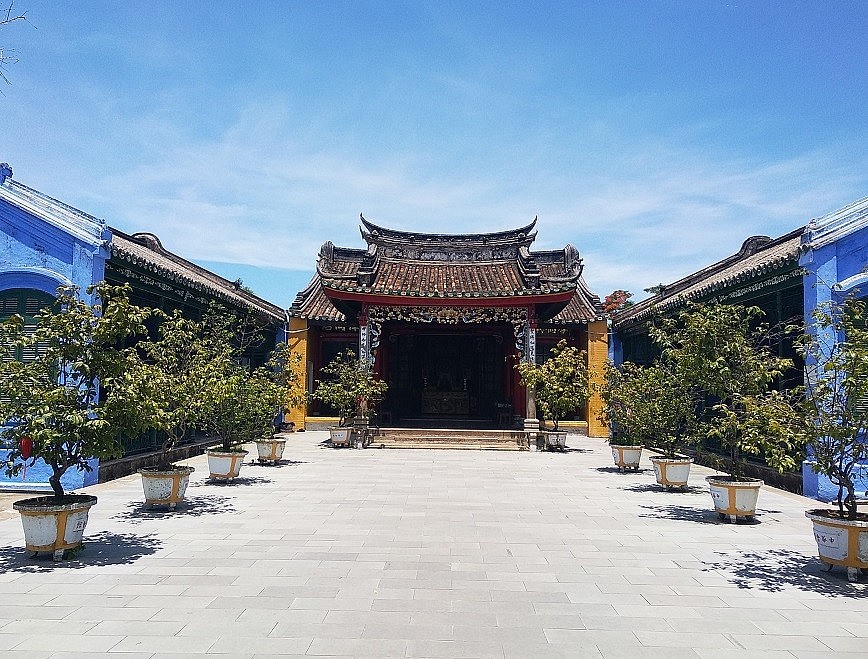 Public Art House in Hoi An. Photo: Ollie Le Nguyen
Consider the proposal of the Ministry of Culture, Sports and Tourism on the reopening of tourism activities
To ensure safety and efficiency in the new normal conditions, Deputy Prime Minister Vu Duc Dam assigned the Ministry of Health to urgently amend regulations and requirements for tourists on entry to suit the new situation according to the guidance of Resolution 25/NQ-CP dated 7 March 2022.
Then submit to the Ministry of Culture, Sports and Tourism before March 15 to summarize, complete and announce following its authority the plan to reopen tourism activities under new normal conditions in the spirit of "safe adaptation, flexibility, and effectively control the COVID-19 pandemic".
The Deputy Prime Minister also requested the ministries, branches and localities according to their assigned functions to actively coordinate with the Ministry of Culture, Sports and Tourism to organize the implementation of tourism activities to ensure safety and efficiency, and convenience for tourists.
A campaign to promote Vietnam as a safe and attractive tourist destination should be launched as soon as relevant ministries and sectors agree on conditions and regulations for international tourists.
Opening tourism should be associated with the development of communication plans of tourism management and promotion agencies, and at the same time improve the quality of tourism services.
These are necessary actions to revive the Vietnam tourism industry that has been paralyzed for the past 2 years while countries in the same region have soon opened up.
For further information, please contact VIETNAM IMMIGRATION DEPARTMENT via tel: 02439 387 320 or email: foreigners@immigration.gov.vn.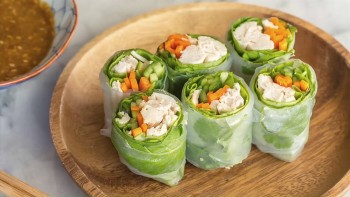 Travel
Rolls are a easy-to-make dish that is loved by many Vietnamese diners as well as Korean stars.