Made-in-Vietnam Satellites Conquer Space
Vietnam impressed the world by successfully develope and launch several satellites into the orbit over the last decade.
The launch of each made-in-Vietnam satellite marked a new development milestone of Vietnam's space industry. Here're details on how F1, PicoDragon, MicroDragon and NanoDragon paved the way for the development of the local space industry.
Nano Satellite F-1
This is the first microsatellite built by a private Vietnamese corporation to be launched into orbit. Nano satellite F-1 was launched to the International Space Station (ISS) on July 21, 2012.
Nano F-1 is researched and manufactured by FPT Space Research Department (FSpace) of FPT Technology Research Institute.

Nano F1 - the first microsatellite built by a private Vietnamese corporation. Photo: Wikipedia
It has dimensions of 10x10x10cm and weighs 1kg. There is a low resolution camera (640x480) to take pictures of the earth; one 3-axis magnetic field sensor to serve the satellite posture determination system and several temperature sensors to collect data from the space environment.
The main purpose of this project is for training Vietnam space team. At FPT Technology Research Institute, the team learned to design and manufacture of satellites and how to operate ground station to control satellites.
The successful launch of the F-1 Nano satellite is an important event marking the first satellite made by young researchers at FPT Technology Research Institute.
This is our first step paving the way for Vietnamese space projects later on. There's failure that we learned from. F-1 Nano satellite lost its signal when it was released from the International Space Station (ISS).
PicoDragon Satellite
The PicoDragon satellite was scheduled launch on Aug. 4, 2013. After much delay, on Nov. 19, 2013, at the International Space Station (ISS), PicoDragon was finally flew into orbit.
Pico Dragon satellite has size 10 x 10 x 11.35 cm, weighs 1 kg. This is a product developed by Vietnam Space Center (VNSC - Vietnam Academy of Science and Technology).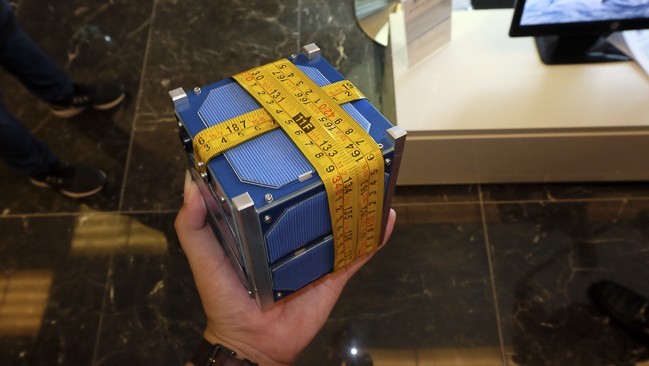 Replica model of PicoDragon. Photo: Vietnamnet
The entire process of manufacturing PicoDragon satellite, from research, design, construct to integrate, was done in Vietnamese facility.
This testing of the project received a lot of help from foreign space researchers. The vibration and heat tests for PicoDragon were carried out at the laboratory of Tokyo University, the Japan Aerospace Exploration Agency (JAXA) and the IHI Aerospace Company (Japan).
The mission of the PicoDragon satellite is to take pictures of the Earth, measure a number of satellite parameters and the space environment by sensors mounted on the satellite and test communications with the ground.
With PicoDragon, using the camera and sensors mounted on the satellite, VNSC can perform basic tasks like take pictures of the earth, measure a number of satellite parameters and the space environment and test communications with the ground stations, cited from Vietnamnet.
This is Vietnam's first microsatellite successfully operating in space.
MicroDragon Satellite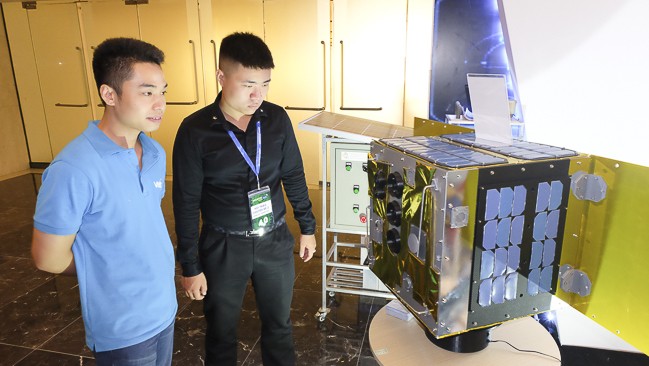 The model of MicroDragon. Photo: Vietnamnet
MicroDragon is a product of the Basic Satellite Training Component, part of the Project "Prevention of Disasters and Climate Change Using Earth Observation Satellites". MicroDragon was launched into space on Jan. 18, 2019.
This satellite was developed by 36 students at VNSC under the guidance and technical support of experts from JAXA and professors of Kyushu Institute of Engineering and Technology (KyuTech) fromJapan.
This excellent group of students have studied at 5 leading universities in Japan including: University of Tokyo, Keio University, Hokkaido University, Tohoku University and Kyushu Institute of Technology for 4 years since 2013.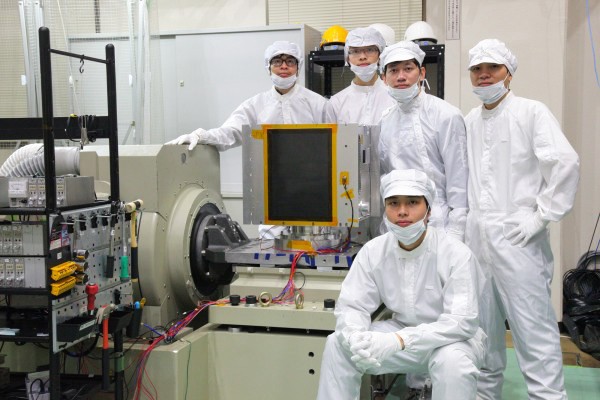 Vietnamese research group in the laboratory. Photo: Vietnamnet
The satellite is responsible for observing Vietnam coastal territory. Its main tasks include assessing water quality, locating aquatic resources, and monitoring changes in phenomena occurring in coastal area.
MicroDragon was equipped much better than the previous two. It uses a system of two multispectral cameras with adjustable liquid crystal filters (LCTFs), which can capture at 12 spectral bands (from 412nm-1,020nm), best ground resolution images of 78m, The image size is about 36×48km when the satellite operates in an orbit of 500km.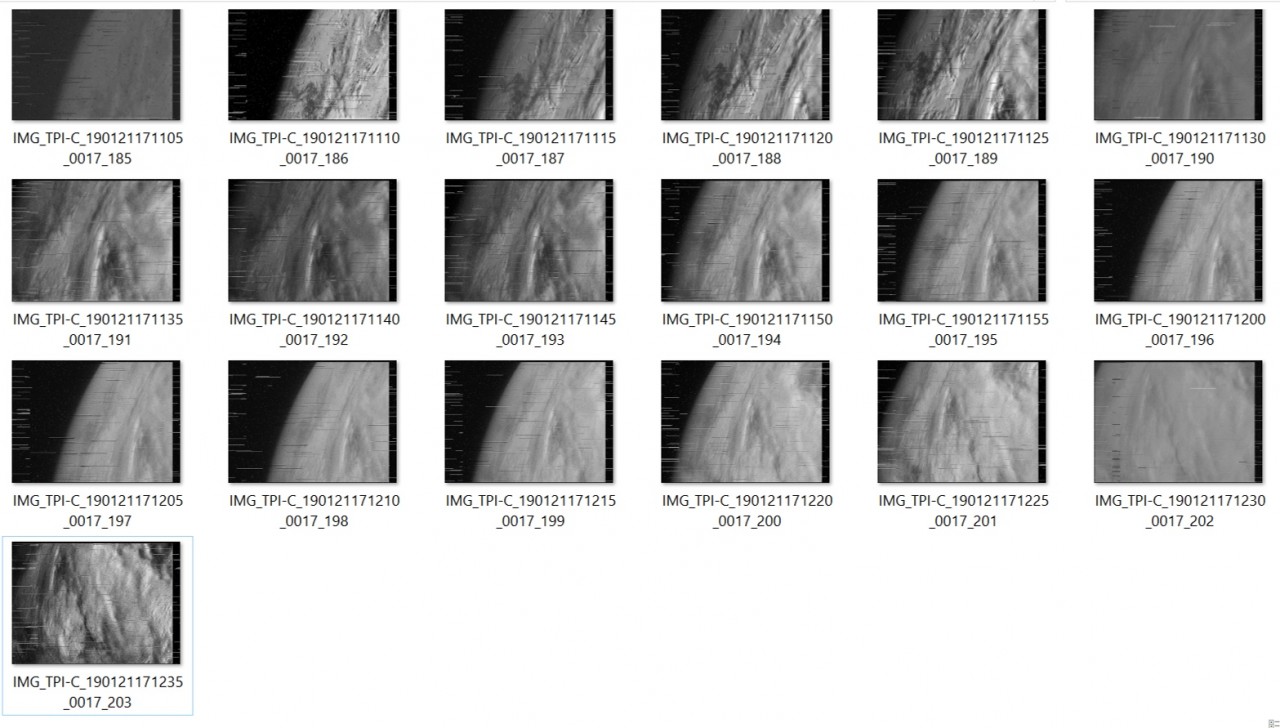 The first unprocessed test photos of the TPI camera system, taken by MicroDragon satellite 4 days after launch in the US area. Photo: VNSC
What's special about this project is communication. Image data sent from MicroDragon satellite is the basis for exchanging satellite data with foreign satellite and ground stations. This is a major development for Vietnam space industry.
In addition, Vietnam enhances its ability to respond quickly in disaster prevention and climate change activities.
NanoDragon Satellite
NanoDragon flew into orbit on Nov. 9 this year, making its our latest Made-in-Vietnam satellite to be successfully launched, also the biggest and the most complex.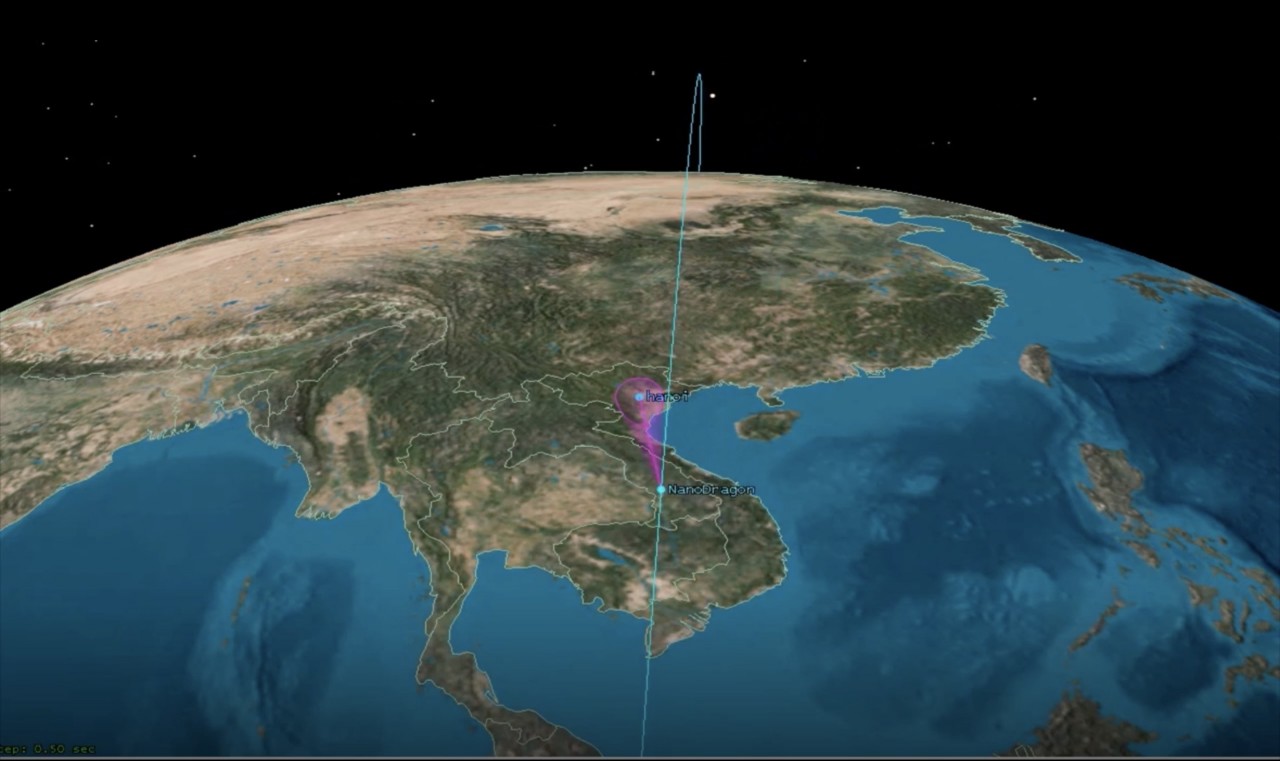 The route of NanoDragon in the orbit. Photo: Vnexpress
The satellite is the product of the Project "Research, design, manufacture, launch and test operation of nano-sized microsatellites" under the "National science and technology program on space technology in 2016-2020".
The whole process of researching, designing, integrating and testing satellite functions was completely conducted in Vietnam by staff of the Vietnam Space Center.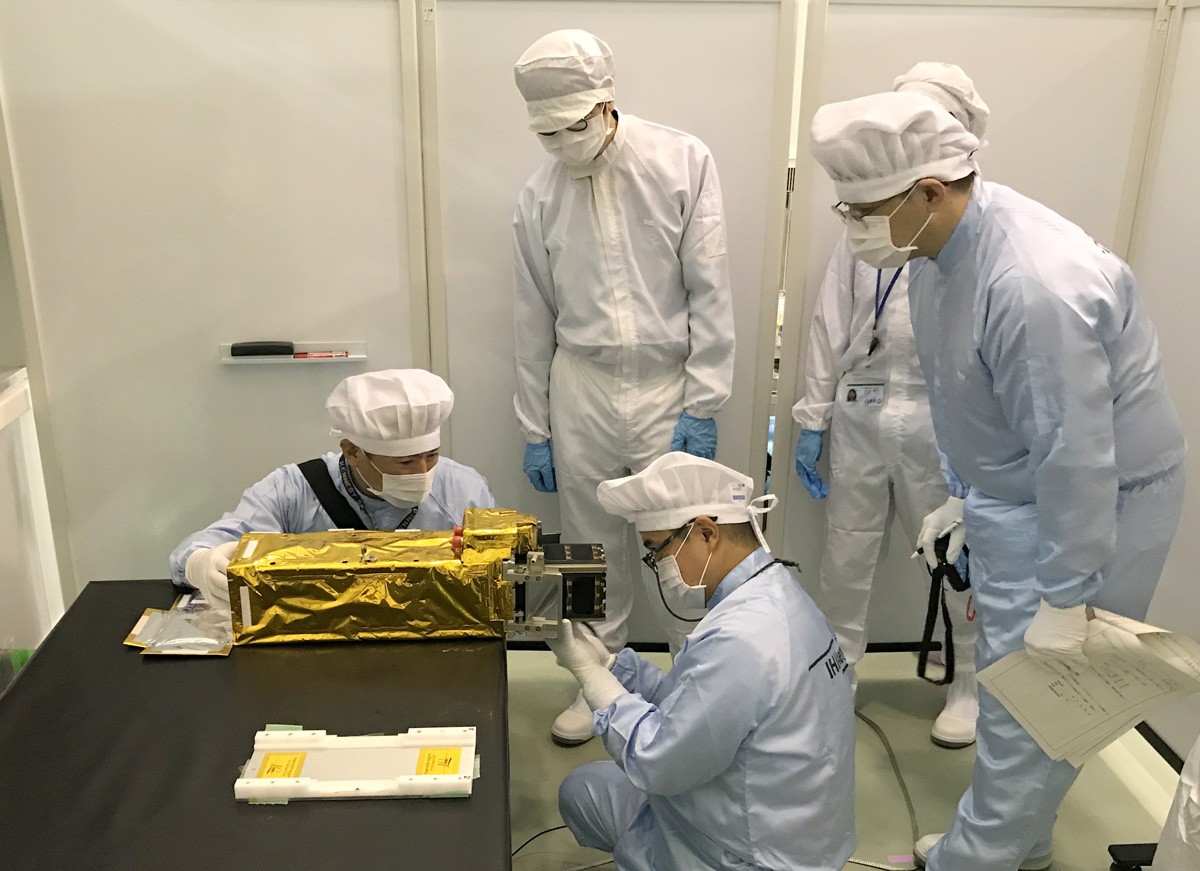 The Vietnamese team in charge of research and manufacturing Nano Dragon. Photo: Vnexpress
The satellites were deployed from Epsilon solid-fuel rocket that blasted off in midair from the Uchinoura Space Centre in Kagoshima prefecture at 7.55 a.m. (local time).
The 3U Cubesat NanoDragon weighing 3.8kg was developed by the Vietnam National Space Center under the Vietnam Academy of Science and Technology. The development of the NanoDragon satellite is part of VNSC's "made in Vietnam" small satellite development roadmap, VOV reported.
The satellite is expected to operate in a sun synchronous orbit at an altitude of about 560 km. This satellite is designed to integrate an automatic identification system (AIS) used for tracking and monitoring vessels at sea.
It will also make use of an optical imaging device in order to verify the quality of the satellite posture controller while operating in orbit.
NanoDragon is designed to operate in orbit for a minimum of 6 months, but according to VNSC experts it can operate for up to two years.
Up to now, the launch of Made-in-Vietnam satellites had contributed to 7 research projects in many different field at VNSC.
According to Vnexpress, aerospace technologies require big resources, from capital to human resources and time. Vietnam continues to stimulate demand for related technologies in order to move forwards with future projects, said director of VNSC.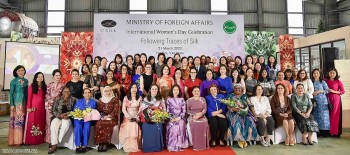 Friendship
Female ambassadors, representatives from diplomatic corps and international organizations, along with spouses of diplomats in Vietnam gathered together to find about more about silk weaving and silk products in Vietnam.