Meghan and Harry 'bombshell' Oprah interview: the biggest revelations
Meghan Markle and Prince Harry sat down for a bombshell interview with Oprah Winfrey Sunday night, speaking about racial abuse from British tabloids and dynamics within the royal family.
The interview made headlines for days before it was broadcast last night, and somehow, it still managed to exceed expectations. Meghan Markle and her husband, Prince Harry, sat down with Oprah Winfrey to talk about stepping back from their positions as senior members of the British royal family last year and eventually moving to Los Angeles. Over two hours of TV on CBS, they laid out their painful reasons for that decision, including a barrage of racist abuse from British tabloids and a lack of support from Buckingham Palace.
Here are the main takeaways from the much-anticipated televised interview on CBS.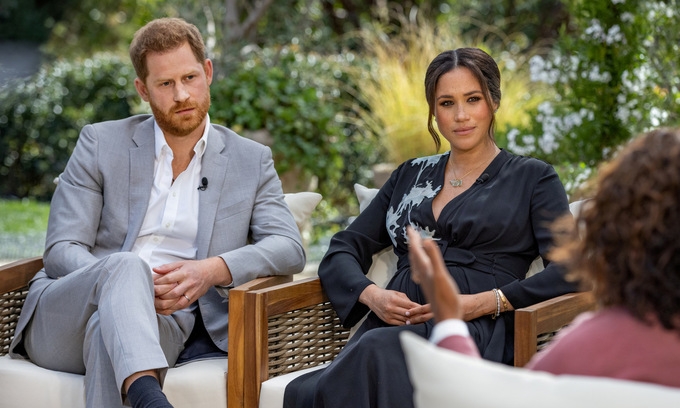 Meghan Markle's interview with Oprah . Photo: Reuters
Baby Archie's skin color
Meghan, now pregnant with the couple's second child, revealed that at least one person in the palace expressed concerned about the skin color of the Sussexes' first child, son Archie Harrison Mountbatten-Windsor, who was born in 2019. She did not name that person.
"There were also concerns and conversations about how dark his skin might be when he was born," Meghan said.
When Prince Harry joined the interview after Oprah first talked with Meghan alone, Winfrey asked him if he'd reveal the name of the person who made comments about skin color. He said he never would.
Meghan's suicidal thoughts
Harry's mother, the late, beloved Diana Spencer, Princess of Wales, freely shared that she had suicidal thoughts and and even attempted suicide due to the monumental pressure of marrying in to the royal family. Harry's wife, decades later, stated that she'd had essentially the same feelings.
"I just didn't want to be alive anymore," the duchess told Oprah during the interview, calling the suicidal thoughts "constant," and saying she "thought it would solve everything for everyone."
In a chilling detail, she revealed that she went to the human resources department at the palace (yes, they have one), and was told she wasn't an employee and couldn't be helped.
Royal baby gender reveal
The royal couple revealed they're expecting a girl. She will be eighth in line to the throne, following her brother, Archie, and will bump Prince Andrew down a notch.
The couple said they will not have more children, but if they were to have a boy after this daughter, he would not leapfrog his sister in the line of succession. That wasn't always true -- Princess Anne is the second of the queen's children, but her two younger brothers, Andrew and Edward, are higher in the line than she is. But the 2013 Succession to the Crown Act changed that sexist rule. Now Princess Charlotte, Prince William's second child, keeps her place in line even though a boy, her brother Prince Louis, arrived later.
Cut off financially
Money has never been a problem for the royals, but in the interview, Harry said the royal family has "literally cut me off financially."
It's not like the couple will be poor, ever. Harry inherited millions from his mother, who died in a Paris car wreck in 1997. Meghan has her own money from her Hollywood acting career. And the royal couple has signed big deals with Netflix and Spotify.
But considering the number of less important royals who collect money, and the riches Harry's father, Prince Charles, pulls in from the Duchy of Cornwall, this feels like a shocker. Harry said the couple would not have had the money to relocate to California without his inheritance from Diana.
Loss of royal protection
Like other heads of state, the royal family have always had bodyguards, and there have been times when they have needed them. Princess Anne was almost kidnapped in 1974, an intruder broke into the queen's bedroom in 1982, and a man fired blanks at the queen as she rode in the Trooping of the Color ceremony in 1981.
So it was startling to hear that the royal family cut off Harry and Meghan's security detail when the couple moved to Canada and then California. Meghan especially was the target of death threats, some based on her race, she told Winfrey, yet that didn't change the palace's decision.
Stepping up to help? Hollywood director Tyler Perry, who offered the royal couple use of his California home and security.
Kate made Meghan cry
Meghan and Harry and Prince William and his wife, Catherine, were the Fab Four of British royalty for a while, much as Charles and Diana and Prince Andrew and Sarah Ferguson briefly were in the 1980s. Since the Sussexes went their own way, there have been plenty of rumors about issues between the brothers and their wives.
Meghan addressed one of the major rumors in the interview. The tabloids reported that Meghan made Catherine cry before Meghan and Harry's wedding due to a fight about Princess Charlotte's flower-girl dress. Sunday night, however, Meghan said it was the other way around -- that Catherine made Meghan cry about the outfit.
Meghan said Kate later apologized and sent her flowers: "She was upset about something, and she owned it."
But when the tabloids put the blame on Meghan instead, the royal family didn't correct the record, something Meghan called a "turning point" in her relationship with the royals.
They got married early
Meghan told Winfrey that she and Harry actually married three days before the televised ceremony watched by millions. The Archbishop of Canterbury performed that ceremony in their backyard, she said.
"No one knows that," she told Winfrey. "We called the Archbishop and we said 'Look, this thing, this spectacle is for the world, but we want our union between us.'"
She also surprised many by saying that she didn't do any online research on Harry when they began dating, and that she didn't grow up following the royal family or knowing much about them.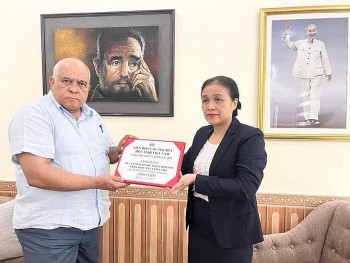 Focus
According to Cuba's News Agency Prensa Latina, on August 16, President of Vietnam Union of Friendship Organizations Nguyen Phuong Nga said that Vietnamese people will always stand by and support Cuba no matter what difficulties our friend is facing.