Methods to Vietnamese Cuisine Promoted in India
Through fairs, canteens, culinary ambassadors, traditional dishes imbued with Vietnamese national identity are introduced to Indians particularly and international friends. When Vietnamese food is loved by the whole world, it is a quick approach, an opportunity to promote Vietnam's image abroad.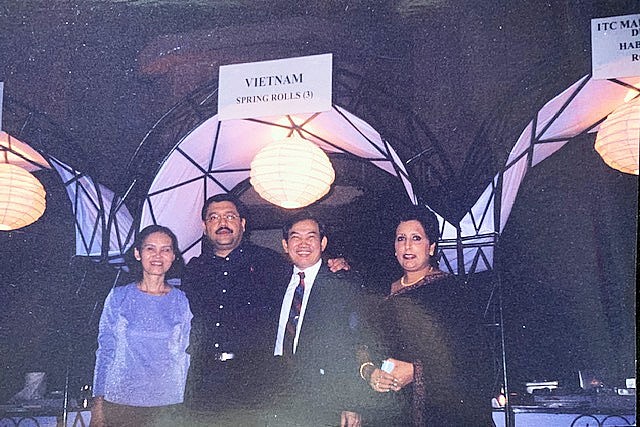 Former Vietnamese Ambassador to India Pham Sy Tam (third from left) and guests in front of a Vietnamese food stall during a food and culture fair at the embassies. (Photo: Pham Sy Tam)
Food with Vietnamese soul
According to former Vietnamese Ambassador to India Pham Sy Tam, the food and cultural fairs of embassies and ASEAN food fairs to raise funds for charity are a short way for local people and international friends to know about Vietnamese culture and cuisine.
The dish chosen to be introduced at most fairs is fried spring rolls - a specialty of Vietnamese cuisine. Former Ambassador Pham Sy Tam said, other countries often pay for air tickets to invite famous chefs in their country to cook.
Vietnam sometimes uses the support of the Embassy, sometimes the chef is introduced by the Ministry of Foreign Affairs. The chef brings all the tools, cooking ingredients, and shiitake mushrooms - the ingredients that make up the deliciousness of the fried spring rolls.
On the day of the fair, spring rolls are made at the Embassy and brought to the fair to be fried. Hot fried spring rolls were brought out to Indian friends, and fair visitors and everyone was impressed with this dish.
"Many people think that Vietnamese food is not suitable for Indian tastes because of the lack of spiciness, saltiness and rich spices, but that is not true.
Vietnamese fried spring rolls are a combination of many flavors in nature: rice paper is made from flour milled from rice, and filled with minced meat, vermicelli, carrots, onions, eggs, wood ear mushrooms, and shiitake mushrooms. All are chopped, and mixed together with spices. In spring rolls, there are dozens of flavors, as symbolic of the harmony and solidarity of the Vietnamese people.
Fried spring rolls must come with dipping sauce. The chef still keeps the sweet and sour sauce, spicy, not making strong sauce according to the taste of the Indians. However, fried spring rolls are always the first choice of customers and also the first to run out," said former Ambassador Pham Sy Tam.
At the food fair, visitors can also enjoy a "music party" imbued with Vietnam's cultural and ethnic identity with typical musical instruments. Visitors to the fair were given a handbook with articles and pictures introducing Vietnam's culture and tourism. The presentation of the handbook matches the aesthetic of the local people.
"Through this form, international friends know what Vietnamese cuisine and music are like, thereby creating a habit of enjoying. When I was Ambassador to India, international friends often expressed their love for Vietnamese food and music because they were good and different," said former Ambassador Pham Sy Tam.
Promoting Vietnamese cuisine
Vietnamese Ambassador to India, Nepal and Bhutan, Pham Sanh Chau, said that while working in India, his favorite thing is that there is a small canteen at the Vietnamese Embassy to introduce Vietnamese food on every Fridays. Many Indians and foreign diplomats in New Delhi come to the embassy to enjoy Vietnamese cuisine every week. The Indian press also has many articles about this canteen.
Ambassador Pham Sanh Chau is the one who launched the initiative to establish culinary ambassador clubs consisting of representatives of the continents. This club operates on a rotating basis to organize lunch every month to introduce the food. This is not only an opportunity for each country to introduce their cuisine or cooking methods but also their own culture, customs and practices to friends around the world.
Ambassador Pham Sanh Chau has established culinary ambassador clubs in Brussels (Belgium), Hanoi, and New Delhi. In New Delhi, the culinary ambassadors club was launched in May 2019 with the participation of more than 30 ambassadors and wives of countries from 5 continents, representatives of the government and the Indian Ministry of External Affairs.
Ambassadors of all countries appreciated the initiative of the Vietnamese Ambassador to India. They said that they would participate as a founding member of the club, thereby promoting exchanges and mutual understanding.
For Vietnamese cuisine to reach the world, according to Ambassador Pham Sanh Chau, it is necessary to enhance national pride through culinary introduction. Introducing Vietnamese cuisine should be considered a regular political task in the campaign to promote the image of Vietnam, supported by agencies, unions, associations, and Vietnamese people at home and abroad.
When coming to Vietnam, American marketing expert Philip Kotler once said: "Vietnam can take its cuisine as a feature to introduce to the world". Cuisine is a valuable "resource" to help create a deep impression on the culture and image of the country and the people of Vietnam.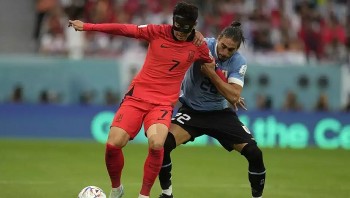 World
Both South Korea and Ghana are searching for their first wins at this year's World Cup. Ghana are facing the prospect of an early elimination from World Cup 2022 Group H when they travel to the Education City Stadium to face South Korea on Monday.