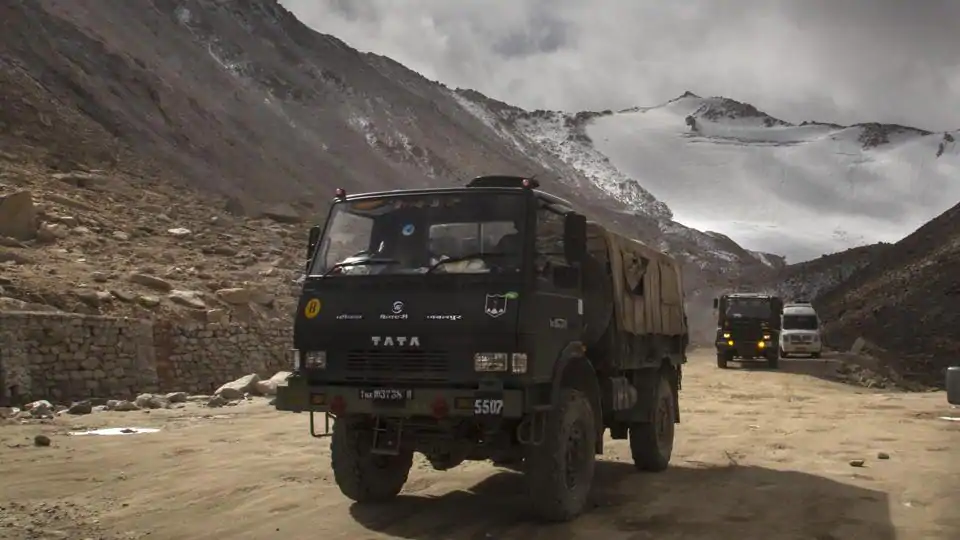 Indian Army vehicles drive on a road in Ladakh region near the border with China(AP)
With diplomatic and military talks on resolving the military standoff between Indian and Chinese troops along the Line of Actual Control (LAC) in Ladakh not making much headway, Indian Chief of Defence Staff (CDS) General Bipin Rawat said on August 24 that India has "military options" available, but these will be used only if talks fail.
This is the first time that a senior military officer has spoken publicly on the "transgressions by the Chinese" and the option of military force to deal with the border crisis in Ladakh, Indian Express reported.
General Rawat told the ANI news agency that "the military options to deal with transgressions by the Chinese army in Ladakh are on, but it will be exercised only if the talks at the military and diplomatic levels fail".
His statement comes even as the government prepares for another round of military talks with China to try and break the stalemate over disengagement of troops in Pangong Tso and the Gogra Post area.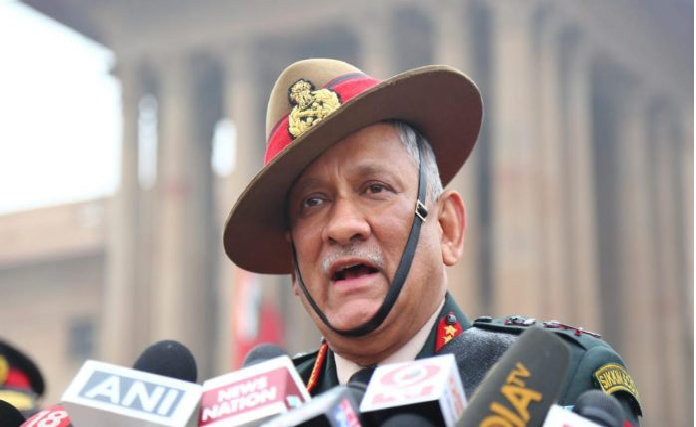 File photo of CDS General Bipin Rawat | Suraj Singh Bisht | ThePrint
The CDS, who was army chief during the 73-day military standoff in Doklam against China's People's Liberation Army (PLA) in 2017, also dispelled the notion that there is a lack of coordination among the principal intelligence agencies. He said that India has a vast front-line along the northern and western borders along with the Indian Ocean Region, all of which require constant monitoring, Hindustan Times said.
According to him, while India is still working towards acquiring round-the-clock capabilities to monitor its areas of interest, there is regular interaction between all agencies responsible for collection and collation of information. The apex multi-agency centre has been meeting on a daily basis, he pointed out, and constantly keeping everyone informed of the situation on the ground in Ladakh or any other area of interest.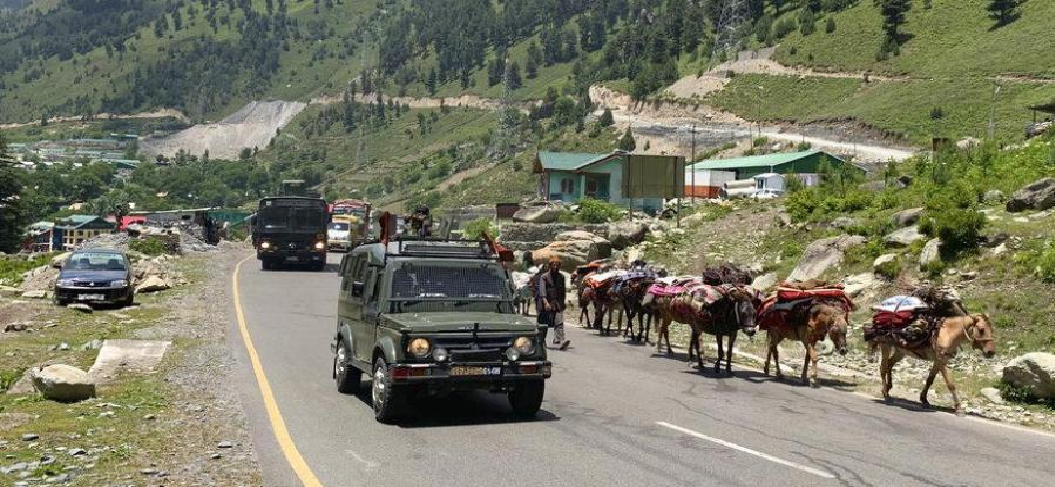 An Indian army convoy moves on the Srinagar-Ladakh highway at Gagangeer, north-east of Srinagar. Photo: AP
On August 22, defence minister Rajnath Singh met with the National Security Advisor (NSA) and the three service chiefs to discuss the stand-off along the Line of Actual Control in Ladakh. China has built up its presence along the LAC in Ladakh, with India deploying heavily to match its northern neighbour.
A bloody skirmish between the two sides resulted in the death of 20 Indian soldiers and an unknown number of Chinese casualties on June 15, but while Beijing has repeatedly spoken of peace and tranquility, it continues to maintain its presence in the region.
Takes between the two armies and also a diplomatic dialogue are on to first totally disengage and then de-escalate, but the PLA is seen to be dragging its feet as the issue has a domestic political resonance. Gen Rawat refused to comment on the August 22 meeting and also declined to share any operational details.
Military options are not theatre specific
"Military options are not theatre specific. Generally, you don't use the option where the point of conflict is," said Brigadier Anil Gupta, who is currently based out of Jammu, told Business Insider.
According to him, the Indian government's directions to the army will depend on the level of escalation they wish to instigate.
On the surface 'military options' include everything from quid pro quo to an all-out war. It can be carried out using the entire armed forces from Indian Army to the Indian Air Force (IAF), or the Indian Navy.
"My best guess is that it won't be an all-out military retaliation. I would somewhat for limited action in the places where the Chinese forces are vulnerable," said international security experts Sameer Patil with Mumbai-based think tank Gateway House.
Military options get more difficult to exercise overtime
Military options were always at India's disposal – from the initial Chinese incursions in May to the Galwan incident and even today. "The more you delay, the more difficult your options become," said Gupta.
According to him, the current points of inflexion along the India-China border will become the front to hold as the actual engagement occurs elsewhere – mostly likely in the area of air and sea where China may not have the advantage. The end-game being to shift the centre of gravity of the operations.
"We obviously want to score points where the Chinese positions are vulnerable, we don't want to venture into places where they are at an advantage," said Patil.
The situation between India and China along the Line of Actual Control continued to remain tense. Despite at least five rounds of talks at Lieutenant-General levels, disengagement, and de-escalation look unlikely with both sides getting ready to settle in for the winter.
Stand-off with PLA pushes India to go for new snow-free axis to Ladakh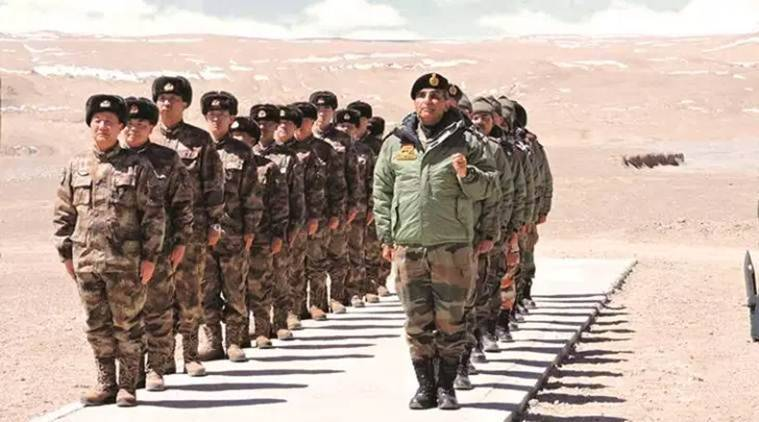 A file photo of Indian and Chinese personnel on the LAC. (ANI/File)
India's national security planners are pushing hard to complete an all-weather strategic route to Ladakh that will link Darcha in Himachal Pradesh to Nimu via Padum in Kargil's Zanskar valley, people familiar with the matter said.
Nimu is 35 kilometres from Leh town and headquarters of XIV Corps responsible for the defence of East Ladakh and Siachen Glacier, Hindustan Times reported.
This would be the first all-weather route to Ladakh that is already connected by two other routes; the first via Zoji La in Jammu and Kashmir and the second, via Himachal's Manali-Upshi-Leh axis.
The 9.02 kilometre Atal tunnel at Rohtang La, which will reduce the distance between Manali and Leh by 46 km, is set to become operational next month.
Senior military commanders said the third route to feed Ladakh by road is urgently needed given how Pakistan and its all-weather friend, China were eyeing the Siachen Glacier and Daulat Beg Oldie.
The defence ministry's road project is being given its hardest push by road and highways minister Nitin Gadkari and his colleague Gen VK Singh after China provoked a standoff along the Line of Actual Control in East Ladakh and started mobilising troops in depth areas. New Delhi perceives Beijing's reluctance to disengage despite reminders as an effort to set a new normal at the border./.
Rosy Huong