Miss Universe Vietnam H'Hen Nie: From housemaid to queen beauty
H'Hen Niê, 25, is an E De ethnic girl from the Central Highlands Province of Dak Lak. She has been working as a freelance model in HCM City for the past few years.
H'Hen Niê, 25, is an E De ethnic girl from the Central Highlands Province of Dak Lak. She has been working as a freelance model in HCM City for the past few years.
Miss Universe Viet Nam H'Hen Niê (source: eva.vn)
You seem to have gone through a long journey to become a beauty queen. Would you share your experience?
When I was a student, I had to work on the fields to help my parents in my hometown. Life was difficult. When I studied at a university in HCM City, I had a chance to live in the campus for free. I just paid for meals. But due to the small budget, I had to do some extra work earn money. While other students worked as tutors, I worked as a domestic help because at that time I couldn't speak Vietnamese fluently.
I helped a family with washing dishes, cleaning the floor and other housework. When I quit the job, they were sad and told me they were never so satisfied with any housemaid before me. I felt moved. I just tried to complete the task I was assigned because I was paid for it.
Then my friends encouraged me to become a model. Working as a model helped me to afford my studies, live on my own in HCM City and support my family back home in Dak Lak Province. But one day I realised that I could not pursue modelling for long because the industry preferred young models. I began to think of my future. My sister got married on my parents' insistence. She works hard every day to earn a living for her family. I did not want to waste my youth like that. I started working on my appearance and skills to move ahead in life. And then one day, I registered for the Miss Universe Viet Nam contest.
How did you prepare for the pageant?
I always looked at people around me and learnt from them. When I joined the contest, I had a roommate who was really lucky to get a chance to study abroad. I realised I could take her help to learn English. When I saw other candidates dancing beautifully, I wanted to learn dancing. I did not feel jealous of them. I just looked up to them and wanted to give myself a chance. I wanted to discover myself.
I practised a lot to meet the criteria for the pageant. I was confident of performing on the stage. I put in 100 per cent of my energy. It's amazing to win the title, and given my effort, I believe I deserved to be crowned.
What do you think of the positive and negative comments about you on social media after the pageant?
I closed my Facebook page. I ignore all comments.
Now that you have become a celebrity, what do you do when people say something negative about you?
I just keep quiet. Speaking about it may only add to the misunderstanding. People always have many reasons to criticise. I limit the reasons by maintaining silence. I will apologise even when I don't do anything wrong. I feel sorry for not giving people a chance to know the truth about me.
What do your friends think of you?
Contrary to my strong and energetic appearance, I fear ghosts, and I can get hurt and teary-eyed easily.
Inner Sanctum: Do you realise that your beauty doesn't fit into the mold of past Miss Universe contests, which tended to favour candidates with "traditional" attributes: long hair, fair skin and pretty face. But you rocked the final event with a boyish Twiggy-inspired bob hair.
I know that my appearance is different from past winners in the country. But I refused to use whitening creams. I wanted to be myself. I respect all gifts given by nature.
The crown itself was heavy so I felt very pressured at that moment. But I hope my story encourages the audience to be confident and to believe in themselves.
H'hen Nie receives warm welcome in a recent visit to her alma school (source: khampha.vn)
Would you share something about your upcoming projects?
There are two things I want to do: prepare for the Miss Universe Pageant and nurture my heart, make myself better.
I plan to spend 70 per cent of the cash prize (US$8,800) that I won to support poor students in my homeland.
When I was named Miss Universe Viet Nam, I was immediately aware of the responsibility of the title. I will try my best to spread good messages and inspire people. I have two years to implement community projects as Miss Universe Viet Nam.
What is the message that you want to give to people?
I know that the press visited my family and village. Sadly, they are keen to tell the story of a poor ethnic girl and her desire to change her life, and how she becomes a beauty queen. No doubt this is true, but I don't want to highlight the poor life of my family. Honestly, it's not as hard as you think. My parents and villagers are used to such work and life. They don't feel sad for themselves.
I want the press to focus on the other part of the story, in which the E De girl is always optimistic about life, dares to dream and tries to make her dreams come true, which do when she becomes Miss Universe Viet Nam.
I am not too brilliant a person to make something great. I just hope to inspire young people to change their lives and explore new opportunities./.
( VNF/VNA )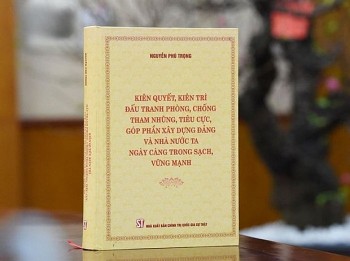 National
A ceremony was held in Hanoi on February 2 to release the book entitled "Resolutely, persistently fighting corruption and negative phenomena to contribute to building more transparent and stronger Party and State" by General Secretary of the Communist Party of Vietnam (CPV) Nguyen Phu Trong.