MoT cracks down on Uber, Grab once again
A new regulation is set to crack down on ride-hailing companies Uber and Grab in Việt Nam, according to transport officials.
A new regulation is set to crack down on ride-hailing companies Uber and Grab in Việt Nam, according to transport officials.
An Uber driver uses the app during a trip in Hà Nội. — VNS Photo Trương Vị
The Ministry of Transport (MoT) and the General Department of Vietnam Roads are currently planning amendments to 2014's Decree 86, focusing on business condition reviews for transport firms.
Trần Bảo Ngọc, director of the MoT's Transportation Department, said in an early March meeting that the new decree's main objective was to better manage transport businesses using software.
The move comes after a February announcement from the Hà Nội Department of Transportation, stating that Uber and Grab must cease employing new drivers, and "temper operations" until a definite administrative framework was constructed.
The MoT's actions were welcomed by national taxi associations of Hà Nội, HCM City and Đà Nẵng, claiming on their official site last Friday that with the two-year pilot period ending in January 2018, the MoT's prolonged tolerance towards Uber and Grab is a step backward for the sector.
According to the associations, the pilot phase had run too long, and if the ride-hailing firms continue operation, it would mean increasing uncontrolled traffic jams and mismanagement of urban planning and transportation operations.
Worse, all three agreed that the MoT had indulged their rival firms, letting them print and distribute their own logos, unlike other taxi firms.
Minister of Transport Nguyễn Văn Thể was eager to see the new draft taking shape.
As stated on the MoT's online portal, Thể confirmed that despite the two firms' listing themselves as software application businesses, the nature of their operation was akin to regular taxis on an electronic platform.
Regulations are needed for the firms to operate on Vietnamese territory in accordance with Việt Nam's law and World Trade Organisation regulations, said the minister.
The MoT and the Vietnamese Government do not object to technology, but when it comes to doing business in Việt Nam, both Uber and Grab must comply with the country's law on transportation, he said.
He added that Vietnamese authorities did not wish to hinder business but to ensure safety and efficiency for drivers and passengers alike.
Khuất Việt Hùng, Vice Chairman of the National Committee of Traffic Safety, told the MoT last week that at the moment, a proposal to stop increasing the number of Grab and Uber vehicles would be the most effective management solution.
Hùng affirmed that since Việt Nam's laws stipulated that only transport service professionals can collect fares from passengers, once Uber and Grab drivers profit from their transport services, they are effectively transport firms.
By acting as though they were simply technology companies, the two firms have been violating the law, he added.
On the other hand, Nguyễn Đình Cung, Director of the Central Institute for Economic Management, said the new draft was inconsistent, with many business barriers and a lack of clarity as to which Government agencies would be in charge of overseeing ride-hailing firms.
During an interview last week with the MoT, Cung said that ministry was veering towards old, bureaucratic thinking via administrative interference in business, and a lack of market solutions to address the problem.
He said the draft mislabelled the term 'contract vehicle,' and had no clear management objectives, citing "pointless" provisions such as how a trip with the same departure and arrival point cannot make up more than 30 per cent of a driver's trips in a month.
Cung accused State agencies of interfering too much in the contractual relationship between businesses and drivers.
He suggested the State focus fair competition, and instead build an effective, reliable court or dispute settlement mechanism.
Meanwhile, Grab is finalising its acquisition of Uber's business in Southeast Asia, according to news site Bloomberg, buying the latter's operations in certain markets in exchange for a stake in Grab.
This may signal Uber's move to clean up its financials in preparations for a 2019 initial public offering, as pulling out of seemingly ineffective markets like Southeast Asia would be a profit boost against accumulated losses of US$10.7 billion./.
VNF/VNS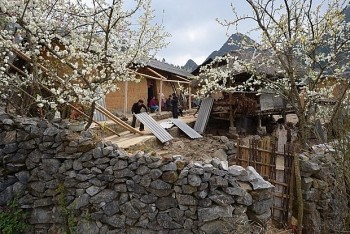 National
Vietnam News Today (Feb. 3): Vietnam and Trinidad & Tobago establish diplomatic ties; Severe cold spells expected to hit northern mountainous provinces late this month; Vietnam among top 10 best places to go for budget honeymoon; Hanoi, HCM City record highest disbursement of public investment capital in January.