Mountainous harvest in the golden light of autumn
In September and October, the golden terraced fields in Yen Bai and Cao Bang shimmering like a highland painting that leave imprints on tourists.
The harvest season at Ban Gioc waterfall in Dam Thuy commune lies about 20 km from the center of Trung Khanh district. Ban Gioc is a beautiful waterfall with consecutive cascades, stretching to hundreds of meters. October is also an ideal time for visitors to explore Ban Gioc waterfall.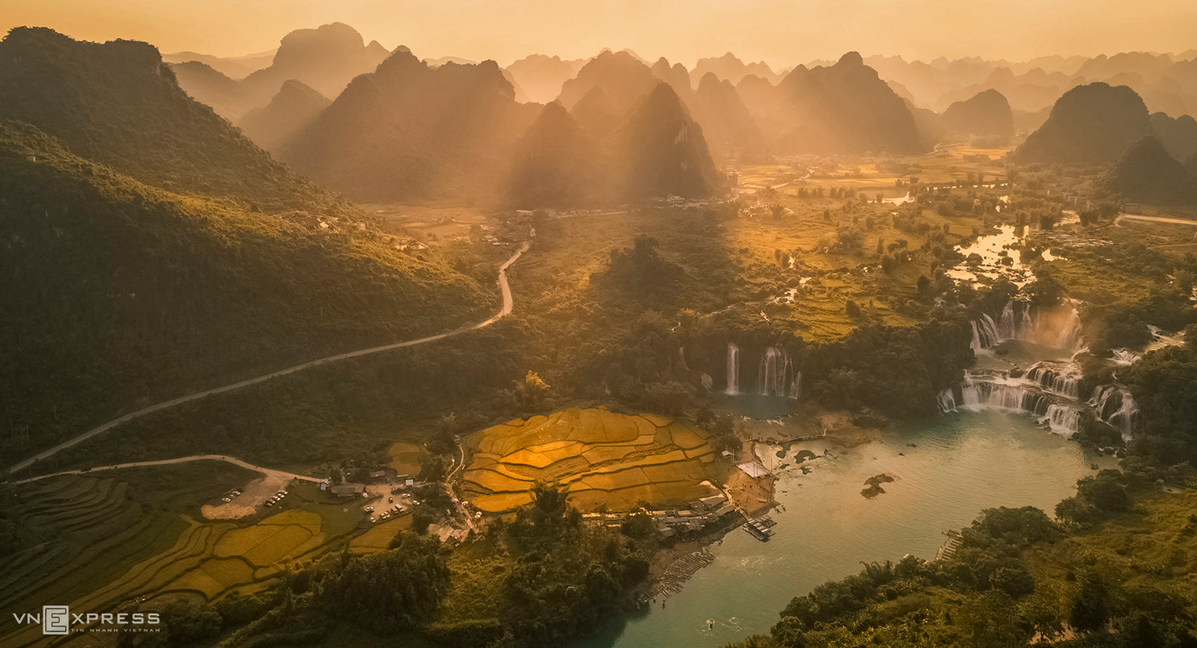 Photographer Pham Chi Cong, who lives and works in Hanoi, said that every time the harvest season comes, he will go hunting for photos of the golden season on each upland road. This set of photos was taken in the period of 2019 - 2020 in Cao Bang and Yen Bai. (Photo: VN Express)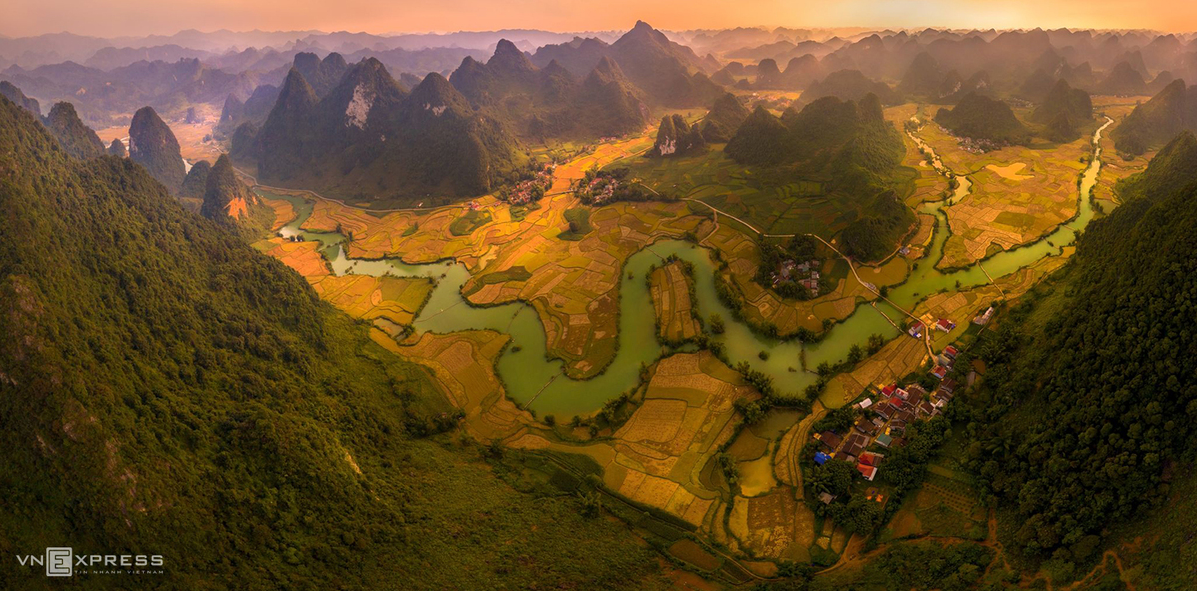 An interesting place to enjoy the harvest scene in Cao Bang is the Quay Son River, which flows through the golden rice fields and the limestone mountains in Phong Nam valley, Trung Khanh district. (Photo: VN Express)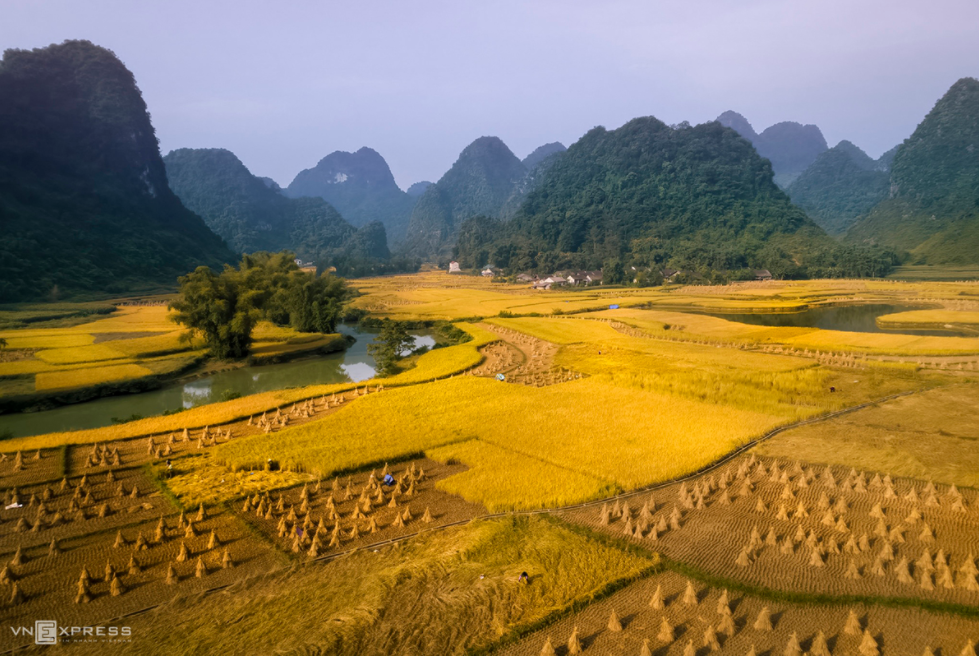 Golden rice fields lie between the harvested areas, seen from above in Phong Nam. (Photo: VN Express)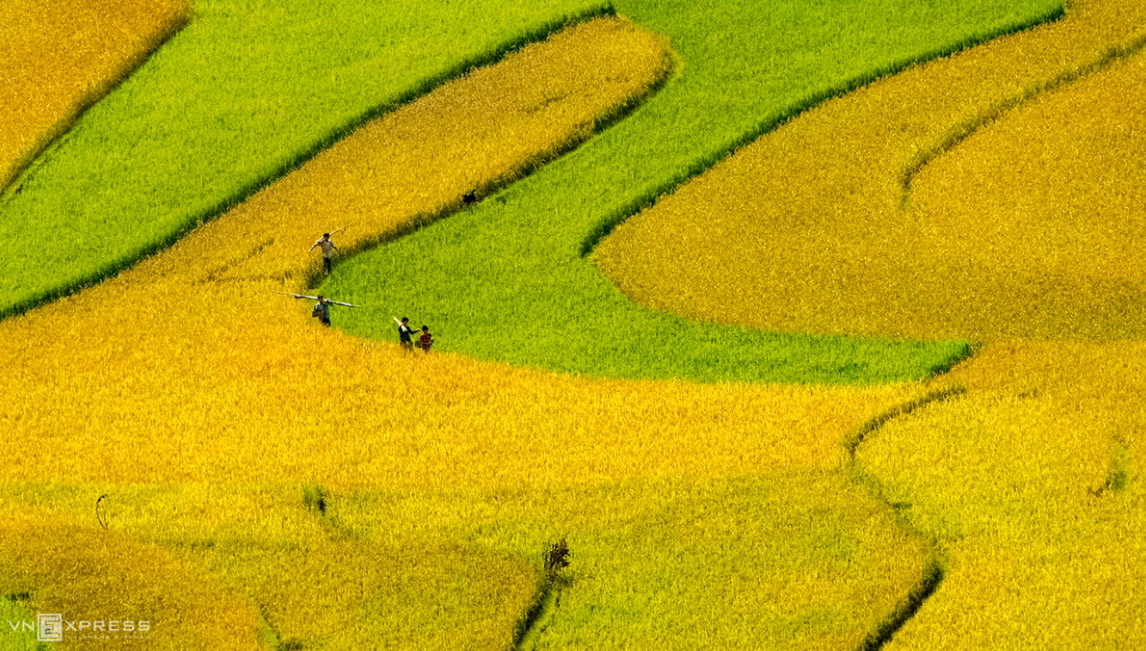 At the time between September and early October, the terraced fields in the Northwest are in the harvest season. This picture captures waves of green rice alternating golden ripe at Tu Le, on the way to Mu Cang Chai, Yen Bai. (Photo: VN Express)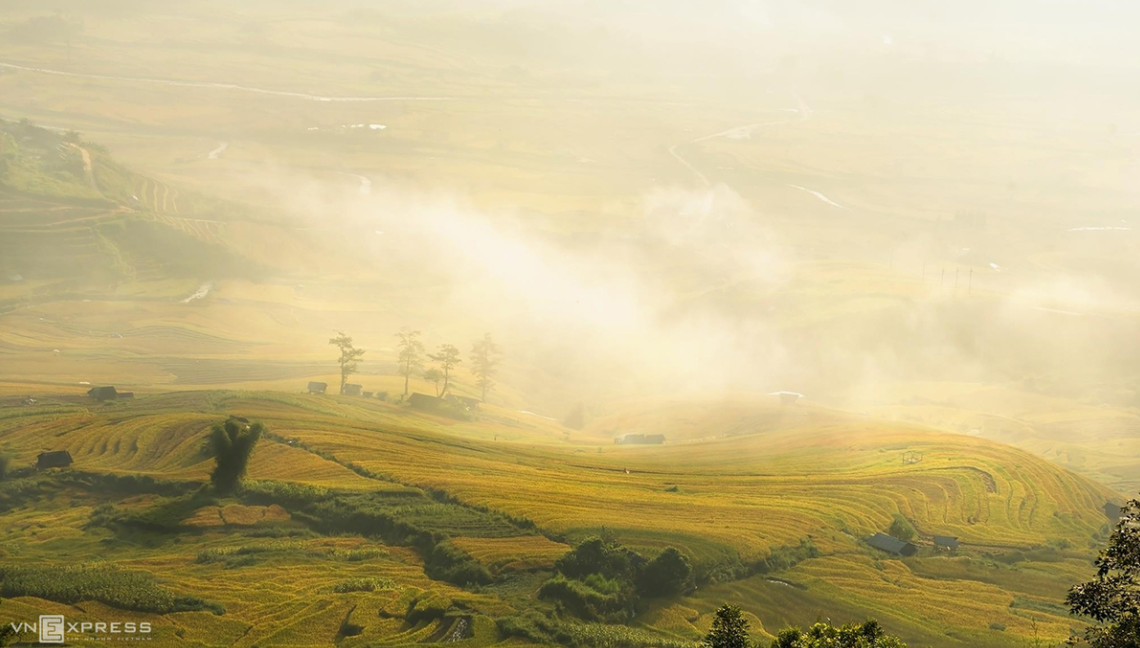 Fanciful early morning scene on terraced fields in Tu Le commune, Van Chan district, Yen Bai province. (Photo: VN Express)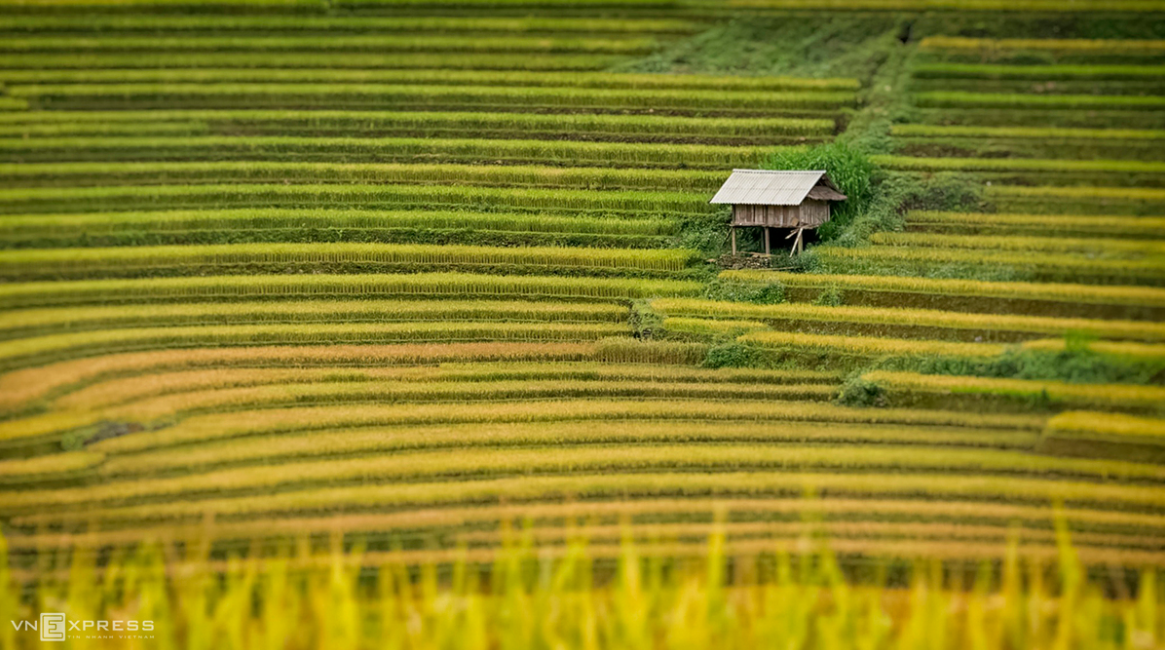 A house is used to cultivate rice for people in Tu Le. Visitors on the way to take photos of the golden season often visit these houses to rest. (Photo: VN Express)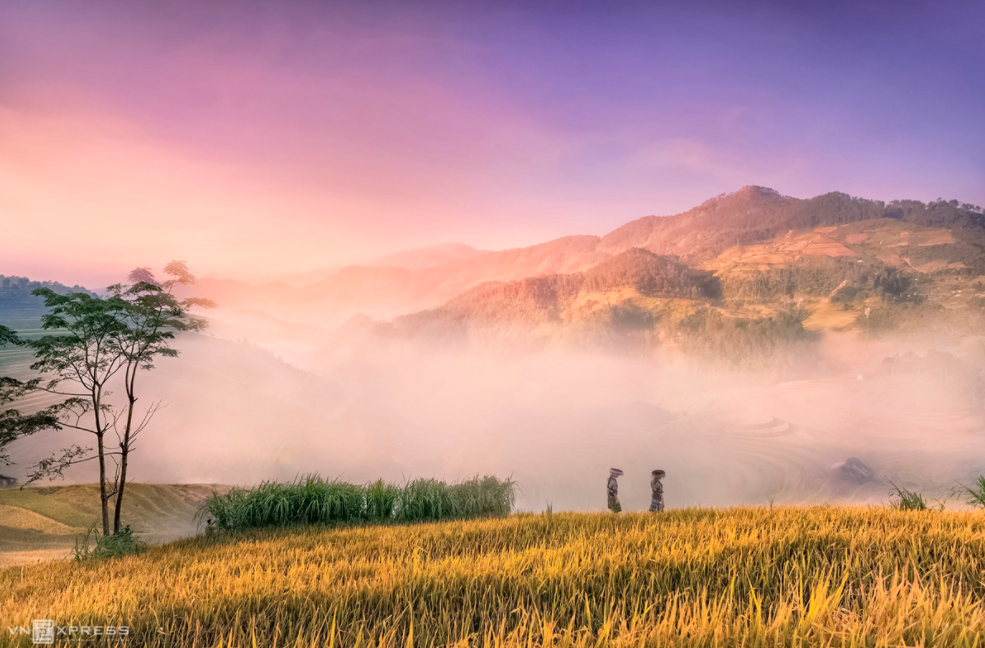 Cloud and fog above the village of La Pan Tan terraced fields hide the whole village in the mist. This place is located at an altitude of more than 1,000 m above the sea level, more than 8 km from the center of Mu Cang Chai district. The H'mong people converted the mountain slopes into terraced fields hundreds of years ago and still use them for cultivation. (Photo: VN Express)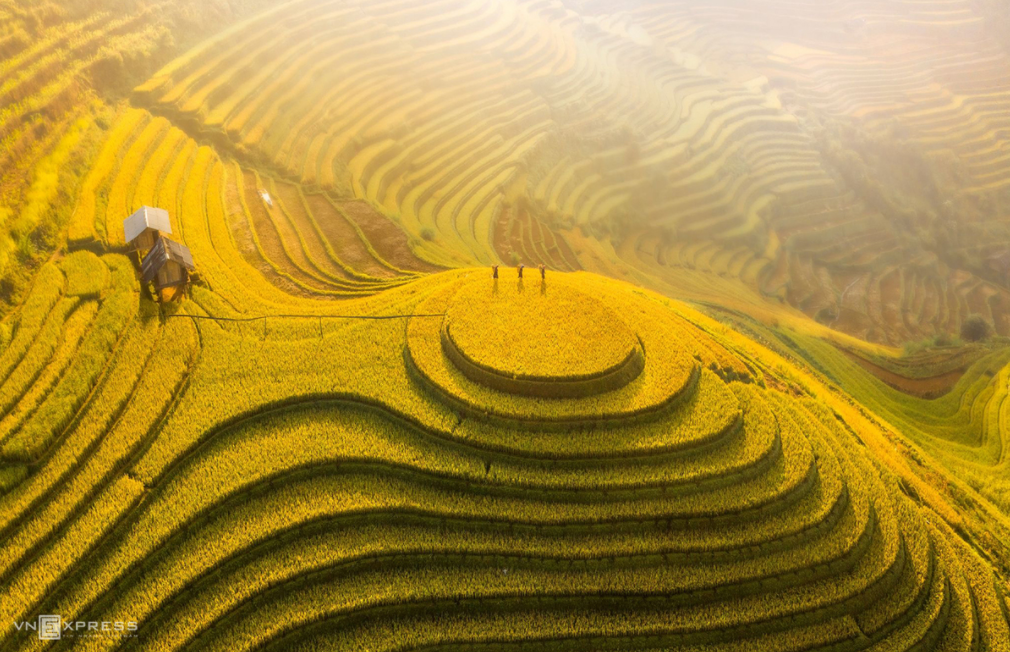 The legendary "raspberry" hill turns golden under the autumn sun in La Pan Tan, Mu Cang Chai district, Yen Bai province. (Photo: VN Express)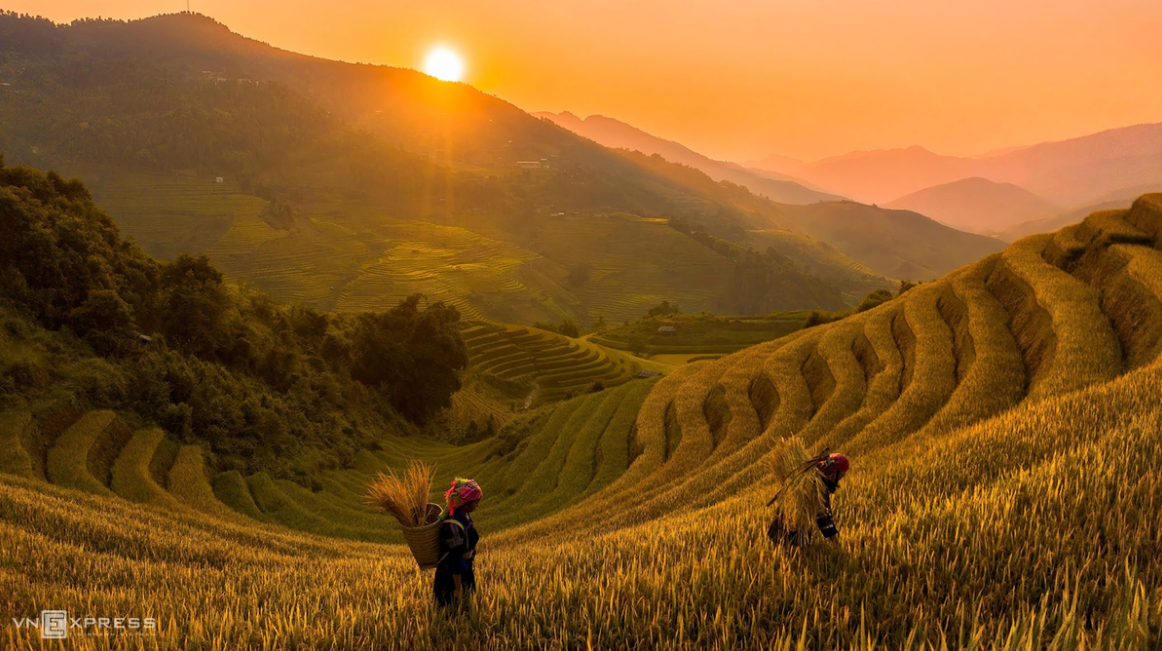 Terraced fields with "horseshoes" shape in Lao Chai during harvest season. From the center of Lao Cai, you can rent a motorbike to go to these beautiful views. "To have beautiful pictures of the harvest season, you should get to the terraced fields in the sunrise, sunset, and golden hours. Remember to avoid the cloudy weather," Cong said. (Photo: VN Express)
Demarcating Ban Gioc Waterfall

In accordance with 1887 and 1895 Sino-French convention as well as international practices, the median of the main flow of the Ban Gioc waterfall was ...
Ban Gioc – a majestic waterfall

Cao Bang province in northeastern Vietnam, bordering China's Guangxi province, has some well-known historic sites, including including Le Nin stream and Pac Bo cave - ...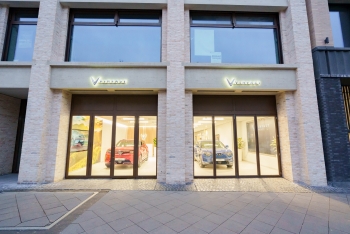 Economy
VinFast has officially opened its first two VinFast Stores in Cologne, Germany, and Paris, France.