Myanmar remains free of COVID-19, temporarily stopped issuing visa
The health department on Saturday said Myanmar remains free from the deadly COVID-19 despite being surrounded by three countries battling the virus, including China where the outbreak started.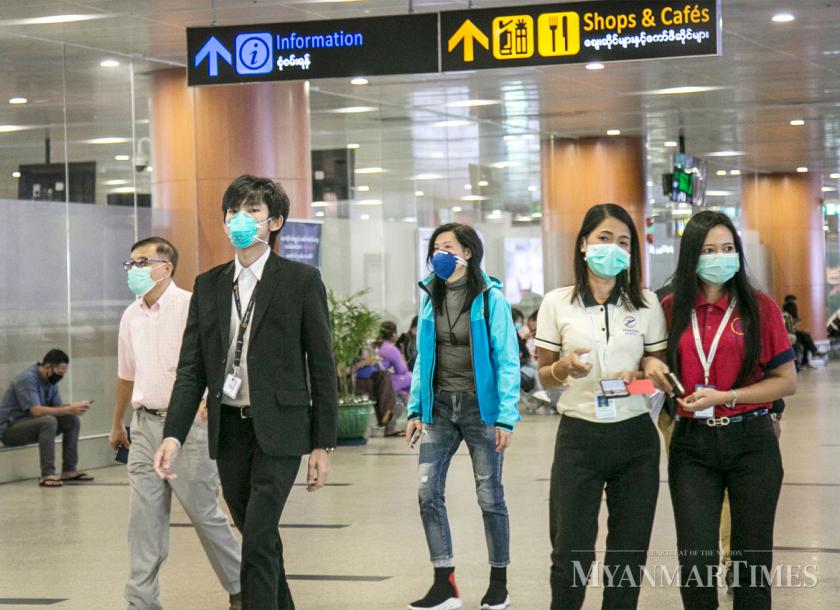 People wear face masks at Yangon International Airport. Theint Mon Soe (J)/The Myanmar Times
The health ministry said the suspected new cases were reported between 6pm Friday and 6pm Saturday.
Earlier in the month, the government warned the people not reporting a person suspected of being infected with the pneumonia-like disease is a crime punishable by imprisonment.
As of Friday evening, 176 suspected cases have been tested since January, with none having returned a positive result, according to the government. Additionally, 12 suspected cases are still awaiting test results, the latest health ministry update said.
Although no confirmed case has been identified, the authorities are taking measures to prevent the virus from gaining a foothold in the country.
The government has banned all mass gatherings, including the celebration of the Thingyan festival next month, the most celebrated event in the country.
The Ministry of Foreign Affairs on Saturday temporarily stopped issuing visa-on-arrival and e-visa for all countries, as part of new restrictions to foreign visitors.
Likewise, all travellers including Myanmar nationals, who have passed through or visited the United States, Switzerland, United Kingdom, the Netherlands, Austria, Belgium, Norway, Sweden, and Denmark, during the past 14 days, will be subject to a 14-day facility quarantine.
Diplomats accredited to Myanmar and resident UN officials, are encouraged to take a 14-day home quarantine upon arrival.
All travellers will be required to present medical certificate, from a recognised health authority, of not having symptom of acute respiratory sickness, before boarding flights heading to Myanmar.
The government has previously made restrictions on March 15 banning foreign nationals from China (Hubei, Daegu & Gyeongbuk) and Korea from entering the country and for Myanmar nationals coming from those countries to make a 14-day quarantine. This measure also remains in force.
In the same manner, travellers from Italy, Germany, France, Spain and Iran will also have to undergo a 14-day facility quarantine upon arrival in Myanmar.
On Friday, the government suspended visas on arrival and e-visa systems temporarily for all foreign nationals as part of its stepped-up precautionary measures.

It also began enforcing a compulsory 14-day quarantine for all travelers arriving from or having visited the United States and eight more European countries including Britain during the past two weeks.

Compulsory quarantine regulations were earlier announced for travelers arriving from China, South Korea, Italy, Iran, France, Spain and Germany.
Below are some hotline numbers in Myanmar that people can call if they want to report or inquire something about COVID-19.
1) Public Health Emergency Operation Center (Nay Pyi Taw) – 067-3420268
2) Regional Department of Public Health (Yangon) – 09-449001261, 09-794510057
3) Regional Department of Public Health (Mandalay) – 09-2000344, 09-43099526
4) Health Quarantine Unit (Yangon International Airport) – 09-799983833
Myanmar shares a nearly 2,200-kilometer land border with mainland China, where the coronavirus outbreak began, and a 2,400-km border with Thailand, which announced 89 more cases Saturday.
The country also shares a 1,600-km border with India, which has over 270 confirmed cases.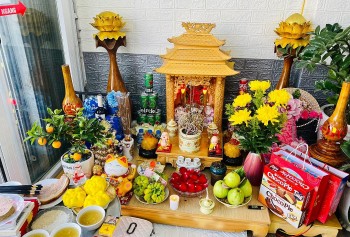 Handbook
Learn more about an ancient Vietnamese tradition that may bring you good fortune!