NA Chairman Concludes Visits to Hungary, UK
Chairman of the National Assembly Vuong Dinh Hue successfully wrapped up his official visits to Hungary and the United Kingdom from June 26 – 30.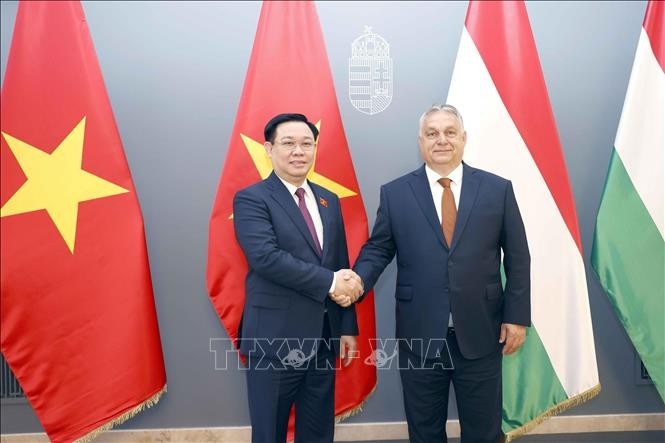 Chairman of the National Assembly Vuong Dinh Hue and Hungarian Prime Minister Viktor Orban (photo: Doan Tuan/VNA)
Chairman of the National Assembly's Foreign Affairs Committee Vu Hai Ha said that during an official visit to Hungary, Hungarian National Assembly Speaker László Kövér and Hungarian Prime Minister Viktor Orban emphasized that Vietnam is an important partner of Hungary in Southeast Asia. Legislative leaders of both countries re-signed an agreement on cooperation in a new period to turn the bilateral relationship in to a model and an important pillar in the overall bilateral relationship.
During his visit to the UK, Speaker of the House of Commons Linsay Hoyle and Speaker of the UK House of Lords John Mcfall underlined the important role of the two countries' parliaments in promoting the Vietnam-UK Strategic Partnership. The Vietnam-UK high-level summit on economy and trade was an important event to promote bilateral investment.
Mr. Ha said the British leaders expected that UK green industries such as wind energy, especially offshore wind power, will play a bigger role in supporting Vietnam towards sustainable development and clean energy future. The UK is willing to work with Vietnam to develop Ho Chi Minh City into a completed financial center through financial and market reforms, cooperation in designing digital infrastructure, and raising credit ratings of businesses and companies.
Friendship
Ambassadors of Kuwait and Israel came to present their credentials to the Vietnam's president.