NA Chairwoman meets Dutch Prime Minister
National Assembly Chairwoman Nguyen Thi Kim Ngan has expressed her delight at the consensus reached on the upgrade of Vietnam-Netherlands ties to the comprehensive partnership level which, she said, will open up new cooperation opportunities for both sides.
National Assembly Chairwoman Nguyen Thi Kim Ngan (R) and Dutch Prime Minister Mark Rutte. (Source: VNA)
During a meeting with Dutch Prime Minister Mark Rutte in Hanoi on April 9, Ngan congratulated the two PMs on their successful talks.
She thanked the Netherlands for supporting Vietnam's run as non-permanent member of the United Nations Security Council for the 2020-2021 tenure.
Informing the host about the outcomes of his talks with PM Nguyen Xuan Phuc, Rutte said both countries have delta regions and export farm produce, so they could learn from each other's experience.
Vietnam and the Netherlands formed a strategic partnership on climate change adaptation and water management, while Vietnam's exports to the European country rose seven-fold in only five years.
Discussing issues regarding the European Union-Vietnam Free Trade Agreement (EVFTA), NA Chairwoman Ngan said the Vietnamese legislature is in the process of refining legal regulations in line with international commitments and the FTAs Vietnam has signed and joined.
Rutte said the Netherlands supports the early signing and ratification of the EVFTA, which is beneficial to not only Vietnam but all parties concerned, especially the Netherlands.
As the Netherlands is the largest EU investor and the second largest EU trade partner of Vietnam, the country is seeking measures to push forward the EVFTA signing and ratification, he said./.
VNF/VNA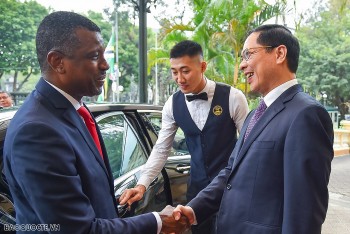 National
Dominican Minister for Foreign Affairs, International Business, Trade and Energy Vince Henderson is currently on a five day official visit to Vietnam. The five day visit is at the invitation of Vietnam's Foreign Minister Bui Thanh Son, and comes as Vietnam and Dominica are celebrating the 10th anniversary of the establishment of diplomatic relations between the two countries.