NA Leader's Finland Visit To Boost Bilateral Ties
An official visit to Finland from September 10-11 of National Assembly Chairman Vuong Dinh Hue is expected to boost bilateral ties.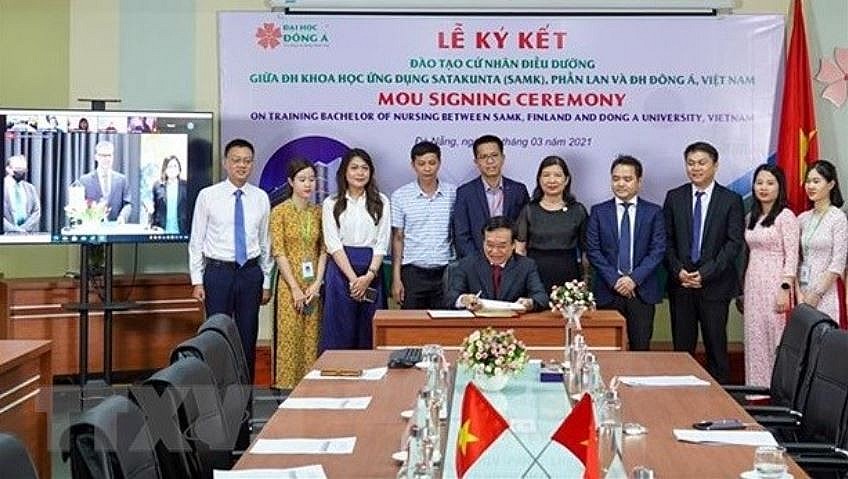 At a signing ceremony between Vietnamese and Finnish universities. Photo: VNA.
Traditional friendship - extensive partnership
National Assembly Chairman Vuong Dinh Hue will pay an official visit to Finland from September 10-11 at the invitation of Speaker of the Finnish Parliament Anu Vehvilainen. The visit is of significance and is expected to promote the Vietnam – Finland traditional friendship and extensive partnership in various areas, as reported by vietnamplus.
Since the establishment of diplomatic ties on January 25, 1973, Vietnam - Finland relations have thrived in many spheres. Both sides offered mutual support at regional and global forums. Two-way trade has increased steadily over the past years. They also facilitated the exchange of delegations at all levels and the two countries' leaders also held meetings on the sidelines of international conferences.
The signing of a Framework Agreement on projects funded by Finland's Public Sector Investment Facility (PIF) scheme also created a framework for the implementation of projects using official development assistance (ODA) and concessional loans provided by the Finnish Government.
Finland's educational model is being adopted at the Vietnam-Finland International School. More than 2,000 Vietnamese students are now studying and developing professional skills in the European country. Finland also approved a report on the evaluation of transition process in Vietnam in June 2021, marking the transition of bilateral cooperation model from development cooperation to a stage of mutually beneficial cooperation.
Vietnam is a gateway for Finland to develop relations in Southeast Asia. The two sides shared views on many international issues. Finland supported Vietnam's foreign policy. Moreover, Vietnam's role in the Association of Southeast Asian Nations (ASEAN) and the United Nations Security Council is also important to the European country.
Economic-trade-investment is top priority fields of Finland in its relations with Vietnam. Two-way trade hit 337.4 million USD last year and 348.8 million USD by the end of July.
Finland is now home to 29 valid projects with a total registered capital of 23.632 million USD, ranking 70th out of 140 countries and territories directly investing in Vietnam.
Minister of Industry and Trade Nguyen Hong Dien and Finnish Ambassador to Vietnam Kari Kahiluoto. Source: MoIT
Promising cooperation
Future cooperation between Vietnam and Finland is very promising, thanks to the favorable legal framework from the EU-Vietnam Free Trade Agreement (EVFTA), as well as strong efforts from both Governments and business communities.
Minister of Industry and Trade Nguyen Hong Dien gave the assessment in a meeting with the outgoing Finnish Ambassador to Vietnam Kari Kahiluoto on August 12 as the latter came to bid farewell.
According to the minister, Finland is one of Vietnam's most important markets in the EU as strong growth of trade exchange was sustained despite the pandemic.
For the first six months of this year, bilateral trade turnover rose by 61.2% year-on-year to US$285 million, of which Vietnam's exports to Finland doubled to $168.5 million, while imports also rose by 20% to $116 million.
In the coming time, Dien expected Vietnam to continue exporting its key products to Finland, including steel, footwear, machinery, and garment products. In return, Vietnam would import machinery, wooden products, chemicals, electronics, along with strengthening cooperation in the energy, health, and education sectors.
At the meeting, as hanoitimes reported, Finnish Ambassador Kahiluoto referred to the bilateral Framework Agreement on the use of Public Sector Investment Facility (PIF) signed in early 2021, under which Finland would provide more than $100 million for public investment projects in Vietnam.
Kahiluoto noted while the framework would help Vietnam access competitive financial sources, Finnish companies are set to have the chance to enter the Vietnamese market.
The goal of the project is to finance developing countries to pursue the UN's sustainable development goals via investment in environmental protection, climate resilience, and renewables, he added.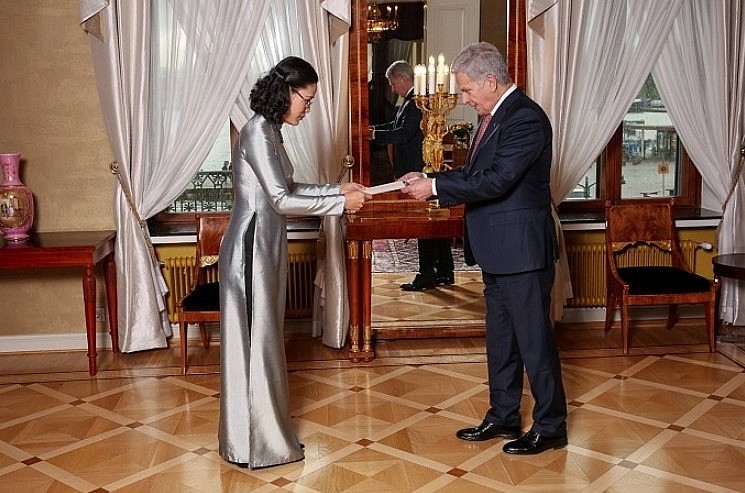 Vietnamese Ambassador Dang Thi Hai Tam presents her credentials to Finnish President Sauli Niinistö. Photo: baoquocte.vn
In 2020, President Niinistö, hailed contributions by the Vietnamese community in Finland to the local socio-economic stability, thus contributing to mutual understanding and cooperation between the two countries. The President highly valued Vietnam's socio-economic achievements and effective cooperation between the two countries in recent times.
As reported by nhandan, he said Finnish enterprises are interested in the Vietnamese market, and more than 100 Finnish firms are operating in the Southeast Asian nation. He asked the Vietnamese Government to create further favourable conditions for Finnish companies' operation.
He highlighted potential for the two countries to promote existing cooperation and open up orientations for new collation in the fields of circular economy, innovation, technology transfer and startup.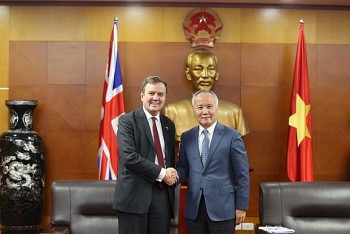 Economy
UK ready to boost CPTPP's economic firepower, said the Trade Minister on Vietnam visit