New Project Aims Empower Children with Disabilities
The project aims to provide the interventions needed to empower children, including children with differing disabilities and identities, to participate meaningfully in decision-making processes and to be protected from all forms of violence.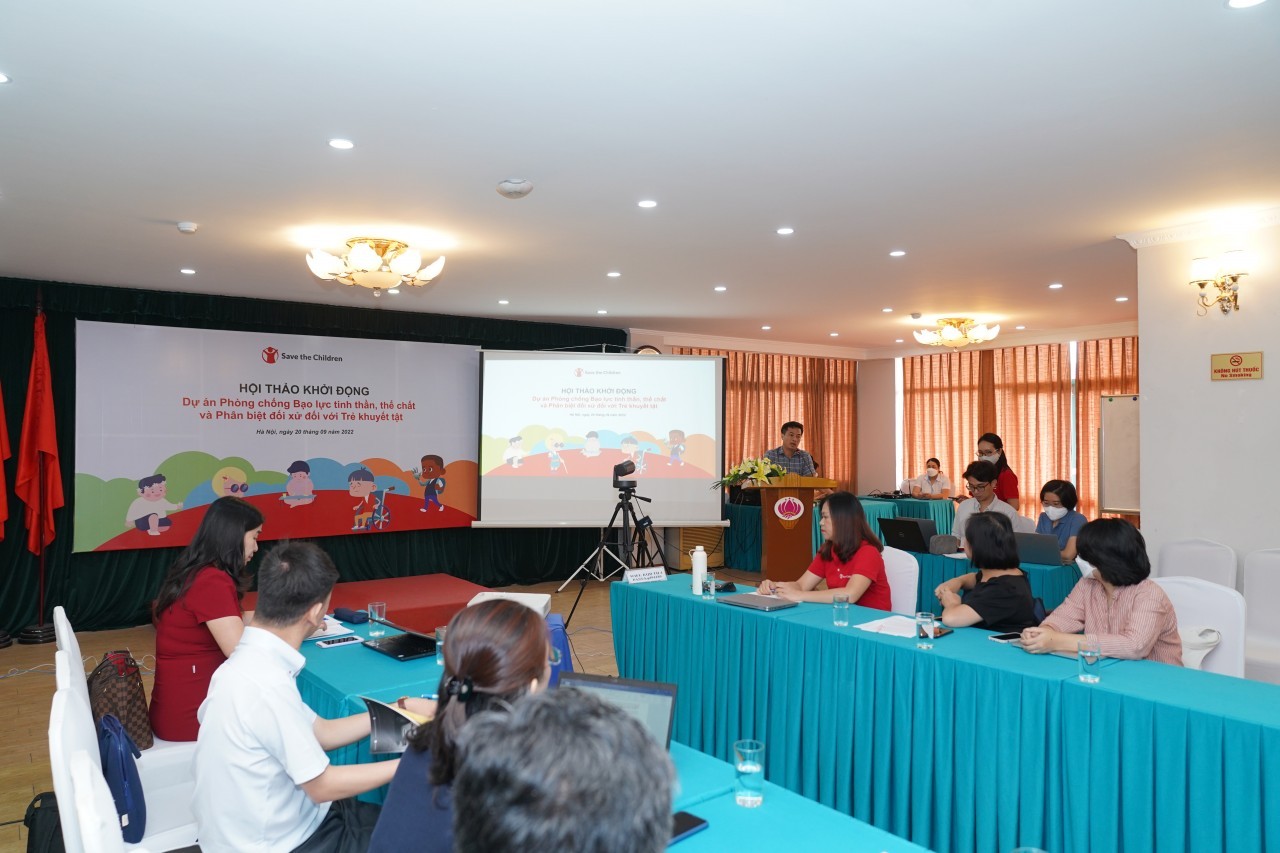 At the lauching event in Hanoi. Photo: Pham Ly/VNT
Save the Children recently cooperated with the Action to the Community Development Institute (ACDC), the Management and Sustainable Development Institute (MSD), and the Vietnam Association for Protection of Child's Rights (VACR) to organize a kick-off workshop for the project "Increased accountability to eliminate violence and discrimination against children with disabilities" (AVAC).
The event had the participation of senior leaders including Nguyen Thi Nga, deputy head of the Department of Child Affairs (under Ministry of Labour - Invalids and Social Affairs); Luong The Khanh, VACR standing vice chair, representatives of social organizations, parents/caregivers, and project implementation organizations.
In Vietnam, increasing inequality and disparity between rich and poor are one of the major challenges in the process of development and international integration. This has created many difficulties in ensuring and implementing the rights of children, especially children with disabilities.
Compared with other vulnerable children, children with disabilities face more difficulties in accessing education, health care, social protection and the opportunity to participate and voice their voices in society. In addition, there are still many barriers to supporting children with disabilities in terms of legal institutions as well as challenges in terms of budget and tools for social organizations to work with people with disabilities (PWDs) in general and children with disabilities in general.
Implemented from January 2022 to December 2024, the project, sponsored by Save the Children Hong Kong and the coordination of Save the Children Vietnam, aims to provide the necessary interventions to enhance execising the rights of children, including children with disabilities, of different gender identities, so that children can participate in the decision making process and are protected from all forms of violence.
Basic information about the project and implementation plan of key activities were shared with stakeholders. Photo: Pham Ly/VNT
"Over the past 5 years, Save the Children, along with strategic partners - ACDC, MSD and VACR, have continuously maintained and implemented communication campaigns and activities to change the awareness and practice of parties related to child protection and non-violent education models. Continuing those efforts, the AVAC project is expected to bring about long-term, sustainable results, strengthen the close cooperation relationship among state agencies, social organizations and businesses to ensure the implementation of children's rights in Vietnam in the future", Vuong Dinh Giap, director of Programme Implementation, Save the Children in Vietnam, shared at the workshop.
Through various channels, the project will reach approximately 30,250 children, including 250 children with disabilities, in three cities, Hanoi, Da Nang and Ho Chi Minh City.
The project will work closely with the following three main groups including parents and/or carers of children under 18 years of age, with a focus on children with disabilities along with social organizations working in the field of children and children with disabilities.
Nguyen Thi Nga, deputy head of the Department of Child Affairs appreciates the role of social supervision and criticism of social organizations in ensuring the implementation of children's rights in Vietnam. She believes and hopes that social organizations will always accompany state agencies to ensure the implementation of children's rights in Vietnam.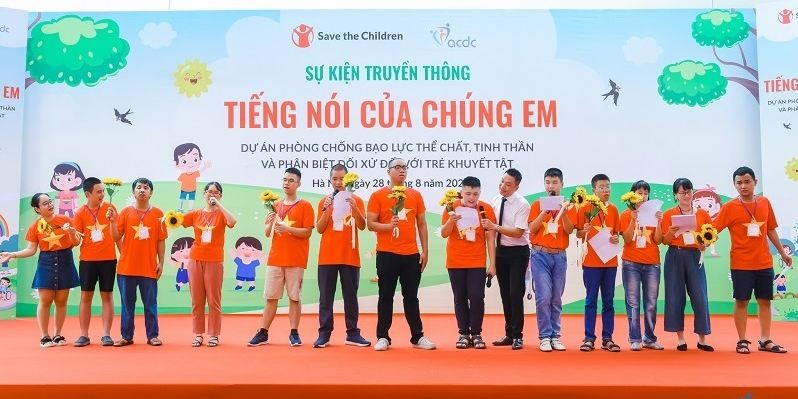 The song "Living Like Flowers" was performed by youngsters from SEED CENTER. Source: ACDC
On August 28, within the framework of the AVAC project, a communication event for children with disabilities named "Our Voices" had been held at Hanoi's Thong Nhat Park, offering a chance for children with disabilities to demonstrate their abilities and a playground that connects children with different types of disabilities with their parents.
The event attracted the participation of more than 150 people, including nearly 100 children with disabilities and their parents, representatives of groups, special education centres, vocational training institutions for children with disabilities, and several associations of children with disabilities in Hanoi.
At the event, children with disabilities can experience exciting activities and four amusement booths with their exciting features are managed by the Vietnam Autism Network (VAN); Vietnam Association of Parents of Deaf and Deaf Children; S.E.E.D Center; and Hanoi Medical University Student Volunteer Team.
In particular, these areas are led mainly by children with disabilities and their parents' participation and support. Children with disabilities also participated in presentations and introduced their handcrafted products.
Through this activity, the project expects the children to become bolder and more confident in expressing their voices and practising necessary skills when facing societal problems.