Mid-Autumn Festival Filled with Love for Less Fortunate Children, Covid-19 Orphans
Meaningful mid-autumn festival (on the 15th day of the eighth lunar month) was held for underprivileged children.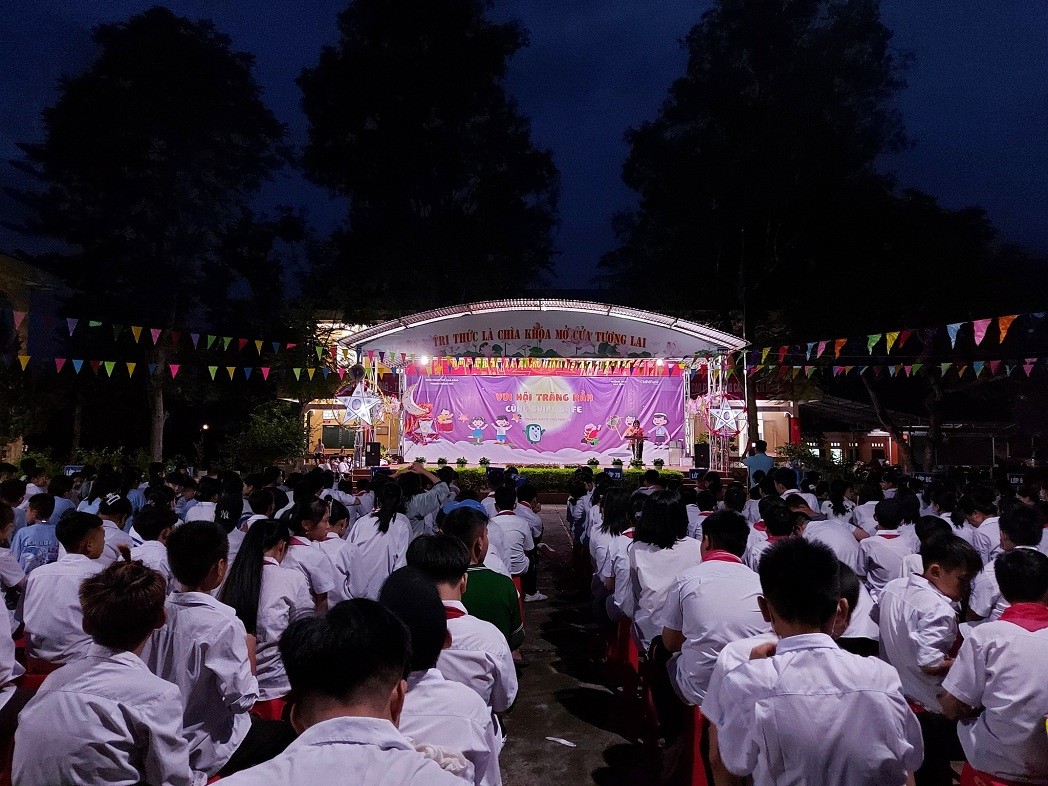 Students learn about child protection while enjoying the traditional Mid-Autumn Festival. Source: ChildFund Vietnam
Mid-Autumn Festival is always a special day for children. On the day, kids often excitedly decorate a tray of five fruits, carry the lights together and immerse in the delightfulness of the lion dance. This year children in ChildFund Vietnam's project areas had such a meaningful and enjoyable Mid-Autumn Festival.
In the northern mountainous province of Cao Bang, the "Swipe Safe" project in collaboration with school administrators and teachers in the communes organised the event "Full Moon Festival for children" with the participation of nearly 500 students.
During the event, besides the typical traditional activities of the full-moon night, the children also had the opportunity to perform different plays, along with answering questions related to Online Safety and Children's Law.
In the northern mountainous province of Hoa Binh, the project "Child protection in Kim Boi district, Hoa Binh province" and the Child Sponsorship Program collaborated with local agencies to organise fun events that helped raise awareness about Child Protection for the children.
Through activities such as painting, presentations, performances and camp decoration, children had the opportunity to enjoy the festival and at the same time gain knowledge and skills on preventing violence and child abuse in the community as well as at schools.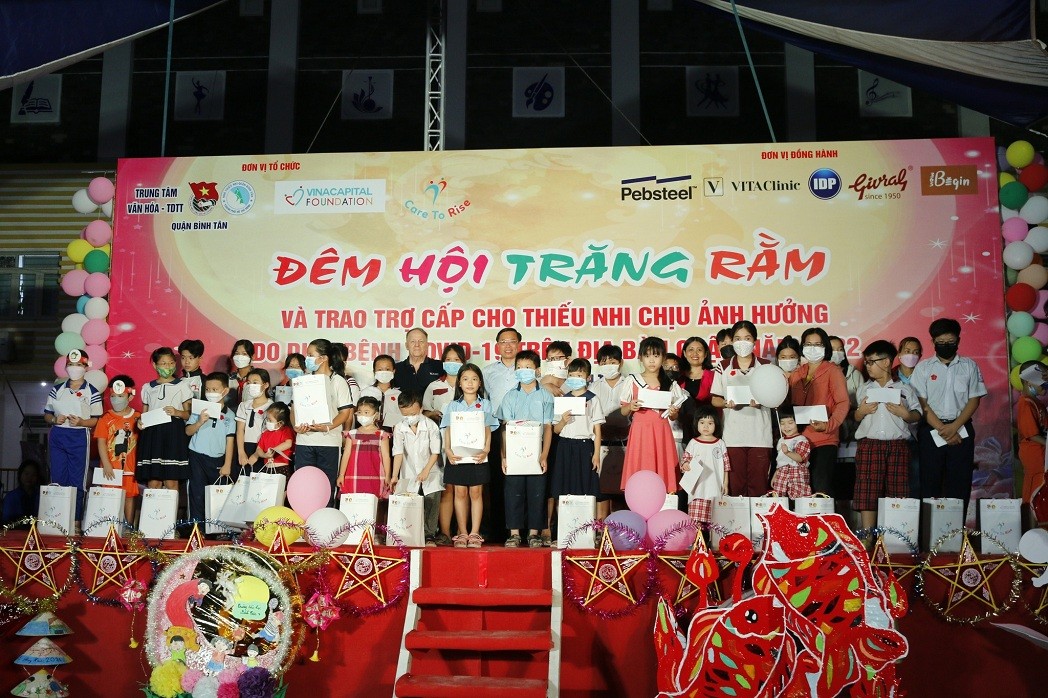 Disadvantaged children affected by Covid-19 at Binh Tan District Children's House received Mid-Autumn gifts. Source: VCF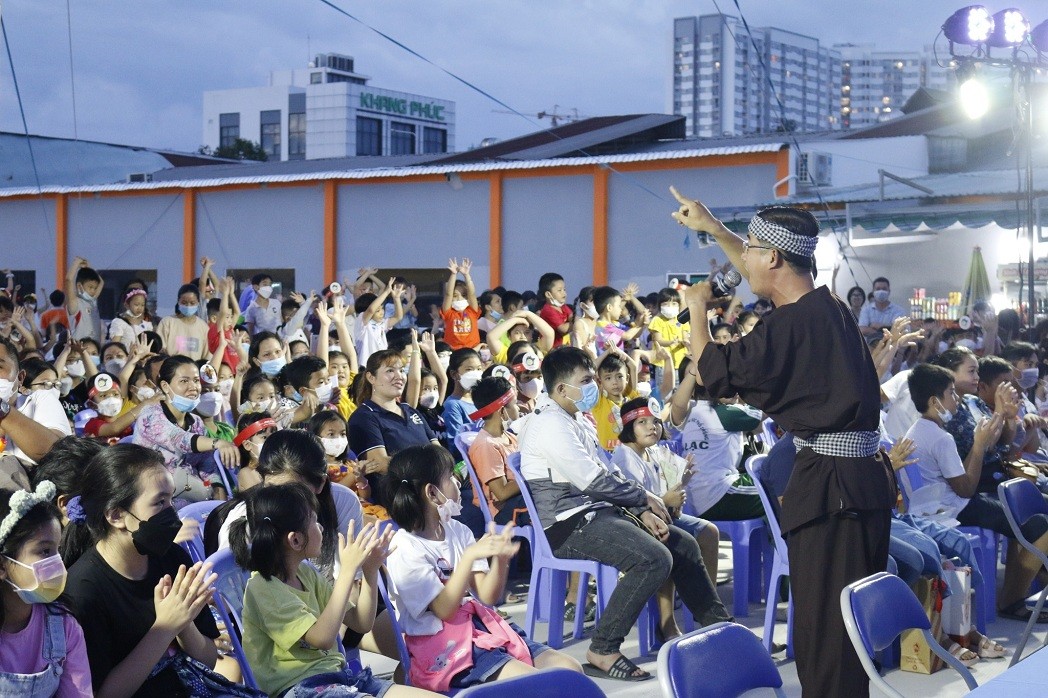 Children at Binh Tan District Children's House, have enjoyed a merry Mid-Autumn Festival. Source: VCF
In Vietnam, Mid-Autumn Festival is also referred to as the children's festival when children gather in parades under the full moon with lanterns of all shapes and colors to have fun and learn about the traditional deities and folklore. While the festival is celebrated widely across the country, not every child has the opportunity to enjoy this colorful and lively occasion.
The Binh Tan District Youth Union and VinaCapital Foundation (VCF) on September 10 organise the Mid-Autumn festival celebration for 500 disadvantaged children affected by Covid-19 at Binh Tan District Children's House.
This meaningful activity is implemented under the "Care to Rise – Yeu thuong Nang buoc" program – a joint initiative of Ho Chi Minh City Youth Union and VCF to support and provide psychological treatment, free education assistance, and health care for Covid-19 orphans and other disadvantaged children affected by the pandemic in HCM City.
Binh Tan district was one of the two worst affected districts in Vietnam by the pandemic.
The event provides a safe and fun playground for the children with plenty of traditional, creative, and educational games such as mandarin square capturing, bag jumping, fishing with Cuoi, painting, sand art, Mr. Dia playing drums, and walking on monkey bridge. The children also have the opportunity to learn about the traditional folk tales like the lunar goddess Hang Nga and her friend Cuoi, as well as experience festival practices and rituals including lion dance, dragon dance, lantern parade, food display, and breaking the feast to enjoy the tastes of the Mid-Autumn Festival.
The Care to Rise program also prepares 800 gift sets valued at VND 317,000 each, including notebooks, moon cakes, a lantern, milk, and candy for all the children. Family grants worth VND 219 million (USD 9.300) will be awarded to impoverished Covid-19 orphans to encourage them to stay in school and support their families financially.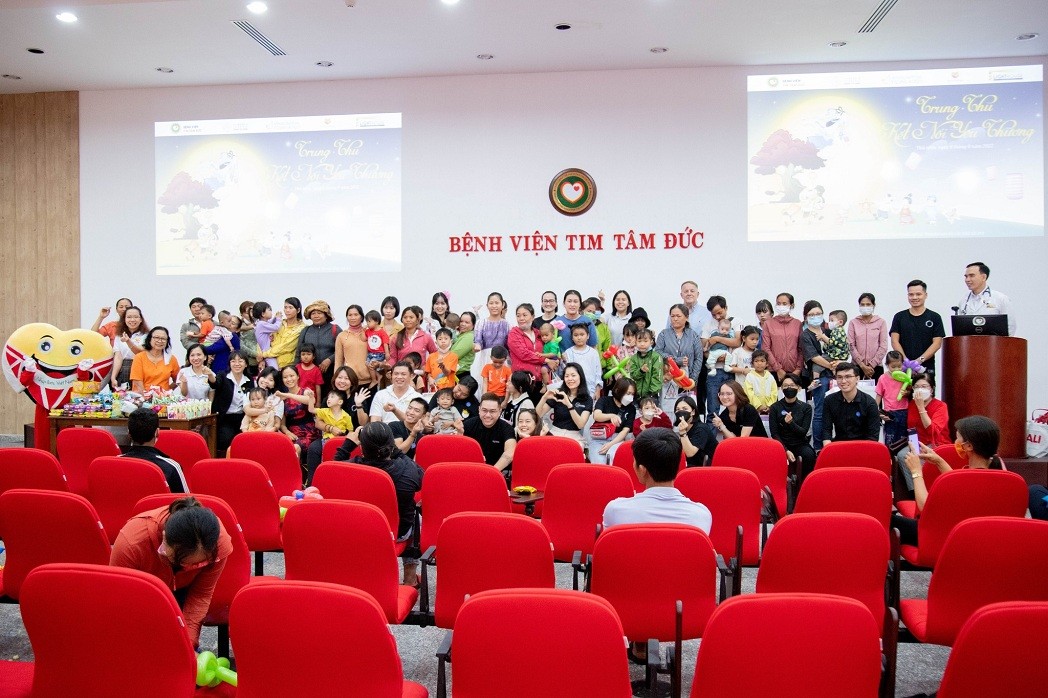 Event for pediatric heart patients at HCM City's Tam Duc Heart Hospital in celebration of the Mid-Autumn Festival (on the 15th day of the eighth lunar month), which falls on September 10 this year. Source: VCF
VCF and Fitness & Lifestyle Group (FLG) Vietnam also organised a fun and heart-warming Mid-Autumn celebration event with the theme of "Full Moon of Love" for pediatric heart patients at HCM City's Tam Duc Heart Hospital.
FLG has partnered with VCF's Heartbeat Vietnam program since 2019 and provided life-saving heart surgery to 28 poor heart children. The donation is contributed by members, customers, and employees through donation boxes located at their gyms nationwide. In addition to supporting surgery costs for disadvantaged pediatric patients with congenital heart defects, on special occasions for children like Christmas every year, FLG also frequently donates to VCF to organize fun events and distribute gifts to children at many hospitals.
This event is sponsored by FLG Vietnam and other donors to organize an entertainment event and distribute gifts to pediatric patients at Tam Duc Heart Hospital, to help the children and their families find joy during treatment and have a speedy recovery.