New System to Ensure Medical Oxygen Supply in Hanoi's Hospital
US and Vietnamese officials kicked off the installation of new liquid oxygen system at Bach Mai Hospital, in Hanoi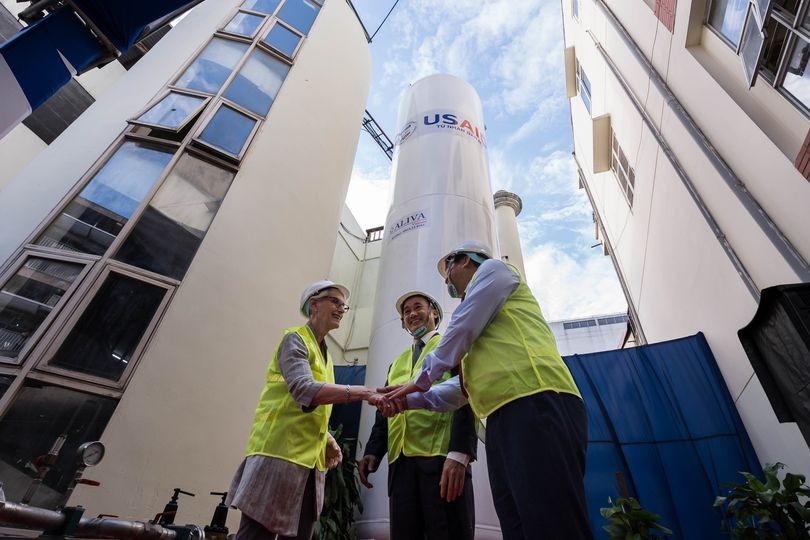 Deputy Secretary Sherman visits Bach Mai Hospital and break ground on their new liquid oxygen system. Photo: USAID Vietnam
US Deputy Secretary of State Wendy Sherman joined Vietnamese government and public health leaders to start of the installation of a new liquid oxygen system at Bach Mai Hospital, provided by the US Agency for International Development (USAID).
The Bach Mai oxygen system is the largest of 13 such systems being provided by USAID to health care facilities across Vietnam to support the care of patients with severe cases of Covid-19.
Beyond Covid-19, strengthening access to oxygen can improve outcomes for newborns in respiratory distress; children with pneumonia, sepsis, and/or congenital heart disease; adults with tuberculosis; and beyond.
"The US Government is proud to be a leading partner of the Government of Vietnam on its Covid-19 response and advancing health security," said Deputy Secretary Sherman.
"This new liquid oxygen system will significantly improve critical care capacity in Hanoi at one of Vietnam's largest hospitals. We are proud to provide Vietnam with 13 liquid oxygen systems—to strengthen the nation's health care system and save lives."
The new liquid oxygen system consists of an on-site storage tank, with two vaporizers to convert liquid oxygen in the tank to gaseous oxygen, and a pressure regulator, which will be connected to the hospital's piping to transport the oxygen to patients' bedsides.
It will provide a safe and reliable source of medical oxygen for up to 1,000 patients per day at the hospital. USAID is also providing related staff training, equipment, and supplies to administer the oxygen, such as high-flow nasal tubing and patient monitors, which allow hospital staff to efficiently track patients' vital signs and quickly respond to changes in patient conditions.
The installation of the new system at Bach Mai is expected to be completed in the coming weeks.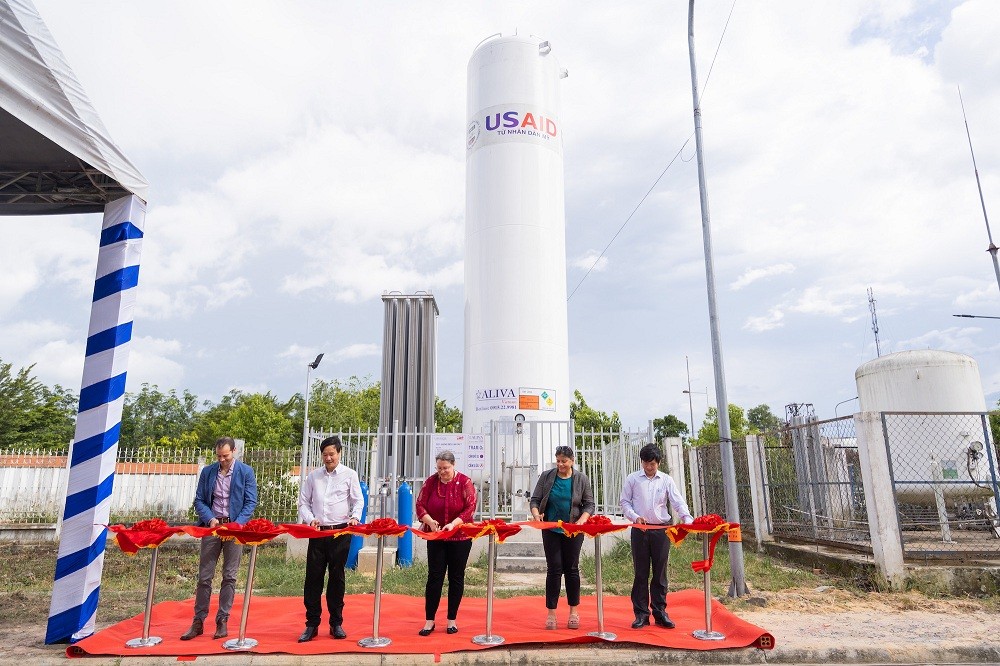 The Binh Duong system consists of an on-site storage tank and high-pressure piping to transport the oxygen to patients' bedsides. It provides a safe and reliable source of medical oxygen for up to 150 patients per day at the hospital. Photo: Minh Tuan/USAID Vietnam
In the start of June, US Consul General Marie Damour attended the launch of a new liquid oxygen system provided by USAID. The Binh Duong system is the largest such system being installed in the south.
Elsewhere, USAID has just delivered mobile oxygen plants to provide critical oxygen supply and enable provincial authorities to respond quickly to emerging Covid-19 hotspots by placing them where they are most needed.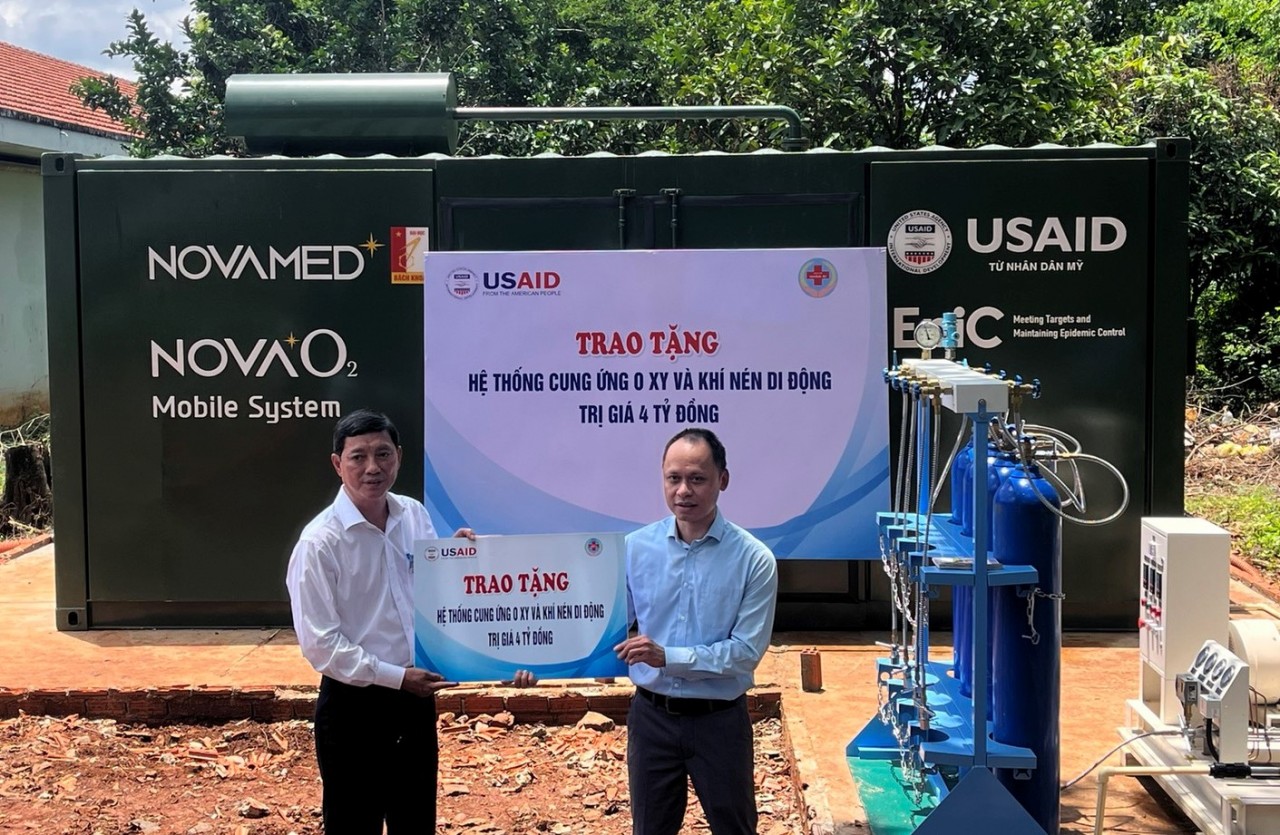 To address Covid-19 hot spots, USAID Vietnam provides Binh Phuoc province with a mobile oxygen plants that transform air into medical oxygen and transit between local health facilities to provide patients with life-saving oxygen. Photo: USAID Vietnam
A mobile oxygen plant to Nhan Ai Hospital in Binh Phuoc province is expected to support the care of patients in need. In the past, staff from the facility, which services clients in nearby rehabilitation centers and the general population over a broad area, had to travel three hours to purchase oxygen cylinders.
This newly installed plant, which creates oxygen from ambient air, can produce enough oxygen to serve 15-30 severe and critical Covid-19 patients daily.
When generation capacity outpaces demand, Nhan Ai Hospital can also serve as a refilling station for oxygen cylinders at neighboring facilities.
In March, USAID also delivered a system like this to Tay Ninh province.
Since the beginning of the Covid-19 pandemic, the US and Vietnam have joined hands to tackle one of the greatest public health challenges of our time. US contributions, including technical support, life-saving medical equipment, and nearly 40 million doses of Covid-19 vaccine, have enhanced Vietnam's own remarkable response to this global challenge.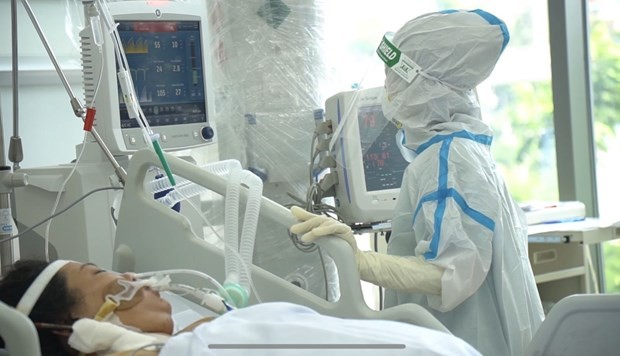 A critical COVID-19 patient under treatment. Photo: VNA
The Ministry of Health confirmed 568 new infections of Covid-19 in the past 24 hours to 4pm June 12, according to VNA.
Hanoi still reported the highest number of infections on the day with 170 cases, followed by Yen Bai with 64 and Quang Ninh with 25. The national caseload reached 10,731,812.
There are 24 patients needing breathing support, while one death was recorded in the past 24 hours.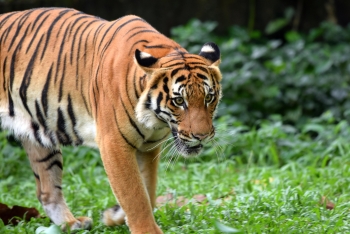 Economy
#ShopeeGivesBack, Shopee's long-term community initiative, has raised over RM48,000 from 1 May 2020 to 31 July 2022 for two Non-Governmental Organisations (NGOs) championing environmentally-conscious efforts in Malaysia.