New York allows couples getting married via Zoom amid COVID-19
"There is now no excuse when the question comes up for marriage," New York's Governor said Saturday during his daily virus briefing. "You can do it by Zoom. Yes or no."    
As the coronavirus pandemic makes in-person group gatherings impossible, weddings across the globe have been cancelled and postponed. Some couples, however, are sticking to their original dates with virtual ceremonies that guests are invited to attend via video conference. Many of these weddings have been symbolic, with marriage licenses obtained pre-Coronavirus, but now in New York it's gotten easier to do the deed officially online.
Vogue reported, this weekend, New York governor Andrew Cuomo announced that couples in the state who wish to partake in a virtual wedding will now have the legal capability to do so: "I am issuing an Executive Order allowing New Yorkers to obtain a marriage license remotely and allowing clerks to perform ceremonies via video conference," he tweeted.
It was also stated that Zoom was specifically mentioned by the governor about the new rule. "There is now no excuse when the question comes up for marriage... You can do it by Zoom. Yes or no," he said on the report of CBS New York.
According to BBC News' latest report, the decision was made after New York state extended its lockdown measures until May 15, 2020. According to the report, more than 13,000 people have been infected by the novel coronavirus in New York alone.
Some people have already gotten married through Zoom and turned to online celebrations to mark their special day. However, the wedding ceremonies will not be legally bound unless the weddings have been arranged in advance allow both venues and officiants to be available despite the lockdown.
As one of the first wave of brides to trial this new way of saying "I do," Turkheimer confirms it's just as meaningful. "We keep joking that after having spent so much time, effort, and money on a traditional wedding, this felt just as special as how I imagine a traditional wedding would have felt," she says. "[It] allowed us to focus on what really matters!"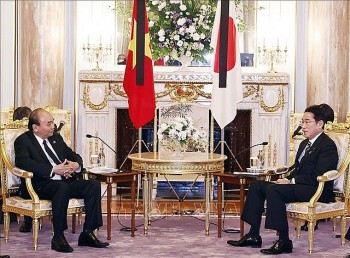 Friendship
Vietnam always treasures the extensive strategic partnership with Japan and views Japan as an important and long-term strategic partner, President Nguyen Xuan Phuc told Japanese Prime Minister Kishida Fumio in Tokyo on September 26.