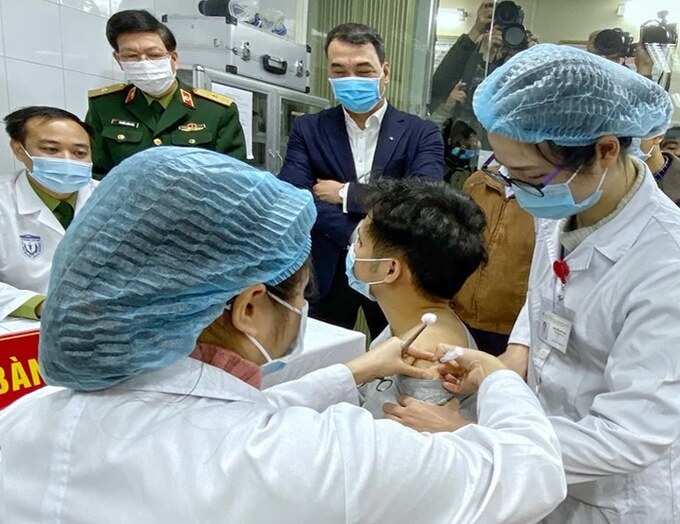 A man is injected with Nanocovax, the first made-in-Vietnam Covid-19 vaccine, in Hanoi, December 17, 2020. Photo by VnExpress/Dinh Van.
The Lowy Institute's COVID Performance Index tracked six COVID-19 measures across 98 countries, including the number of cases, deaths, cases as a proportion of tests and tests per thousand people in the 36 weeks following each country's hundredth confirmed case of the virus.
Other nations in the top 10 include Cyprus, Rwanda, Iceland, Australia, Latvia and Sri Lanka.
Brazil was ranked last, followed by Mexico, Colombia and Iran. The United States performed only marginally better, ranking 94th. The United Kingdom sits at the 66th spot, with Canada in 61st place, South Africa at 82nd, Indonesia at 85th and India, with a population of 1.3 billion and 11 million confirmed cases, ranking 86th.
China was not included due to a lack of reliable, public data.
On average, Asia-Pacific nations performed best out of all regions, while North and South America were the continents that performed the worst globally.
"The rapid spread of COVID-19 along the main arteries of globalisation quickly overwhelmed first Europe and then the United States," the report reads. "However, Europe also registered the greatest improvement over time of any region — with most countries there at one point exceeding the average performance of countries in the Asia–Pacific — before succumbing to a second, more severe, wave of the pandemic in the final months of 2020."
Countries were also categorised by population size, political system and economic development.
Nations with a population under 10 million outperformed larger countries, as did, on average, wealthier countries.
Authoritarian regimes and democracies were ranked fairly equally, in contrast to beliefs that authoritarianism presented an advantage. Despite exceptions like the US and UK, "democracies found marginally more success than other forms of government."
Hybrid regimes like Bolivia and Ukraine "appeared least able to meet the challenge."
"No single type of country emerged the unanimous winner in the period examined," the report states. "In general, countries with smaller populations, cohesive societies and capable institutions have a comparative advantage in dealing with a global crisis such as a pandemic."
Top 10
New Zealand
Vietnam
Taiwan
Thailand
Cyprus
Rwanda
Iceland
Australia
Latvia
Sri Lanka
Bottom 10
Chile
Ukraine
Oman
Panama
Bolivia
United States
Iran
Colombia
Mexico
Brazil
Jennifer Tran