Newly Accredited Ambassadors of 4 European Nations Present Credentials
Incoming ambassadors of of the UK, Norway, Denmark and Czech Republic presented their credentials – officially starting term in Vietnam
President Nguyen Xuan Phuc hosted separate receptions in Hanoi on September 8 for the Ambassadors of the UK, Norway, Denmark and Czech Republic, who came to present their credentials, VOV reported.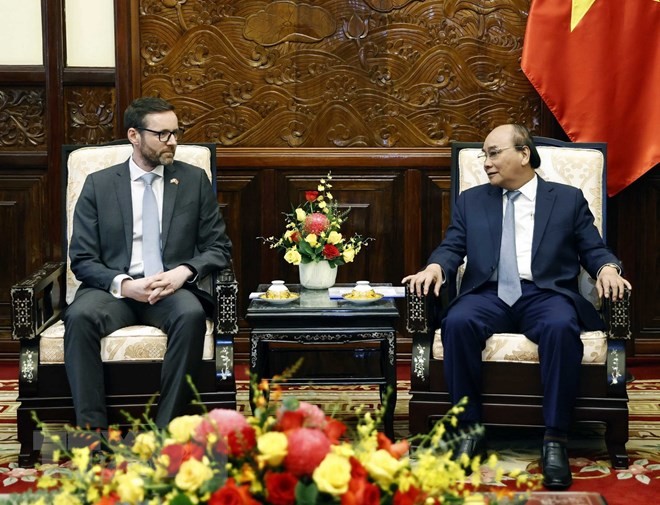 Ambassador Iain Frew shared that the UK stands by its commitment to boost cooperation with Vietnam in various fields, including socio-economic development, green, energy transition as well as the common goal of maintaining regional and international peace and stability.
At the Presidential Palace, Ambassador Iain Frew presented his credentials to President Nguyen Xuan Phuc, officially starting his term as Ambassador of the United Kingdom of Great Britain and Northern Ireland to Vietnam.
Receiving British Ambassador Iain Frew, President Nguyen Xuan Phuc extended congratulations to Liz Truss, new British Prime Minister, and expressed wish the two countries would continue to promote effective and deeper cooperation especially in 2023 when both countries will celebrate 50 years of their diplomatic ties.
Despite the negative impact caused by the Covid-19 pandemic, he said the strategic partnership between Vietnam and the UK has developed considerably, with economic-trade and investment cooperation playing the key role. Thanks to the enforcement of the UK – Vietnam Free Trade Agreement (UKVFTA), two-way trade last year rose 18% to nearly US$6.6 billion.
He encouraged both sides to bring into full play their strength and make the most of the UKVFTA to support post-pandemic recovery in their respective countries.
The president expected that the UK would expand cooperation with Vietnam in potential fields such as digital transformation, education, finance, banking, defense and security.
With 2023 being the 50th anniversary of Vietnam-UK diplomatic relations, the British Ambassador said that, with its strengths, the UK is ready to help Vietnam in energy transformation and cooperate closely with the Southeast Asian nation in maintaining regional and international peace and stability.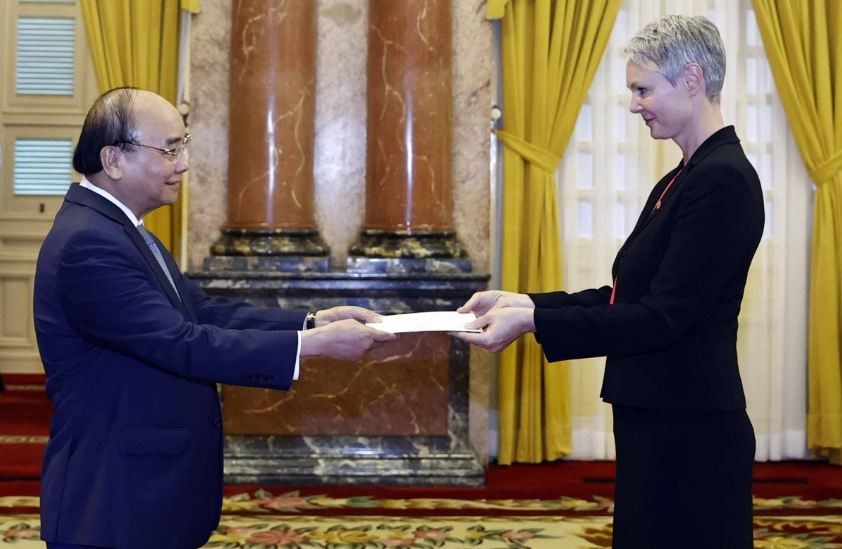 Norwegian Ambassador Hilde Solbakken (R) presents her credentials to President Nguyen Xuan Phuc. Source: VOV
At a reception for Norwegian Ambassador Hilde Solbakken, President Phuc stressed that Vietnam and Norway hold great potential for strengthening economic-trade and investment cooperation. He hoped that the Ambassador would actively coordinate with Vietnam in encouraging Norwegian businesses to invest and do business in Vietnam, especially in the fields of green growth, clean energy, renewable energy, and marine-based economy.
The State President said that Vietnam welcomes Norway's efforts in promoting international cooperation in combating climate change and wishes to strengthen cooperation with Norway in this field.
Ambassador Hilde Solbakken vowed to help promote the exchange of high-level visits during her new working term to foster bilateral ties. She spoke highly of Vietnam's climate change commitments at COP26 and said Norway would contribute to ramping up bilateral cooperation in the areas of Norway's strengths such as green economic growth, renewable energy, and sustainable development.
Ambassador Solbakken comes to Hanoi from the position as Ambassador to Myanmar, and has previously served in Indonesia, Kenya, the United States and Jordan, according to the embassy
She brings to Vietnam her extensive knowledge and expertise on international affairs, oceans, blue economy, and human rights.
Ambassador Solbakken is passionate about boosting Norway-Vietnam cooperation in both bilateral and in multilateral settings. She and her family are very excited about Vietnam and cannot wait to explore this beautiful country and its warm and friendly people.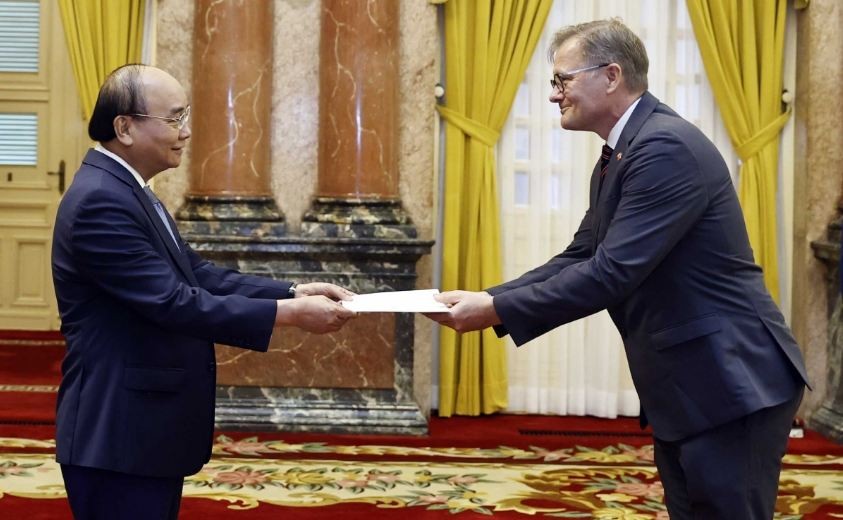 Arrived with his family in Hanoi in late August, Danish Ambassador Nikolai Prytz will dedicate his four years in Vietnam to further strengthen the already very strong relationship between Denmark and Vietnam. Source: VOV
Meeting with Danish Ambassador Nikolai Prytz, President Phuc expressed his delight that the two-way trade value between the two countries expanded 18% to nearly US$600 million last year. He expected that the figure would triple during the ambassador's new working term in Vietnam.
Ambassador Nicolai Prytz said that the two countries have treasured a good relationship for more than five decades and have promoted cooperation in various fields such as agriculture, energy and investment.
Denmark is very impressed with Vietnam's socio-economic development achievements and this is the potential for Danish businesses to strengthen cooperation in the coming time.
Denmark wishes to promote the comprehensive partnership with Vietnam and become a green partner of the Southeast Asian nation, said the Danish diplomat.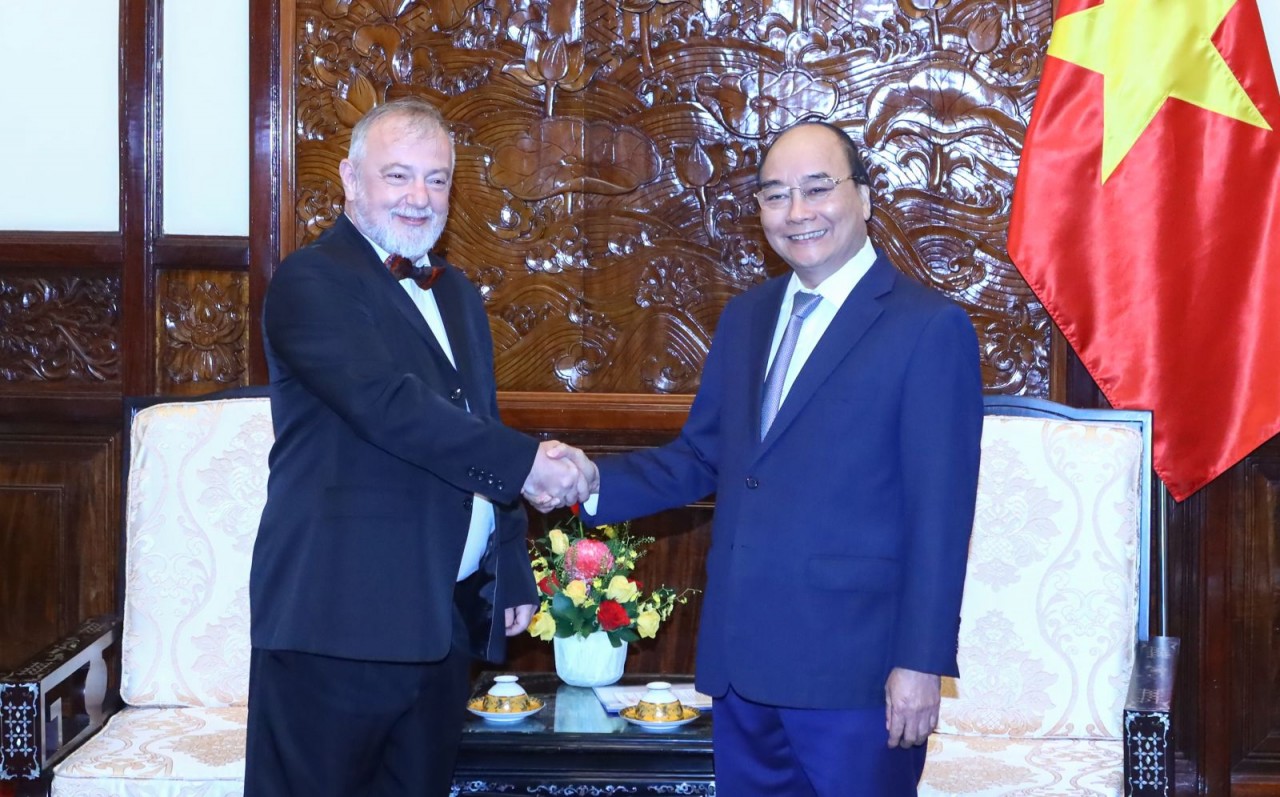 President Nguyen Xuan Phuc and Ambassador Hynek Kmonicek of the Czech Republic in Hanoi on September 8. Source: VGP
While receiving Ambassador Hynek Kmonicek, President Phuc affirmed that Vietnam attaches importance to strengthening the traditional friendship and multifaceted cooperation with the Czech Republic – a priority partner in Europe.
He pointed out economic cooperation is a major pillar in bilateral relations, with two-way trade last year rising 32% to US$734 million. As the two countries have potential for greater cooperation, President Phuc suggested that they work closely together to realize the minutes of the recent Vietnam-Czech Republic Inter-governmental Committee meeting in Prague.
He also suggested that the Czech Republic which is currently assuming EU Presidency for the second half of 2022 lobby other EU member states to ratify the EU-Vietnam Investment Protection Agreement (EVIPA) so as to bring practical benefits for both sides.
Ambassador Kmonicek concurred with President Phuc that the two countries should launch a direct air route to help foster trade and tourism cooperation. He suggested that Vietnam facilitate the Czech Republic automaker Skoda's operations in the country and support the opening of a Czech Centre in Hanoi to promote cultural exchanges between the two peoples.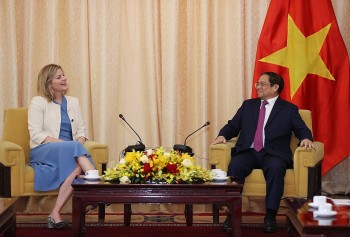 National
The Netherlands committed to cooperate with Vietnam, and together find innovative and sustainable solutions to accelerate green economy transformation.