Newly Arrived US Ambassador Sends Congratulation on Lunar New Year
US Ambassador Marc Knapper sent New Year greetings to the Vietnamese people after arriving in Hanoi to begin his term last week.
Ambassador Knapper and his wife holding li xi. (Photo: US Embassy in Hanoi's Facebook)
"My family and I wish all of you a healthy, happy, and prosperous new year!" said the Ambassador on the US Embassy in Hanoi's Facebook fanpage on Feb. 1, also the first day of the Year of Tiger.
The post features a photo of Ambassador Knapper and his wife sitting next to a peach blossom and a kumquat tree, holding lucky money (lì xì) envelopes.
Marc Knapper and his family arrived in Hanoi on January 27. He was appointed by the US Senate as ambassador to Vietnam on December 18, 2021, nearly 8 months after receiving the nomination of President Joe Biden.
Marc Knapper and his family arrived in Hanoi on January 27. (Photo: Lao Dong)
According to the White House's report o the US Senate, Knapper is a professional diplomat, who once held the position of Deputy Assistant Secretary for Korea and Japan. He worked in the Bureau of East Asian and Pacific Affairs.
The new US Ambassador to Vietnam has more than 25 years of experience in foreign policy and professional diplomacy. He has spent many years on policy, cultural and linguistic research in East Asia. According to the US State Department, Knapper speaks Vietnamese and served as a political counselor for the US Embassy in Hanoi for three years (2004 - 2007). He is also fluent in Japanese and Korean.
Ambassador Knapper said he appreciated the profound transformation in Vietnam-USA's relations from the past of conflict to diplomatic normalization in 1995 and the current comprehensive partnership. Knapper believes that Vietnam - US relations can further develop. He is willing to make efforts toward this goal.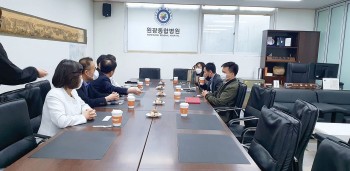 Overseas Vietnamese
A meeting was organized at the Wonkwang Hospital on the provision of medical support for the Vietnamese community in Korea in accordance with the signed cooperation agreement.