NGO And Enterprises Support Vietnam in The Fight Against Covid
Joint efforts made to support Vietnam's hospitals care for Covid-19 patients.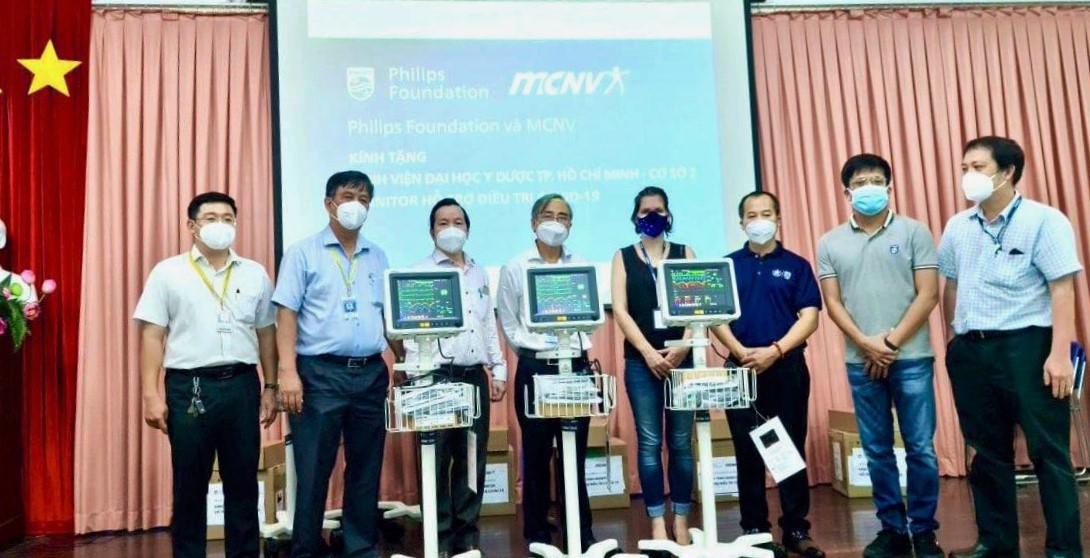 Representative of the Vietnam Fatherland Front Committee in Ho Chi Minh City, sponsors and support units at the handover ceremony, September 28. Source: MCNV
NGO and enterprises are supporting Vietnam in the fight against Covid-19 pandemic by donating medical equipmentsto improve hospitals and healthcare centers' readiness and capacity to deal with the spike in the country.
In response to the shortage of equipment in Covid-19 diagnosis and treatment, the Philips Foundation, Philips Vietnam and the organization Medical Committee Netherlands – Vietnam (MCNV) donated 50 patient monitors to 13 hospitals and healthcare centers in Ho Chi Minh City, Dong Nai, and Binh Duong Provinces, TG&VN reported.
The first five patient monitors were handed over to the hospital of the HCM City University of Medicine and Pharmacy by representatives of the donors and the Vietnam Fatherland Front Committee of HCM City on Sep. 28.
In healthcare, patient monitor is a valuable tool that helps provide information on vital signs including heart rate, blood pressure, Temperature, Oxygen saturation, which will be used by medical and nursing staff to triage and monitor patients' conditions during Covid-19 treatment.
Vietnam is confronted with a fourth wave of Covid since the end of April, with an increasing infection rate in more than 60 cities and provinces that cause patient overload and serious medical equipment shortage, especially in designated Covid hospitals in the South of Vietnam. To ensure there are sufficient beds to treat the rapidly increasing number of patients, many temporary field hospitals are being newly built to share the patient load with current healthcare facilities – often requiring new medical equipment.
Mr. Pham Dung, MCNV Country Director hailed the adequate and timely support, stressed that amidst the complicated ongoing development of Covid outbreak in HCM City and the neighboring localities, via the donation of patient monitors, Philips Foundation has provided vital support to healthcare facilities in the treatment of Covid-19.
"MCNV is honored to join the Philips Foundation in delivering essential supplies to those facilities. We hope that the pandemic will soon be controlled and life will soon return to normal for everyone," said Dung.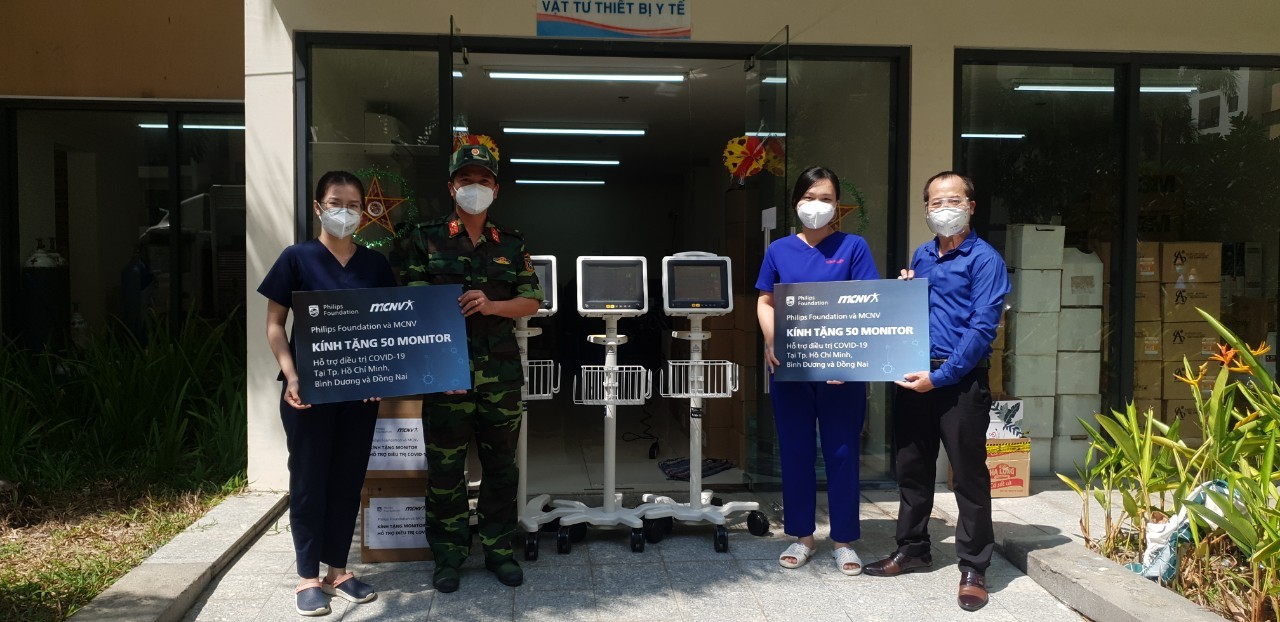 5 patient monitors were handed over to the hospital of the HCMC University of Medicine and Pharmacy by representatives of the donors and the Vietnam Fatherland Front Committee in HCMC on September 28.
"We believe that when technological innovation and collaboration are combined, we can support the medical force at critical times while meeting future needs for the long run," said Ms. Margot Cooijmans, Director of Philips Foundation, expressing her that the installation of critical patient monitors will be of great benefit in managing the influx of Covid patients for the hospitals in Vietnam.
According to Mr. Hugo Luik, Country Manager of Philips Vietnam, the company's happy that they can contribute, with support from the Philips Foundation and in collaboration with MNCV and Fatherland Front of Vietnam, to the local departments of health with this donation.
Their support intends to partly mitigate the shortage of medical equipment in the designated Covid hospitals in Vietnam managing the high volume of seriously ill patients, he added.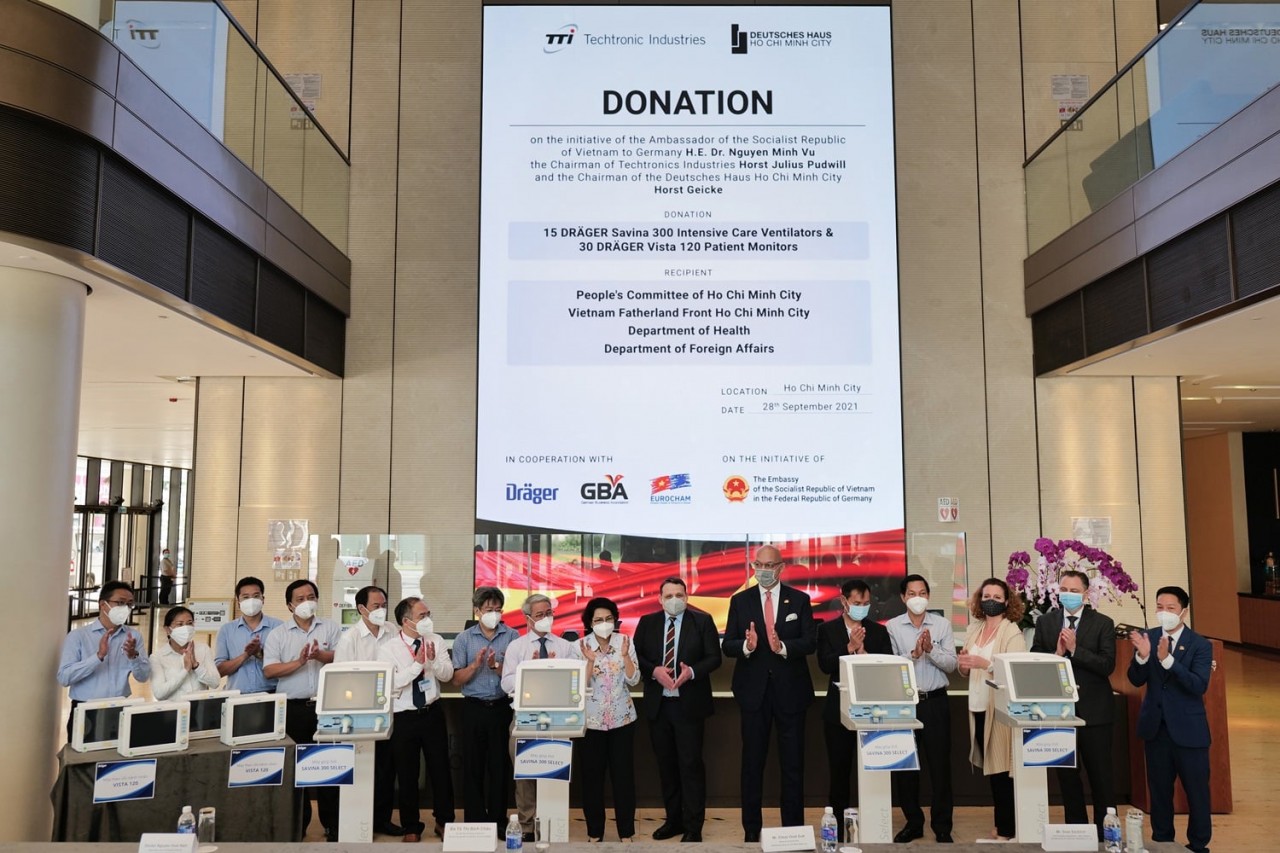 At the ceremony. Source: EuroCham Vietnam
On behalf of Techtronic Industries Company Ltd (TTI) and the Chairman of Deutsches Haus HCM City Horst Geicke were delighted to hand over to the Vietnam Fatherland Front Committee, the Department of Health and the Department of Foreign Affairs, representing the People's Committe of HCM City much-needed German custom-built medical machines and equipment in the value of USD 350.000.
Mr. Sven Eschrich, vice president operations – New Product Introductions of Techtronic Industries in Vietnam and the COO and General Director of Deutsches Haus, Mr. Elmar Dutt on Sep.28 handed over 15 intensive care ventilators and 30 patient monitors from Dräger in Germany for the immediate use in hospitals in HCM City.
European Chamber of Commerce Vietnam, represented by Executive Director Delphine Rousselet joined this donation ceremony, as a part of the Breathe Again Vietnam initiative.
This donation has been initiated by the Vietnamese Ambassador to Germany Dr. Minh Vu and has been supported by – the EuroCham Vietnam and the German Business Association in Vietnam.
On behalf of Techtronic Industries and Deutsches Haus, Mr. Elmar Dutt states, "In this critical time of the Covid-19 pandemic we are standing with both of our companies and our German and European partners side-by-side with Ho Chi Minh City and Vietnam, to support the hospitals in our community with much needed medical equipment to save lives."
From early this week, the Vietnam's Ministry of Foreign Affairs received 2.6 million doses of the Astrazeneca Covid-19 vaccine donated by the German Government, reported VNA Monday.
The vaccine batch arrived at Tan Son Nhat airport in HCM City on Sep. 26 evening. To date, Germany's aid of vaccines and medical equipment is the largest support of an EU member state to Vietnam.
Germany will further assist Vietnam in the coming time via the implementation of their One Health joint project and the building of a centre for infectious disease prevention and control in Vietnam, among others, said German Ambassador to Vietnam Guido Hildner, who handed over the vaccine at the ceremony.
Hildner took the occassion to appreciate Vietnam's donation of 100,000 face masks to Germany right after the pandemic broke out. He also expressed his delight at ongoing support for Vietnam by many localities, agencies and organisations in Germany, which, he said, reflected the solidarity between the two peoples.
HCM City, the country's current largest pandemic hotspot, confirmed just 787 cases, but its mass testing using rapid antigen tests found 3,417 positive cases in the past 24 hours to 5pm on Sep. 28, according to the Ministry of Health.
Binh Duong province, another hot spot also saw the number of cases down 1,218 to 2,575. The national caseload rose to 770,640.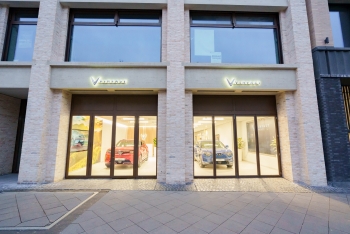 Economy
VinFast has officially opened its first two VinFast Stores in Cologne, Germany, and Paris, France.