No fresh COVID-19 infections recorded on early March 1, 1,876 recoveries
The Ministry of Health confirmed no new locally-transmitted COVID-19 cases on the morning of March 1, keeping the national tally at 2,448, while the total recoveries hit 1,876 in total after a further 32 coronavirus patients were declared free from the virus one day earlier.
Hai Duong remains the nation's biggest coronavirus hotspot with a total of 665 local transmissions confirmed so far. Of these, ten localities have gone through 16 straight days without recording any new locally-transmitted cases of COVID-19.Of the total figure, 1,542 were locally infected, including 849 domestic cases since January 27 when a new COVID-19 wave broke out.
On February 28 the Ministry of Health reported the discovery of a community infection in Bac Lieu province in the Mekong Delta. The case is a 49-year-ol-man who tested positive for the virus through the first screening, however, his test result was confirmed negative later by the Ho Chi Minh City Pasteur Institute.
The same day, more than 16,000 random samples taken at bus and train stations as well as the Tan Son Nhat International Airport in Ho Chi Minh City produced negative test results for the SARS-CoV-2 virus, while 727 others are waiting for results.
According to Minister Nguyen Thanh Long in order to lead a new normal life in the time ahead, the nation needs to have early access to COVID-19 vaccines.
Developed by the Nanogen Pharmaceutical Biotechnology JSC, Nano Covax is the first locally made COVID-19 vaccine to enter human trials in Vietnam, with another two from other manufacturers to follow in February and March.

Vietnam is one of the 40 nations that have carried out human trials of a COVID-19 vaccine.
Meanwhile, most provinces and cities nationwide started to reopen schools as of March 1 after the COVID-19 pandemic has been basically contained with no new domestic cases posted over the past two weeks.
Hanoi capital is set to reopen schools on March 2 which will be the date marking 14 days of local infections, according to municipal authorities.
VOV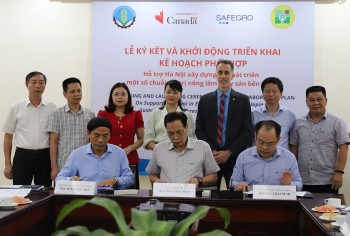 Make in Vietnam
As Vietnam furthers its international intergration, building agro-forestry-fishery high value chains is crucial for the sustainable development of the agriculture sector.