Norwegian diplomat enjoys making Vietnamese 'nem' to welcome Tet
Mrs. Nina G. Enger, First Secretary of the Norwegian Embassy in Vietnam, has a passion for Vietnamese cuisine. She said that this year she and her husband will celebrate Tet in Hanoi. The Norwegian diplomat is quite knowledgeable about the ingredients to make fried spring rolls (nem) and does not hesitate to go to the kitchen to make this dish for her guests on the occasion of the coming Tet.
"When I came to Vietnam, I realized that spring rolls was a popular dish, both for vegetarian and pescatarian. Tet (Lunar New Year) is coming and this is the dish that almost every Vietnamese family has in their Tet meal." Photo: Pham Hai
Hello Mrs. Enger, what cuisine are you going to cook?
I'm going to make spring rolls. The first time I tried spring rolls was in Oslo, Norway in the 80's. At that time, Asian restaurants began to appear in Norway. Fried spring rolls became more popular in my country very soon.
When I came to Vietnam, I found that spring rolls are quite popular here, spring rolls and fried spring rolls, both for vegetarian and pescatarian. I want to practice making Vietnamese spring rolls. As Tet is coming, this is a dish that almost every Vietnamese family has in their Tet meal.
I use ground pork - this is the traditional ingredient of fried spring rolls, some sliced carrot, a type of bulb Vietnamese call "cu dau" that Norway does not have and I don't know how to call it in English, wood ear and mushroom. Someone uses onions, but I use Vietnamese onions and some vermicelli – a traditional ingredient as well.
It is very interesting that when making spring rolls, each family has its own recipe. This is similar to our traditional Norwegian dishes. Usually in each family, the mother's food will be the best dish and the children will always tend to cook the same way as their mothers when they grow up.
As for the spring rolls I make today, I added some fresh shrimp. Since Norway is a country of seafood, I want my spring rolls to have the taste of shrimp. Another spice is coriander. This is the taste that I really like. I'll add some pepper. This is the pepper I bought in Phu Quoc which is very flavorful. A little bit of sea salt. I will break one egg and mix it well. You can see that I have not mastered this dish. This is the second time I have tried to make spring rolls.
This is the second time you have experienced Vietnamese New Year, how do you feel?
This is very interesting to celebrate another New Year since we already celebrated the New Year at the end of December. This is not my first Lunar New Year. I've been posted to Asian countries before so I have experienced this kind of celebration. But I must say my first Tet here in Vietnam - which was last year – coincided with my 60th birthday, so it was quite special for me. My husband and I, we went down to Phu Quoc and spent some days there in the warm and tropical climate which is my absolute favorite, so last year's Tet was very interesting out of Hanoi.
For this Tet I am going to stay in Hanoi and my husband will arrive back from Norway, so close to Tet he will be finished with his quarantine and I'm looking forward to spending time with him and we would like to be here at home this time this year.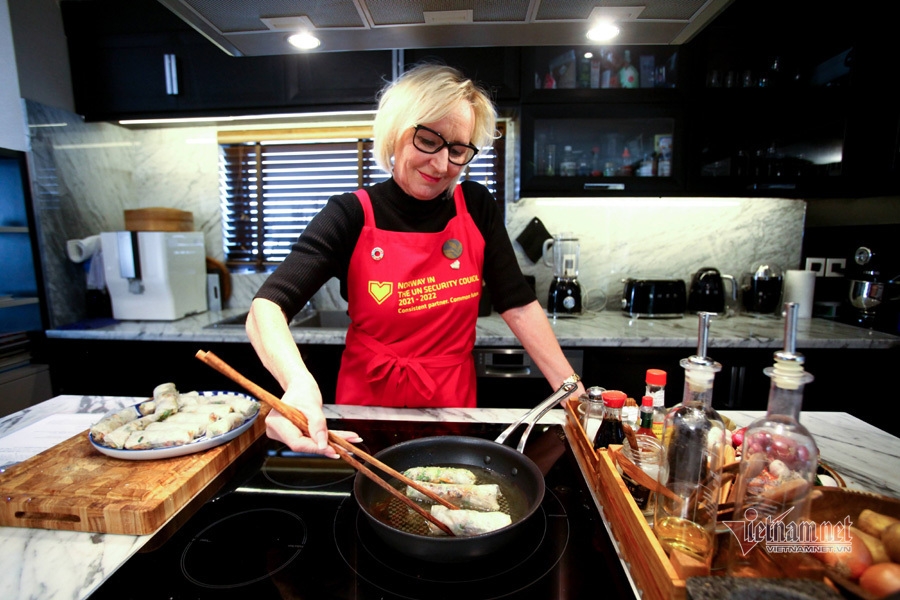 Mrs. Nina G. Enger making Vietnamese spring rolls. Photo: Pham Hai
Last year and the present time, the COVID-19 pandemic has made things upset. Has your embassy been affected?
Well, we were first and foremost very impressed at how the Vietnamese government and authority took charge of this pandemic.
Quickly after the pandemic broke out, they closed the border; they encouraged foreigners to leave the country and go back to their own countries; and they also took charge of bringing Vietnamese citizens back and get them quarantined as well.
This was something that the embassy was very impressed to observe. And of course, we took strict measures at the embassy during this time. For example, we closed the door to the public and implemented strict hand hygiene. We discussed the use of masks inside. We also improved the cleanliness of the office areas, and when the social distancing period started, we split the embassy into two halves so that one half would work from home and the other half would work in the office so as not to risk anything.
That's what we did in early May. We felt that the situation was good and was under control so we went back to business as usual, slowly open meetings in the embassy, receive counselor visitors, etc. We also declared the embassy to be COVID-19 free.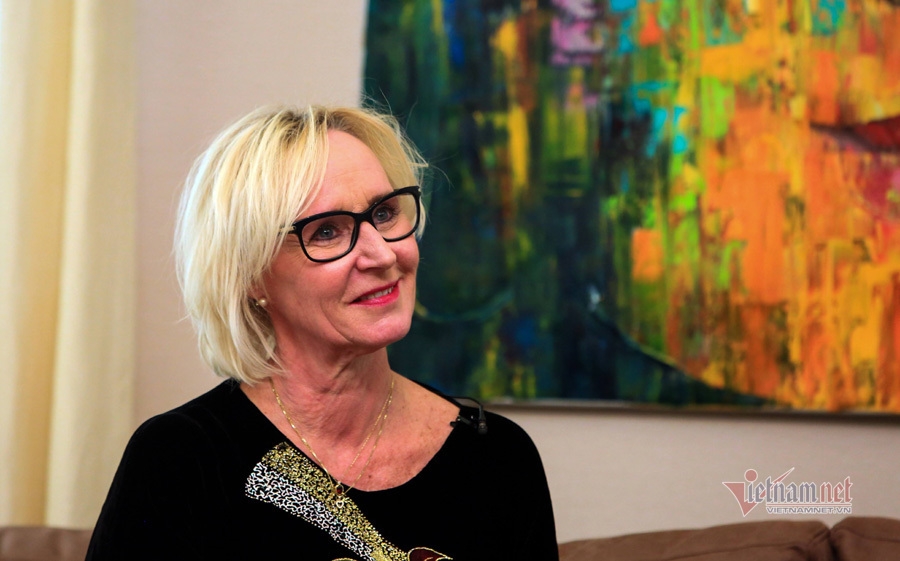 Mrs. Nina G. Enger, First Secretary of the Norwegian Embassy in Vietnam. Photo: Pham Hai
Looking back to 2020, what is the highlight in the Vietnam-Norway relationship? And what do you expect from the bilateral relationship this year?
First and foremost, one of the highlights that we shared together with Vietnam last year was the chairmanship of ASEAN, which was very impressive how Vietnam was able to think anew.
There were so many high-level meetings and other activities related to ASEAN that were going to take place. However, we started postponing them month by month; we didn't really know but then everybody realized that the pandemic has come to stay, so to be able to push through some of the activities they used modern technology to good use.
There were lots of online meetings for all these activities, which was very convenient for our ambassador who was - for most of the time – in Oslo. She could participate without coming here. Also, our ASEAN ambassador – who is normally posted in Jakarta – was able to participate without coming here. So we were really impressed at how Vietnam was able to push this through.
Last year Norway celebrated its 5th anniversary as a dialogue partner of ASEAN. We share many different values that ASEAN is highlighting (sustainable development, climate change…).
Another highlight that I would like to mention is that last year, Norway was elected as an observant member of the ASEAN Inter-Parliamentary Assembly (AIPA). We have been actively trying to get this role for five years and last year (2020) we were elected as an observant member. I was so fortunate to be head of the embassy at the time so I was present at the presentation of the Norwegian seat at the initiation ceremony.
Finally, the last milestone that we shared with Vietnam last year is that Norway was elected as a nonpermanent to the United Nations Security Council (UNSC). Vietnam was elected the year before so you have been in the Security Council for one year. We will share the seat next to you in 2021. We know that Vietnam was very positive towards our candidacy, so I dare to say Vietnam thank you for their vote. We will work together on important things, for instance peace and security which we will also do together with Vietnam under the ASEAN umbrella. This will be also very important for our work in the UNSC. We look forward to cooperating with Vietnam.
2021 is the year that we will celebrate the 50th anniversary of diplomatic relationship with Vietnam, so it's a big year for the two of us. Having high level visits under that kind of umbrella and with that backdrop will be very interesting and very fruitful for all of us, I think.
I wish good health and a prosperous New Year to the audience of VietNamNet and all the Vietnamese people. Let us make sure the 2021 will be a year of play and joy, and maybe not so much hard work as a buffalo. Chuc Mung Nam Moi!