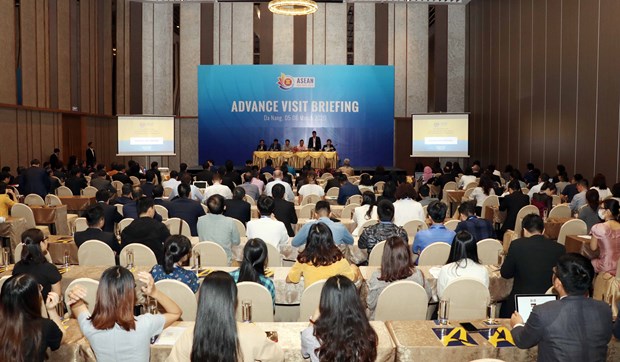 Advance visit briefing for officials from ASEAN member states and New Zealand (Photo: VNA)

The delegation arrived in Vietnam to inspect preparations for the summit which scheduled to take place in the central city of Da Nang in early April.

The delegation comprised 80 officials from member states of the Association of Southeast Asian Nations (ASEAN) and New Zealand and some 150 others from subcommittees of the ASEAN 2020 National Committee.

Representatives of the subcommittees informed the delegation on preparations in all aspects such as reception, logistics, security and healthcare.

A representative of the city's Centre for Disease Control and Prevention (CDC) presented preparations for the prevention and control of the acute respiratory disease caused by new coronavirus SARS-CoV-2 (COVID-19) in order to ensure safety for delegates to the summits right from the Da Nang International Airport to hotels and meeting venues.

As scheduled, the delegation will make fact-finding trips to related places such as hotels, the International Media Centre and the Da Nang International Airport.
Ho Ky Minh, Deputy Chairman of the city People's Committee, representatives from the preparation delegation in February stressed that sub-committees on security, health and ASEAN order, as well as the other national sub-committees, will work with Da Nang to carry out plans ensuring absolute security and safety for the Summit.
As the 36th ASEAN Summit is one of the most important events in the ASEAN Chairmanship Year which will be attended by ASEAN member countries' leaders and guests, especially heads of state from the US, China, Russia and Japan, the highest requirements in security, safety, food, health and information issues will be requested./.
VNA