Opportunity for Vietnamese Students to Access International Standardized Tests
The signing ceremony of cooperation between IIG Education Vietnam and the College Board Organization (USA) was held in Hanoi on March 14. Accordingly, the two sides will cooperate in organizing outreach activities, sharing information, and learning materials on a regular basis. This is to raise public awareness of the value of standardized tests like the SAT, PSAT, and AP
The signing ceremony of cooperation between IIG Vietnam Education Organization and College Board Organization (USA) was held with the participation of leaders of agencies and departments, representatives from the Ministry of Education and Training (MOET) ), the US Embassy and Consulate in Vietnam, the US Office of Education (Education USA), and high schools.
Within the framework of cooperation, IIG Vietnam will establish and manage SAT, PSAT, and AP test centers authorized by the College Board not only in major cities but also in other provinces of Vietnam. Candidates can be students from public and private schools or independent candidates.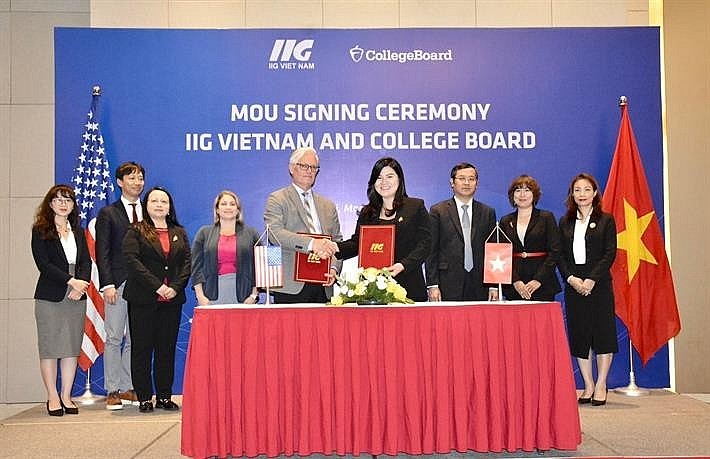 Representatives of IIG Education Vietnam and the College Board Organization (USA) signed a cooperation agreement. Photo: Vietnamtimes
IIG Vietnam and College Board will cooperate to organize training sessions for AP teachers, counselors, and administrators in Vietnam. This is to meet the needs of schools and to provide education administrators with access to high-quality international education training. At the same time, IIG Vietnam will support the organization of AP exams for high schools interested in this test.
Paul Sanders, the CEO, emphasized his commitment to work closely with IIG Vietnam to widely deploy international standardized tests such as SAT, PSAT, and AP in Vietnam. He said that the College Board will constantly improve to provide a superior test experience and give each student the opportunity to have access to prestigious international assessment standards.
Deputy Minister of Education and Training Nguyen Van Phuc said that in recent times, Vietnam has received a lot of support from the United States. In particular, this support focuses on the field of higher education with many programs on innovation, university governance, and effective teaching and learning. Many scholarship programs for students as well as faculty and student exchange programs have contributed to improving the quality of Vietnam's human resources. In particular, these programs are implemented in the context that Vietnam is carrying out a fundamental and comprehensive reform of education and training.
Emphasizing the importance of the cooperation between IIG Education Vietnam and the College Board, the Deputy Minister believes that Vietnamese students will have more opportunities to enter prestigious universities. He also wished that the two organizations would coordinate in implementing serious, honest, and objective exams to ensure the interests of candidates.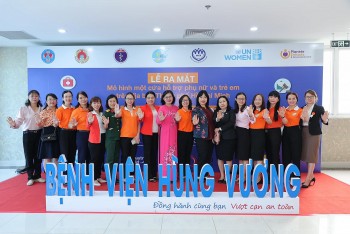 Viet's Home
What is the one-stop centre for women and children experiencing violence?