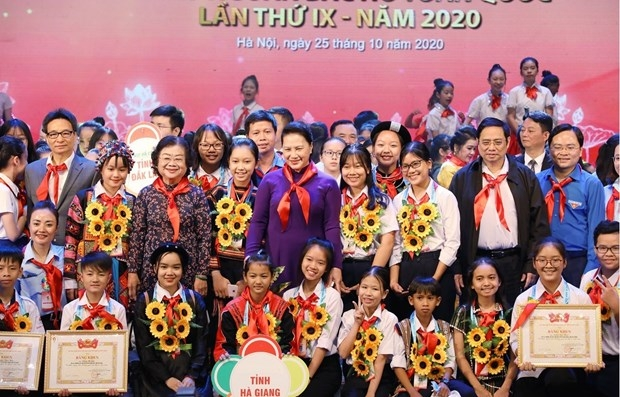 National Assembly Chairwoman Nguyen Thi Kim Ngan (second row, centre), officials and children pose for a photo at the ceremony on October 25 (Photo: VNA)
At the event, 63 outstanding children, representing 344 participants in the national congress, from the 63 provincial-level localities across Vietnam were presented with merit certificates.
In her speech, National Assembly Chairwoman Nguyen Thi Kim Ngan said over the past years, children nationwide have followed late President Ho Chi Minh's teachings to emulate one another in learning, self-improvement and engagement in campaigns launched by the Ho Chi Minh Vanguard Children Union.
Praising their attainments, she expressed her belief that they will continue making efforts to become role models who will encourage their peers to perform better in learning and self-improvement so that all Vietnamese children will be Uncle Ho's good children.
On this occasion, the top legislator also highly valued efforts by the communist youth and vanguard children unions at all levels to coordinate with relevant agencies and organisations to protect, care for and educate children, while asking all-level authorities, sectors and society as a whole to pay more attention to these tasks, especially for disadvantaged children and those in remote and disaster-prone areas.
The National Congress of Uncle Ho's Good Children is an important event held every five years of Vietnamese children.
The event aims to honour children with outstanding performance in learning, self-improvement and following President Ho Chi Minh's teachings. It is also meant to demonstrate the Party, the Government, sectors and the entire society's care for the young generation.
nhandan