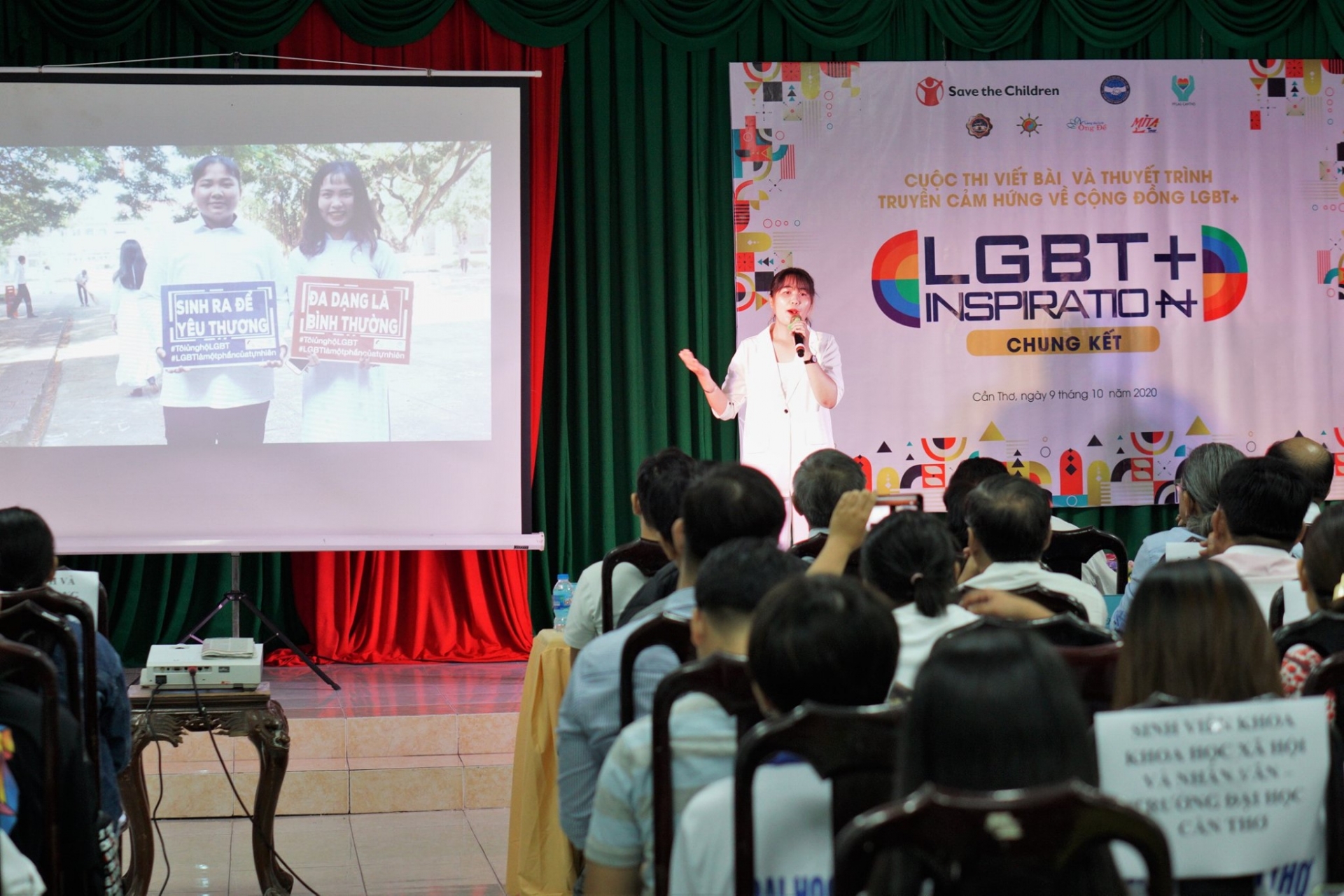 "You are the happiest when you stay true to yourself and your gender identity". That is the main message of the "LGBT+ Inspiration" Contest Finale held in Can Tho city. Source: Save the Children
Launched in last August, the contest "Writing and Public Speaking Contest on LGBT+ Community" (LGBT+ Inspiration) creates space for lesbian, gay, bisexual, and transgender (LGBT) community members to share their own stories and speak out about eliminating social stereotypes towards their community, as well as seeking mutual understanding from teachers and parents.
Contestants varied from high school students and LGBT+ youth activists to people with disabilities and teachers who closely support the community.
The contest have received 36 submissions with topics ranging from their daily life story to their experience of exercising the rights as LGBT+ community members.
After three rounds, Ms. Nguyen Thi Diem and Pham Thi Cam Tuyen has won First place. Ms. Diem – a high school teacher, has touched the audience's heart with her story about overcoming her own prejudice towards LGBT+ people and supporting her transgender niece. Meanwhile, Cam Tuyen reassured us that "It is not the social norms but rather your own choices that will decide who you are and how far you can go in life."
The "LGBT+ Inspiration" contest is hoped to help spread the voice and wishes of Ms. Diem, Cam Tuyen as well as the LGBT+ community for a society where everyone is respected while fully and equally enjoying their rights. This contest will be a key annual event where positive messages of LGBT+ youth are amplified.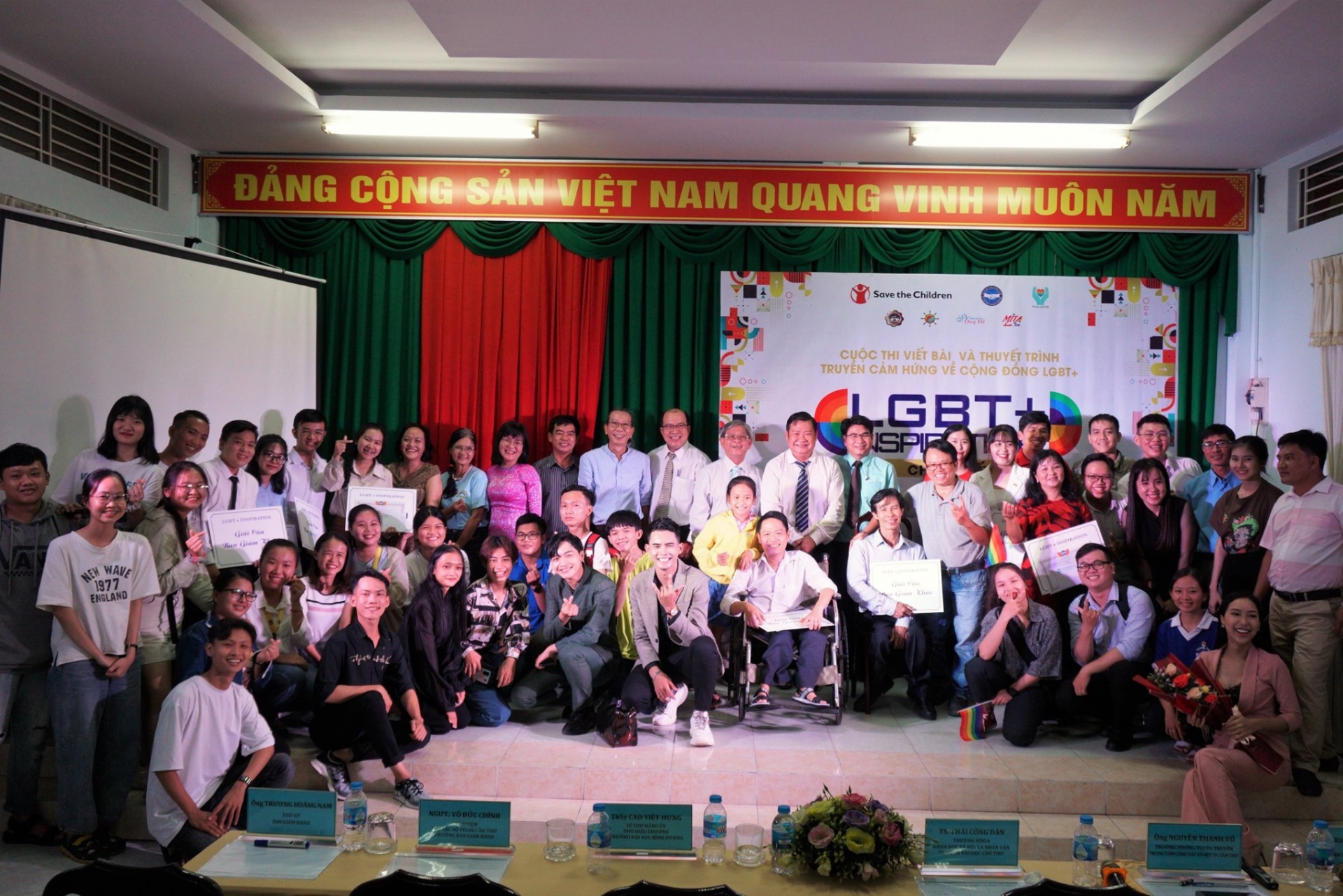 This was an interesting and important open forum for LGBT youth to share their daily life story to their experience of exercising the rights as LGBT+ community members. Source: Save the Children
The "LGBT+ Inspiration" Contest is part of the "Child Rights Governance – LGBT Youth and Children Have Access to Education, Health and Social services" project co-implemented by Save the Children, the Can Tho Union of Friendship Organizations and Parents and Friends of Lesbians and Gays (PFLAG) with the financial support from Norwegian Organization for Sexual and Gender Diversity (FRI).
The project aims to support LGBT children and youth to fully participate in social services and gain equal access to education, employment, health, housing and political activities in accordance with the laws of Vietnam.
Since 2016, the project has established a peer-to-peer model for LGBT youth, provided capacity building and training for LGBT youth groups, supported counseling services for young people living with HIV/AIDS or with high risk of HIV/AIDS infection, trained professional social workers from government agencies, improved parents' understanding of their LGBT children, supported LGBT groups to organize Vietpride - an annual event aimed at equality for the LGBT members in Vietnam, and International Transgender Day of Visibility, etc./.
Vietnam and LGBT rights: Making strides

Vietnam has seen a radical change in lesbian, gay, bi-sexual and transgender (LGBT) rights over the last decade as the State has made significant steps ...
Hannah Nguyen