Over 1000 People Celebrate the 9th International Yoga Day in Hanoi
The Embassy of India in Hanoi held the 9th International Yoga Day in Hanoi on June 18. The event attracted the participation of more than 1000 yogis from many yoga centers across the country.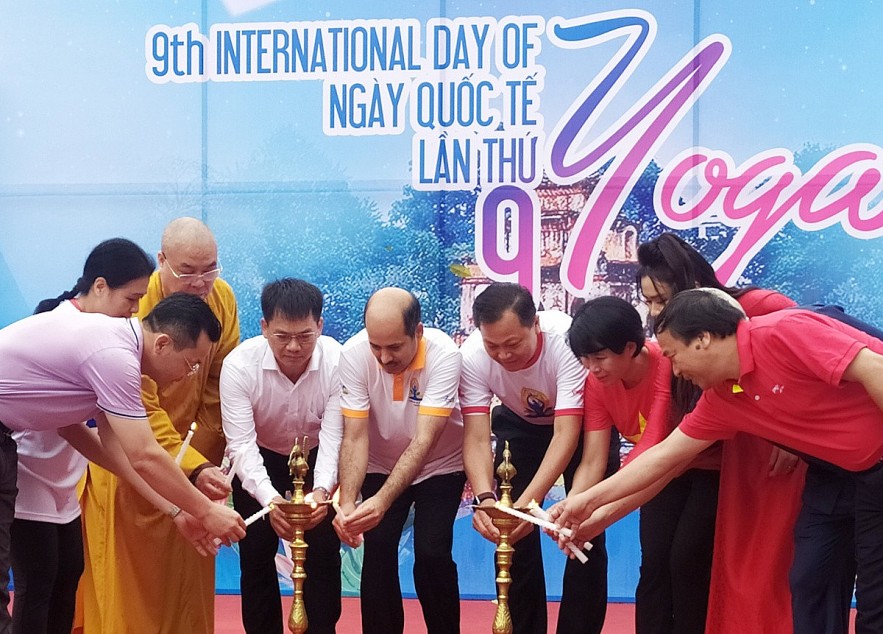 Delegates lit the light to start the event (Photo: Valerie Mai)
In his remarks, Ambassador of India to Vietnam Sandeep Arya discussed yoga's place within Indian culture. "Yoga is an ancient Indian practice. In Sanskrit, the word yoga means "uniform", expressing unity between body, mind (or perception), and the surrounding (nature). Physically, yoga helps to improve health and endurance with the flexibility of body parts, the nervous system, and blood circulation. Mentally, yoga strengthens the mind-body connection, linking thought and action, improving an individual's consciousness and overall well-being. Yoga allows an individual to connect with his environment in a more thoughtful, fulfilling way and thus become a source of positive energy in the world."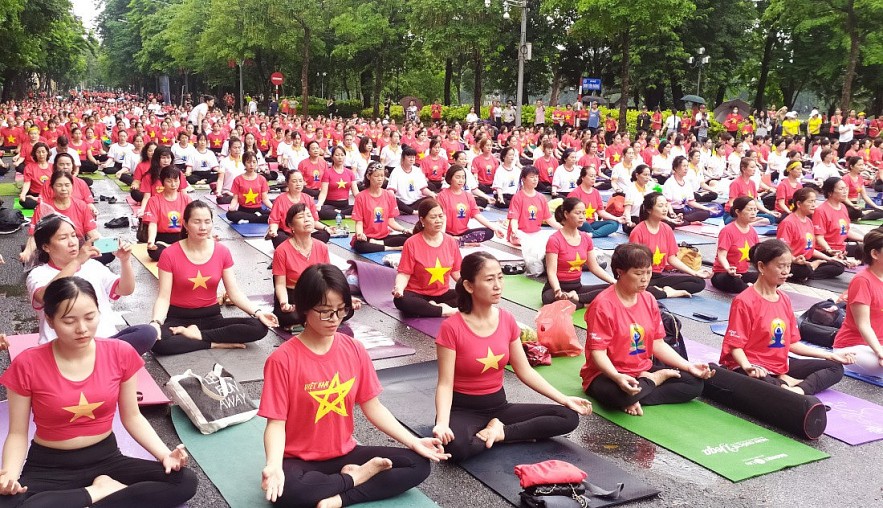 More than 1,000 people participated in the 9th International Yoga Day event in Hanoi (Photo: Valerie Mai)
This year, events to celebrate International Yoga Day will be held in more than 35 provinces and cities across the country, including well-known places such as Fansipan Peak (Sa Pa, Lao Cai) and Hoan Kiem Lake (Hanoi). More than 10,000 people are expected to attend these events.
Guests and delegates practice yoga (Photo: Valerie Mai)
According to the Indian Ambassador, Vietnam is an important partner of India in promoting and celebrating International Yoga Day. The widespread popularity of Yoga in Vietnam shows a deep awareness of yoga benefits in Vietnam and its role in the cultural and people connection between the two countries.
At the event, yoga practitioners, guests, and delegates joined a performance of popular yoga protocols to improve health and lead to a life free of stress and disease. The event also features creative yoga performances by different groups and centers. On the sidelines of the event, many yoga-related games were held at the pedestrian street of Hoan Kiem Lake (Hanoi).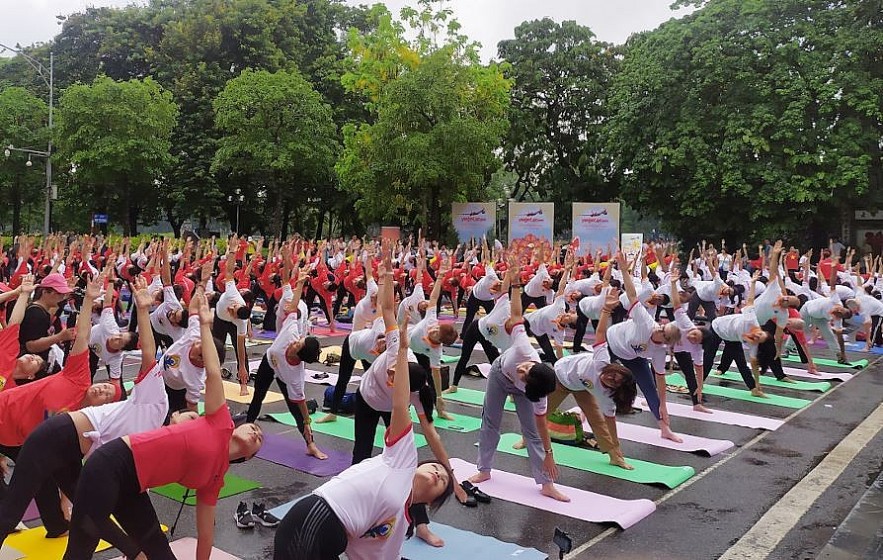 International Yoga Day events are taking place in more than 35 provinces and cities across Vietnam (Photo: Valerie Mai)
On December 11, 2014, the United Nations General Assembly passed a resolution to choose June 21 every year as the International Day of Yoga. In 2023, the 9th International Yoga Day with the theme "One World, One Health" is celebrated worldwide.