Over 570 stranded citizens brought home on National Day
More than 570 Vietnamese citizens were flown home safely from Thailand and Uzbekistan on the country's National Day (September 2).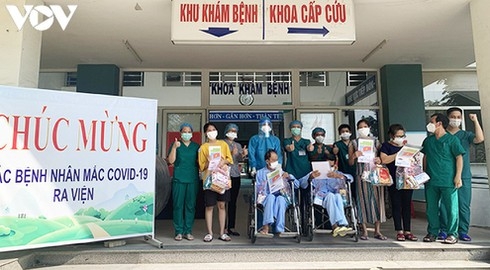 Eleven patients are discharged from two Da nang hospitals September 2. Photo: VOV
Among returnees, 232 citizens from Uzbekistan and 340 from Thailand.
The flight was arranged by Vietnamese agencies, the Vietnamese Embassies in Russia and Uzbekistan as well as Thailand, the countries' relevant authorities, national flag carrier Vietnam Airlines together with Uzbekistan Airways.
Notably, the flight from Uzbekistan was conducted per order of Prime Minister Nguyen Xuan Phuc, carrying 226 workers, four students and two stranded businesspeople.
Among the labourers, some had been declared being infected with SARS-CoV-2 that causes COVID-19 but were negative for the virus after the second testing.
The Vietnamese Embassies sent its staff members to the airport to provide support for the citizens.
Safety and hygiene measures were applied during both flights to ensure safety for all passengers and the crew.
Upon landing at airports, all people on board received medical check-ups and were sent to concentrated quarantine areas in line with regulations.
As many as 66,946 people who had close contact with COVID-19 patients or entered Vietnam from pandemic-hit regions are being quarantined across the country, including 3,672 in hospitals, 15,868 in other establishments and 47,406 at home.
Vietnam have made efforts to contain the importation of the disease by implementing a range of regulations regarding COVID-19 prevention and control as authorities and overseas missions plan to arrange more flights to bring Vietnamese citizens home.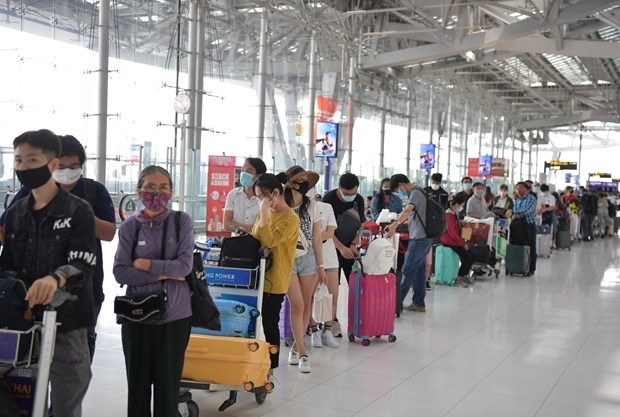 Citizens in Thailand wait for boarding. Photo: VNA
Vietnam has confirmed two more cases, including one locally-transmitted infection, and 11 COVID-19 patients were discharged from two hospitals in Da Nang City on the same day.
A 72-year-old man in Hai Duong province's Gia Loc district tested positive for the virus after showing virus symptoms such as a fever, a headache and exhaustion.
Meanwhile, an imported case was registered in Khanh Hoa province, central Vietnam. The 30-year-old patient of Thai Binh province is a sailor on board Nippon Maru cargo ship.
He was quarantined and tested for COVID-19 after the ship docked at Nha Trang port on August 30.
So far, Vietnam has recorded 1,046 coronavirus cases. Among the confirmed patients, 691 cases of community transmission, including 551 cases registered since the virus resurged in Vietnam on July 25.
Thirty-four deaths have been confirmed since the virus spread in the country in January 2020, all have been counted following the resurgence of the virus in Da Nang nearly two months ago./.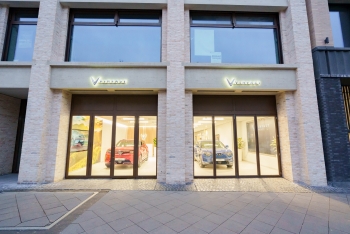 Economy
VinFast has officially opened its first two VinFast Stores in Cologne, Germany, and Paris, France.