Egyptian press highly appreciates Vietnam's socio-economic achievements
Al-Ahram, the prestigious Egypt-based newspaper has recently published an article titled "The remarkable successes of Vietnam on Diamond Ceremony - 75th anniversary of National Day" which highlights the outstanding socio-economic achievements of Vietnam.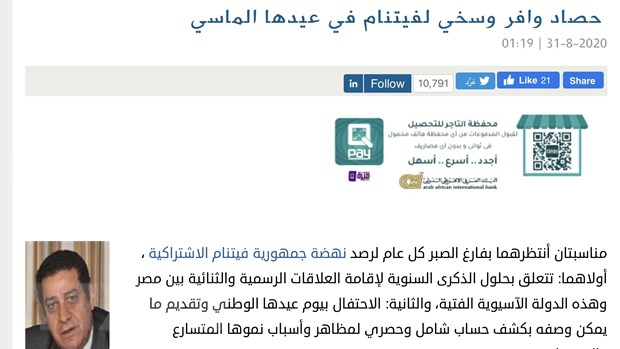 The article about Vietnam on Al-Ahram newspaper Photo: Anh Tuan / VNA
Opening the article, the author, Kamal Gaballa said that annually he always looks forward to the first days of September because September 1 is the anniversary of the establishment of Vietnam- Egypt diplomatic relations and September 2 is the anniversary of Vietnam's National Day.
The year 2020 is also an important milestone as it marks 57 years of the establishment of Vietnam- Egypt diplomatic relations, he added.
Egypt is one of the first Arab countries to establish diplomatic relations with Vietnam. The former Egyptian President Gamal Abdel Nasser and President Ho Chi Minh had a close-knit relationship and together laid the foundation for the development of bilateral relationship until today.
Journalist Gaballa said that in 2020, despite the adverse effects of the COVID-19 pandemic, the bilateral trade turnover is expected to remain at a positive level.
In the first seven months of 2020, Vietnam's export value to the Egyptian market reached US$ 256 million. In 2019, the total value of bilateral trade turnover between Egypt and Vietnam reached US$ 500 million. Currently, Egypt is the second-largest trading partner of Vietnam in Africa.
Vietnam's exports to Egypt mainly include seafood, textiles, footwear, agricultural products, etc. Meanwhile, Egypt exports to Vietnam pharmaceuticals, fresh fruits, dairy products, fertilizers, etc.
In the future, both Egypt and Vietnam will have great potentials to boost cooperation in many aspects especially trade, investment, tourism, and marine economy.
The textile and garment industry plays an important role in the trade relationship between Vietnam and Egypt. Photo: VNA
The outbreak of the COVID-19 pandemic has severely affected Vietnam's economy. However, Vietnam's Gross Domestic Product (GDP) in the first 6 months of 2020 still achieved a positive growth of 1.81%. In 2019, Vietnam's Global Competitiveness Index (GCI) ranked 67 among 141 economies and Business Environment Index ranked 70 among 190 economies.
In addition, Vietnam plays an important on the global political and diplomatic map with its duo role of rotating Chair of ASEAN and a non-permanent member of the UN Security Council, along with the contribution of the Vietnamese peacekeeping force. The author also repeated the statement of the General Secretary and President of Vietnam Nguyen Phu Trong: "Vietnam has never had such good potential, position, and reputation as we have today".
Kamal Gaballa is a senior and reputable journalist of the Egyptian press. He has a special affection for Vietnam and has written many articles about President Ho Chi Minh, about the culture and people of Vietnam helping to bring Vietnam closer to Arab countries.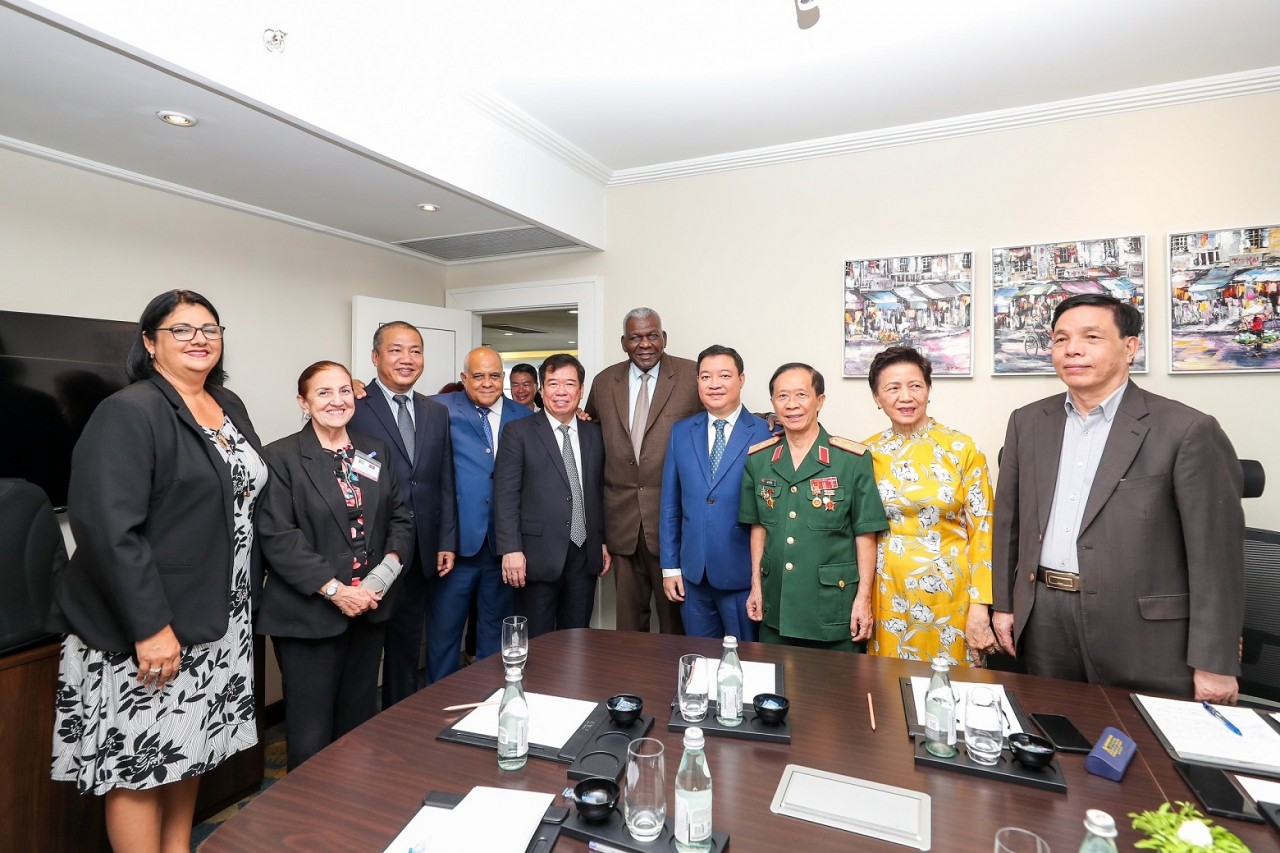 Friendship
President of the National Assembly of People's Power of Cuba Esteban Lazo Hernandez emphasized that Vietnam - Cuba is always united and faithful because they are one family.
September 27, 2023 | 15:11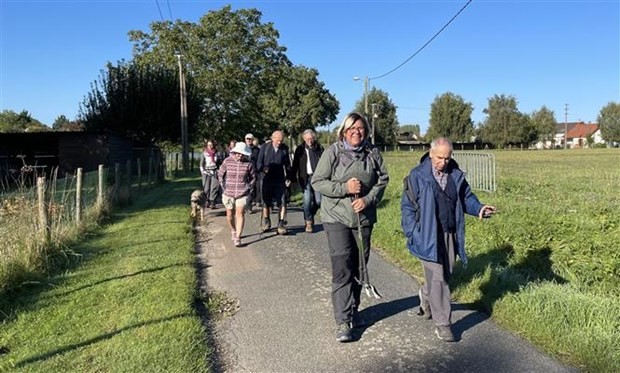 Friendship
The Children's Walk For Hope is a virtual event that will be held globally recently.
September 27, 2023 | 14:54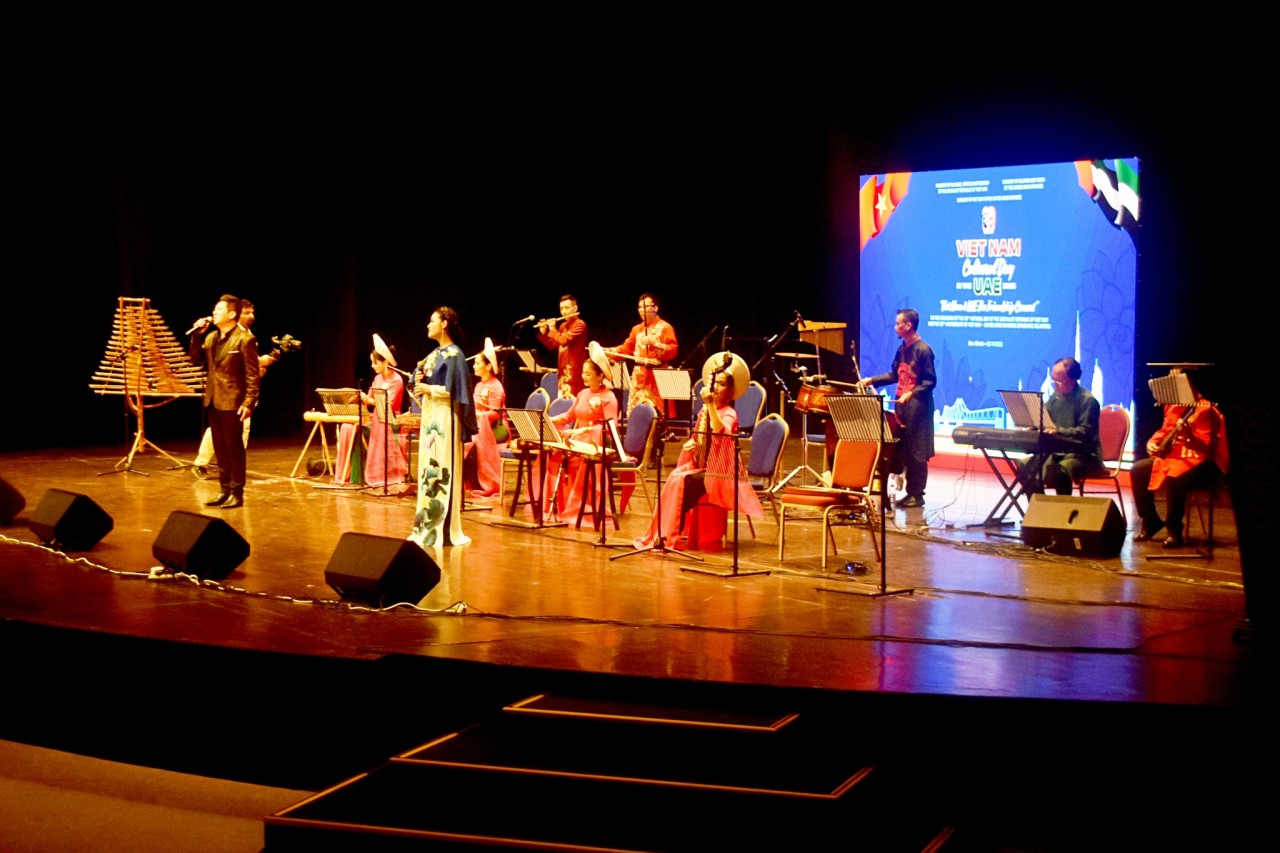 Friendship
A special art performance was held in the capital Abu Dhabi, gathering leading artists from Vietnam and the United Arab Emirates (UAE).
September 27, 2023 | 14:01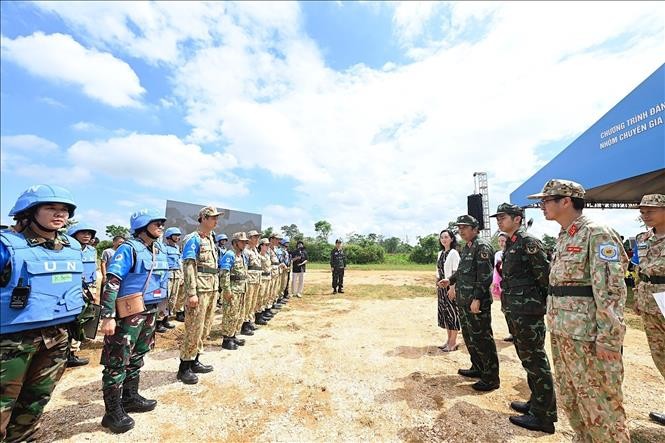 Friendship
Japan and representatives of State members of ASEAN Defence Ministers' Meeting Plus (ADMM-Plus) valued the preparations of Vietnam in hosting the Competency Evaluation Program for Prospective UN Peacekeepers (CEPPP) as well as outcomes of the program.
September 27, 2023 | 07:53