Overseas Vietnamese Explore Truong Sa (Spratly)
Although living in many countries around the world, overseas Vietnamese always want to come back and visit Truong Sa (Spratly).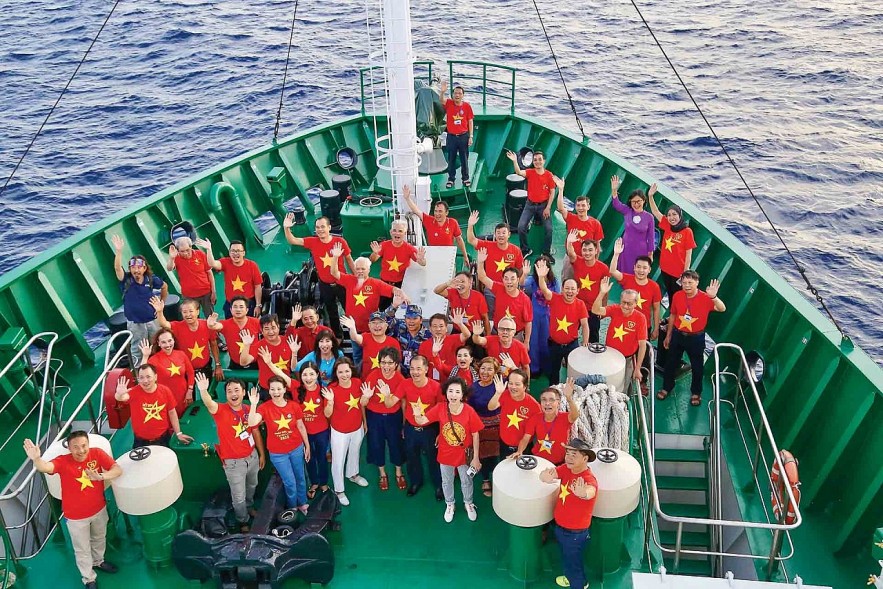 Overseas Vietnamese on the ship to Truong Sa. Photo: Quang Dao
Return to the homeland' sea and islands
The group returning to Truong Sa (Spratly) this year include more than 40 overseas Vietnamese from 17 countries. Many people said that the trip back to Truong Sa is the desire of many expatriates, especially after two years interrupted by the Covid-19 pandemic. For overseas Vietnamese, Truong Sa, the hometown islands are always sacred places.
In many areas, every year, people are looking forward to information from overseas Vietnamese missions about the trip. They sign up, arrange their work, and return home to join a long journey.
Le Xuan Lam, an overseas Vietnamese in Poland, said many people registered right after receiving the information without thinking. The reason is because going to Truong Sa (Spratly) at least once in a lifetime is something many people have always longed for.
"After decades of traveling abroad, I always hope to visit Truong Sa once. This trip is an opportunity that I cherish. There are things that just reading, watching is not enough, I want to experience. Truong Sa is one of such things, "Lam said.
Special trip to Truong Sa
Since 2012, the State Committee of Overseas Vietnamese Affairs, the Ministry of Foreign Affairs have organized the annual program of overseas Vietnamese to visit the army and people of Truong Sa island district and the DK1 Rig.
Up to now, 9 groups visited Truong Sa, with the participation of about 500 overseas Vietnamese from many countries and regions.
This is an opportunity for overseas Vietnamese to witness the lives of the soldiers and people of Truong Sa island district; learn about the achievements of our army and people in the work of defending the sovereignty of the sea, islands and sacred continental shelf of the Fatherland.
Through these trips, the overseas Vietnamese have shown their love and responsibility for their homeland through their practical and meaningful contributions.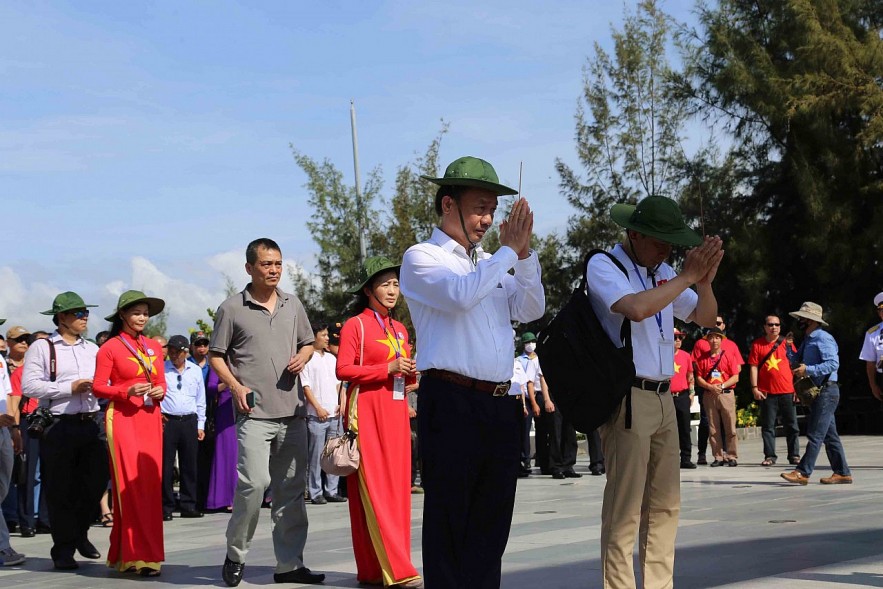 Offering incense to commemorate 64 soldiers who died in Gac Ma. Photo: Quang Dao
The overseas Vietnamese spread accurate information, refuting distorted and false claims about the work of protecting sovereignty over the sea and islands.
They also donated supplies to support soldiers and people on duty on Truong Sa (Spratly) archipelago.
The overseas Vietnamese community is considered "an inseparable part and a resource of the Vietnamese community"; the work for overseas Vietnamese "is the responsibility of the entire political system and people", "fully demonstrates the tradition of great national solidarity".
Therefore, Conclusion 12-KL / TW emphasizes the persistence of advocacy to help expatriates strengthen their beliefs, awareness and action in accordance with national interests.
Nguyen Trong Duc, a Vietnamese expat in the US, had mixed opinions. After the first trip to Truong Sa (Spratly) in 2014, Duc witnessed the truth about the situation of his homeland and the country. Since then, he gradually made obvious changes in perception and action.
During his return to Truong Sa this year, for the first time, Duc wore a red shirt with yellow star with the words "Truong Sa in my heart" on his chest.
Nguyen Trong Duc said: "For nearly 10 years, I always think that I am an overseas Truong Sa soldier, conveying the message of Truong Sa island under Vietnamese sovereignty".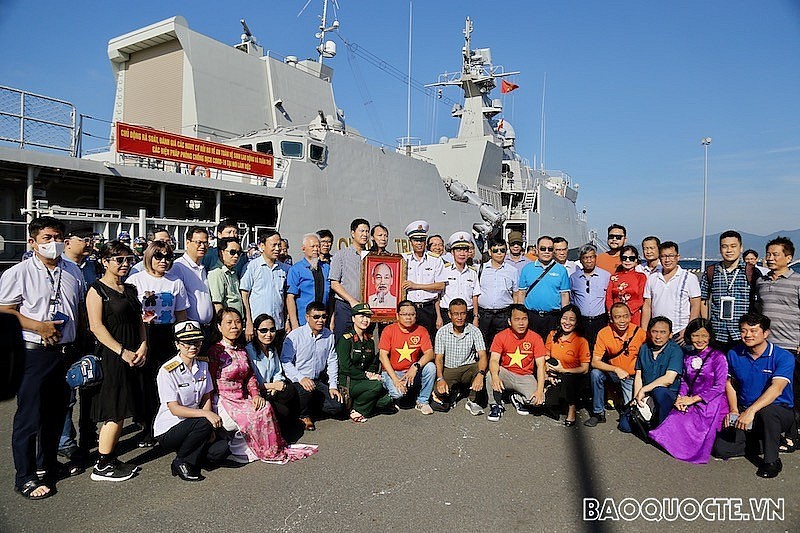 Photo: WVR
Setting foot on each island of the country is like returning home after many days of floating at sea, talking with soldiers and people on the island is like chatting with brothers in the family.
Love of islands and the country unites every Vietnamese, whether at home or abroad, always towards the homeland.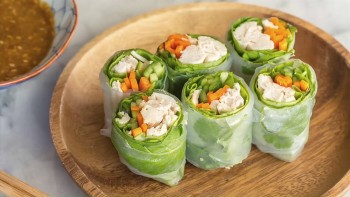 Travel
Rolls are a easy-to-make dish that is loved by many Vietnamese diners as well as Korean stars.