Overseas Vietnamese - Representatives of Vietnamese Culture to The World
The Vietnamese community in countries around the world promotes the culture and introduces the beauty of Vietnam to the world. Vietnamese traditional culture increasingly asserts its value in the countries where our expatriates live.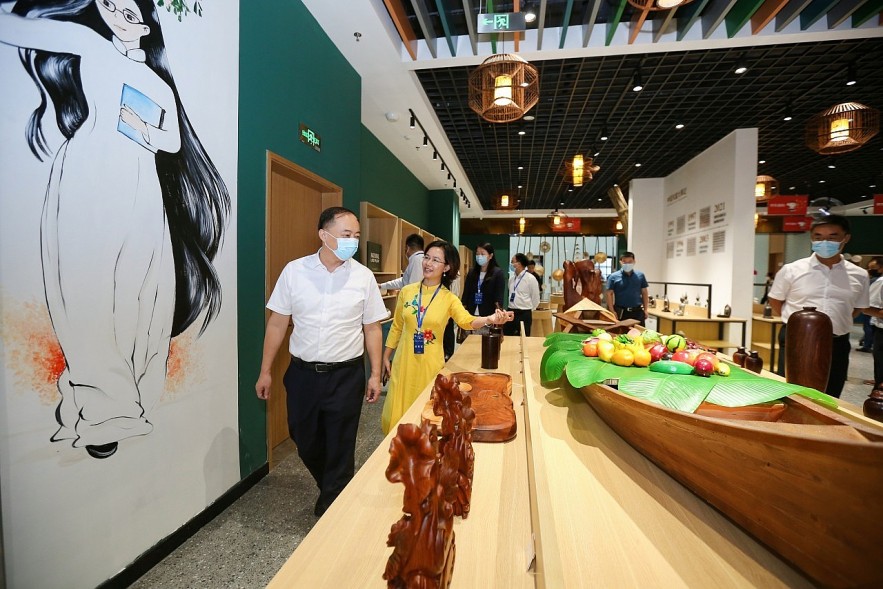 Tra My's Vietnamese showroom in China impresses visitors with a space bearing the "soul" of Vietnam.
Vietnamese soul in China - country of billions of people
Having lived in the North of China for more than 15 years, every time Tra My goes to the supermarket to find a bottle of fish sauce, she has to buy Made in Thailand products. Therefore, she decided to invest in an official Vietnamese showroom in China.
Currently, the showroom supported over 260 Vietnamese enterprises, and displayed 500 Vietnamese product lines. There are mainly agricultural products such as coffee, Vietnamese spices, dried fruits or wooden furniture, bamboo and handicrafts, Ha Dong silk towels of Vietnam.
The showroom also has an area introducing 10 famous tourist sites of Vietnam stretching from North to South. Tra My said that since its opening, the showroom welcomed over 5,000 delegations to visit. Most of them are business delegations from the North of China who want to find the source of Vietnamese goods. Besides, the showroom also serves local people and tourists to the coastal city of Yantai.
Wearing Ao Dai to perform traditional martial arts for international friends
The image of My Duyen wearing Ao Dai performing martial arts made a strong impression on visitors at the Borgomanero Festival in May 2023 in Milano, Italy. She and her husband Zucca Riccardo, of the Thanh Long Martial Arts sect, are promoting Vietnamese traditional martial arts in Italy every day.
Currently, in Italy, there are 5 dojos that are directly teaching Thanh Long Martial Arts with nearly 100 students studying in different cities. My Duyen and her husband Zucca Riccardo directly teach 3 dojos, the remaining 2 dojos are led by longtime students of the sect.
The youngest student of the dojo is 4 years old and the oldest is over 60 years old, most of them are Italian. The dojos operate in the evenings from Monday to Friday. Saturdays and Sundays are training days for coaches and masters.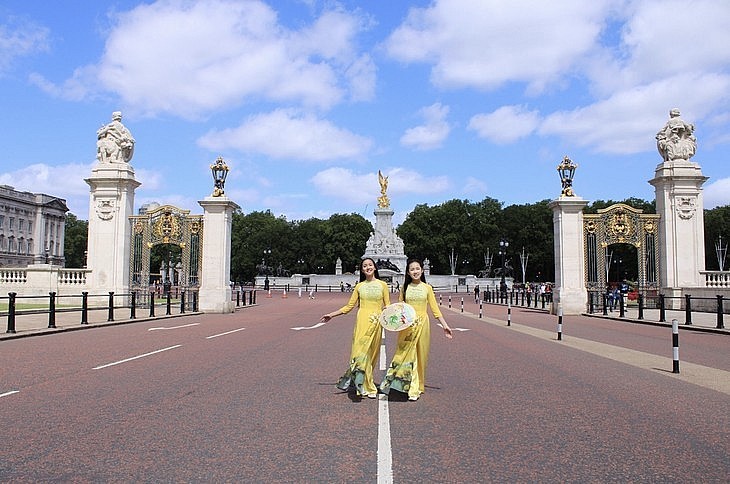 Vietnamese Ao Dai in front of Buckingham Palace UK.
Bringing Vietnamese cuisine to all five continents
In Udonthani province or anywhere in Thailand, when mentioning the name Ho Van Lam, many people may not know it, but when it comes to the "VT grilled spring rolls" brand, not only Vietnamese people but also Thai diners are no stranger to it.
Ho Van Lam is an overseas Vietnamese living in Thailand. He is the owner of the food court of more than 6 hectares, which is crowded with customers every day.
This place is a center of culinary combined with Vietnamese goods from fashion items such as clothes, conical hats and especially ao dai, to Vietnamese household products, such as dishes and souvenirs.
Thai people enjoy Vietnamese cuisine.
Not only famous locally, the brand VT grilled spring rolls has 40 stores across the provinces in Thailand, exporting to both Singapore and Laos.
Through this famous dish, Thai people get a more multi-dimensional view of traditional Vietnamese cuisine.
Vietnamese language - bridge connecting Vietnamese culture with the world
The second generation born and raised in Taipei, Taiwan (China) Pham Ngan Can (13 years old) can speak Vietnamese fluently.
She can even sing, read poetry, understand the customs and habits of the Vietnamese people. The above result is a great effort of Pham My Dung - Can's mother.
My Dung said that in 2000, when she first came to Taiwan, to integrate into the community, she and her sisters went to work as volunteers in community colleges and cultural centers of each region. When caring and creating joy for the elderly, they organize singing lessons and teaching Vietnamese to them.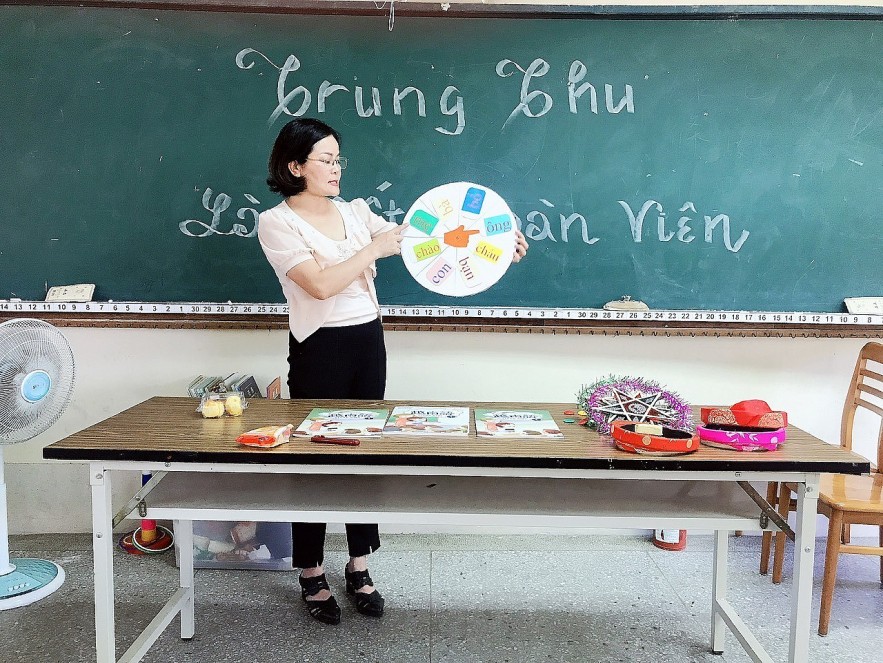 Pham My Dung talked about the Vietnamese Mid-Autumn Festival in a Vietnamese class.
"We also prepare Vietnamese costumes, so that whenever there are traditional cultural activities of Vietnamese people, we will share and invite Taiwanese friends to try on, and experience traditional costumes of the Vietnamese.
Mai Phan Dung, deputy chairman of the State Committee for Overseas Vietnamese Affairs said, there are currently 5.3 million overseas Vietnamese living and working in 130 countries and territories.
They are supported to become "Vietnamese Cultural Ambassadors" abroad. Through these Ambassadors, we will gain the highest achievement and effectiveness in promoting Vietnamese culture in host countries."