Pakistan: Daughter launches social media campaign for her missing father's release
A social media campaign has been launched by the daughter of Abdul Hameed Zahari, a Baloch allegedly abducted by Pakistani security agencies. The campaign is aimed towards Zahari's release.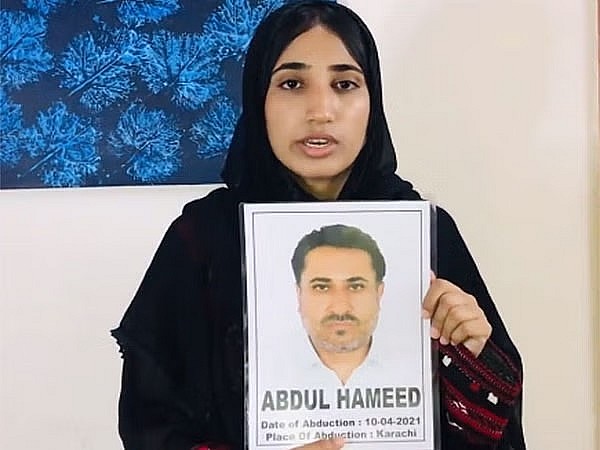 Saeeda Hameed launches social media campaign for her missing father's release
Saeeda Hameed posted her video on X (formerly Twitter) and said, "I am the daughter of Abdul Hameed Zahari and there is no whereabouts of my father and the entire family remains in great shock".
She added, "My father was abducted by secret agency personnel and the Sindh police on April 10, 2021 from Sindh. Since then, we have no idea about the condition of my father. My father had no connection to any political party. For the safe release of my father, a social media campaign was launched on September 12 with the hashtag #ReleaseAbdulHameedZehri".
In June, Amnesty International also called for action on Abdul Hameed's disappearance.
It tweeted, "Pakistan: Amnesty International stands in solidarity with the family of Abdul Hameed Zehri who disappeared on April 10, 2021. We call on Pakistani authorities to disclose the whereabouts of Abdul Hameed Zehri and if in their custody, immediately release him or promptly bring him before a civilian court to rule on the legality of his detention. If he continues to be detained, he must be charged with an internationally recognizable offence and tried before a civilian court, with his right to a fair trial, without recourse to the death penalty, and due process is upheld".
Abdul Hameed Zahari is a resident of Khuzdar district in Pakistan's Balochistan province. A large number of people from this part of Pakistan are victims' of the Pakistan army's kill and dump policy. They are being forcibly abducted, tortured and killed.
Mohammad Ali Talpur, a Baloch intellectual supported Saeeda Hameed's social media campaign and he tweeted, "The Fate of Baloch daughters and sisters seems to be either on Streets with pictures of their Loved missing ones or protesting outside Press Clubs or appealing for Social Media campaigns for their release. Kindly join @Saeeda_hameed recover her Father".
A large number of human rights activists, journalists and intellectuals have joined the campaign to pressurize the Pakistan government and the security agencies to safely release Abdul Hameed Zahari. (ANI)