Pandemic-hit female garment workers get financial support
How could you spend VND 2 million this Lunar New Year (Tet) holiday? For many of the female garment workers in Dong Nai province, this sum of money could cover monthly rent, buy an old computer for their children to study online and even pay off debt.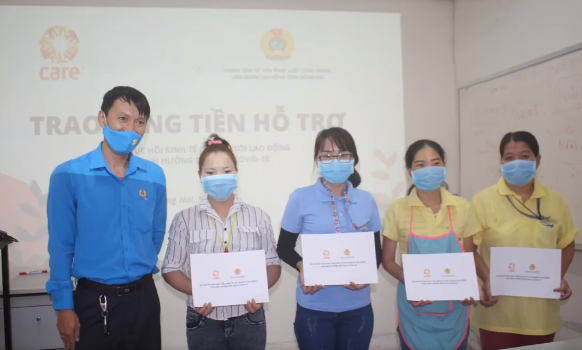 More than 2,500 garment workers affected by COVID-19 to receive financial support and trainings. Source: CARE
In Vietnam, COVID-19 presents a range of contextual challenges including high numbers of migrant workers, high numbers of employees in the garment industry, many people working in the informal sector, and linguistically and culturally diverse ethnic minorities. The impacts of COVID-19 on vulnerable groups, such as migrant workers, informal workers, garment factory workers, and ethnic minorities are further marginalising these groups, exacerbating poverty and inequality and increasing their exposure to other social, economic and protection risks.
More than 2,500 garment workers affected by COVID-19 will receive financial support and trainings.
Accordingly, each of the 2,540 female workers received support from the "Strengthening the Economic Resilience of Female Garment Workers" project this time has a long and emotional story behind. Some are single moms and have to feed two – three children, some are in medical debts and yet struggling to pay, etc,.However, all of them still keep a positive attitude and really appreciated this timely support to help going through this tough time.
In addition to the cash support, the project also set up some training courses for the wokers to help them recover sustainably after the epidemic.
The project is co-implemented by CARE International and Dong Nai's Legal Aid Centre with the financial support from the German International Cooperation Agency (GIZ), on behalf of the German Federal Ministry for Economic Cooperation and Development (BMZ) through the Promoting sustainability in the textile and garment industry in Asia (FABRIC) project.
Founded in 1945, CARE is a leading humanitarian organization fighting global poverty and providing lifesaving assistance in emergencies. In 100 countries around the world, CARE places special focus on working alongside poor girls and women because, equipped with the proper resources, they have the power to help lift whole families and entire communities out of poverty.
CARE International in Vietnam has worked with Vietnamese and international partner organizations since 1989 in over 300 projects. Their long-term programme goals in Vietnam are that Remote Ethnic Minority Women (REMW) and Socially Marginalized People (SMP) in urban areas./.