Hanoi plans to cover all Covid-19 vaccines's shots to its residents
Hanoi promised to all its citizens that it will cover all the Covid vaccines shots with its own budget and financial sources, amid the new outbreak of the novel coronavirus.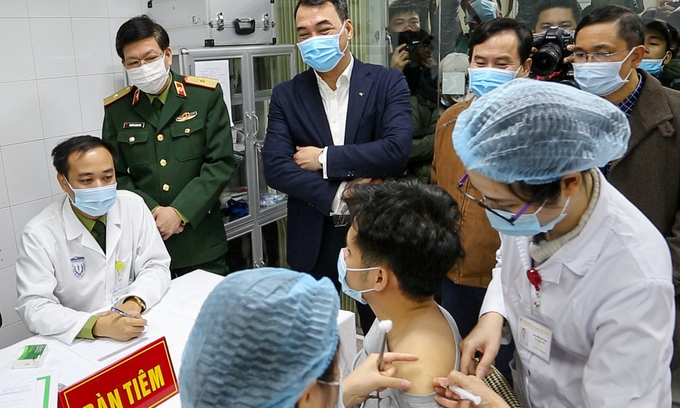 A man is injected with Covid-19 vaccine Nanocovax in Hanoi as part of human trials on December 17, 2020. Photo by VnExpress/Huy Manh.
The Hanoi Party Committee said it would work with the Ministry of Health and report to the government and the prime minister to seek approval on the city's plan to pay for its own Covid-19 vaccination.
Vaccine shots would be prioritized for those most likely to be infected by the novel coronavirus, the Party Committee said.
Hanoi, home to more than eight million people, has recorded 21 infections in the latest community transmission outbreak, which emerged in northern Vietnam last week and has spread to 10 cities and provinces with 366 confirmed cases.
The nearby Hai Phong port city, which has recorded one infection in the outbreak, has also revealed plans to buy Covid-19 vaccine shots for its two million citizens, using both the city's and the national budget.
Vietnam is currently aiming at mass Covid-19 vaccination for its nearly 100 million population. Prime Minister Nguyen Xuan Phuc on Jan. 31 has requested the health ministry and Deputy Prime Minister Vu Duc Dam to present a plan for buying Covid-19 vaccines within the first quarter, using the national budget and other sources.
Vietnam on Monday signed a deal with AstraZeneca, a British–Swedish multinational pharmaceutical and biopharmaceutical company headquartered in Cambridge, England, to supply the country with 30 million doses in the first half of this year for domestic inoculation.
Doctors and other staff in frequent contact with Covid-19 patients or suspected infectees will be among the first to be vaccinated, while other prioritized individuals include the elderly, those with chronic diseases that make them more vulnerable if they get infected, and officials in the diplomatic service, officials said at a government news briefing Tuesday.
Other details of the deal, including pricing and delivery times, have not been confirmed.
Besides AstraZeneca, the health ministry has also stepped up vaccine negotiations with the U.S.'s Pfizer and Moderna, along with other vaccine manufacturers in Russia and China.
Vietnam is also developing its own Covid-19 vaccines, with four currently in the works. Human trials for Nanocovax, produced by Nanogen Pharmaceutical Biotechnology JSC, began last December, while Covivac, produced by the health ministry's Institute of Vaccines and Medical Biologicals, is expected to begin human trials after the Lunar New Year holiday in mid-February.
PM orders purchase of Covid-19 vaccines in first quarter when the new virus outbreak strikes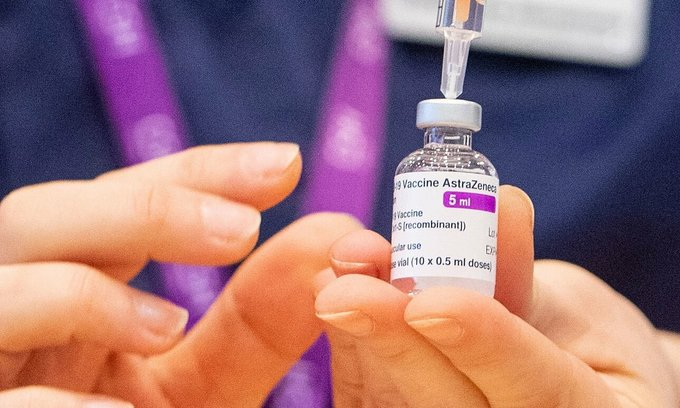 A nurse prepares a dose of the Oxford-AstraZeneca Covid-19 vaccine at a mass vaccination center, in Surrey, Britain, Jan. 11, 2021. Photo by AFP
Prime Minister Nguyen Xuan Phuc has instructed the Ministry of Health to buy Covid-19 vaccines in the first quarter amid the resurgence of the pandemic.
The new Covid wave began on Thursday after a gap of 55 days, and has spread to at least five localities, including Hanoi, with 180 people confirmed infected as of Saturday morning.
The ministry previously said it was in talks to buy 30 million doses of the vaccine developed by AstraZeneca and Oxford University, according to VnExpress.
"AstraZeneca has promised to provide 30 million doses [through] the year," Minister of Health Nguyen Thanh Long said.
The ministry has stepped up negotiations with other vaccine manufacturers in India, China and Russia so that the first doses could be given to people in the first quarter, he said.
The port city of Hai Phong, where a case has been detected, said it would separately seek to secure two million vaccine dozes for its populace.
Vietnam has also been speeding up domestic production of vaccines.
Trials for Nanocovax, the first to be tested on humans, began on December 17. The vaccine has been deemed safe, but its efficacy in preventing Covid-19 has yet to be assessed.
Covivac, produced by the ministry's Institute of Vaccines and Medical Biologicals, has been approved to be tested on humans and the trials are scheduled after the Lunar New Year in mid-February.
Two other vaccines are under development by the Vaccine and Biological Production Company No. 1 and the Center for Research and Production of Vaccines and Biologicals.
Vietnam has had 1,739 cases of Covid, 253 of them active.
The latest outbreak comes just a couple of weeks before Vietnam's biggest and most important festival, an occasion for family reunions that will see millions travel home.
Deputy Prime Minister Vu Duc Dam, head of the National Steering Committee on Covid-19 Fight and Prevention, said at a meeting on Thursday the government has set a target of "zoning and stamping out the new Covid-19 outbreaks in the next eight days."