PAPI 2020: Vietnam shows best corruption control in public sector in 10 years
The 2020 Vietnam Provincial Governance and Public Administration Performance Index (PAPI) report, released on April 14, indicated that in 2020, the control of corruption in the public sector showed the best performance in a decade.
At the 18th session of the Central Steering Committee for Anti-Corruption in Hanoi in July 2020.
According to VNA, in 2020, the percentages of respondents seeing bribes as necessary for jobs in state agencies, health-care services at district-level public hospitals, land use right certificates, fair treatment by primary school teachers, and the granting of construction permits continued declining since 2016, the first year of the 2016-2021 government term.
As many as 18 provinces and cities made significant progress in the control of corruption in the public sector last year compared to 2019. Out of the 16 best performers, seven are from the south, four from the central region, and three from the north. As in previous years, Ben Tre performed well overall in this dimension. Six provinces experienced significant setbacks in 2020, with Ninh Thuan and Ninh Binh had the largest declines.
Nine out of the top 10 performers in controlling corrupt behaviours in local administrations and public services are central and southern provinces. Quang Ninh, Dong Thap, Ben Tre, Quang Tri, and Quang Nam are the top five performers in this indicator.
Compared to the 2016 findings, personal relationships have become less important in all provinces and cities, implying that local administrations may have paid greater attention to a fair recruitment of state employees. However, personal relationships remain very important for five public office positions at the commune level, even among the top performers.
The control of corruption in the public sector is one of the eight dimensions in the PAPI survey. The others are the participation at local levels, transparency in local decision making, vertical accountability towards citizens, public administrative procedures, public service delivery, environmental governance, and e-governance.
Following the initial pilot in 2009 and a larger survey in 2010, the PAPI survey has been implemented nationwide each year since 2011.
The PAPI Report on Vietnam reflected an incremental improvement in national governance and public administration performance during the 2016-2021 government term.
Since 2018, PAPI has been co-funded by the Department of Foreign Affairs and Trade (DFAT) of Australia, the Embassy of Ireland and United Nations Development Programme (UNDP) in Vietnam.
Over 14,700 citizens were interviewed for the 2020 PAPI Report. This is the largest number of citizens to participate since the survey was first conducted nationwide in 2011. For the first time, the survey also gathered responses from citizens with temporary residence registration status. Nearly 300 migrants were surveyed in six centrally governed municipalities and provinces (Hanoi, Ho Chi Minh City, Bac Ninh, Da Nang, Dong Nai and Binh Duong).
According to statistics provided by Transparency International, Vietnam's corruption perception index reached 37/100 points in 2019 – ranking 96th out of 180 countries and territories worldwide, an increase of 21 places compared to 2018. This is the highest ranking Transparency International has ever given to Vietnam (The higher the ranking, the less corruption is perceived).
Since 2016, 1,121 cases have been detected, with 2,473 corrupt suspects. Of which, only 38 cases with 44 people with corruption-related violations were found through internal inspection and supervision.
In the past 5 years, there were only 140 leaders who were punished, with 8 people facing criminal sanction and 82 people were disciplined.
PM lauds Vietnam-Russia anti-corruption cooperation

Prime Minister Nguyen Xuan Phuc on February 17 congratulated the Government Inspectorate of Vietnam and the Russian Presidential Anti-Corruption Directorate on their expanded anti-corruption cooperation.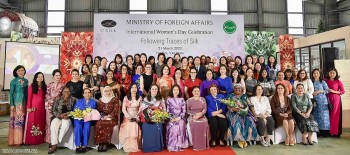 Friendship
Female ambassadors, representatives from diplomatic corps and international organizations, along with spouses of diplomats in Vietnam gathered together to find about more about silk weaving and silk products in Vietnam.