PeaceTrees heals war wounds, builds trust between two peoples
Every year, PeaceTrees Vietnam organize and hold 3-5 Citizen Diplomacy Trips where they take groups of American citizens to Vietnam in order to provide a diplomatic lens to travelling within the country.  
Photo captures a of those trips. Source: PeaceTrees Vietnam
Judy Funderburk, took part in recent PeaceTrees Citizen Diplomat, said "I have witnessed the deminers' work was also very meaningful. Not being just a tourist meant a lot to me."
According to PeaceTrees, by focusing on both the rich history of the country and the opportunity for meaningful person-to-person connections, they can better work towards healing the wounds that result from the legacy of war.
Citizen diplomats' backgrounds are incredibly varied, but PeaceTrees strives to provide a bridge to the Vietnam of today, through a journey of peace and reconciliation in which emotional wounds can heal and new relationships can be formed.
One of travelers who lost a brother in the war shared, "The trip was life-changing in ways that are still becoming clear to me. I had never been to Asia and there were, and are, conflicting feelings about my brother's death. So, the trip was a big step toward understanding and resolving those feelings and getting to know a little bit about life in a culture that is very different from my own."
Travelers often said that "the citizen diplomat gets to see things the casual tourist doesn't" and that it can "be hard to explain to folks at home how meaningful this experience is". By allowing the space and opportunity for new memories and connections to grow, PeaceTrees hopes they can foster a fresh outlook on modern-day Vietnam that acknowledges the harsh legacies of war, but allows for new connections set in a foundation of rebuilding and friendship.
NGO plants over 43,000 trees on former landmines
One aspect of PeaceTrees' work is the planting of tree saplings by citizen diplomats. Trees are often planted in memory of a loved one and/or as an act of community-building and friendship alongside Vietnamese people.
Planting trees is an effective way to offset carbon and is integral to the fight against climate change, as trees also improve air quality, increase biopersity, provide habitats for wildlife, and combat erosion and topsoil loss. Over the last 24 years, PeaceTrees has planted a large variety of tree species but for now, they are primarily focusing on two types—Hopea Odorata and avocado. To date, PeaceTrees has planted over 43,857 trees in Vietnam.
According to NC State University's College of Agriculture and Life Sciences, "a tree can absorb as much as 48lbs of carbon dioxide per year and can sequester 1 ton of carbon by the time it reaches 40 years old." That's up to 2,105,136lbs of CO2 being absorbed per year from PeaceTrees' trees.
In this pivotal moment, addressing climate change requires a combination of community, corporate, and personal responsibility. PeaceTrees is committed to encouraging resilient communities and confronting climate change now and beyond.
PTVN was founded in 1995 by Danaan Parry and Jerilyn Brusseau — whose brother, US Army helicopter pilot Lt. Daniel Cheney, was shot down and killed during the War in Vietnam in 1969. It is the first US organisation permitted to sponsor humanitarian demining activities in the country./.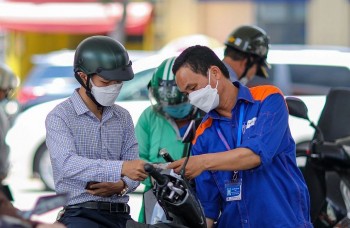 Economy
Vietnam Business & Weather Briefing (Oct 2): Binh Duong lures foreign investors with special care, the North and Central regions continue to have heavy rains, leading to the risk of flooding, flash floods, and landslides.