People-to-People Exchange: Important Bridge of Vietnam-UK Relations
British Consul General in Ho Chi Minh City Emily Hamblin has emphasized the importance of people-to-people exchange to the relationship between Vietnam and the UK while addressing a ceremony marking the 50th anniversary of the bilateral diplomatic ties (1973-2023) on September 14.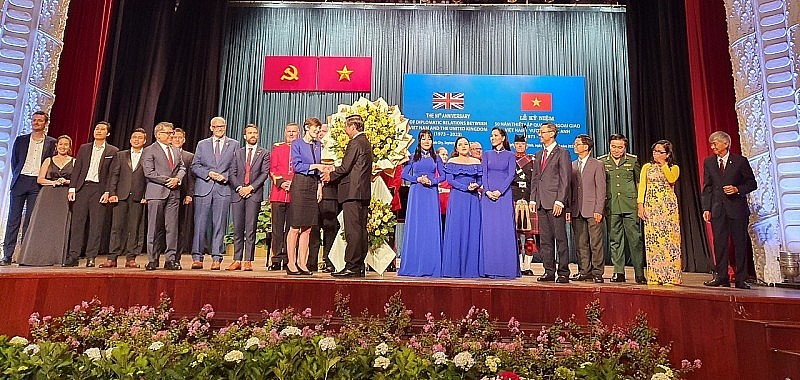 The People's Committee of Ho Chi Minh City hosted a ceremony on September 14 to mark the 50th anniversary of the diplomatic ties between Vietnam and the UK (1973-2023).
At the ceremony in HCM City, the Consul General expressed her hope that Vietnam will achieve its set targets, and that the UK will continue to be a reliable partner of Vietnam and the city in particular in the coming decades.
Hamblin also noted her delight at the close cooperation between the UK and HCM City, especially in financial centre and smart city building.
Chairman of the municipal People's Committee Phan Van Mai stressed that the relationship between Vietnam and the UK has been continuously consolidated and strengthened, both bilaterally and multilaterally, over the past time.
After the elevation of the relationship to a strategic partnership in 2010, many important cooperation frameworks and mechanisms have been formed, the official said.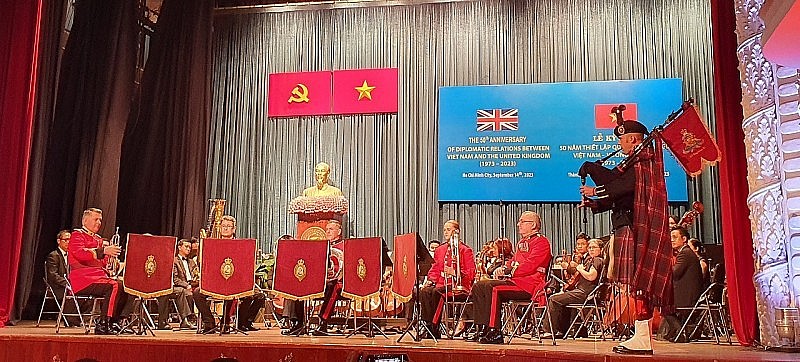 An art performance at the ceremony.
Mai called the UK-Vietnam Free Trade Agreement (UKFTA) signed in 2020 and the UK's joining the Comprehensive and Progressive Agreement for Trans-Pacific Partnership (CPTPP) in July bright spots of the economic ties.
The agreements have helped drive the two-way trade, which hit $6.8 billion last year, he said, adding that the UK has become Vietnam's third largest trade partner in Europe and 9th biggest importer in the world.
According to the official, progress has been made in cooperation between HCM City – Vietnam's economic locomotive - and the UK, especially in trade, investment, education, health care, tourism and cultural exchange.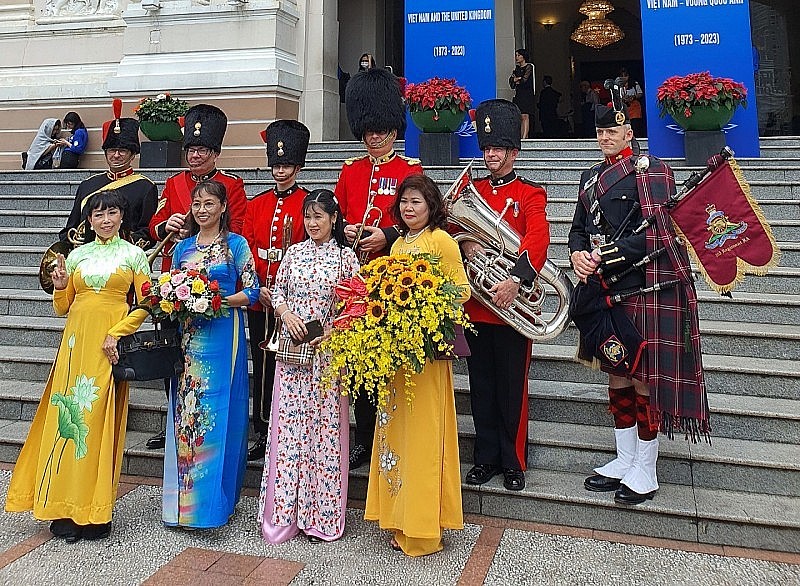 To date, the Vietnamese community in the UK has reached nearly 100,000.
As of July, the UK ranked 11th among the more than 120 countries and territories investing in HCM City with 273 projects worth nearly $960 million, he continued.
The British Government has helped HCM City in training public servants, and the two sides are cooperating in a global future cities programme, under which the UK provides technical support for HCM City in smart city building, Mai said.
HCM City always welcomes and creates conditions for leaders, businesses and people of the UK to come to city, he pledged./.