Interview with Pam DeVolder, Public Affairs Officer, U.S. Embassy in Vietnam
People-to-people Relationship Plays Vital Role in Vietnam-US Partnership
In an exclusive interview with Vietnam Times, Pam DeVolder, Public Affairs Officer, U.S. Embassy in Vietnam, stressed that based on the strong foundation of people-to-people ties, the U.S. is focusing on creating more opportunities for youth exchanges, curating the next generation of global leaders, particularly in the area of technology innovation.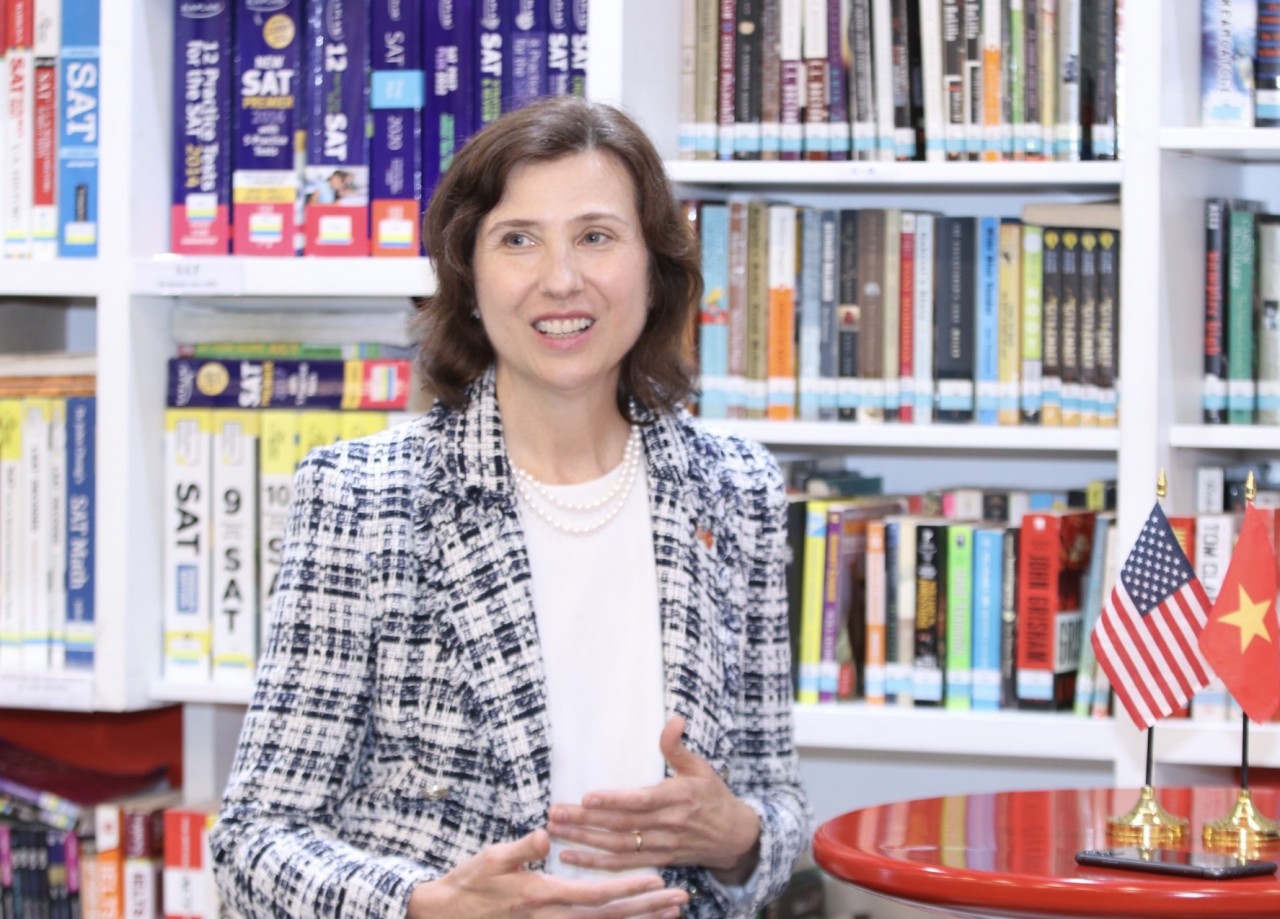 Pam DeVolder, Public Affairs Officer, U.S. Embassy in Vietnam (Photo: Thu Ha).
How do you assess the development of people-to-people diplomacy between the two countries?
It is remarkable how much the U.S.-Vietnam relationship has grown over the past 28 years since the normalization of diplomatic relations. We have moved from a history of conflict and division to a thriving comprehensive partnership as trusted partners, prospering together.
Today, we are working side-by-side to build a brighter future for the people of both our countries. We're addressing common global challenges from climate change to security, and so much more.
Our strong people-to-people ties form the foundation for all we have achieved. To me, people-to-people diplomacy is about every single individual engaging in a bilateral relationship. It is not just the diplomats, ambassadors and leaders, but also all of the people who build and sustain the relationship. It's the sum of the many individuals who are motivated to get involved in a positive way. The starting point can be educational programs, cultural exchanges, or traveling to another country as a tourist, which enables you to learn about another culture.
In my own experience, growing up in California, I was deeply affected by refugees from Vietnam and Laos who moved to my hometown. Meeting them and hearing their stories motivated me to serve as a diplomat here and make a positive contribution. That is the kind of power that personal connections can have.
How has the Public Affairs Department helped foster this development?
The U.S. and Vietnam normalized diplomatic relations 28 years ago, but our people-to-people diplomacy started long before that. Over 30 years ago, even before we had an embassy here, the U.S. invested in academic exchanges that helped foster our people-to-people ties. We launched the Fulbright exchange program that enabled academic scholars and students to travel and learn from each other, and to help build larger institutional relationships.
We also established the Fulbright Academic Teaching program, which trained hundreds of Vietnamese leaders in economic principles and public policy, and which eventually grew into Fulbright University Vietnam (FUV), the first private, independent, non-profit university in Vietnam. And we also supported science, technology, engineering, art, and math (STEAM) studies through the Vietnam Education Foundation, which enabled hundreds of Vietnamese scientists to earn advanced degrees at U.S. universities.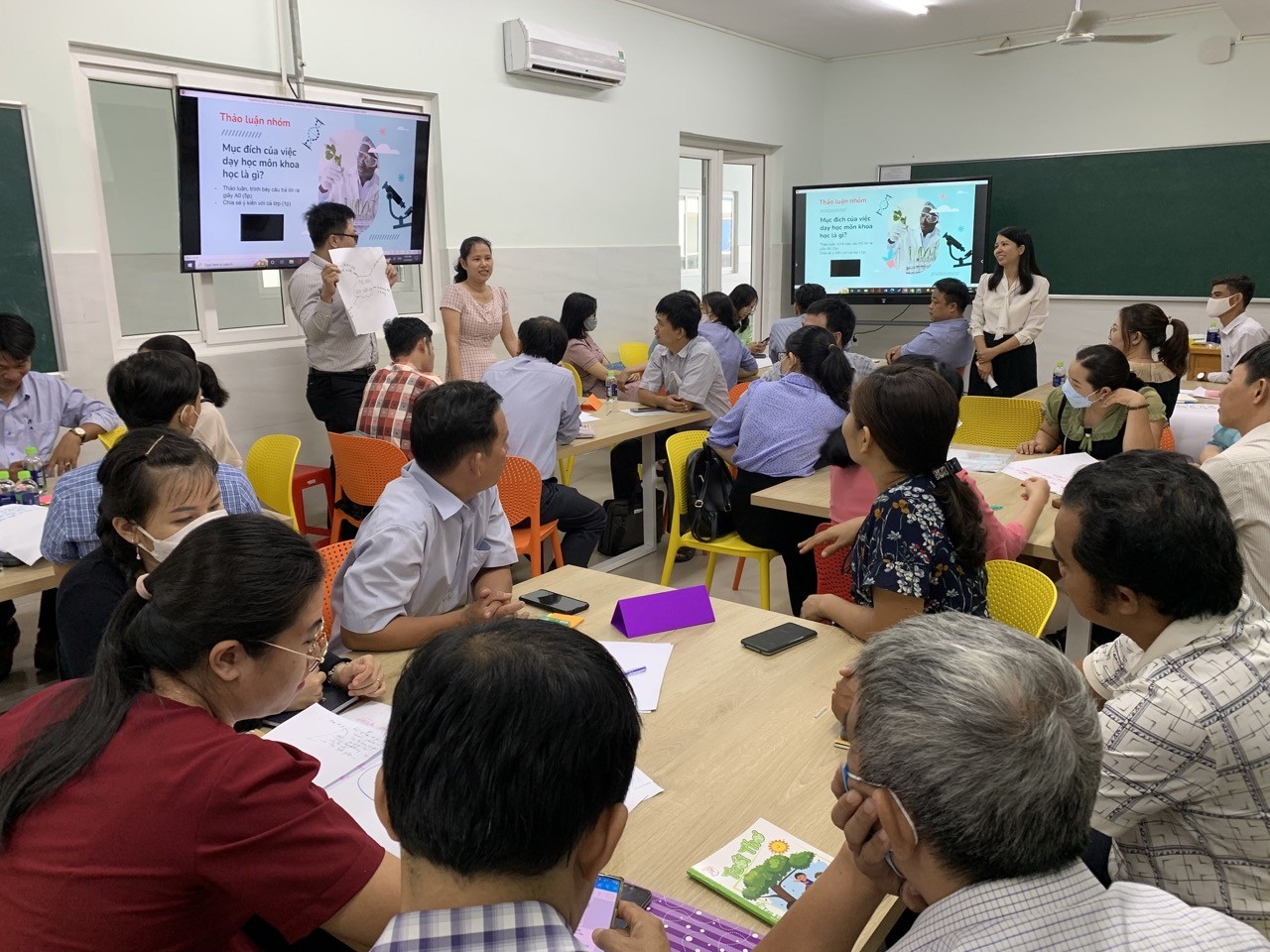 In July 2022, thanks to the Fulbright Teaching Excellence and Achievement (TEA) Program, 8 Vietnamese eighth-grade teachers were granted a six-week exchange program for concurrent training with 105 U.S. secondary teachers (Photo: US Consulate General in HCMC).
More recently, we've developed new programs that foster civic engagement. Our big community festival, BridgeFest, started in Hanoi a few years ago and expanded to Da Nang in 2022. BridgeFest promotes inclusion and encourages people to get involved in their communities. Our partners include the Vietnamese government, NGOs, other diplomatic missions, people with disabilities, and the LGBTQI+ community. We celebrate individuals and the ways in which our differences and unique abilities make us stronger together.
We're extremely grateful to the Ministry of Culture, who has been a steadfast partner in BridgeFest and helped us organize BridgeFest at Hoan Kiem Lake in 2020. The fact that we were able to organize this largescale event during such a challenging year shows how much the Vietnamese government values our collaboration on this important initiative. This year, we're excited to bring BridgeFest to Ho Chi Minh City for the first time.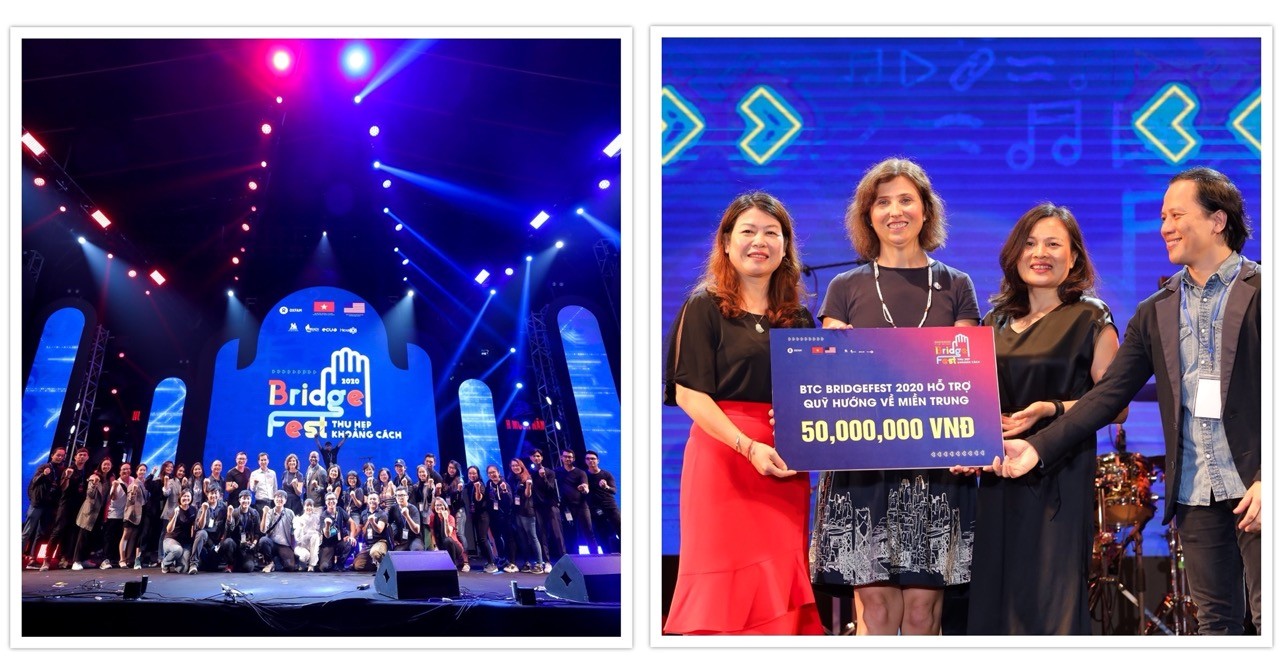 BridgeFest 2020 welcomes over 10,000 participants (Photo: US Embassy in Hanoi).
How important is the role of people-to-people exchange in promoting the relationship between the two countries, given that Vietnam and the U.S have gradually overcome the past to become each other's trusted partners and to build a good friendship?
Many people have said that our countries were destined to be friends, and I truly believe this as well. After declaring Vietnam's independence, President Ho Chi Minh created the Vietnam-U.S. friendship organization as Vietnam's first-ever friendship organization. It shows how much we have in common, and that we share similar values and aspirations; strong individualism, but also love for our country and a desire for independence.
Looking at the trajectory of our relationship, I see this theme coming through. We support each other so that individuals in our societies can achieve their personal goals, as well as contribute to the success of our countries, both individually and together as partners.
It's remarkable to see how much our bilateral cooperation has expanded in every dimension, from security and trade, education and war legacies, to energy and health, and much more. The level of cooperation that we enjoy today truly reflects the strategic partnership level.
To achieve all that we have, we first had to face our tragic past; the legacies of war, and their impact on our peoples. Everything we have achieved is the result of courageous people on both sides who believed in the possibility of peace, united by the belief that we could work together in learning from and putting aside the past. This has been fundamental to building our relationship, fostering dialogue and reconciliation, and working to empower the future generation of leaders – the youth.
How do you see our people-to-people diplomacy continue to develop in the coming time and what can young Vietnamese and American do to contribute?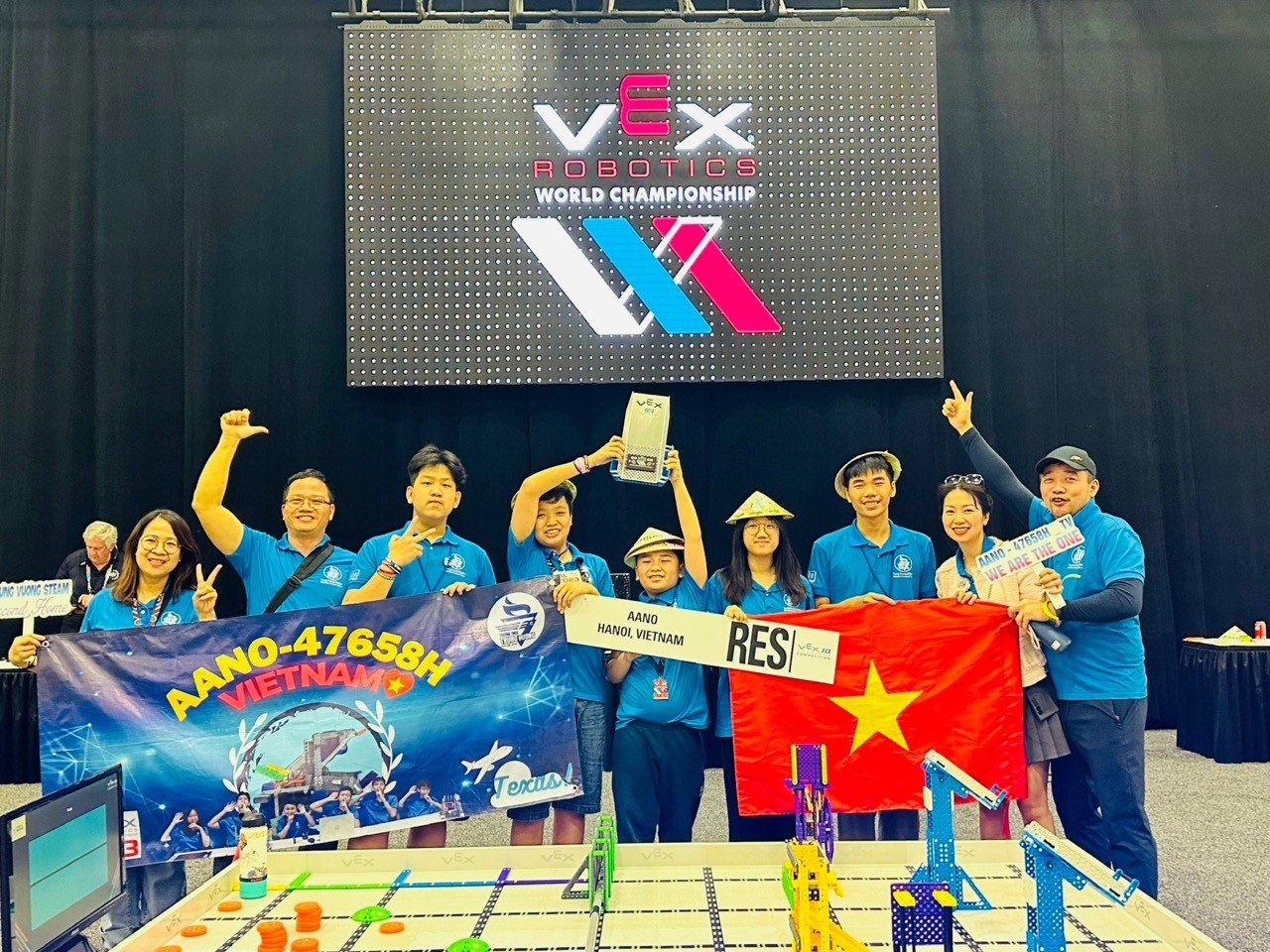 Students of the Vietnam Robotics Teams at the 2023 Vex World Robotics Championship in the United States (Photo: US Consulate General in HCMC).
Exchanges are one of the most powerful ways that young Vietnamese and Americans can contribute to people-to-people diplomacy. Vietnam is a young, dynamic country of hardworking people who value education. Today, approximately 30,000 young Vietnamese are pursuing studies at all levels across the United States.
This is bolstering Vietnam's competitiveness and contributing immeasurably to the larger bilateral relationship. I'm very happy to see that the number of American students coming to Vietnam is growing as well.
The people-to-people ties grown out of these experiences will help guide our relationship for decades to come. We're working closely with Vietnamese education leaders to help develop university partnerships, and to bring in the private sector, so we can further expand academic linkages and make an even bigger impact.
We're also very focused on STEAM studies. The Makerspace in American Center in Hanoi is a great example of how we're responding to what people want to learn, particularly in the area of technology. Together with the Hanoi University of Science and Technology (HUST) and STEAM for Vietnam, we organized the first national robotics competition in Vietnam and helped send the winning teams to compete at the global competition in Texas for this year. It all started with creating a program to help people achieve their dreams.
We have so many great partners in Vietnam. I'm incredibly optimistic about what we can achieve together in the years ahead as our people-to-people ties continue to strengthen!
Vietnam - U.S Education Cooperation: Shared Prospersity
Through US government-sponsored programs like the Fulbright scholarship and the growing number of US colleges and universities creating partnerships with Vietnamese universities, many American students and young professionals are now studying, teaching, and working in Vietnam. On the other hand, before the COVID-19 pandemic, nearly 30,000 Vietnamese students were studying at American schools every year.
This year is the 10th anniversary of the U.S.-Vietnam Comprehensive Partnership launched by then-Presidents Barack Obama and Truong Tan Sang in 2013.  This special bilateral partnership has grown rapidly since bilateral relations were established in 1995, based  on a foundation of trust and mutual desire to overcome the legacies of war.