Photo: Close Look Into Mysterious Kong Collapse in Phong Nha - Ke Bang
With the help of local people, a group of British Cave Royal Association (BCRA) members discovered the cave system in 1997. In the system lies a large sinkhole, named Kong Collapse.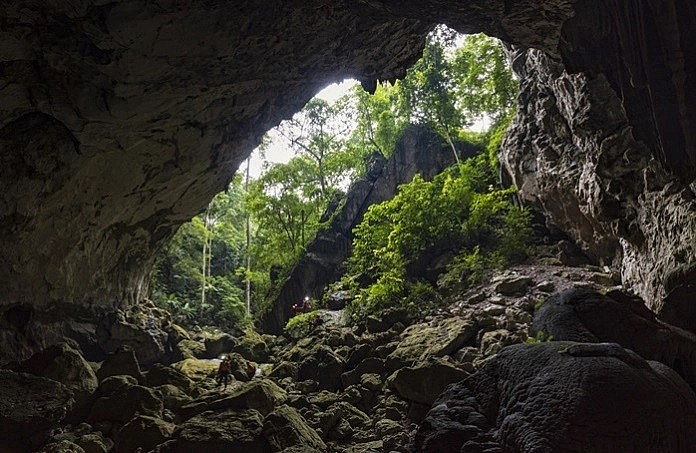 A close look at Kong Collapse. (Photo: Vietnam Finance)
Located deep in the primeval forest of Phong Nha - Ke Bang National Park in Quang Binh province, a chain of caves including Pygmy, Over, and Tiger are connected by a giant sinkhole, where visitors experience mysterious caves, wild primeval rainforests, and one of the deepest collapses on the planet, named Kong.
Kong Collapse is one of the tallest sinkholes in the world with a height of up to 450m. Its name was born because the collapse looks like a giant head of King Kong when looked from above.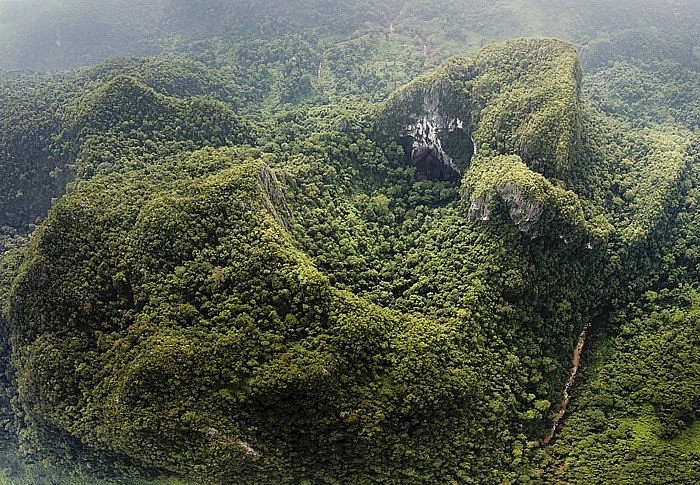 Kong Collapse viewed from above. (Photo: Vietnam Finance)
Due to the collapse of the giant cave ceiling system millions of years ago, Kong Collapse still waits for tourists' discovery.
From 2019 to 2020, the place was researched by cave experts of Jungle Boss and prepared to be exploited for tourism.
To conquer the collapse, visitors have to walk through the forest, swim in a dark cave under cold water, pass cliffs and waterfalls. The most challenging part is the 100-meter-high abseil from the right "eye" of Kong Collapse.
The 100-meter-high abseil from the right "eye" of Kong Collapse. (Photo: Vietnam Finance)
"Only few people have been conquered Kong's eye with 100 m abseiling... No other trek in Vietnam has done cave abseil so far, so this is an interesting adventure to challenge yourself," Jungle Boss says.
Due to its diverse landscape, Kong Collapse is named one of Vietnam's most dangerous journeys to conquer.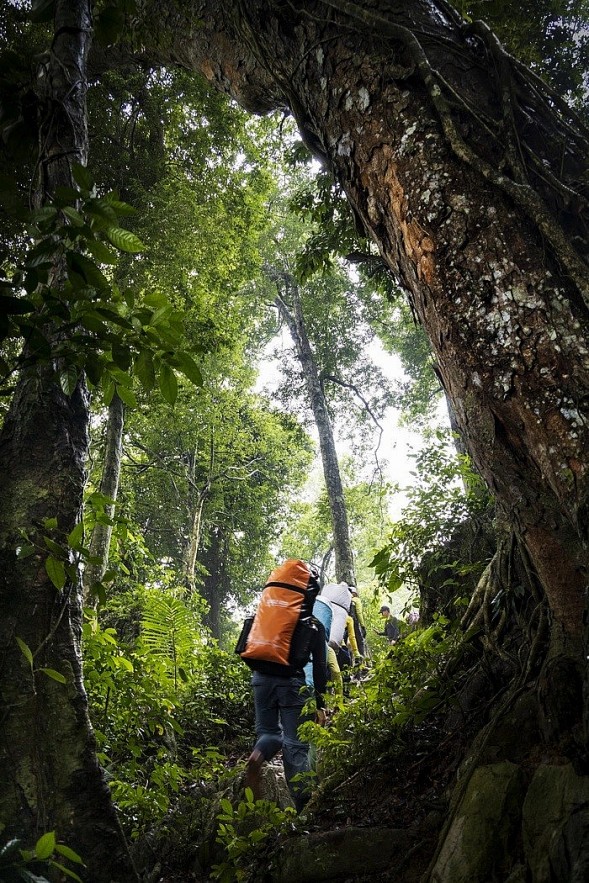 Passing the forest to reach Kong Collapse. (Photo: Vietnam Finance)
A tropical forest hides right below the Kong Collapse, where dozens of large and small nooks and crannies wriggling along the stream, leading to other caves.
At night, Kong Collapse becomes even more shimmering and magical.
Those who wish to conquer Kong Collapse have to meet the age and health requirements. They must pass a health test and participate in cave climbing skills training before departure.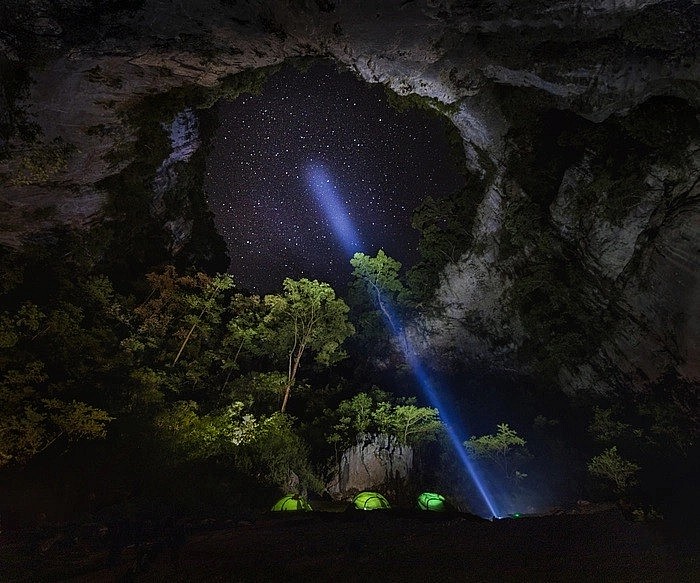 The galaxy viewed from Kong Collapse. (Photo: Vietnam Finance)
No word can describe the feeling of jumping down from a cliff as high as a nearly 30-story building, hanging and swimming in the air, then touching the ground of immense forests, majestic and wild caves.
Kong Collapse Top Adventure brings tourists special emotions, sometimes fear of challenge, sometimes happiness and pride for breaking their limits and conquering their goals.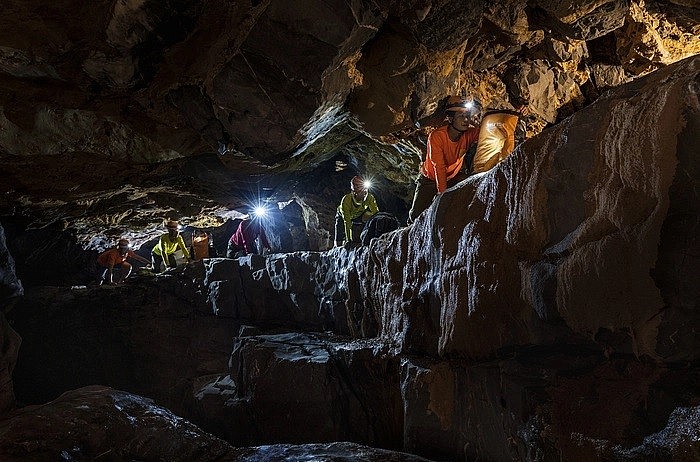 (Photo: Vietnam Finance)
Kong Collapse trip overview
Jungle Trek: 23 km
Cave : 7 km
Abseil: 100 m
Swim 500 m
Rock scrambling
Fitness Level: Extremely Strenuous
Age: From 16 to 65 years old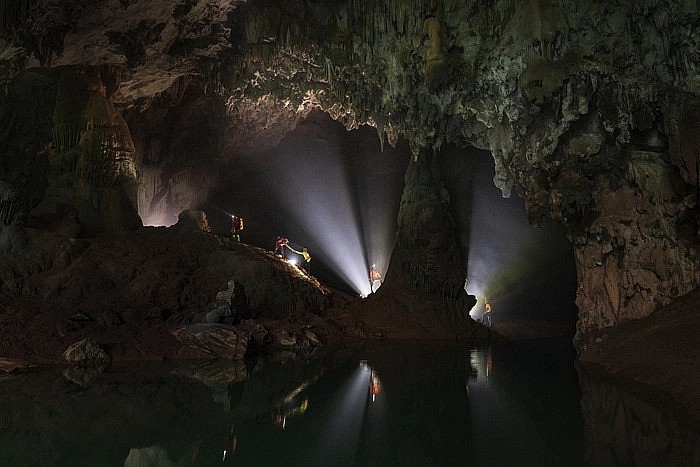 Hidden steams in the cave. (Photo: Vietnam Finance)
Itinerary to explore Kong Collapse
Day 1: Arrival & Technical training
Day 2: Phong Nha - Road 20 Victory - Lower entrance of Tiger Cave. Distance: 11km
Day 3: Explore the secrets of Kong. 3km trek
Day 4: Kong Collapse - Tiger cave - hang Over cave - hang Pygmy. A day underground
Day 5: Hang Pygmy - Road 20 Victory. 9km trek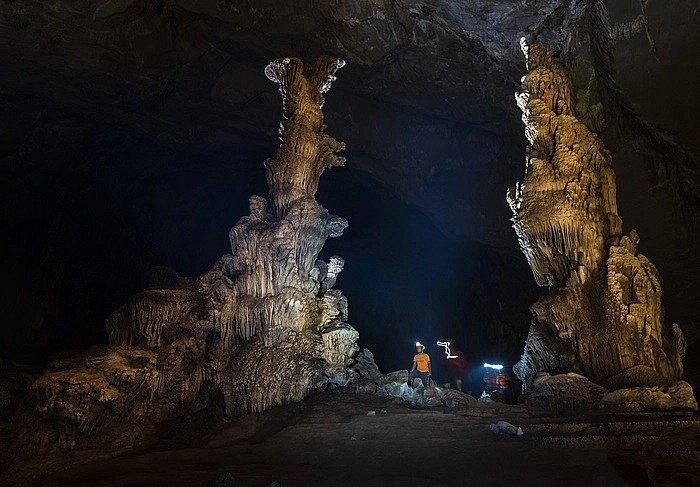 (Photo: Vietnam Finance)
What to bring
Two sets of long trousers & long-sleeved-shirt to avoid poison ivies and mosquitoes
Three sets of changing clothes for the nights at basecamp
Swimwear
Two pairs of long socks
Small backpack
Sandals or flip-flops & extra clothes
Dry bag (optional)
Hiking shoes (optional) or can borrow from Jungle Boss
Hat, sunglasses, sunscreen, insect repellent, toothpaste, tooth brusher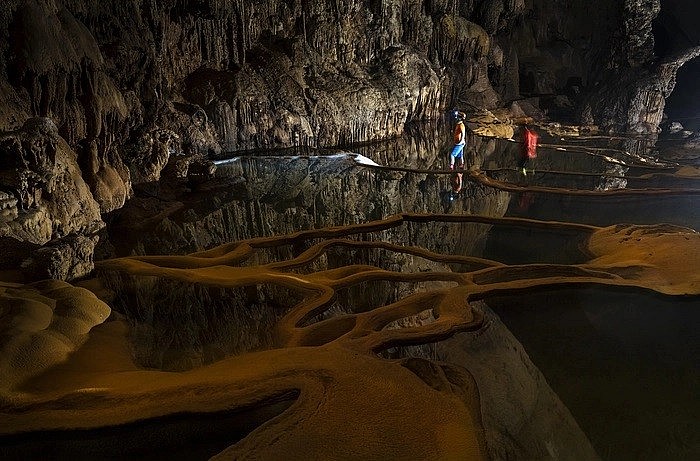 Natural fields inside the cave. (Photo: Vietnam Finance)