How Much Does It Cost To Take An Adventure Tour Into Son Doong - The World's Largest Cave?
Son Doong Cave in the central province of Quang Binh is always on the top bucket traveling list of tourists around the world. A four-day and three-night tour to the cave is about USD3,000 or VND69.3 million per pax. Let's explore why it is so expensive.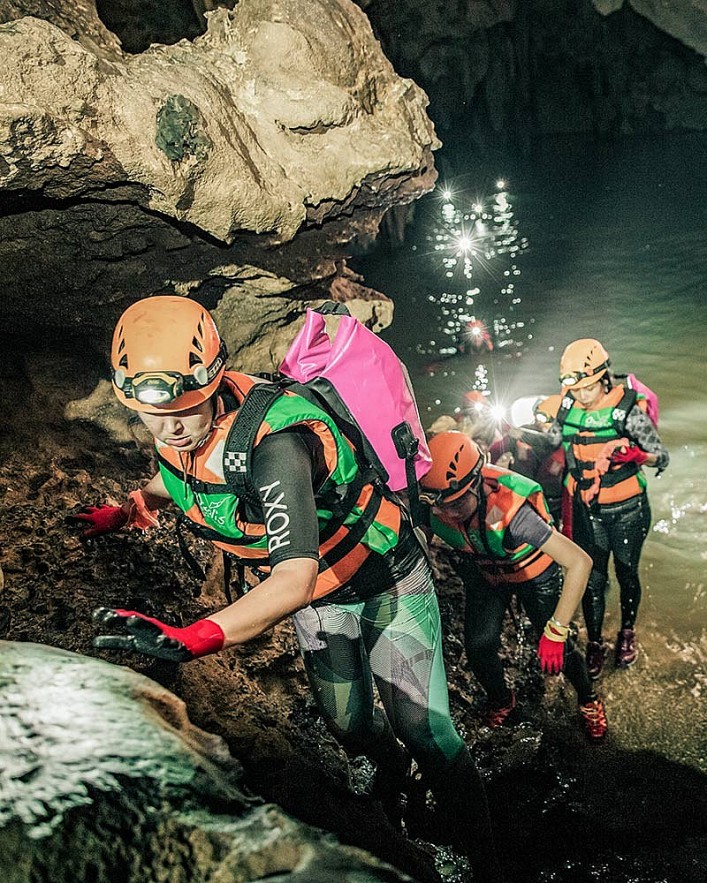 A section of adventure trekking in Son Doong Cave. Photo Oxalis Adventure
Oxalis Adventure is now the only traveling agency being granted a license to organize Son Doong expedition. The company received approval from Quang Binh Province People's Committee for the expedition in 2013.
The number of tourists allowed to enter Son Doong Cave each year is 1,000.
The four-day and three-night expedition takes tourists to natural masterpieces such as underground rivers, magnificent stalactites, forests, and unique flora and fauna.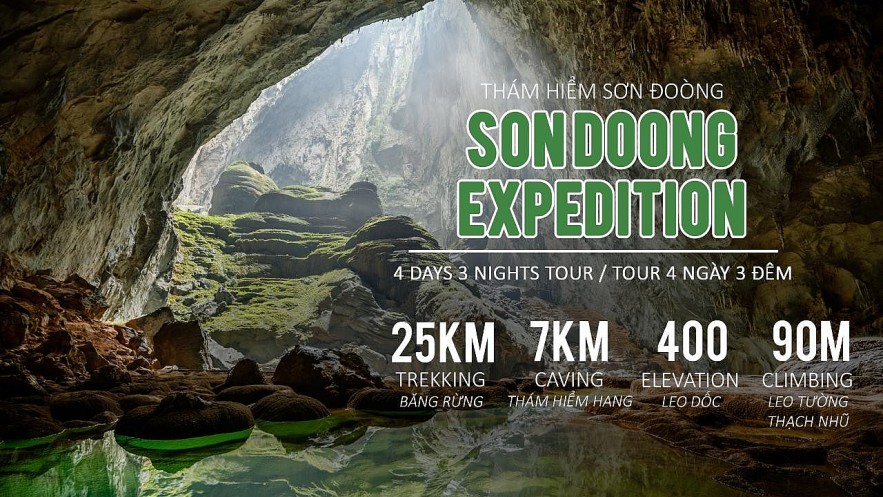 A package of Son Doong expedition is USD3,000 per pax. Photo Oxalis Adventure
Nguyen Chau A, director of Oxalis Adventure, said tourists' safety is the top priority in the adventure tour.
Howard Limbert, a British cave expert, worked with the company to develop a safety plan. All safety equipment is ordered from Europe and approved by Howard.
Ten tourists and 30 assistants
A tour to Son Doong cave, exclusively provided by local travel firm Oxalis Adventure, only allows ten tourists at a time but there are 30 assistants.
Ten tourists for each tour are accompanied by 22 porters carrying luggage, food; five safety assistants; one international tour guide; one British cave expert; two cooks, and one forest ranger.
They work to carry 600 kg of equipment and supplies in and out of the cave, including human waste. All local porters and guides have been trained with safety and rescue skills. In case of emergency, rescue helicopters will be available to help.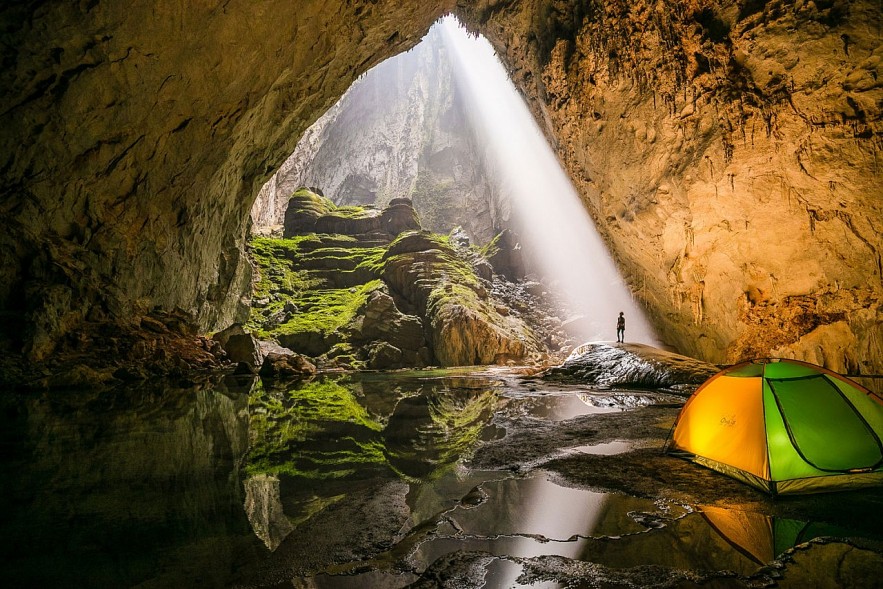 Son Doong, located in the heart of Phong Nha-Ke Bang National Park, is a UNESCO World Heritage Site with stunning beauty. Photo Bao Dau Tu
Vu Ngoc Quang, the one-handed guy who conquered Son Doong in 2020 said "The journey is easier than what he imagined".
There are dozens of assistants who support tourists on the journey. Each member of the safety team supervises one or two tourists.
The porters always lead the group to set up camps or prepare equipment on the roads tourists will go through. They prepare meals, bathrooms, and portable changing rooms.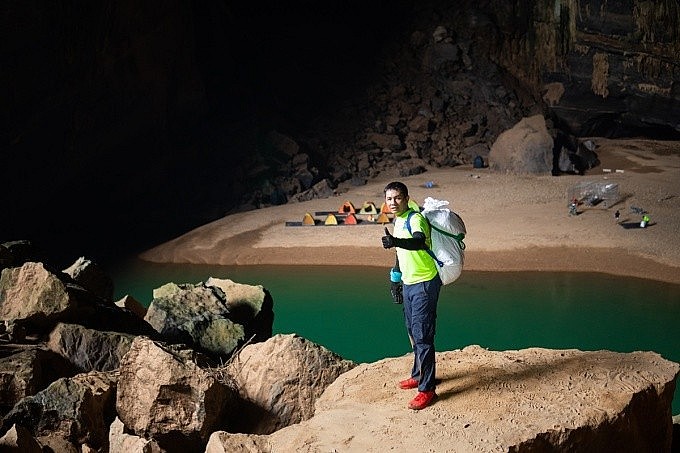 A visitor taking Son Doong Cave adventure tour. Photo VnExpress
Quang remembers that when he left, everything was cleaned up as if there had never been any trace of human.
All waste was collected and mixed with rice husks to make fertilizers.
"Every porter carries 30-kilogram luggage. On slippery and dangerous sections, they only wear normal shoes and sandals but still ensure speed and safety. I really admire them," Quang said.
Environmental protection fee
The USD3,000-package tour includes 10% VAT, USD390 (VND8.8 million) entrance fee to Quang Binh Province, and USD210 (VND4.8 million) for forest environment services.
In 2020, the People's Committee of Quang Binh Province halved the entrance fee to USD195 (VND4.4 million) and reduced the environmental service fee to USD175 (VND4 million VND) for each visitor.
That's why the total tour price has been reduced to VND58.2 million to attract more visitors.
The tour package also includes the full cost of airport pick-up, two-night hotel stay, and meals before and after the tour.
Nguyen Chau A, director of Oxalis Adventure said any activity has more or less impact on the heritage. The company and local authorities are concerned about environmental protection when exploiting the tours inside Son Doong Cave.
The tours are allowed to be operated from January to August only with the limitation of 1,000 visitors per year and only one tour allowed at a time, he said.
The Son Doong Cave Expedition is considered difficult (highest level), requiring visitors to be physically active with regular trekking experience. Photo VNA
According to Quang Binh Province Department of Tourism, all 1,000 slots for Son Dong expedition adventure tour in 2022 have been fully booked by domestic visitors.
Currently, flights between Dong Hoi and big cities like Ho Chi Minh City and Hanoi have operated normally, while measures against Covid-19 have been applied to ensure safety for visitors, Vietnam News Agency reported.
Son Doong, located in the heart of Phong Nha-Ke Bang National Park, a UNESCO World Heritage Site, opened to tourists in 2013. It includes at least 150 individual caves, a dense subterranean jungle and several underground rivers. British magazine Conde Nast Traveler named Son Doong one of seven must-explore wonders of 2020.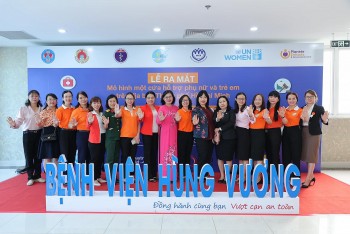 Viet's Home
What is the one-stop centre for women and children experiencing violence?