[Photo] International Friends Enjoy Visiting Fansipan
Visiting Fansipan peak (Lao Cai, Vietnam), many ambassadors, chargé d'affaires and their spouses; heads of representatives of international organizations in Hanoi; heads of representatives of foreign NGOs expressed their interest in the majestic and poetic beauty of the landscape here. They also did not forget to take photos to save the moment visiting this land.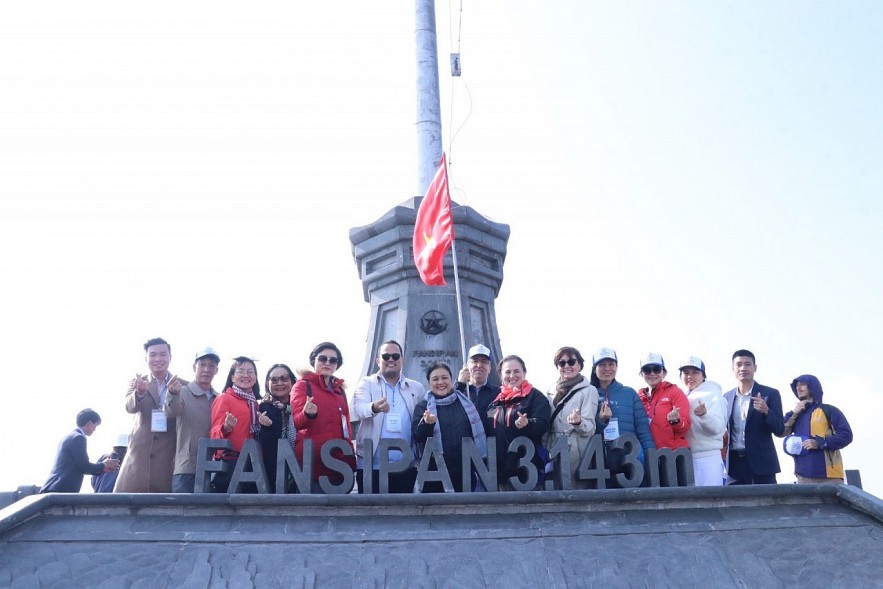 Discovering Fansipan is an activity of the International Friendship Exchange in 2023. Fansipan is the highest mountain in Vietnam, located on the Hoang Lien Son mountain range in Sa Pa town (Lao Cai province), Tam Duong district and Tan Uyen district (Lai Chau province). The height of the mountain is 3,143 m. In the photo, VUFO President Nguyen Phuong Nga (7th, from left) takes a photo with delegates attending the 2023 International Friendship Exchange next to the flagpole on top of Fansipan (Photo: Thu Ha)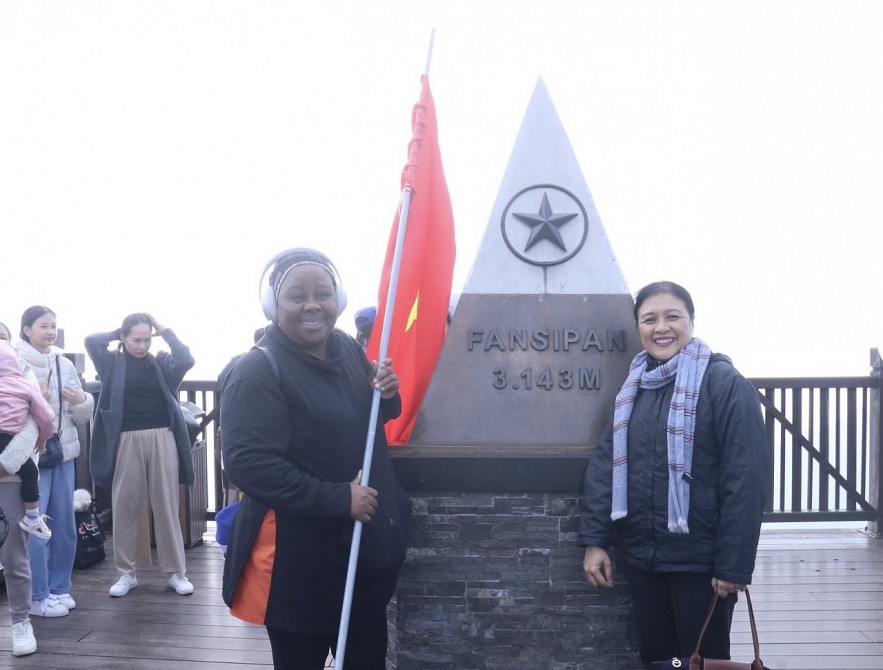 Vuyiswa Tulelo, ambassador of the Republic of South Africa (left) took a photo with VUFO President Nguyen Phuong Nga at the Fansipan flagpole (Photo: Thu Ha)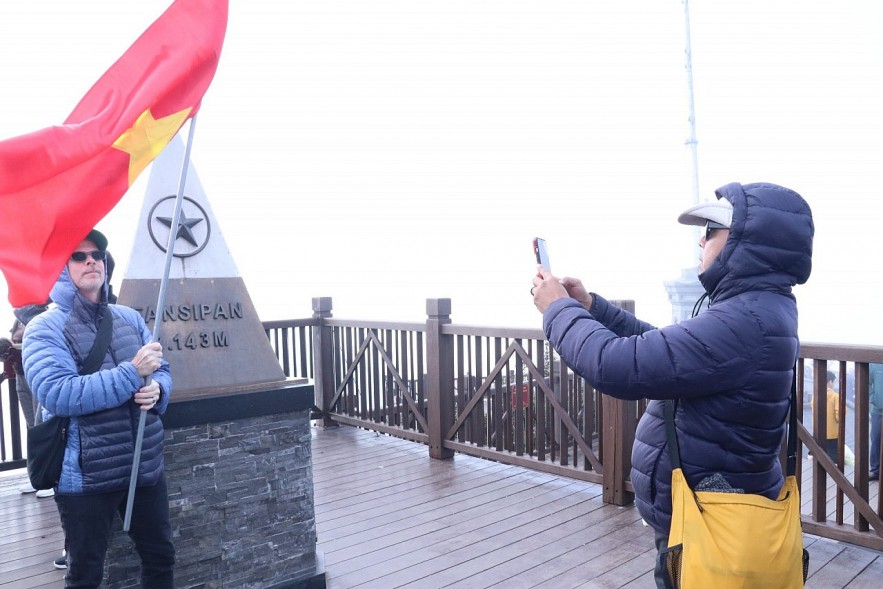 Michael DiGregorio, representative of TAF/USA, "checks in" with the Vietnamese national flag on top of Fansipan (Photo: Thu Ha)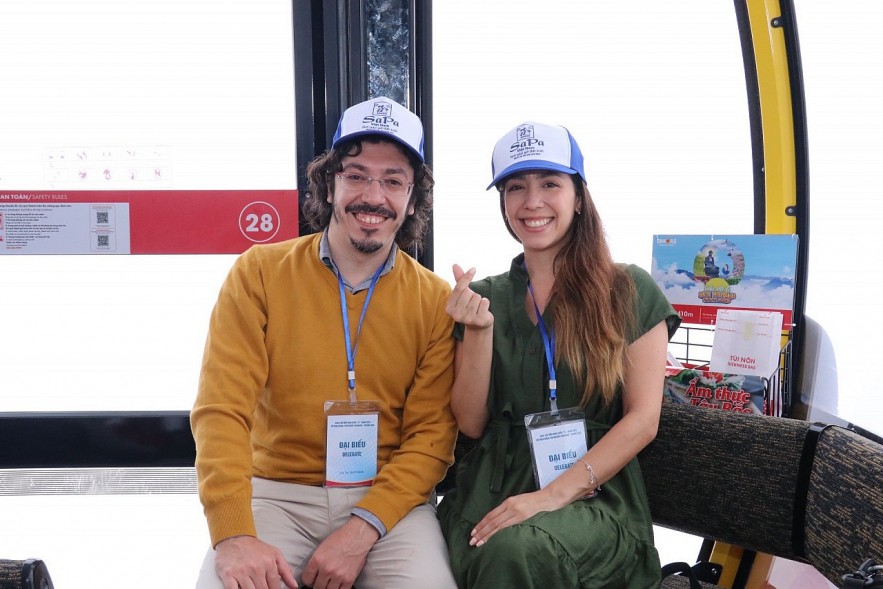 Previously, from the center of Sapa town, the delegation traveled to the Fansipan cable car. The cable car system makes it easier for visitors to conquer Fansipan peak. In the photo, Deputy Ambassador of Argentina - Francisco Jo Franco Martinet and his wife Natalia Jimena Podesta save the moment of traveling by cable car (Photo: Thu Ha).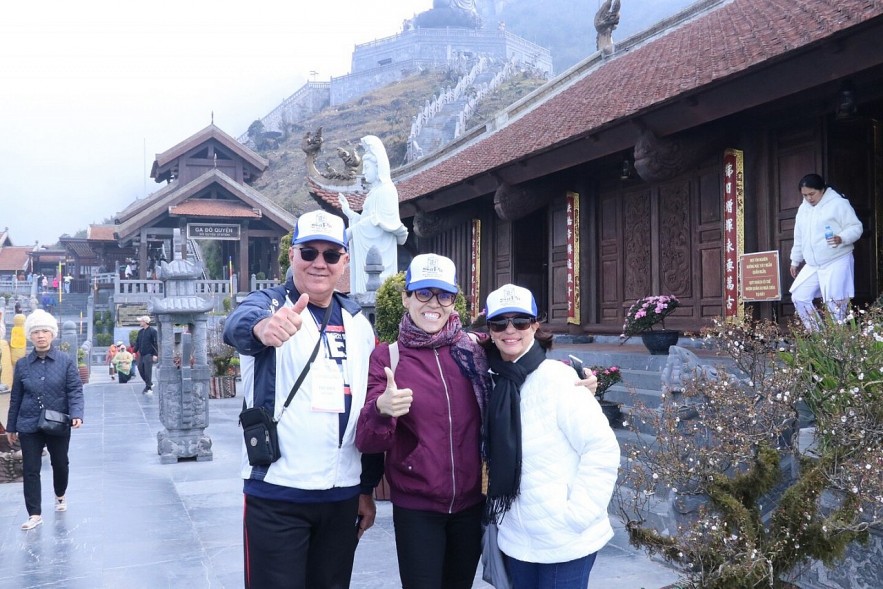 International friends visit the spiritual cultural complex on the top of Fansipan (Photo: Thu Ha)
Elisa Fernandez, UN Women Representative in Vietnam took pictures on her way to the top of Fansipan. Behind her is the great statue of Amitabha Buddha located at the highest altitude in Vietnam. She said that the air in Fansipan is fresh and the scenery is magnificent (Photo: Thu Ha)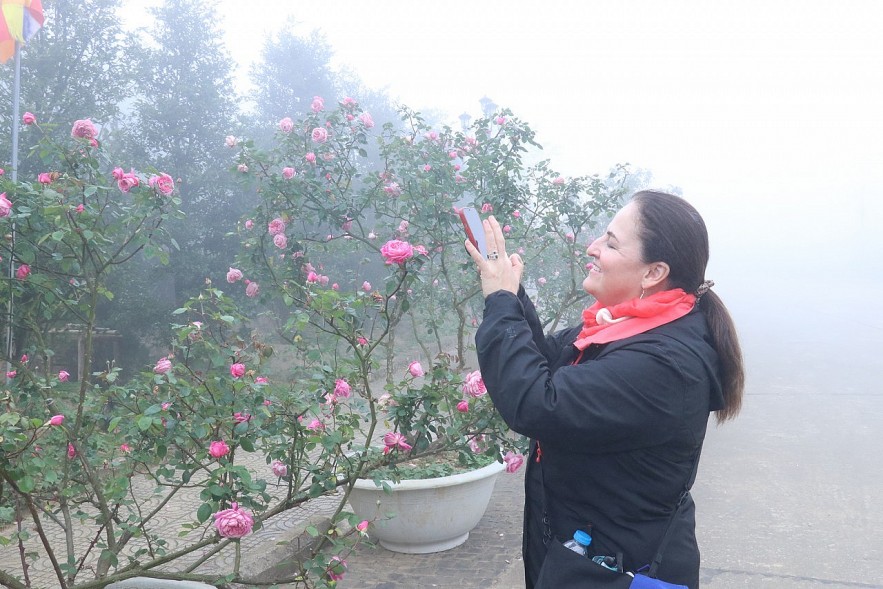 She took the image of Sapa rose in the mist (Photo: Thu Ha)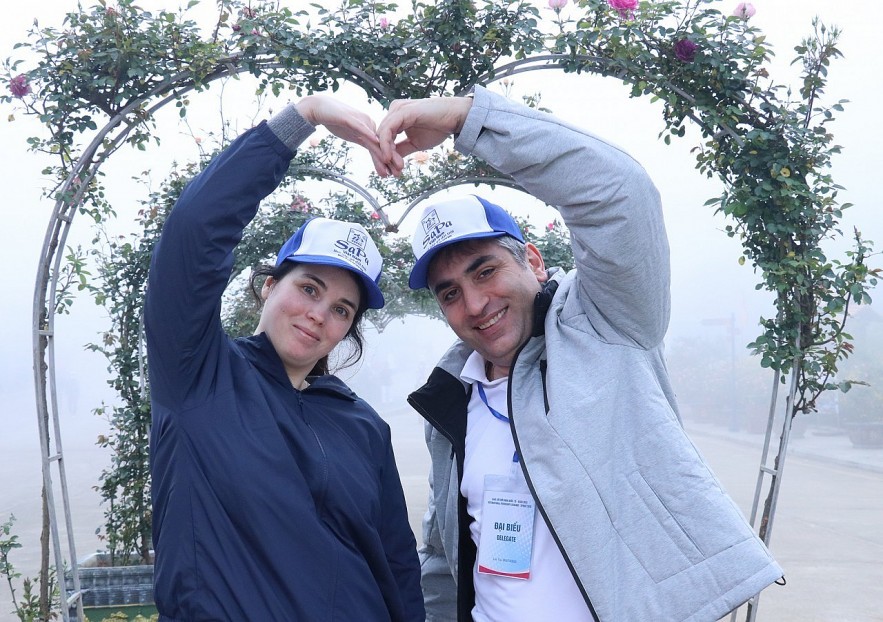 Aramazd Murdyan, second secretary of the Embassy of the Republic of Armenia to Vietnam and his wife pose in front of the rose garden (Photo: Thu Ha)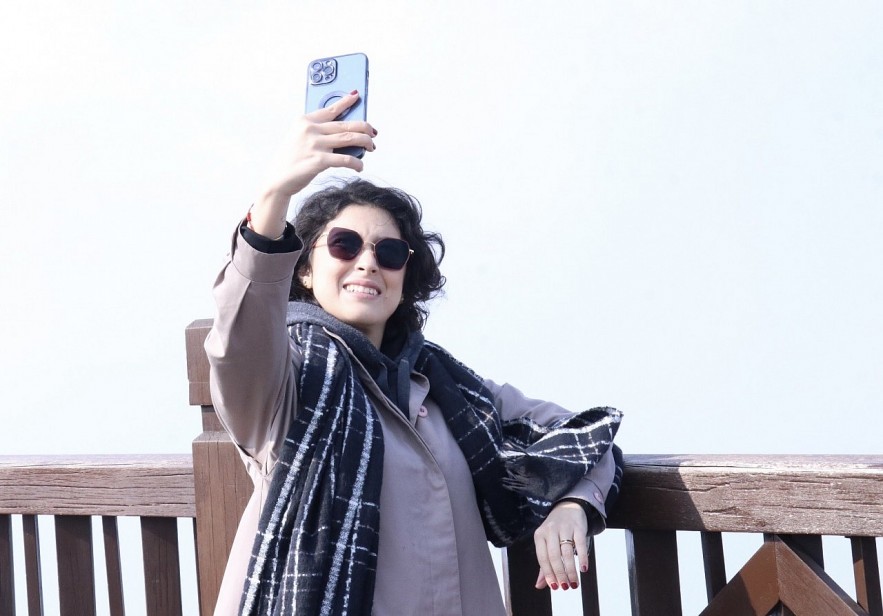 Laura Leguizamo Naranjo, third secretary of the Colombian Embassy captured the moment with the majestic nature of Sa Pa (Photo: Thu Ha)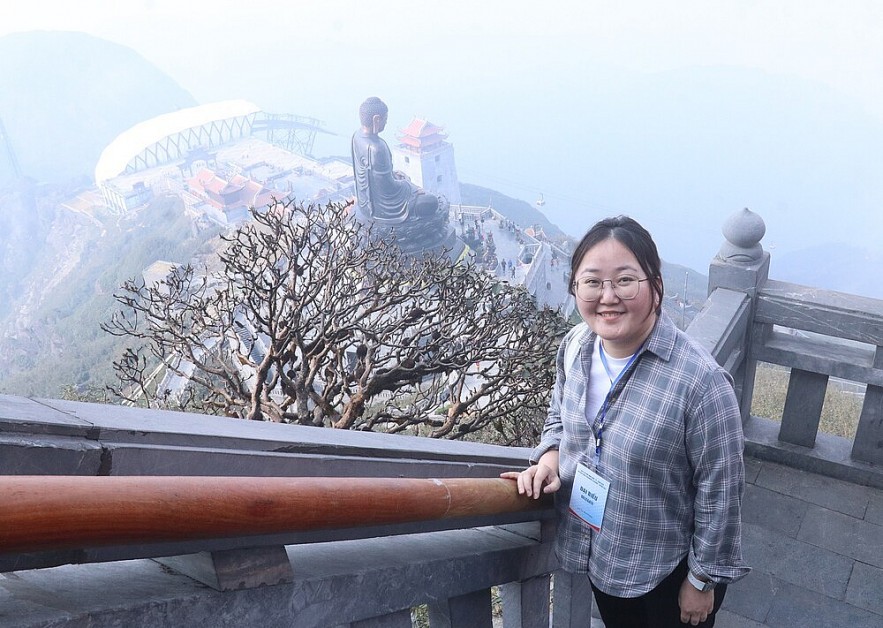 Tumuruya Javzandulam, third secretary of the Mongolian Embassy, was impressed with the architecture of Vietnamese pagodas on the roof of Indochina (Photo: Thu Ha)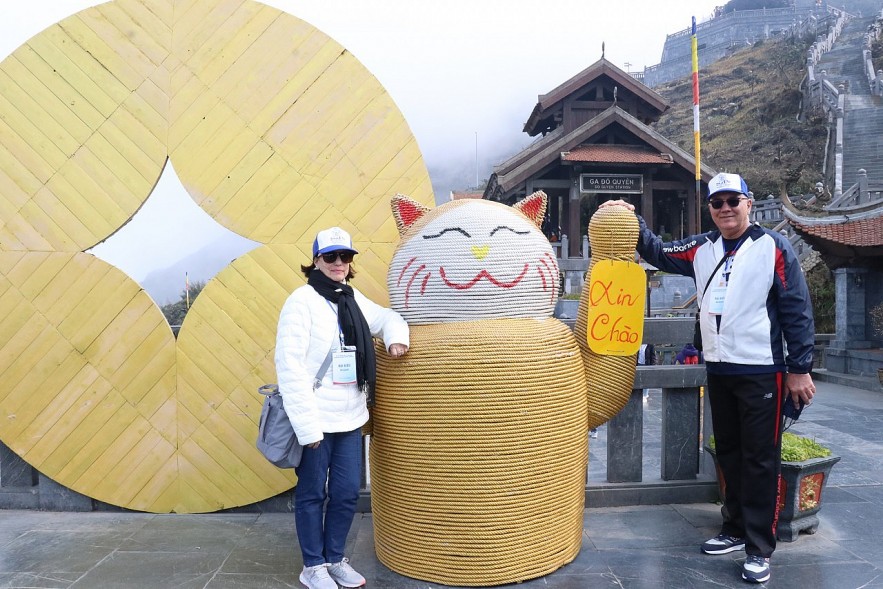 The trip to Fansipan left a strong impression in the hearts of international friends. This is an opportunity to promote the natural beauty, people and culture of Lao Cai (Photo: Thu Ha)
What Is The Highest Mountain In Vietnam?

Mount. Fansipan, also known as "Roof of Indochina", is the highest peak in Vietnam. It is one of the must-visit destination, with a breathtaking experience ...