Photos: Quang Ngai's Seaweed Forest Seen From Above
Stunning photos of Quang Ngai's seaweed forests in crystal, blue water, skillfully captured by a drone.
Binh Chau is one of the most famous coastal communes in Quang Ngai with hundreds of offshore fishing boats. The commune has a rich nearshore aquatic ecosystem. Its Sa Ky port opens a gateway to Ly Son, an island famous for black garlic and volcanic cliffs. The commune is also known for its Ba Lang An, a destination where Quang Ngai's easternmost lighthouse is located. From June to August, fishermen in Binh Chau ride their basket boats to the sea to catch seaweed and squid.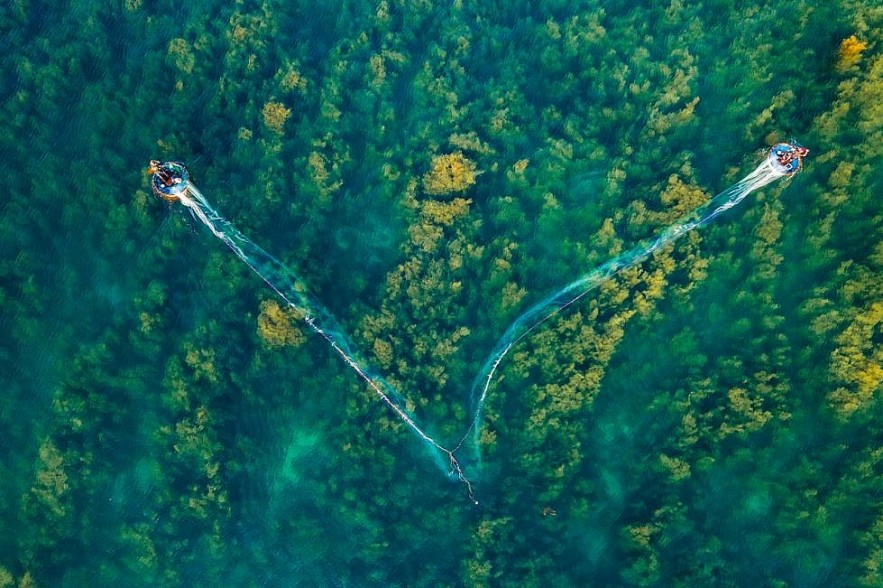 Two basket boats using a V-shaped net to catch squid. (Photo: VN Express)
After netting, fishermen will use sticks to hit the water surface, scaring fish and squid into the net. (Photo: VN Express)
After chasing squid to the net's node, fishermen jump into the sea to catch fish. (Photo: VN Express)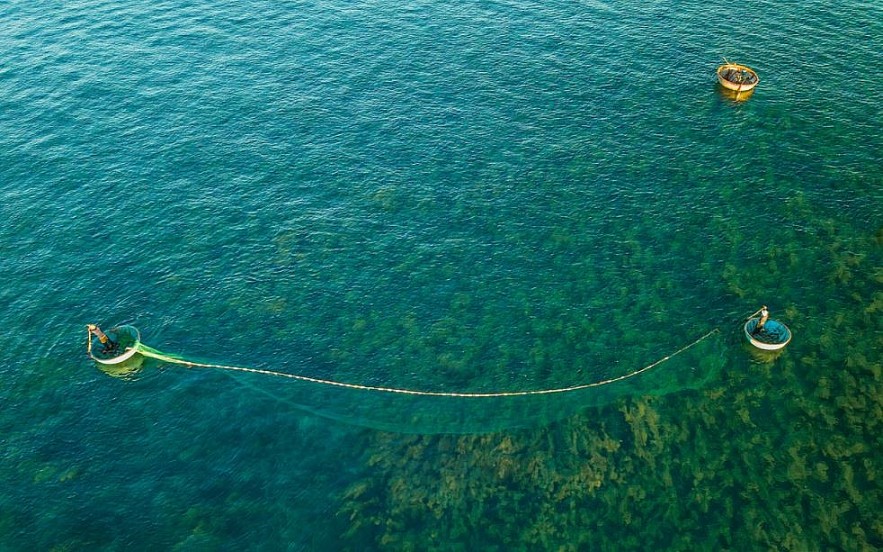 Fishing can involve one or more people. In the photo, a couple of Chau Thuan Bien villagers together netting the fish. (Photo: VN Express)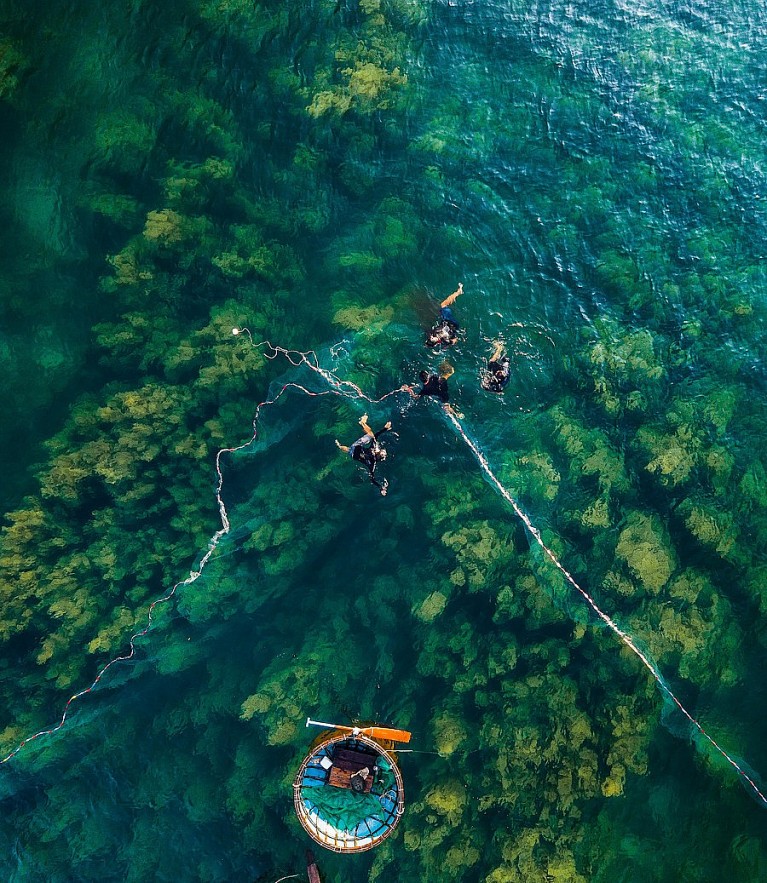 A group of four people trying to catch squid (Photo: VN Express)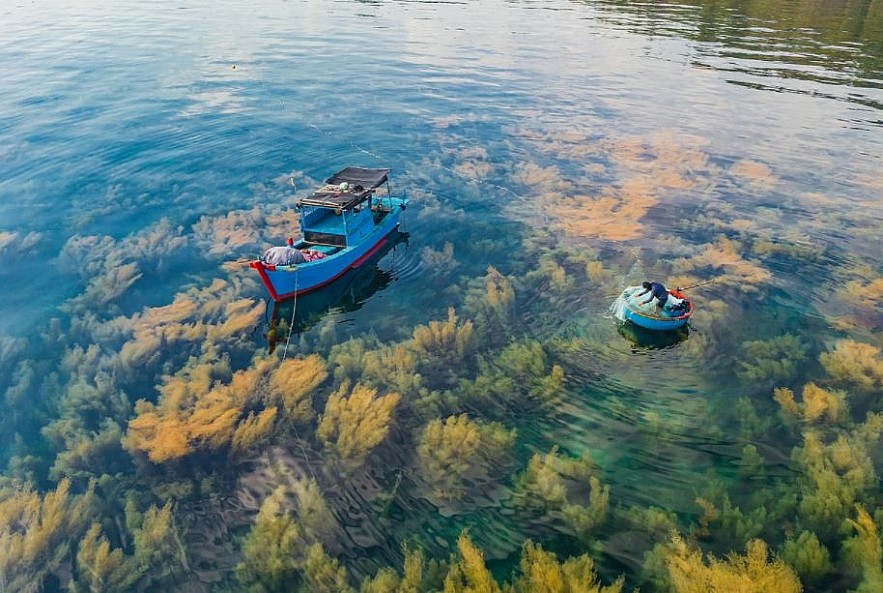 Fishermen pull the nets to trap squid. (Photo: VN Express)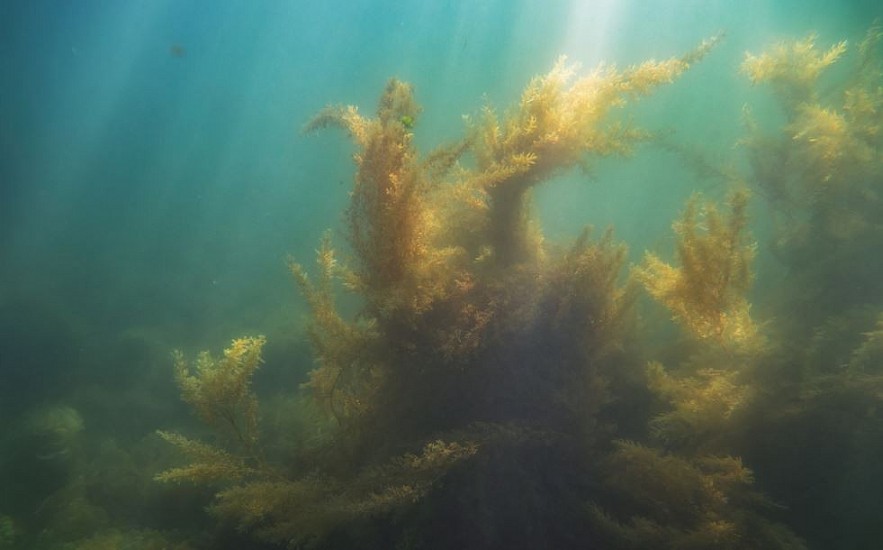 In addition to fish and squid, fishermen also exploit seaweed. The seaweed harvesting season starts from June so that the seaweed and other animals living in the forest have time to reproduce for the next harvest. (Photo: VN Express)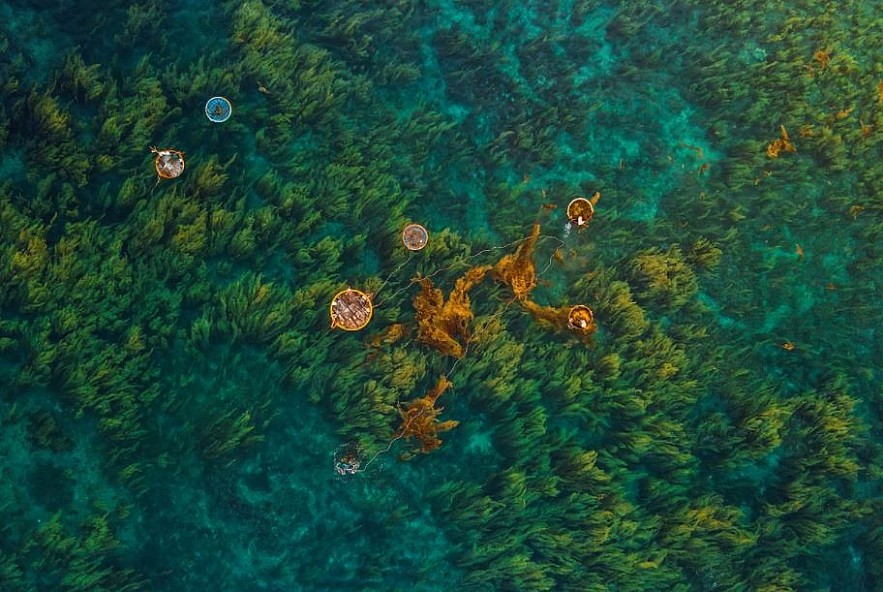 Before cutting, fishermen use nets to surround the seaweed so that the seaweed does not drift away. One kilogram of seaweed costs about VND 5,000 (US$ 0,2). A fisherman can earn about VND 200,000 (US$ 8,7) from the profession. (Photo: VN Express)
A Brief Guide to Quang Ngai
Quang Ngai is located in Central Vietnam, at an almost equal distance from the two ends of the country. Like other provinces in this area, Quang Ngai is characterized as having mountains on one side and the sea on the other.
Quang Ngai has a long coastline and many beautiful landscapes. This land is an interesting option for those who love central coastal landscapes. The best time for a trip to Quang Ngai is from April to August when the weather is dry and sunny.
Quang Ngai is famous for the cultural vestiges of Chau Sa Citadel, Ong, and Mai Son pagodas, the beautiful landscapes of An Mountain, Thien An Mountain, and Tra Khuc River. Sa Huynh Beach is well-known with clear water, golden sand, and pine trees. My Khe Beach, the most beautiful beach in Central Vietnam has fine white powdery sand, gentle waves, and poplars forest.
Quang Ngai City is 100km from Hoi An, 131km from Da Nang, 860km from Ho Chi Minh City, and 889km from Hanoi. National Highway No.1A and North-South Express Train run through the province. You can travel to Quang Ngai by railway from Hanoi, HCMC, Danang or book flights to airports in its neighboring provinces such as Chu Lai and Tan Ky airports. You can also take a bus tour from Hanoi or HCMC.