Mesmerising water lily pond at the foot of Eo Gio Pass
Every year, tourists come to Truong Chu's water lily pond in Quang Ngai, which becomes famous with beautiful water lilies in peak bloom season.
Situated at the foot of Eo Gio Pass in Nghia Hanh District, Truong Chu's water lilies pond, which spans one hectare, was formed 40 years ago.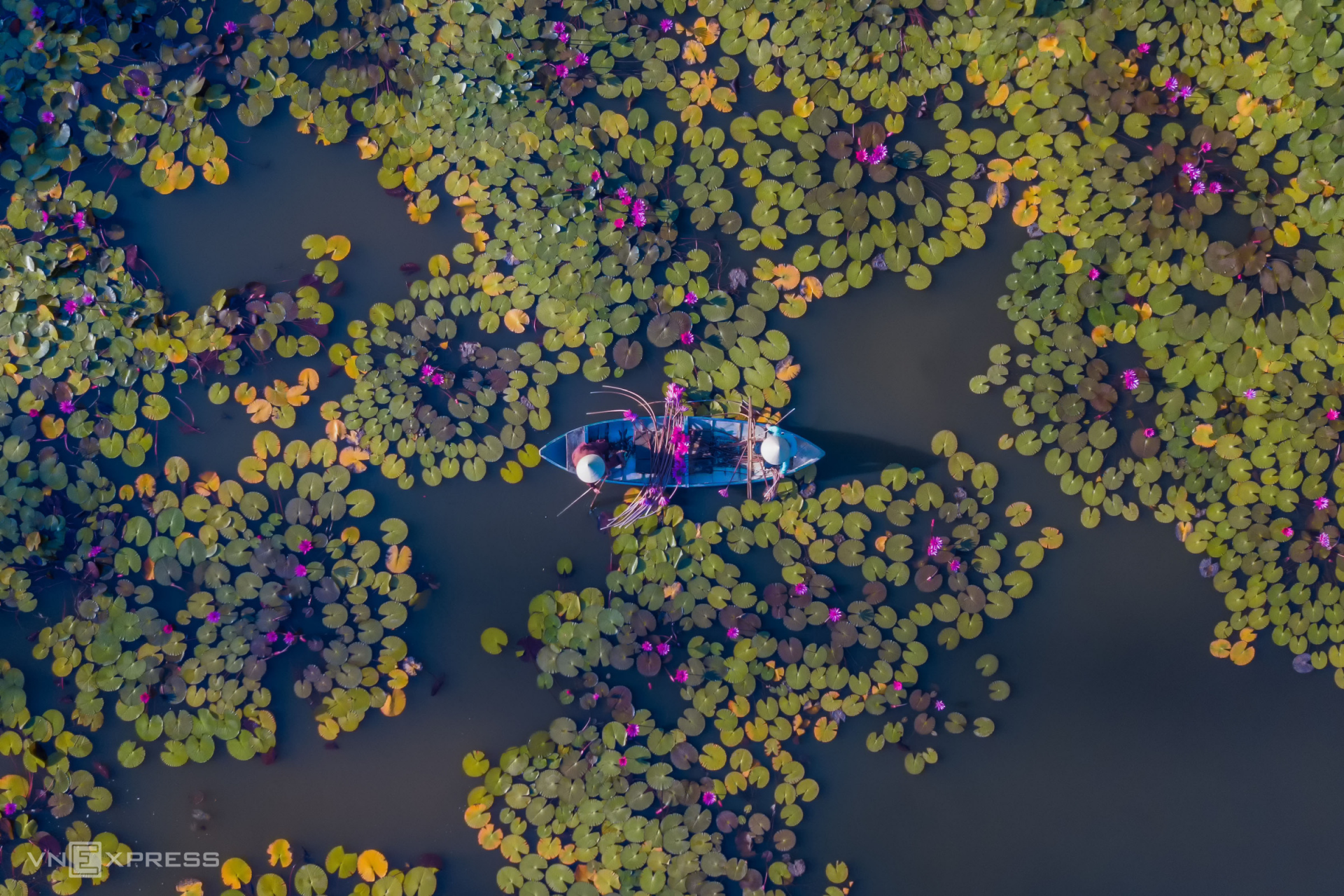 Photo: VnExpress
The water lilies pond is located close to the edge of the forest, collecting water flows down from the upper mountain. The pond gets filled up during the rainy season and will begin to dry up in July, creating favorable conditions for water lilies to thrive. The blooming water lillies not only attract visitors, but also a lot of bees and butterflies seeking nectar and birds hunting insects, according to VnExpress.
Water lilies, which often grow wild in ponds and lakes, are classified into two species: lotus water lilies, planted in lakes around pagodas and imperial palaces; and wild water lilies, found in ponds, with a white or violet flower.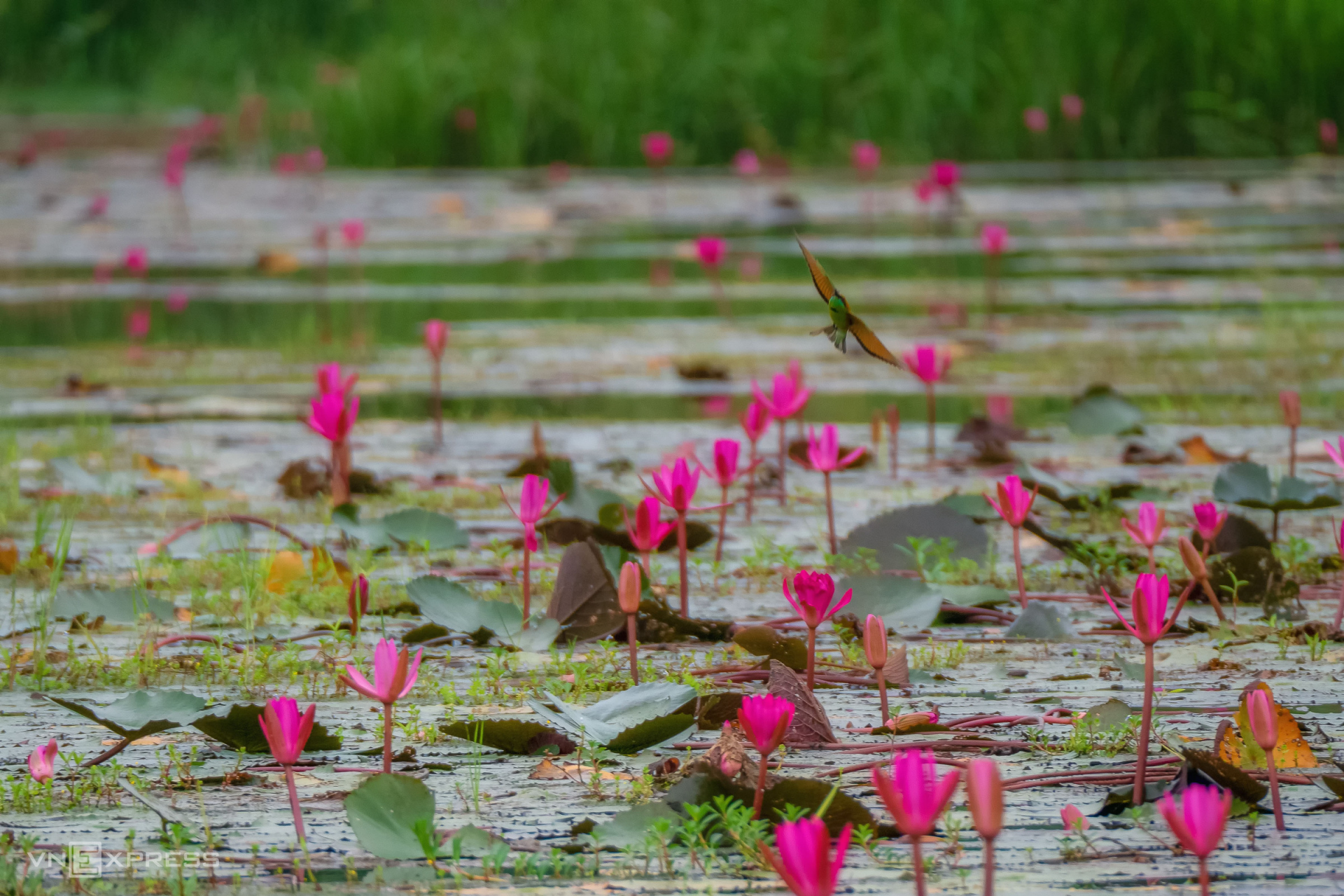 Photo: VnExpress
The flowers bloom early morning from April to June. They are used for decoration, offering at pagodas and to make tea. Their stalks are edible and can be eaten raw with either fermented paste or braised sauce, or dunked into a sour soup or hotpot.
Waterlilies have been cultivated as an ornamental plant for all over three thousand years ago and appreciated wonderful favor along with ancient Egyptian. Just as the water lily symbolizes new spirit and new wish, these water plants in common are optimistic symbols of delight and happiness. The pure white trumpets of an Easter Lily burst forward in the Spring as a symbol of purity and heralding the re-birth of nature's cycle. Almost water lily blooms in summer time and appear in joyfully bright colors like white, red, orange, blue, pink and yellow.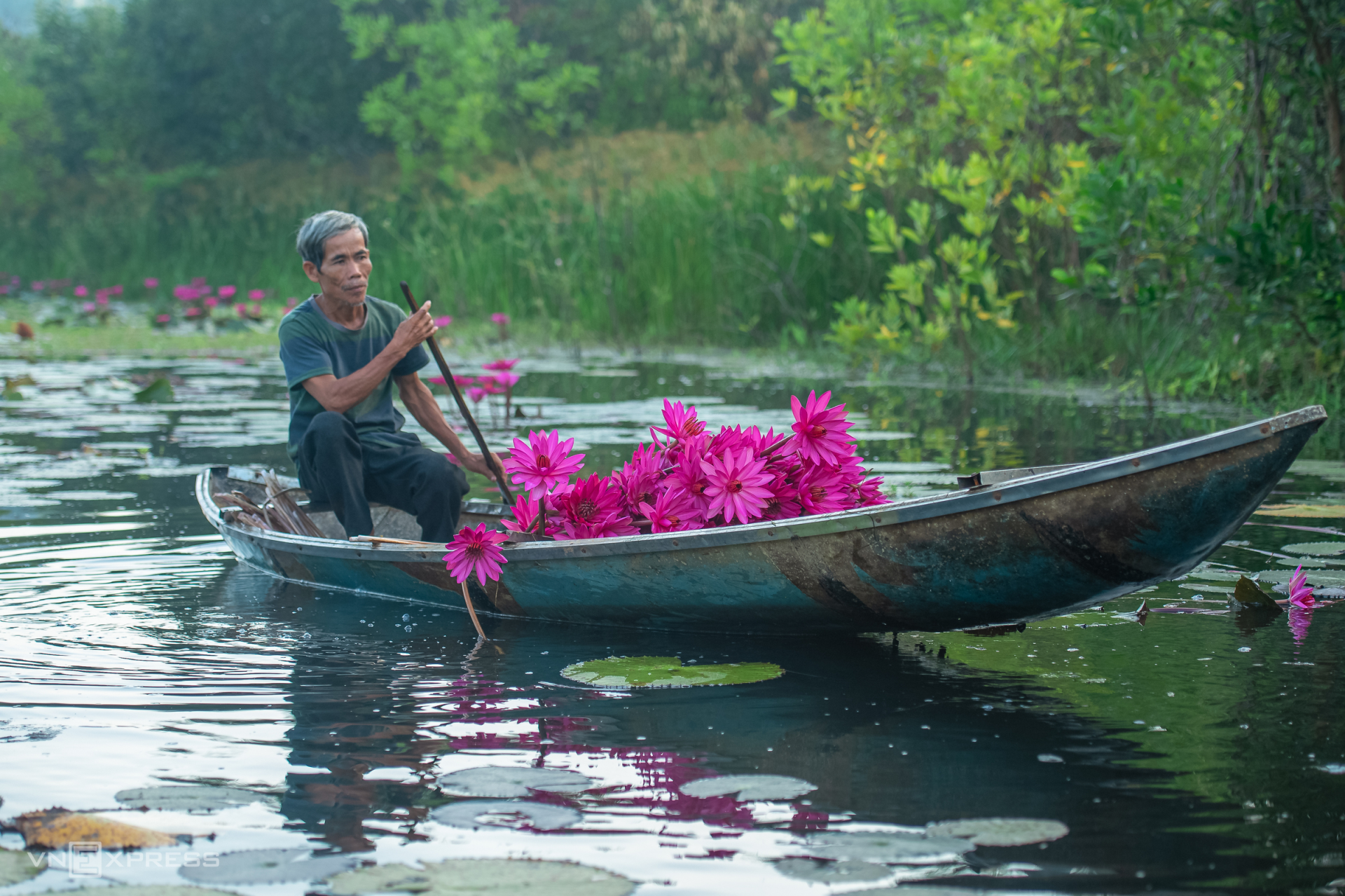 Chu rows a boat to pick water lilies and tend to grass carp raised in the pond. (Photo: VnExpress)
Chu has also opened a boating service, charging VND100,000 ($4.32) per visitor wishing to explore the pond and VND200,000 ($8.65) for tourists who also want to harvest the flowers and take photographs.
Hoang Thi Mai Phuong, who came here with photographers, said that she had passed through the pond many times and wanted to stop by to take pictures but had not had the opportunity.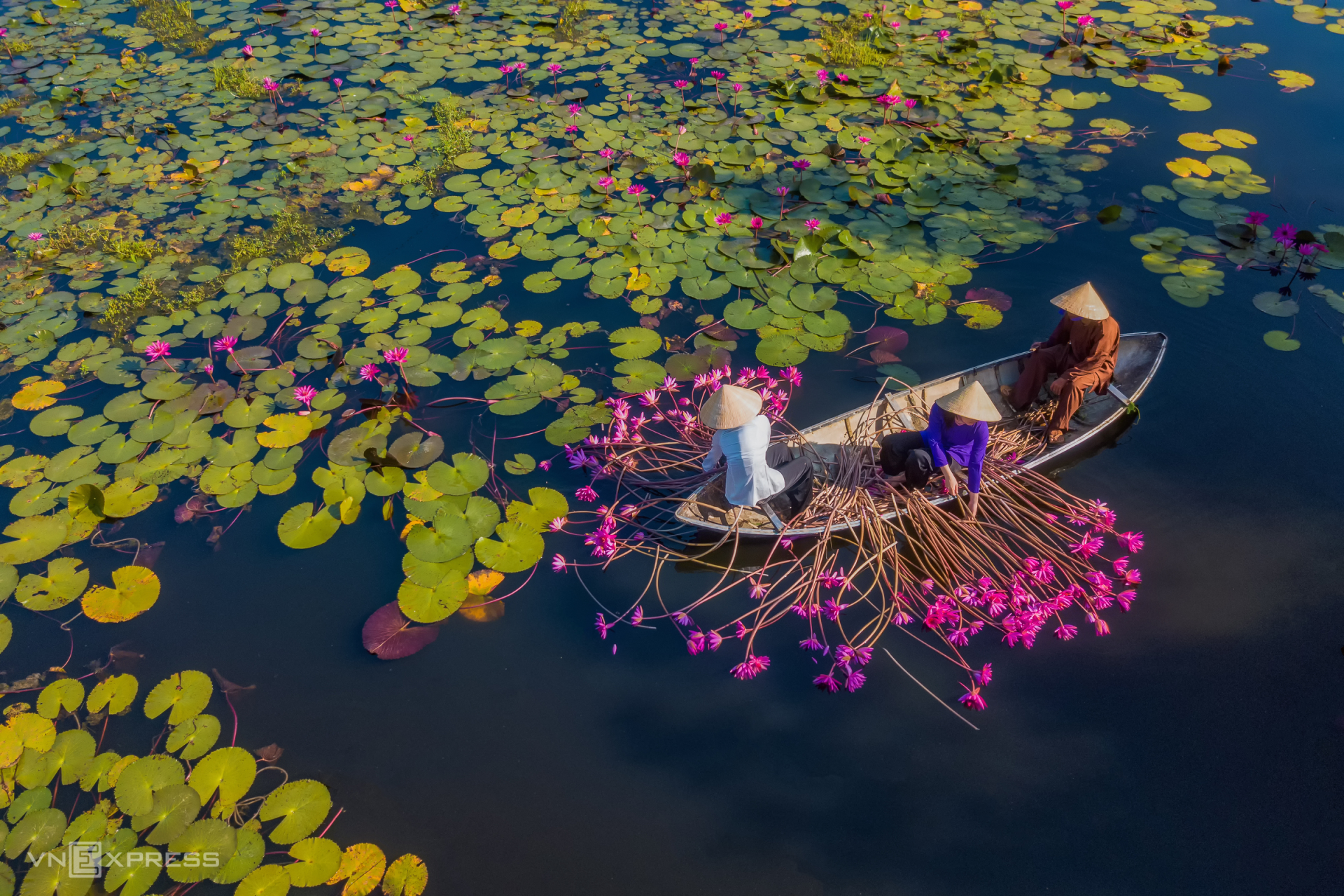 Photo: VnExpress
"The feeling of rowing a boat to see the water lilies is very cool and calming," she said.
Traveling on the Eo Gio Pass from Quang Ngai to the Central Highlands provinces, the sight of the water lily pond in full bloom shining in the sunlight is a mesmerizing, unforgettable sight.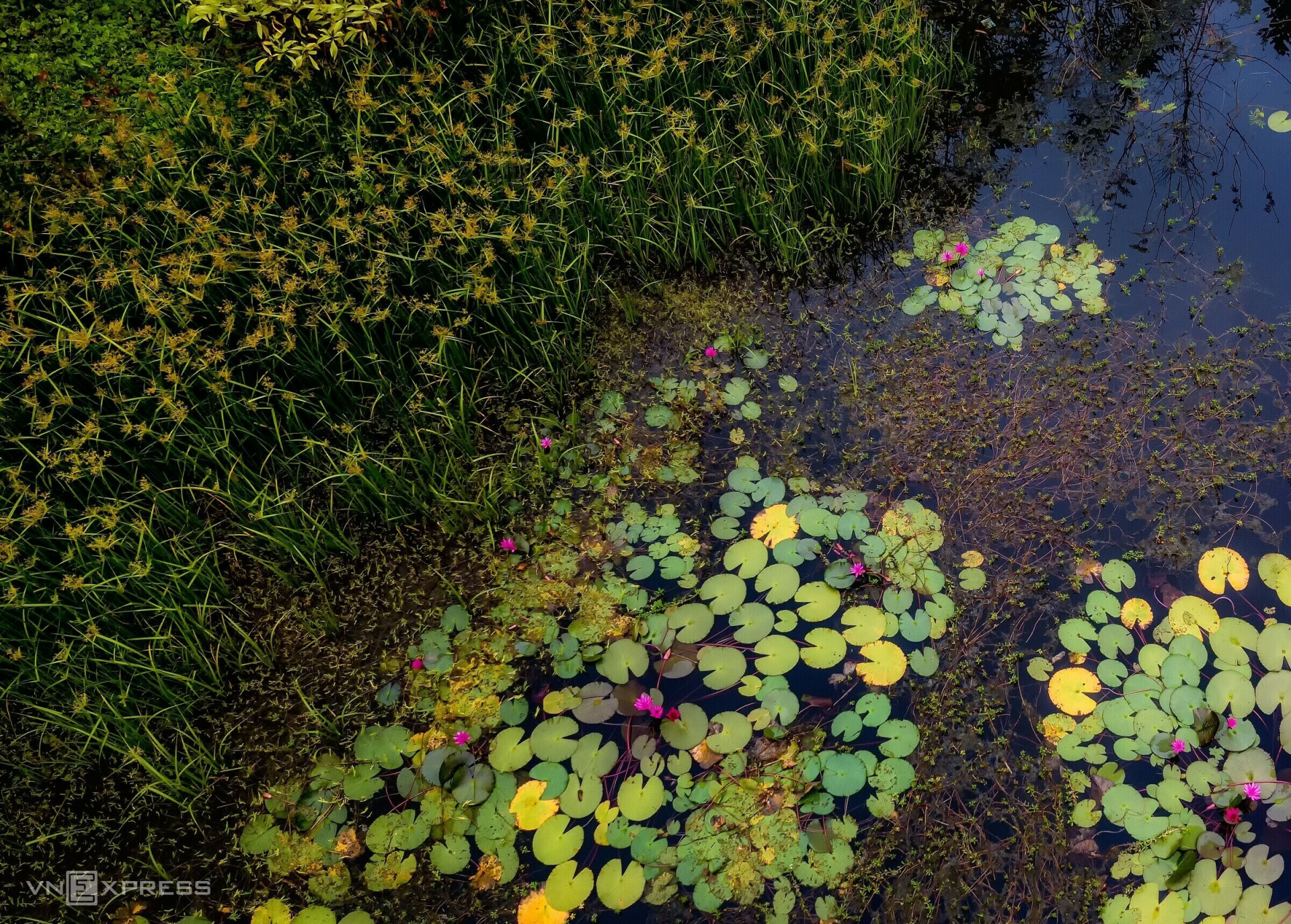 Around the water lily pond are reeds that add to its beauty. (Photo: VnExpress)
Where you can find Water Lily in Vietnam?
It is easy to see a pond full of Water Lily in October and November when is the time of Water Lily blossom, on other months, the Water Lily stays deep down under the water and it is hard to find out if a pond has Water Lily or not.
Although there are many places in Vietnam that you can find Water Lily, there are a few spots where you can take the best picture with Water Lily.
Yen Stream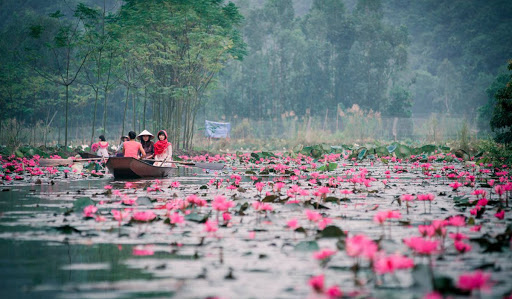 Photo; Viaje Asean
The Yen Stream nearby Huong Pagoda (Perfume Pagoda) is considered the best place to see and take photos with Water Lily. The entrance fee is about VND 50,000, if you want to take some stunning photoshoots, you can hire a boat to the middle of the stream or a small boat with Water Lily decoration around.
Aside from savouring the scenic views of the water lilies, tourists are also able to experience the tranquil and peaceful atmosphere that emits from the area surrounding the Perfume Pagoda.
Mekong Delta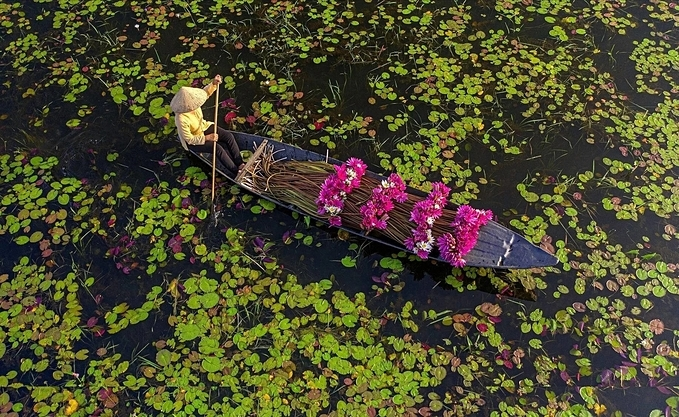 Photo: VnExpress
The Water Lily season comes to the Mekong Delta sooner than in Northern Vietnam, from August to October is the right time for you to come and see the beauty of Water Lily here. Different from in the North of Vietnam, it is much easier to find a huge number of Water Lily planted in a huge water area. While most of the Water Lily in the North has strong dark pink color, the Water Lily in the Mekong Delta mostly has white color, especially the wild ones, and the dark pink Water Lily here normally appears because of human hands as some people plant them for economic benefits.