Phung Hung mural street (Hanoi) lights up for Mid-Autumn Festival
Phung Hung street in Hanoi's Old Quarter is being decorated with beautiful lanterns that illuminate the street.
A path lined with lanterns in Phung Hung street attracts many visitors. Source: TAGO
The Mid-Autumn Festival is one of Vietnam's biggest celebrations. It is also known as the children's festival because of its emphasis on children. It is held on the 15th day on the eighth lunar month (September 13 this year).
Phung Hung street in Hanoi's Old Quarter has been revived with beautiful mural paintings recalling Hanoi in the past thanks to a community art exchange project funded by the Korea Foundation, UN-Habitat and the Hoan Kiem District People's Committee. Opened to the public in early February , it is now a favorite photo location and cultural space for city dwellers and visitors.
The paintings depict memories of Hanoi and old features that still linger in Hanoians' minds: Hang Ma street during the Mid-Autumn festival, the Trang Tien Department Store, a street corner in the Old Quarter with street vendors and a schoolgirl on her way to school.
Phung Hung mural street now is not just a place to visit and take photos. It's also a recreation space with painting experience and folk games.
Held on the 15th day of the eighth lunar month, the Mid-Autumn Festival is one of the most important and meaningful traditional festivals in Vietnam. Source: TAGO
On two day from September 7-8, the Vietnam Museum of Ethnology in Hanoi in cooperation with the Department of Culture, Sports and Tourism of Gia Lai province will hold its annual Mid-Autumn Festival themed "Colors of Gia Lai Culture".
According to Vietnam Economic Times, various activities for children will take place over the two days, including Gong and traditional musical instrument performances, folk singing, basket weaving, wooden sculpture making, and brocade weaving.
The food of the people living in the central highlands will also be available.
Children will also have the chance to join joyful unicorn dances and processions.
They can also experience typical folk toys only made for the Mid-Autumn Festival, such as Mr. Paper doctor, fighting batons, star lights, monk's lamps, troop pull lamps, and flour fruit, etc., under the guidance of craftsmen and volunteers.
Visitors will also have the opportunity to play interesting folk games originating from the central highlands, such as standing statues, stealing cucumbers, and breeding ducks (of the Giarai minority), as well as buffalo fighting, stone kicking, and stilt walking (of the Bana minority).
The Vietnam Museum of Ethnology will also cooperate with the "Discovery Academy" during the Mid-Autumn Festival to organize science experiences through folk toys. For example, children will be able to learn about flying kites.
Through scientific experiments involving wind power and air convection, they will understand why kites can fly. This is also an opportunity for artisans to directly introduce folklore associated with scientific knowledge through making toys, thereby stimulating curiosity among children.
Stalls with traditional toys in the Old Quarter. Source: TAGO
On September 8, children will have a chance to enjoy the traditional Mid-Autumn Festival atmosphere with various eye-catching activities at the Vietnam Fine Arts Museum in Hanoi.
The programme is expected to create a valuable and interesting playground for children aged from five to 15 years old on the occasion of Mid-Autumn Festival, Nhan Dan (People) newspaper reported.
At the programme, children and their parents will join the folk game 'blindfolded to beat drum', decorating traditional paper masks and making gift bags through monoprint techniques.
With crafted papers, canvas, paintbrushes and paints, children can spark their creativity and show their aesthetics and aptitude under the instruction of many artists and artisans.
In addition, children participating in the programme will contribute to helping protect the environment through the use of environmentally friendly materials./.
VNF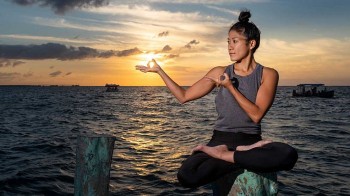 Overseas Vietnamese
With a view to inspire greater compassion, kindness, and empathy in the world, Caroline Vo left her high-paid job and came up with the idea to build an online yoga practice community.